In all the rooms in your home, the living room is the most exciting to decorate. It is where the whole family gets together to spend some good moments either entertaining or relaxing. A cozy living room usually comes with comfortable sofa, coffee table, rug, wall unit TV and other furniture.
As a leader in ecological furniture design, IKEA features ready-to-assemble furniture and home accessories that are durable and customizable. It hosts a wide variety of living room furniture and accessories. There are many styles, colors and designs to choose from.
Here we've rounded up some beautiful IKEA living room design ideas for you, and it's easy to find the products on IKEA and recreate what you see here in your own home.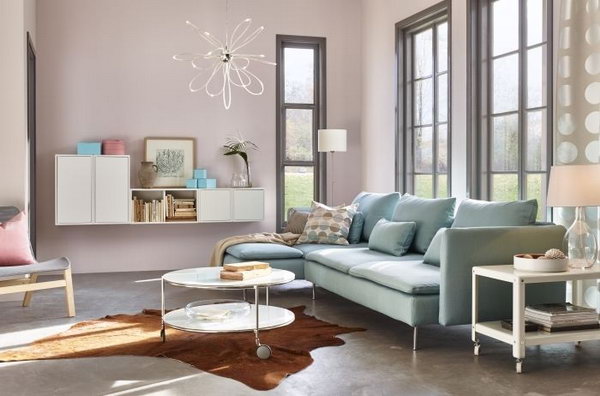 In this living room, the blue sofa matches the light pink painting wall very much. This color combination features a very peaceful and girly girl's living room. The light blue sofa from IKEA lay beside the window create more warmth and comfy to this living space.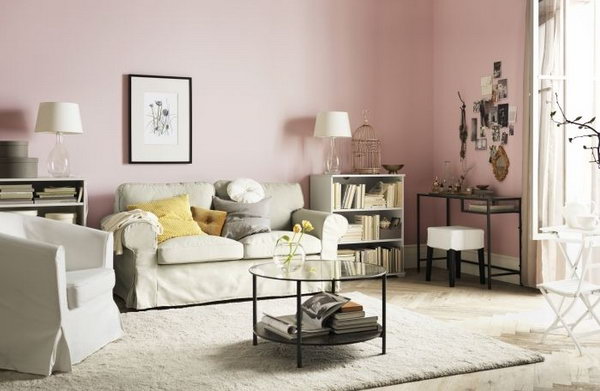 Simple yet Chic Living Room. You don't need to spend much to create a stylish living room. Loving the small bookcase beside the loveseat. Two table lamps on either side of the sofa make this space ideal for everything from reading to watching TV to socializing. And choosing ones that match adds symmetry and style, too.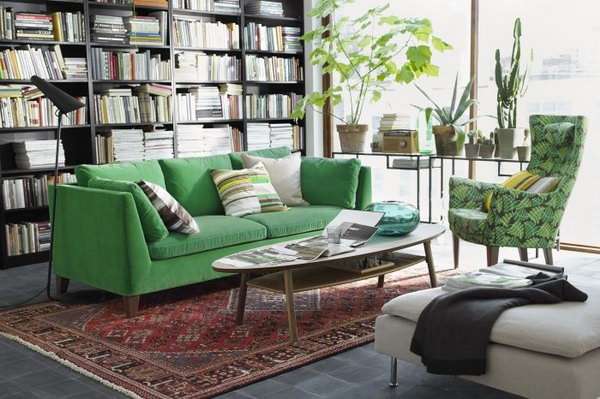 A Living Room Inspired by Nature. Loving the organic color schemes in this living room. A comfy green sofa, leaf print chair and plenty of plants add a warm and homey feeling to this space.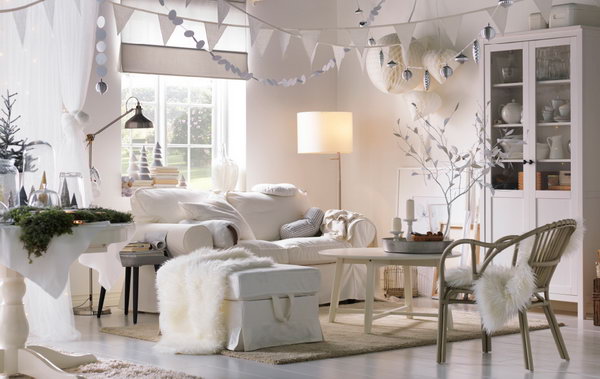 Living Room Inspired by Winter. This living room can be called a white winter wonderland with the lighting, soft textiles, snow globes and decorative paper chains. All of these keep the fairytale and romance feeling alive in the room.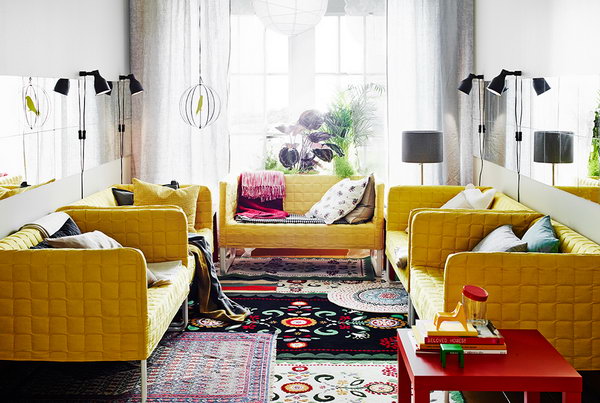 Small Living Room with High Capacity. This is a genius design for a small living room. This U-shape formation with lining three walls with sofas creates a super social living room with plenty of seats for family and visitors. Open and inviting, this stylish space is so light, bright and cozy.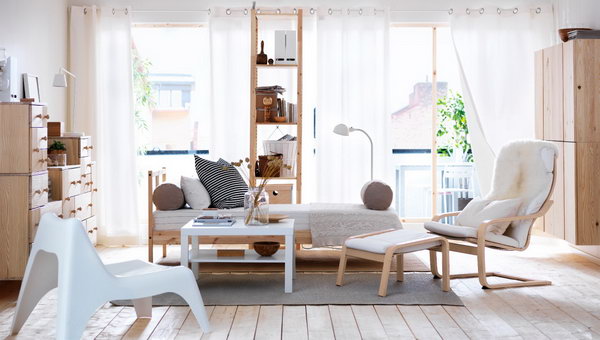 Natural & Restful. In this living room, the combination of natural wood and a neutral color palette creates a welcoming and calming atmosphere for both the family members and visitors.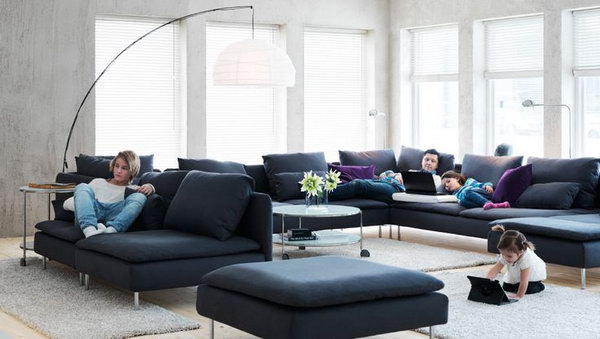 It's so simple but nice. In this big living room, everyone can have his own place and be alone but together too. Especially love the sofa and the big pendant lamp which are super functional and has an industrial cool. They also make this living space look more cozy and not so empty.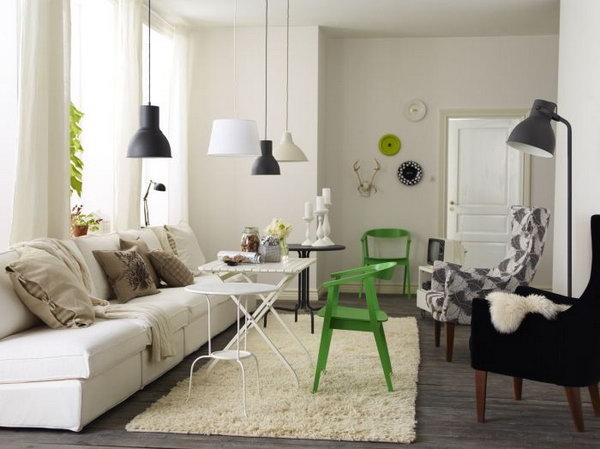 The Combination of Rustic and Modern. In this living room, the dark, rustic flooring contrasts with the lighter tones of the contemporary furnishing and the beige-painted wall. Four small pendant lights really adds more modern feeling to this living space.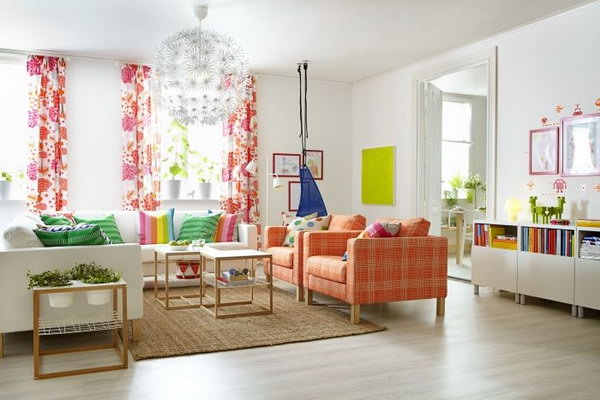 Living Room with Spring Colors. Beautiful curtains, the brown sofa and the rainbow pillows refresh this living room and let you enjoy the warm days ahead. The oversized pendant light also brings out the POP.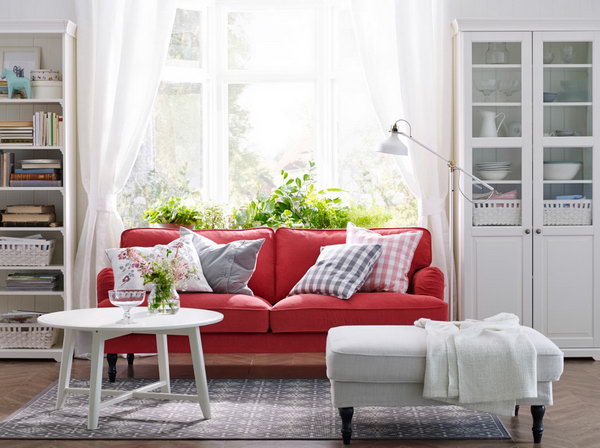 Red & White Living Room. Red is always related with passion. In this living room, the red sofa from IKEA adds more inviting and hospital feeling to this calm and classic white living space. The sofa is placed beside the window and the bookcase. You can enjoy the sunlight when do some reading here.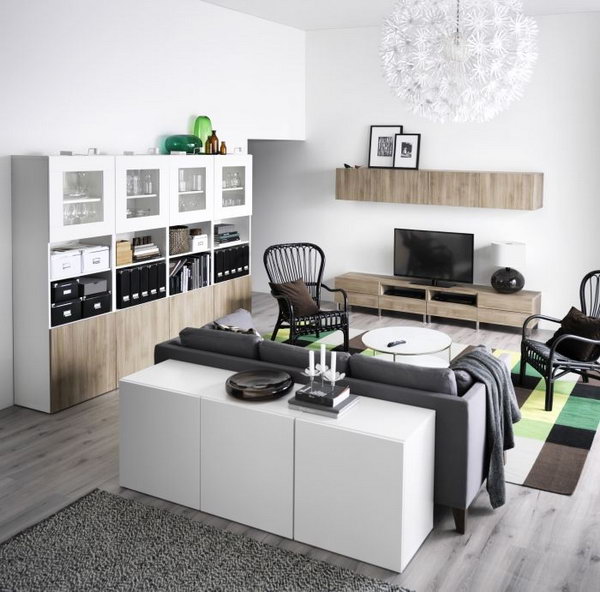 Elegant Black, gray, White Ikea Living Room Ideas. Super elegant and sensual black and white living room design might be perfect fit for you if you are a fan of the contemporary and modern style.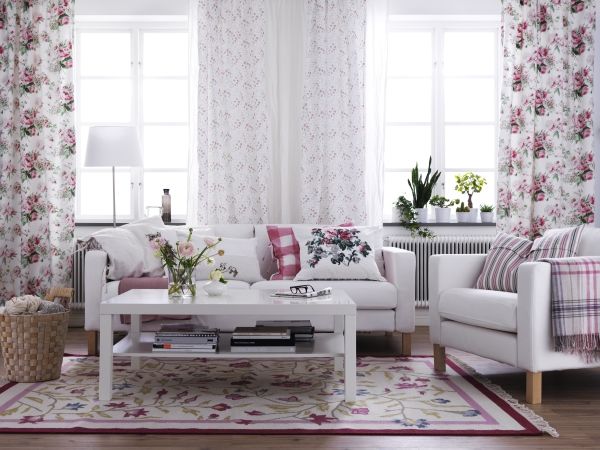 Soft and Feminine IKEA Living Room. White earthy neutrals and updated versions of florals gives this living space a fresh and feminine feel. White and soft sofas, white coffee table really work with the floral and beautiful curtains.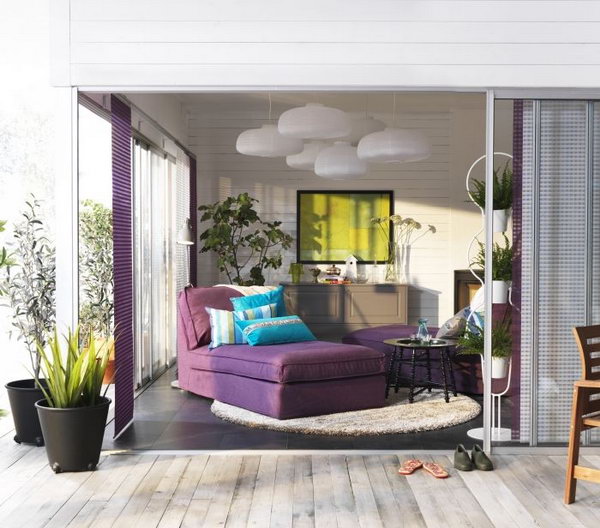 Romantic & Glamorous IKEA Living Room. Purple and white are a fantastic color combination. Purple sofas , white lights plus some potted plants add a touch of romance and comfy to this living room. Besides, the big glass door is really a fantastic design and bring more brightness. Love everything in this living space.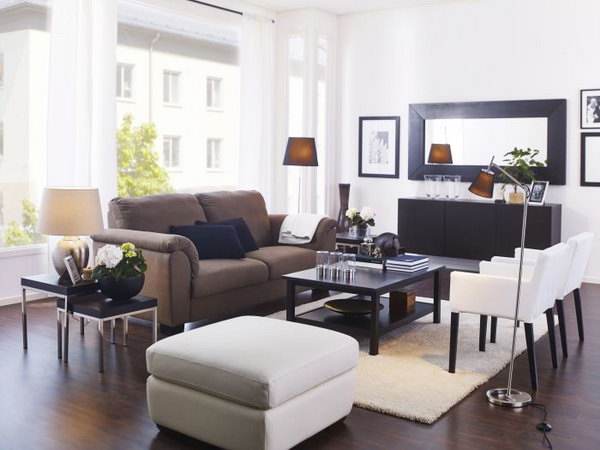 With distinctive frames and shapes, mirrors can really enhance your décor. Larger wall mirrors, or smaller ones grouped together, make this living room look brighter and bigger.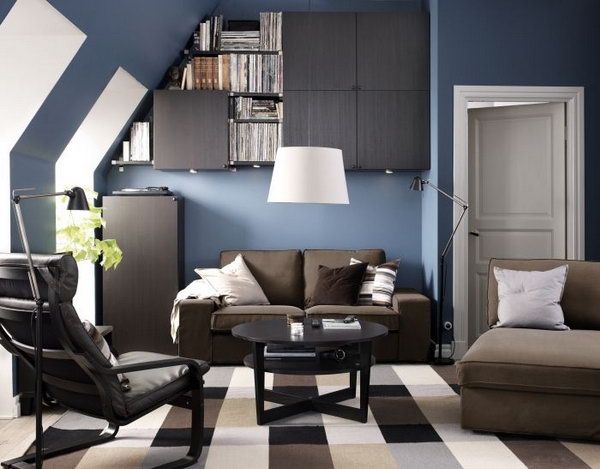 Creative solution to create more space in the small living room. Making full use of the wall to build a hanging and small bookcase.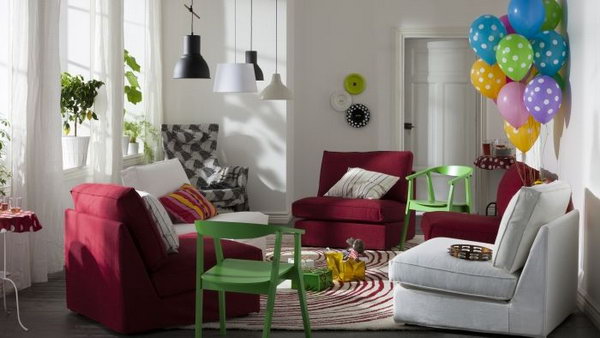 Living Room Cheered Up by Colors. Bring some brightness into your small living room with colorful accent furniture and accessories. Look at this example from IKEA. The red sofas, green chairs and colorful balloons, rainbow throws really pop up this small living space.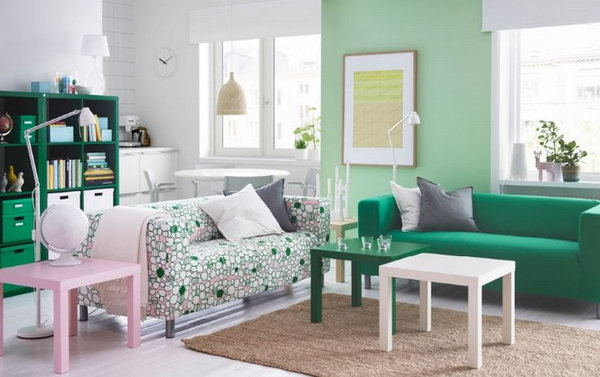 Living Room for Green Lovers. Here green is used in nearly a shocking fashion. Green book shelves, green sofas , green side table and light green painted-wall are featured in this living space. If you are a green lover, you can get some inspiration from this decor.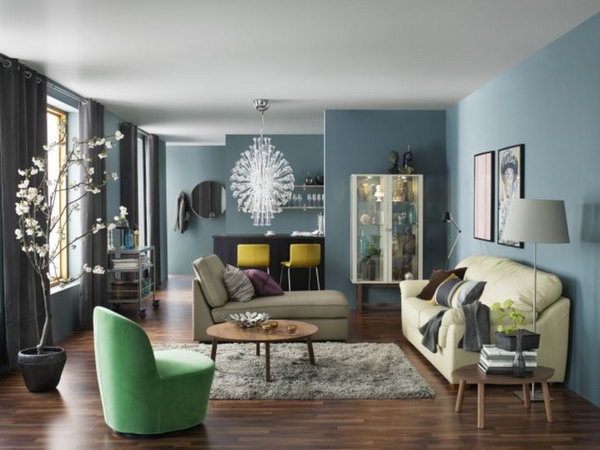 Blue is a popular color during the summer time. The blue-painted walls make a sophisticated and chic living room. Every wall can be a stunning display place in your living space.