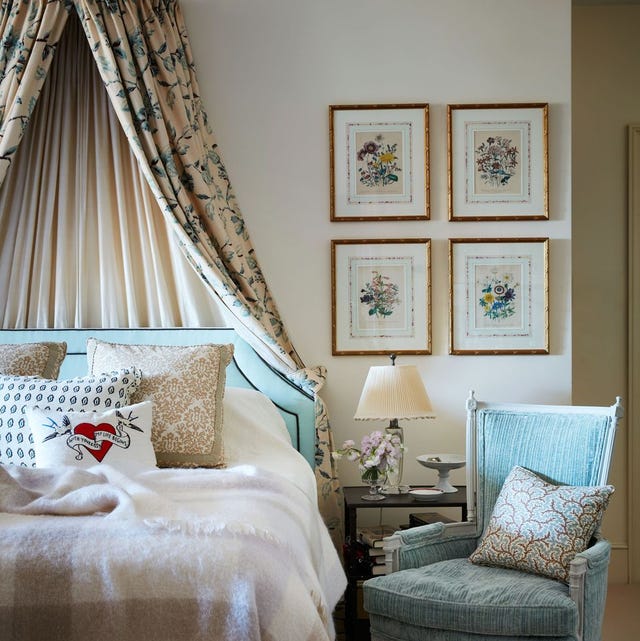 COURTESY OF MALLY SKOK
A teen girl's bedroom that reflects her personal style is essential. It's a place she likely spends much of her time in and is often the only area she can truly claim as her own—having some free reign to do with it as she pleases. If you want to help craft a room she'll love, take a look at some of our favorite bedrooms by designers for serious teen bedroom inspiration. From simple updates like installing a statement chandelier to adding a built-in desk space with ample storage, you're sure to come across an idea or two that will totally transform her space—in a way you both like and that she'll also grow into!
Advertisement – Continue Reading Below
A headboard can give any bedroom an instant wow factor. The matching curved headboards in this teen hideout designed by Charlotte Lucas add a soft touch to the overall room. Not to mention, the palette of blush, lilac, and peach will never go out of style.
2
Find a Statement Chandelier
Don't overlook the ceiling lights. Whether you go for a soft fringe chandelier—like the one from Anthropologie in this room designed by Regan Baker—or try something full of jewels for a dramatic effect, a standout light will brighten up the space and make it look more put together.
3
Install a Hanging Chair
If there's a corner of the bedroom you don't know what to do with, install a hanging chair as design firm Cuffhome did in this Los Angeles home. Add a cozy throw blanket and pillow, and it'll become the perfect place to lounge and read a book.
4
Go for Colorful, Patterned Curtains
For a mature take on the current Barbiecore trend that will actually last, adorn the windows with colorful, patterned curtains that feature pops of pink. Pair it with a bright pink bed frame for good measure, as Nicole Dohmen of Atelier ND Interior did in this Amsterdam home.
5
Select a Floral Wallpaper
The wallpaper girl aesthetic will always be a sought-after style. Cover the walls in any detailed, floral wallpaper, and you'll be off to a good start. Bonus points if you match any furnishings to the wallpaper pattern, as designer Amy Berry did with French blue toile in this room.
You can never have too much storage. In this bedroom by Eric Olsen, the designer created a platform bed with storage drawers and an attached desk built by H&J Cabinets. It's ideal for stowing anything from clothes to extra blankets.
7
Add a Built-In Desk Space
Instead of sticking a desk in a corner of the room, consider building out an entire workspace. In this room by designer Lucy Harris, built-in drawers and shelving offer storage while a console table offers a clean workspace.
8
Let the Bedding Be the Focal Point
If you're low on square footage and can't pack a ton of decor into the bedroom, invest in a bedding that's the epitome of your favorite style. It can include anything from a sentimental quilt featuring your favorite fabrics—similar to the one in this room by designer Tom Scheerer—to farmhouse bedding for a cozy vibe.
9
Focus on Transitional Furniture
Create a room that can transition into a more grown-up space by using basic furnishings and playful accessories. In this bedroom, designer Analisse Taft-Gersten added a framed map of Paris, gold sconces, and a few pink accents that can easily be updated as the years go on.
10
Commission a Hand-Painted Mural
A hand-painted mural can add a truly unique touch to any bedroom. "Our girls are both sweet and sassy, so we wanted a piece of art that was the essence of both," says designer Eric Olsen of this heart mural by James Goldcrown.
Gallery walls don't have to feel boring and overdone. Create one using a variety of frames in different sizes, as designer Cortney Novogratz did in this room shared by her daughters that features a collection of female portraits—all flea-market finds. And if you want more creative takes on the gallery wall, we have you covered.
12
Make an Elevated Canopy
Canopies aren't just for little girls. The dreamy look can easily be elevated. Here, designer Mally Skok had an upholsterer create a two-sided canopy that was draped through a ring overhead. It's elegant and makes the room feel extra cozy.
For extra privacy in a single or shared room, add drapery to a four-poster bed. Sheer fabric like the one in this bedroom by Heather Hilliard Design can still let some natural light in. Or consider a blackout fabric to keep out any unwanted rays for better sleep.
14
Try a Bright Color Scheme
For a lively atmosphere, select a bright color scheme. In this Manhattan bedroom, designer Nick Olsen went with blues, pinks, and oranges. Make sure to add a colorful, patterned wallpaper on the ceiling for a fun, unexpected touch.
A room with a soft pink base coat—whether it's through carpeting, wallpaper, or paint—can easily be dressed up for down at any age. "Clashing is fun, and throwing patterns together is easy," says designer Fawn Galli of this cheery bedroom.
Advertisement – Continue Reading Below