We know that Wiki says, "post-revolutionary art in Mexico had its expression in the works of renowned artists such as David Alfaro Siqueiros, Federico Cantú Garza, Frida Kahlo, Juan O'Gorman, José Clemente Orozco, Diego Rivera, and Rufino Tamayo. Diego Rivera, the most well-known figure of Mexican muralist, painted the Man at the Crossroads at the Rockefeller Center in New York City, a huge mural that was destroyed the next year because of the inclusion of a portrait of Russian communist leader Lenin. Some of Rivera's murals are displayed at the Mexican National Palace and the Palace of Fine Arts."
Moreover, Meso-American architecture is mostly noted for its pyramids which are the largest such structures outside of Ancient Egypt. Spanish Colonial architecture is marked by the contrast between the simple, solid construction demanded by the new environment and the Baroque ornamentation exported from Spain. Mexico, as the center of New Spain has some of the most renowned buildings built in this style. Check out what the spaces have below that is pretty much relates to the Meso-American architecture.
1. Bethesda Project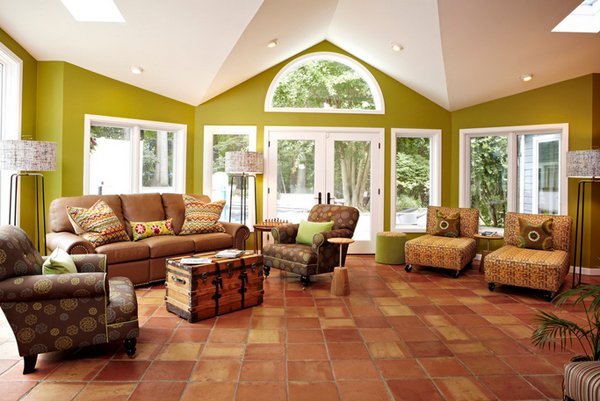 Love it all. Windows. Wall color. Floor and seating. Really like the trunk!
2. Calm Showhouse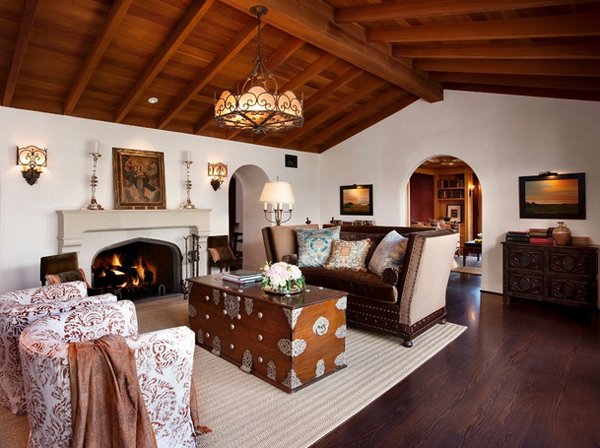 Four things I like about this space – the furnishings, simplicity, patterns and the look.
3. Dana Point, California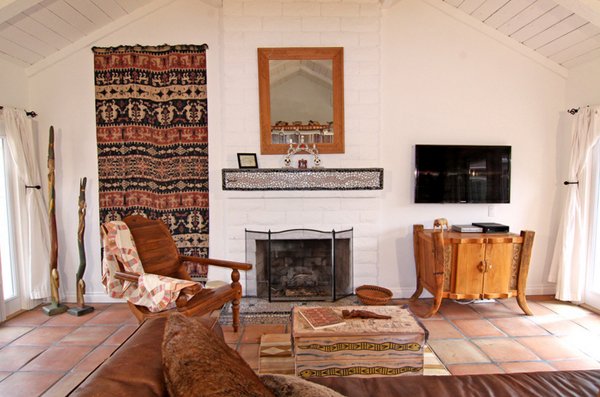 The intentional white walls show off the handpicked furniture and personal art objects representing who Call is and where she's been. The earthy color palette, wood furniture and Mexican Saltillo tiles bring warmth to the space.
4. Desert Mountain Residence 2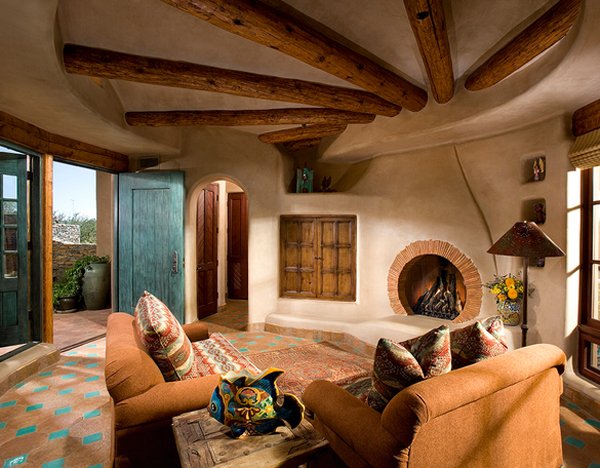 This Phoenix spaces look so simple and natural. The earth tones are beautiful!
5. Duncan Residence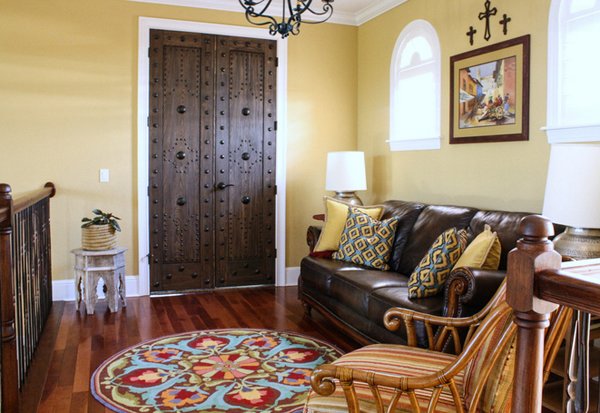 The Duncan's kept the leather sofa but added new lighting, artwork, a rug and new Mexican-style doors to the master bedroom. This area is now a nook where Amber likes to read to the kids before bedtime.
6. Hacienda Chic Residence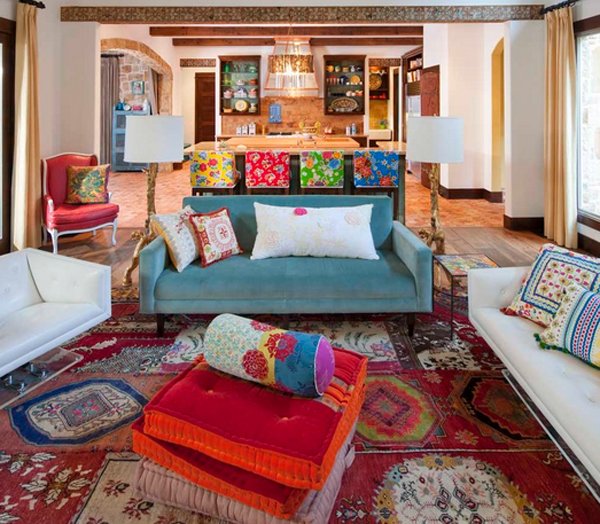 Clean, white walls provide a modern backdrop for the layers of color and texture. The wood-beam ceilings evoke the old hacienda while the dining room chairs covered in bright oilcloth add a little Mexican diner to the mix.
7. House for Two Architects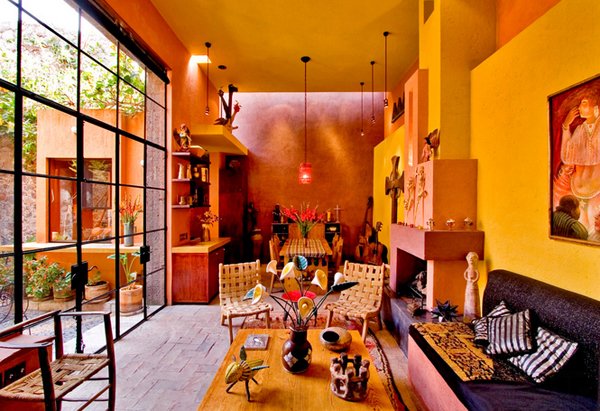 The color of the wall at the back sure draws attention immediately when you look at this living room.
8. Lakewood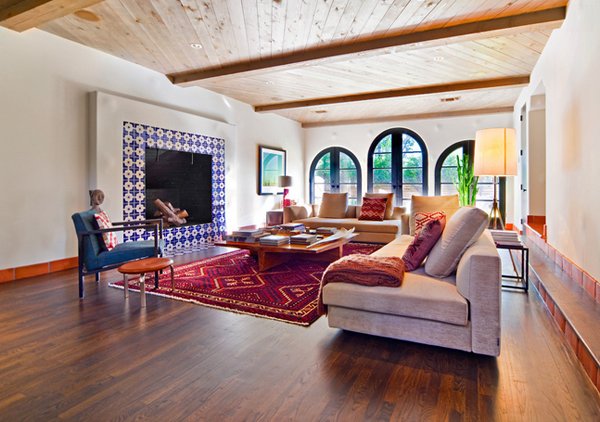 Look at the wonderful details on the large carpet in the center of the room and the detail on the fireplace wall.
9. Los Angeles Eclectic Living Room
Here's another example of how many traditional and ethnic patterns can mix well. There are Tibetan prayer flags, a Persian rug and all manner of other patterns and colors.
10. Melbourne Eclectic Living Room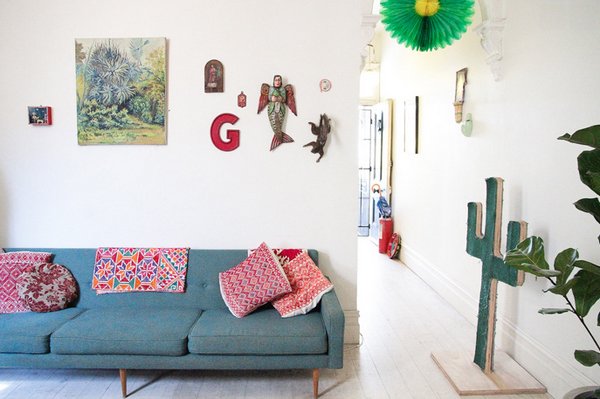 That cactus standee on the side is pretty interesting. I like the sofa and the fabric on the pillow cases too.
11. New York Suite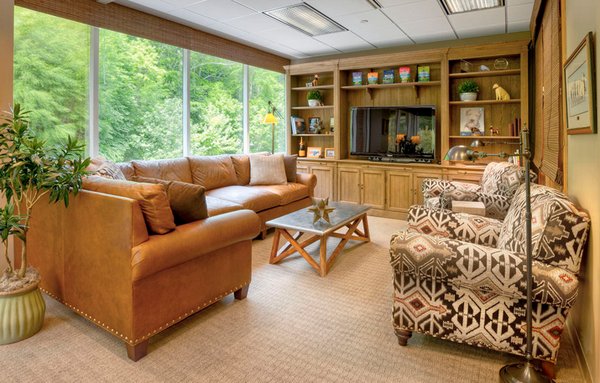 The distressed wood bookcase from Restoration Hardware fit the space perfectly. Carefully selected furnishings provide a mix of leather, kilim print custom chairs, rustic wood, stainless, leather, and a menswear patterned carpet.
12. Palos Verdes Estates Transitional Contemporary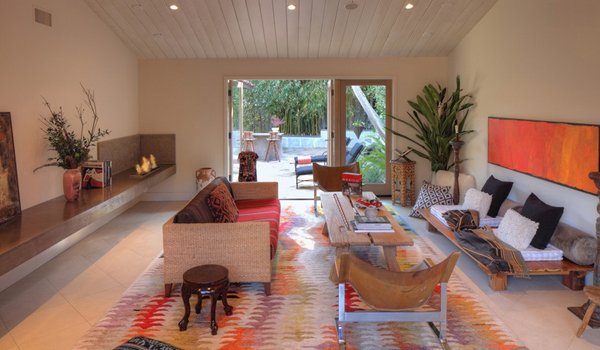 Inside, the homeowners' style is on full display with a collection of artwork, textiles and furniture. Johnson complemented the collection with simple touches.
13. Paradise Valley Spanish Colonial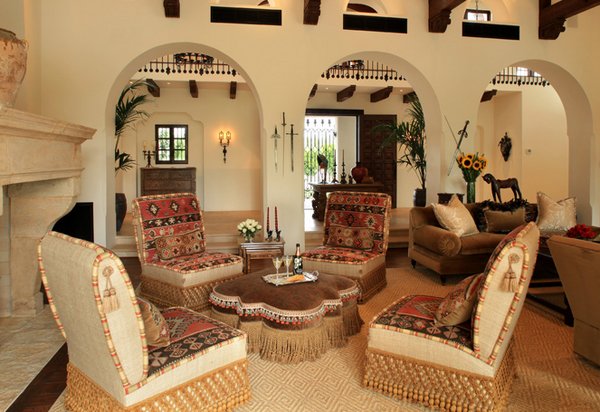 On a scale of 1-10, this living room is a 10. Definitely.
14. Phoenix Mediterranean Living Room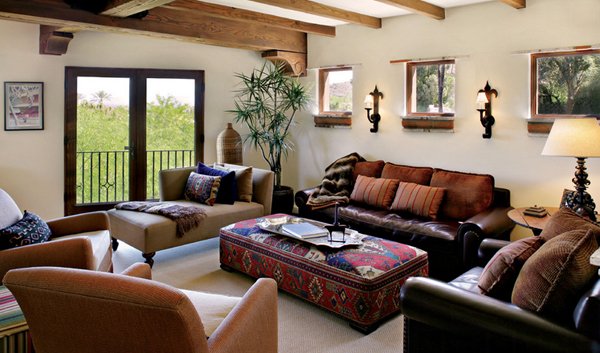 I think the conversation piece of this awesome Phoenix living room is the large cocktail ottoman.
15. Robb Report Ultimate Home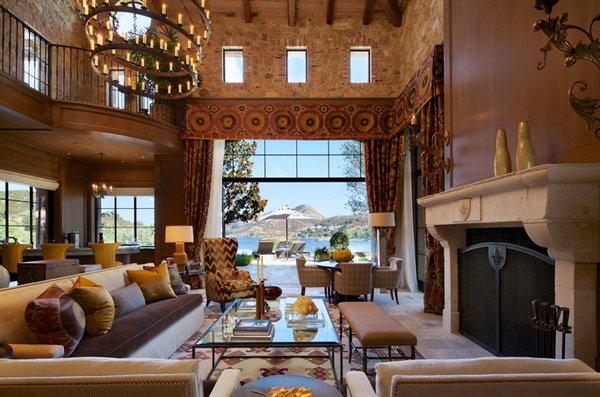 This is one great hall with all the stunning Mexican draperies and stunning chandelier.
16. Rockridge Remodel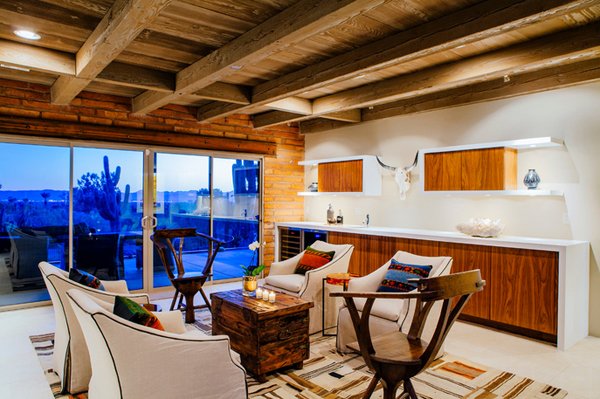 Mexican-themed rugs, including this one, are used throughout the house for a little ethnic flair. They add a nice bit of color and pattern, but they're also great for hiding stains – a common concern for any family with little ones.
17. San Miguel de Allende, Mexico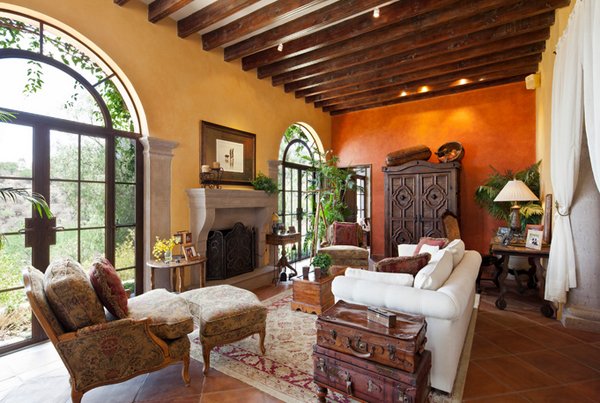 "We tend to associate bold color with modern and contemporary spaces, but you can also inject big color into more traditional rooms." I've always been wild about orange and yellow, but they do tend to scare people who are used to neutrals.
18. Santa Fe Hacienda
What do we have here? Outstanding ceiling, walls, floor, windows and door!
19. Spanish Coastal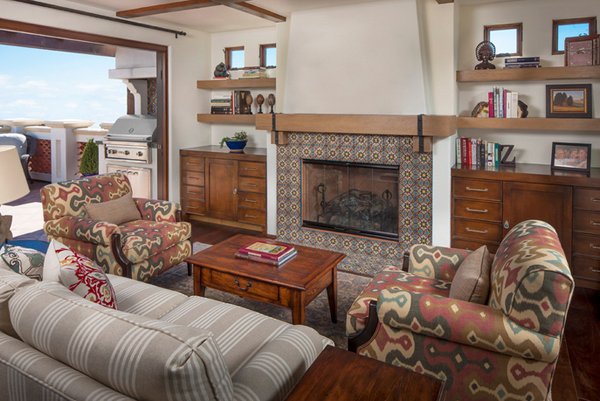 Like pattern on the chairs, almost mid-western.
20. St. Kitts Luxury Villa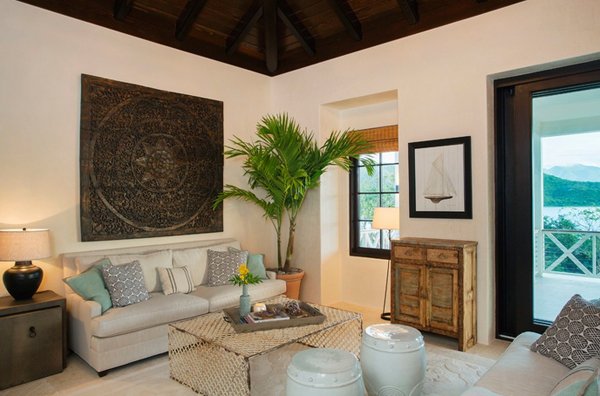 We see a great wall plaque in this living room; if there is a word "Mexiacan-ness" this place is that.
We pretty much are informed with what Mexican art and architecture is all about; the living rooms above showcase a large arsenal of art and design that is Mexican in their own right. Most of the designs and decors above maybe replicas and mere representations of what their culture is about but it sure is interesting and beautiful.