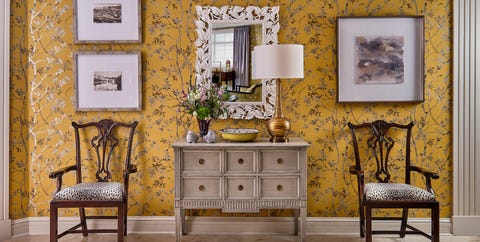 Courtesy of Keita Turner Design
As the seasons change outside, the design of your home should subtly reflect that inside. Transitioning your space for the fall season can be quite challenging. While it can be tempting and fun to consider kitschy autumn decor, more thoughtful decorating choices will take your space to the next level. From unique accessories to sophisticated wallpaper, fall decorating is all about adding warmth and expressing your style. Our favorite designers shared all the fall decorating inspiration you need to make your home cool and cozy for the autumn season.
1 of 42
Colors Found in Nature
Create a cozy and inviting space by mixing in hues found in nature. Keita Turner of Keita Turner Design added dimension to this living room by layering rich rust furniture and gold art and accessories.
2 of 42
Bring Fall Leaves Inside
"I love the idea of creating an interior environment that encapsulates the very essence of autumn," says Turner. She used a gorgeous Thibaut wallcovering of printed silvery olive-brown fall leaves against an enchanting golden backdrop in this living room.
3 of 42
Vintage Glassware in Warm Tones
"I like to mix shapes, colors and textures to create visual interest and dimension. Vintage glassware in varying shades of amber serves as a warm-toned contrast to the light blue lacquer credenza," says Laurie Blumenfeld-Russo of Laurie Blumenfeld Design
4 of 42
Cover Your Chairs
"Simple changes like placing casual (yet pretty!) slipcovers over the English antique chippendale chairs change the feel of the dining room," says Robin Rains of Robin Rains Interior Design.
5 of 42
Decorative Accessories in Dark Colors
"I use candles to create a warm glow and intimate atmosphere, and recommend switching to darker tableware," says Heather Hilliard of Heather Hilliard Design. Styling touches like filling bowls with fall fruits visually communicate the change in season.
6 of 42
Loose Leaves
"Vases full of loose leafy greens and branches keep your space feeling fresh, natural, and moody," says Hilliard.
7 of 42
Replace Flowers With Fall Foliage
Opt for fall foliage such as eucalyptus branches. The leaves add a hearty texture and earthy hue to this space designed by Gabriela Gargano of Grisoro Designs.
8 of 42
Wool Accents
Gargano layered new accent pillows and throw blankets in luxe merino wool to make this airy bedroom look and feel cozy.
9 of 42
Think Beyond the Seasonal Shopping Section
Believe it or not, you don't have to stick to the seasonal shopping section when it comes to fall decor. According to Heather Fujikawa of Habitat Studio, you can find stylish items in other areas of your local home decor store, too. "I found vases, candles, art, and other accessories in other parts of home decor stores that mixed up their seasonal offerings and layered it with other textures and interest that will also work year-round," says Fujikawa.
10 of 42
Faux Greenery
Bringing the outdoors in is one of the best ways to embrace the fall season. While pumpkins are always fitting, Habitat Studio's Fujikawa also enjoys decorating with dried greenery. "It's a great accent for your seasonal decor," she says.
11 of 42
Layer Pumpkins
When in doubt, layer pumpkins. An assortment of pumpkins in a range of hues is a failsafe way to transition your home for the fall season. Place them on your kitchen island, bookshelf, or a coffee table for a fun look, as Fujikawa of Habitat Studio has done here. "We also love to dip into our local nursery for our festive pumpkins and gourds," Fujikawa says. "Try sage-colored pumpkins, white Cinderella pumpkins, or tiger stripe pumpkins." She also suggests stacking them on top of each other for added visual interest.
12 of 42
Pomegranate Place Setting
The end of fall is the peak season for pomegranates, so why not incorporate the fruit into a simple, yet elegant, place setting? Interior designer Janie Molster paired the fruit with a simple white plate and striped cloth napkin for a perfect fall dining table look.
13 of 42
Mantle with Foliage
Dress up a living room mantle with everything from brass candlesticks to an assortment of potted plants. Add color with small floral arrangements that embody the season.
14 of 42
Low Centerpieces
Designer Danielle Rollins is partial to low centerpieces featuring a mix of herbs or flowers for a fall dining table. Enhance the look with acorns, gourds, classic classic china, and elegant silverware.
15 of 42
Orange Velvet Accents
A dose of velvet never fails to add warmth to a room. To celebrate the fall season, go for an orange velvet accent, like a throw pillow or a curved sofa, which can be the highlight of your space year-round.
16 of 42
Faux Fur Throws
Virginia-based designer Janie Molster likes to drape white faux fur throws over the back of dining chairs for a luxurious look. A rustic centerpiece of colorful flowers and fruits backed by tree branches add to the arrangement.
17 of 42
Maximalist Chic
Looking for a fresh take on an autumn table set-up? Go for a chic maximalist look with an abundance of vibrant flowers, succulents, and crystal candle holders. Design by Liz Caan.
18 of 42
Layer Accent Pillows
Layering accent pillows is a go-to fall decor trick for designer Marika Meyer, who is based in Washington, D.C. In this inviting living room, Marika paired a base of neutral throw pillows with patterned styles in warm terracotta hues. The pillows, which can be updated from season to season, also complement the fall-appropriate Roman shades.
19 of 42
Nature-Inspired Tablecloth
A tablecloth adorned in a floral motif is an easy way to add a sophisticated touch to a fall table arrangement. Add elegant place cards and monogrammed cloth napkins to make it feel even more special. Design by Danielle Rollins.
20 of 42
Orange and White Floral Arrangements
A gorgeous fall table from Anne Hepfer features a large white floral centerpiece accompanied by smaller arrangements of orange blooms.
21 of 42
Cheerful Tones
For designer Beth Diana Smith, fall is all about going bold with your color choices. "My favorite part of fall is the mix of colors, that moment when the brighter summer tones start to mix with the deeper hues of fall," she says. "Don't be afraid to mix and match those colors in florals, especially in unexpected places like trays instead of vases. It's like bringing in a basket of flowers indoors."
22 of 42
Feather-Filled Centerpiece
This dramatic fall table from Simple Stylings includes an unexpected combination of pheasant feathers, pine cones, and white pumpkins. The hand-picked floral arrangement is surrounded by gold pine cones and styled on top of a faux-fur table runner.
23 of 42
Earthy Entryway Wreath
A fall wreath needn't be bright orange. This stunning decoration from Coco Kelley and Saipua uses blackberries and feathers rather than typical autumn foliage.
24 of 42
Overflowing Fruit Tablescape
At a fall dinner inspired by childhood memories of playing in the leaves and sharing holiday dinner, Twink + Sis filled their tablescape with an abundance of pomegranates, tangerines, figs and grapes, with colorful leaves and plenty of long, tapered candles throughout.
25 of 42
Fall Entryway
On white wood walls, blogger Michael Wurm Jr. of Inspired by Charm decorated his entryway for fall with two matching wreaths. Guests are greeted by a rose-filled floral arrangement in an array of autumn shades, and a carved wooden pumpkin.
26 of 42
Copper Place Setting
Alice Wingerden of Thoughts From Alice set her fall table with vintage fruit plates and copper chargers, which she topped with a bundle of spray-painted pine cones and pheasant feathers. This placesetting is perfect for an understated yet festive meal.
27 of 42
Fall Porch
Outdoor entertaining spaces deserve a fall touch too! Blogger Michael Wurm Jr. of Inspired by Charm made his porch the perfect autumnal entertaining area by bringing the indoors out, with orange-and-brown throw pillows and blankets, a rust-colored coffee table, and some apple hors d'oeuvres and drinks.
28 of 42
Laidback Neutral Tablescape
29 of 42
Cozy Non-working Fireplace
Warm up a non-working fireplace with cozy accessories such as pillow-and-throw-filled baskets, a plush sheepskin rug and a little branch of eucalyptus in a vase, as Coco Kelley did in this vignette. An added benefit: Easy access to warm blankets on cold evenings.
30 of 42
Black And White Decor
Fall decor takes on a retro edge in this monochromatic space from Little Glass Jar. Pair a plain white pumpkin with your own vintage items for a storied yet freshly seasonal look.
Advertisement – Continue Reading Below
This content is created and maintained by a third party, and imported onto this page to help users provide their email addresses. You may be able to find more information about this and similar content at piano.io
This commenting section is created and maintained by a third party, and imported onto this page. You may be able to find more information on their web site.