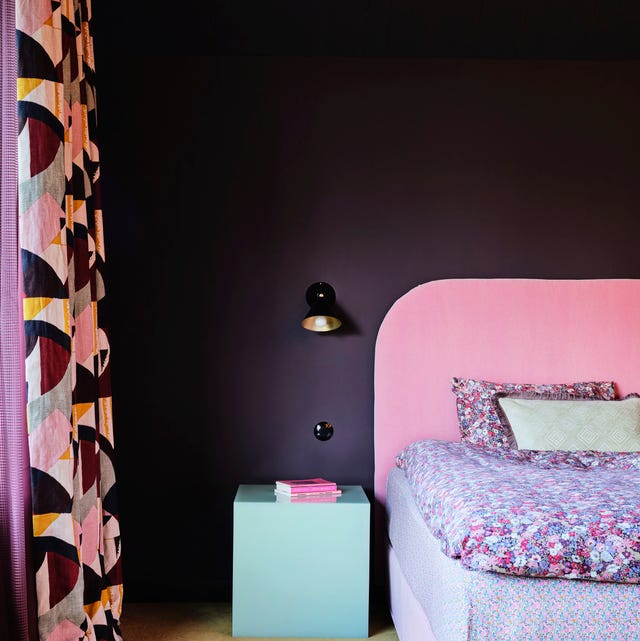 Thijs de Leeuw/Space Content/Living Inside
When choosing a color scheme for your bedroom, there are multiple things to consider: What mood should I set? Should it be energizing or relaxing, sweet or sophisticated, romantic or bold? We're here to make a case for one color in particular: pink, which can accomplish any of the above and pairs nicely with a variety of combinations and styles. Get inspired by 21 pink bedrooms from some of our favorite designers and save your favorite examples so you can recreate the look and color combination in your own home. From ultra-sweet renditions to surprisingly edgy takes, we promise everything will be coming up roses by the time you finish scrolling through our favorite pink bedrooms.
Advertisement – Continue Reading Below
Designer Kristin Fine added sleek touches in the primary bedroom to give the home's farmhouse bones a sophisticated edge. A small metal sconce and bronze sculpture by Tania Pérez Córdov crowning the bed and a lucite side table create streamlined style, while the baby pink upholstered bed and hardwood floors keep everything grounded.
Who says you have to choose between hot pink and bright blue? As exemplified in this bedroom designed by Nick Olsen, the two make a magic pair, especially in a teenager's bedroom.
3
Get Preppy With Matchy-Matchy Prints
Matching Roman shades and bedding is always a fun look, but Kristen Pantich took it a step further by using the same pattern to upholster the headboard and extended the wallpaper to the ceiling for a total pink-out.
Shapeless Studio matched the wall paint color to the bedding for a cohesive look. The design firm left the ceilings, shutters, and frames white for a subtle contrast against the pink and color-blocked pillows for dimension.
5
Make Wallpaper Pop With Painted Moldings
This room designed by Atelier ND is exploding with fun colors. The objective was to use a pretty floral wallpaper, but to dress it down with items that made it look bold, not precious. The electric orange blinds, dark green carpet, yellow side table, and purple plaid bedspread bring an edgy midcentury feel that gets the job done. The unsung hero? Those pepto-pink moldings!
6
Add One Statement Accent
In this modern bedroom by Raji RM, the crisp white paint and long sheers accentuate the height of the space, while all the other furniture was kept super low for a grounding effect. A framed sepia artwork, wood side table, and marigold pillow introduce warmth, while the magenta throw is a fun surprise.
7
Lean in to Highlighter Pink
Can you imagine a more sunny, cheerful space to tuck in and wake up? We sure can't. This bedroom by Anna Spiro Design is about as energizing as bedrooms get, thanks to the playful bubblegum painted walls and lemon yellow accents in the table lamp base and artwork.
8
Channel a Time and Place
Blue and white aren't the only colors that work like magic in a beach house! This bedroom in a coastal escape designed by Tamsin Johnson Interiors is dominated by pink and white, and asserts its sense of place via some tropical materials, like rattan and jute.
Designer David Kaihoi transformed this one-bedroom apartment into a family home, and yes, pink was involved. A floral mural with pink ground turns the tiny space into a venue for the imagination to soar and run wild. This little trundle bed tucks right back under the bed when it isn't in use, "first thing in the morning," says Kaihoi. And they use that windowsill as a bedside table.
Blush pink gets a modern twist in this luxe bedroom designed by Arent & Pyke. The reupholstered Womb Chair and plush silvery carpeting soften the modern light fixture, but still look edgy and modern enough to dress up the sweet pale pink curtains.
11
Lighten With Paint and Pleats
In this pink bedroom designed by Heidi Caillier, natural greenery enlivens the space while the antique wood and bronze elements are lightened up by the pretty pink pleats and paint.
12
Introduce Two Accent Colors
Fresh flowers in a stylish purple vase and plenty of natural light pouring through the classic shutters ensure good vibes in this bedroom by Kevin Isbell. By contrast, the light mauve bedding and pale rose walls become surprising neutrals.
Josh Greene took advantage of all the vertical space in this otherwise small bedroom by installing a gallery wall that draws the eye up right on top of fun geometric wallpaper. Layers of dusty rose bedding make for a cozy and romantic sleep situation.
14
Bring Out Different Undertones
This sunny peach-toned bedroom is an airy departure from the moody blue hall beyond it. Light colors, minimal pieces, and an easy-going mix of patterns in this bedroom by Devin Kirk prove that less is more. If you want to experiment with pink but don't feel ready to use a super obvious shade yet, use this room as your blueprint.
The walls may be painted a deep blue-green, but it's the piles of custom throw pillows that add bohemian joy to the bedroom. They pair perfectly with both the high-gloss paint and the marigold bedding for a cohesive yet laidback feel.
16
Contrast Black and White
Black and white foundations get a surge of energy from the hot pink and bright orange Suzani coverlet and pillows in this bedroom designed by Janet Gridley.
Cecilia Casagrande salvaged this marble mantel from a home in a neighboring town built in the same period and then painted the walls Middleton Pink by Farrow & Ball for a rosy glow.
18
Set a Moody Foundation
In this fun bedroom designed by Atelier ND, a Vispring bed is upholstered in pink Pierre Frey mohair and moody deep purple walls make a strong statement. The Coco & Wolf floral bedding, geometric-printed curtains, and a mint green cubic nightstand by Sabine Marcelis keep things playful.
19
Layer Eclectic Prints and Shades of Pink
Balance warm, energetic hues by adding cool elements to a primarily pink bedroom. Here, Janie Molster opted for a pale gray backdrop and some complementary accent chairs. The eclectic patterns still stay in the spotlight.
We're loving the piles of luxe, soft-to-the-touch materials throughout this bedroom by Les Ensembliers; pink accents really steal the show here. The glossy white flooring under the carpet, bright white walls, and semi-sheer curtains add levity, but it's the floral stool and pink geometric throw at the end of the bed that deliver total elegance.
Hang some curtains from the ceiling to the bottom of the floor just in front of the bed for a makeshift canopy that sections off the room without making it claustrophobic.
Advertisement – Continue Reading Below