Last updated on May 29th, 2020
These days, it's impossible to miss the modern farmhouse design, whether you're online, watching TV, or exploring your town. Plenty of homeowners are wondering how to get the modern farmhouse look in their homes, and while the inside is undoubtedly important, the outside is just as crucial to ensuring your home achieves this style.
From Arizona to Virginia, there are so many variations on the farmhouse look. Explore 24 of our favorite modern farmhouse exteriors below, each showcasing a different take on this popular home aesthetic. 
1. Valen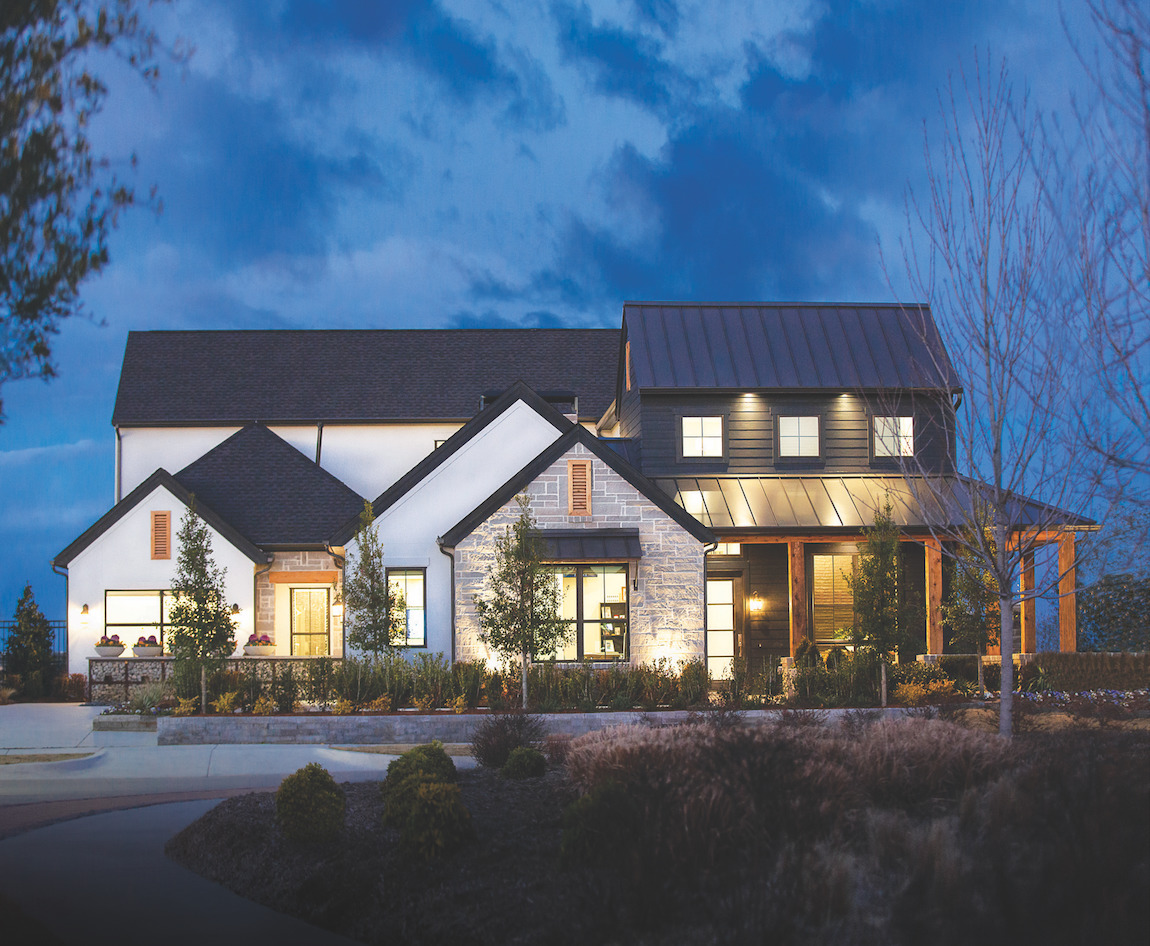 Community: Viridian
State: Texas
The Valen's Key Design Features:
Horizontal siding, stucco, and cut stone combined with dark trim and cedar accents
Standing metal seam mixed with an asphalt shingle roof
Louver accents that add interest to the gables
Welcoming wrapped front porch
2. Triana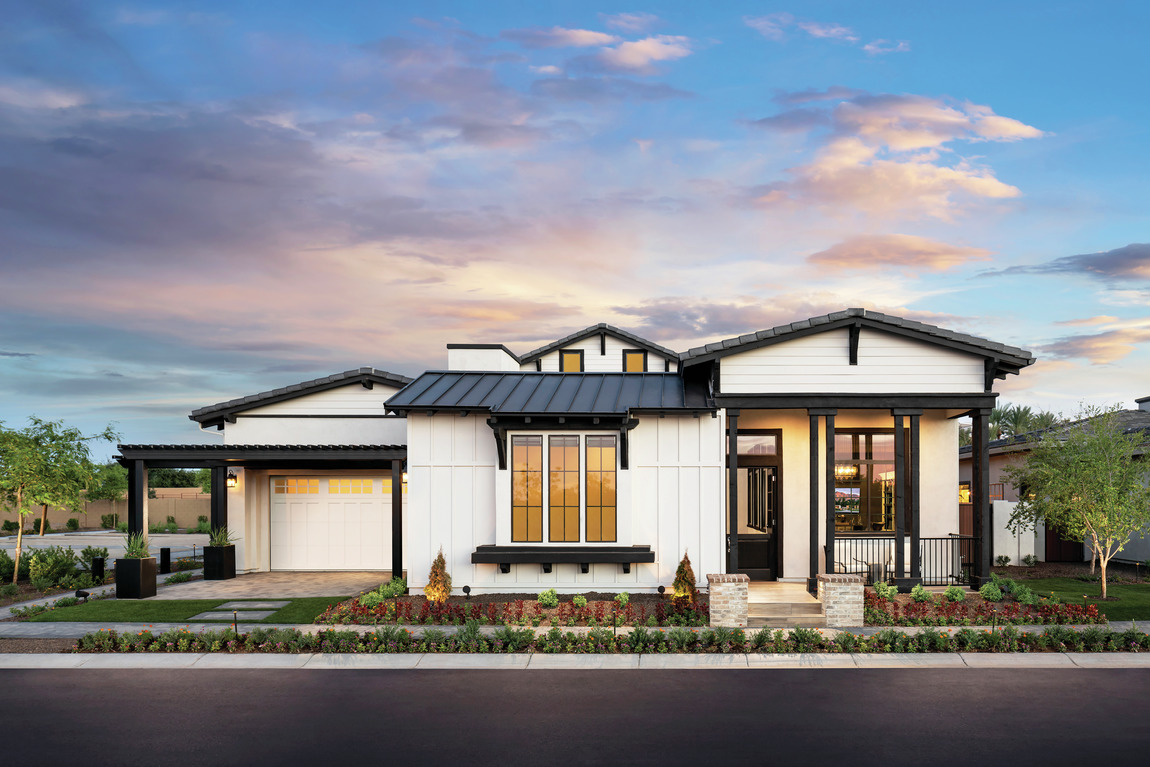 Community: Legacy at Seville
State: Arizona
The Triana's Key Design Features:
An appealing combination of board and batten siding, horizontal siding, and stucco
Dark trim against a modern white color scheme
Standing metal seam roofs mixed with flat tile
Low pitch gabled roofs; exposed rafter tails; gable brackets
3. Stanley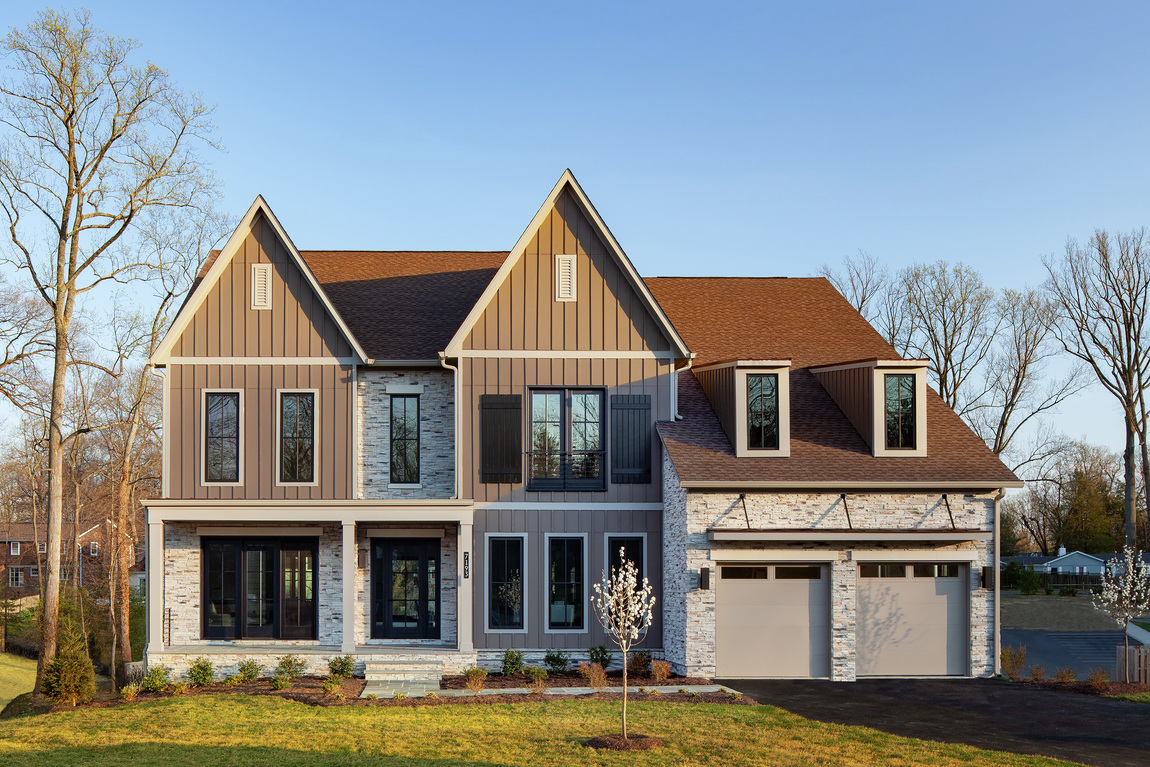 Community: Retreat at McLean & Mehr Farm
State: Virginia
The Stanley's Key Design Features:
Dark windows for a dramatic contrast against the soft-colored stone
Glass doors across the front of the home to fill the entry with light
Modern garage canopy accents for an unexpected finish
4. Evans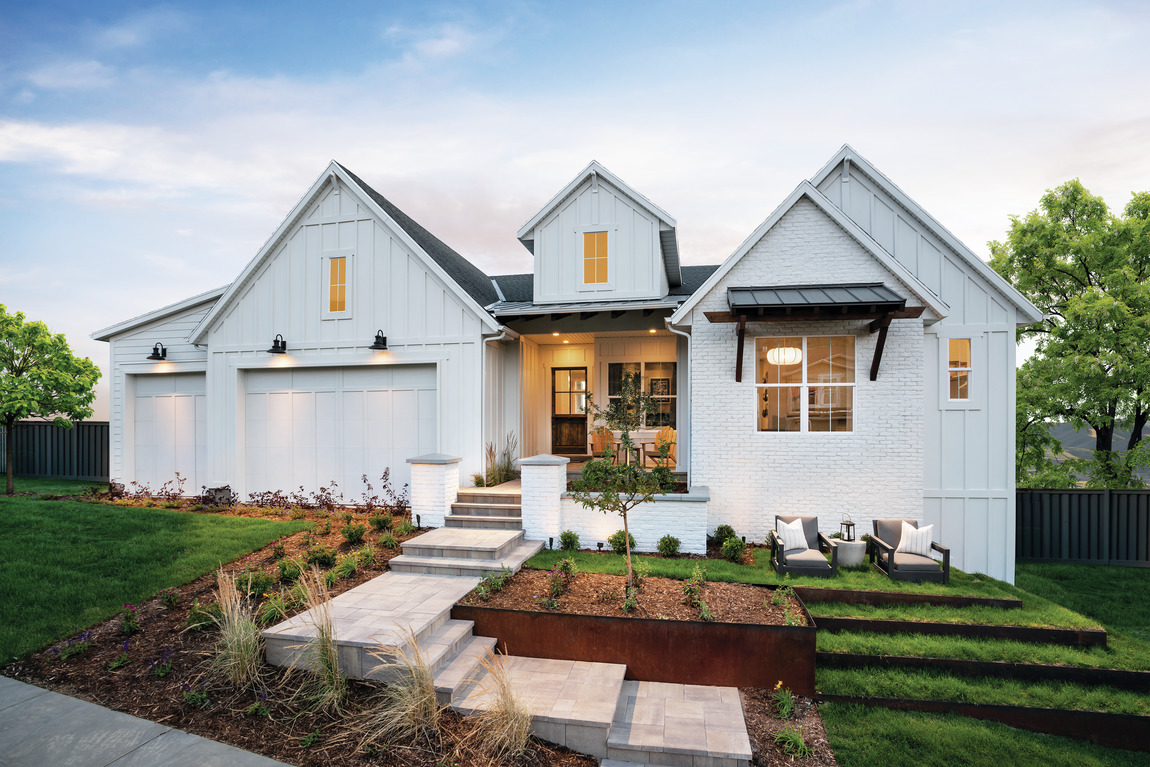 Community: Canyon Point at Traverse Mountain – The Summit Collection
State: Utah
The Evans' Key Design Features:
White color scheme and white windows that give the home a clean, monochromatic look
A fresh combination of board and batten siding, horizontal siding, and painted brick
Gable bracket details; exposed rafter tails at standing seam roofs; dormer stacked above entry
Barn style coach lights above garage for additional exterior lighting
5. Geneva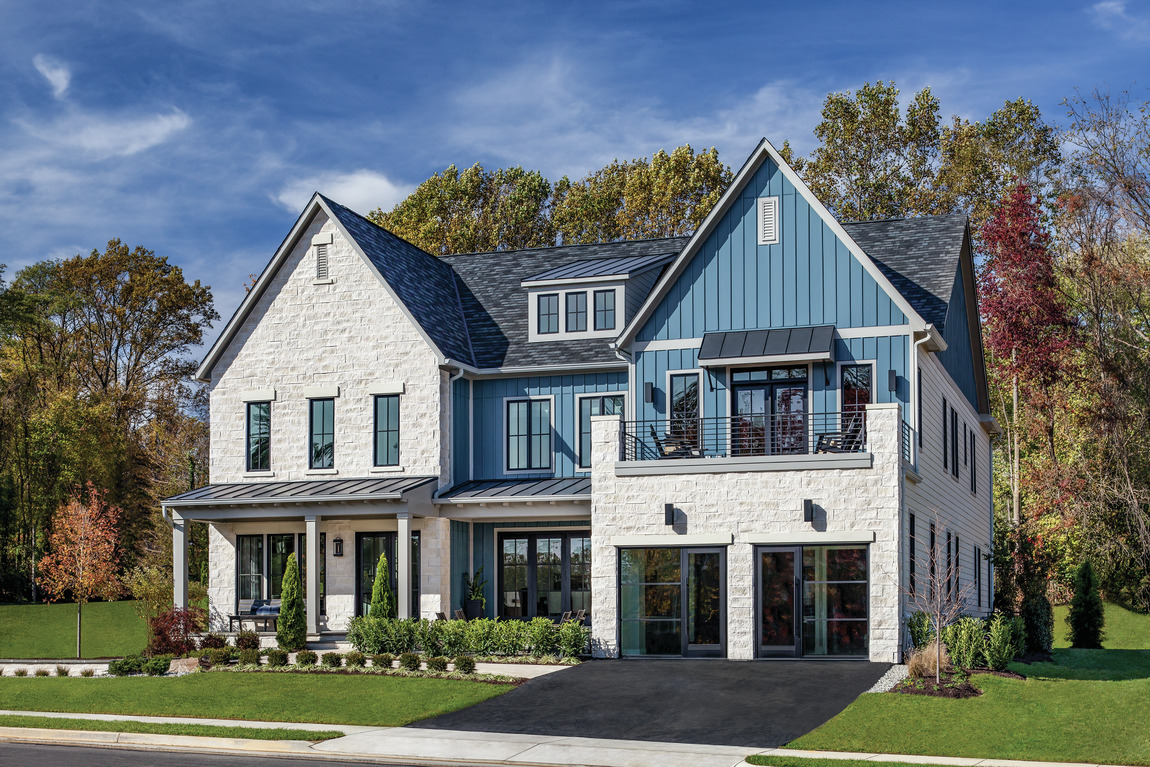 Community: Retreat at McLean & Mehr Farm
State: Virginia
The Geneva's Key Design Features:
Unique metal roof accents
Master bedroom suite balcony for an outdoor retreat
Expansive glass doors across the front of the home 
A mix of soft-colored stone and dramatic dark windows and blue siding for exquisite contrast
6. Weston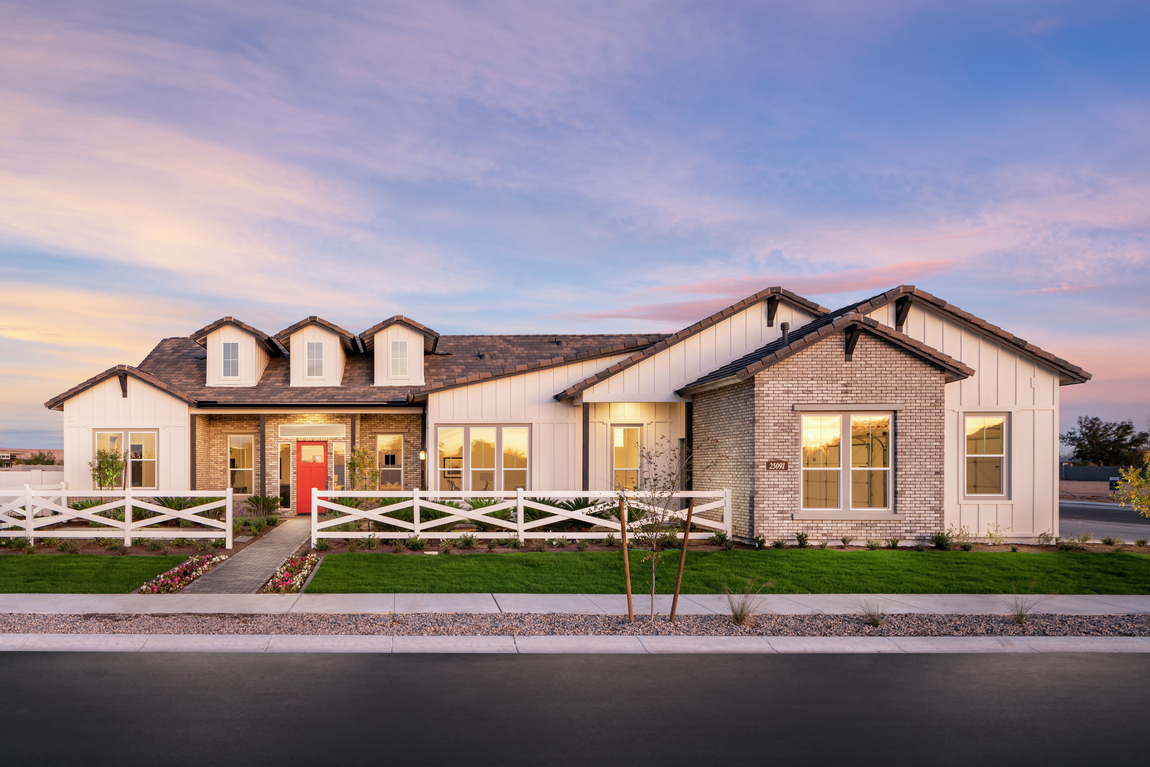 Community: Whitewing at Whisper Ranch
State: Arizona
The Weston's Key Design Features:
Board and batten siding with luxurious dark brick
Dark trim and white body color schemes for additional contrast
Low pitch gabled roofs with flat tile
Gable bracket details
Dormers stacked over large front covered entry with striking red front-entry door 
7. Tyndall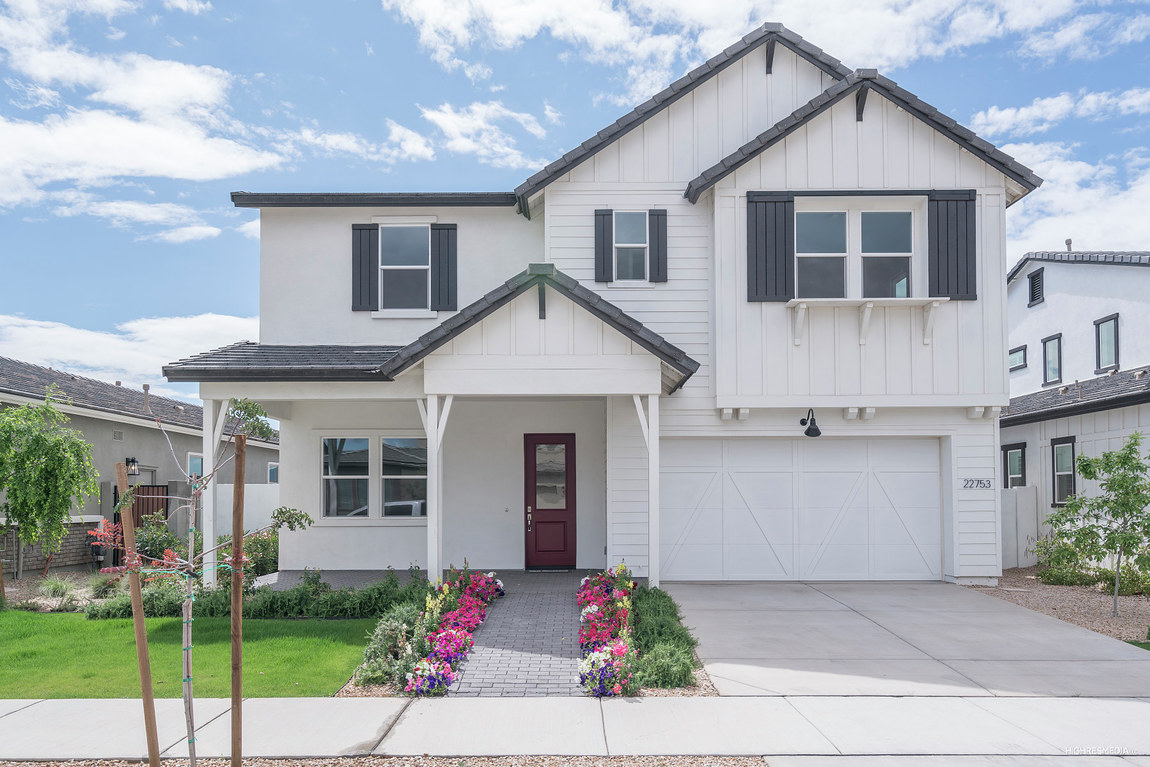 Community: The Crossings at Meridian
State: Arizona
The Tyndall's Key Design Features:
Board and batten siding with horizontal siding
Window shutters that create contrast
Eye-catching cantilevered second story gable over garage
Bracket gable details; red front-entry door 
Barn lamp-style sconce centered over the garage to provide practical and aesthetic lighting
8. Hollister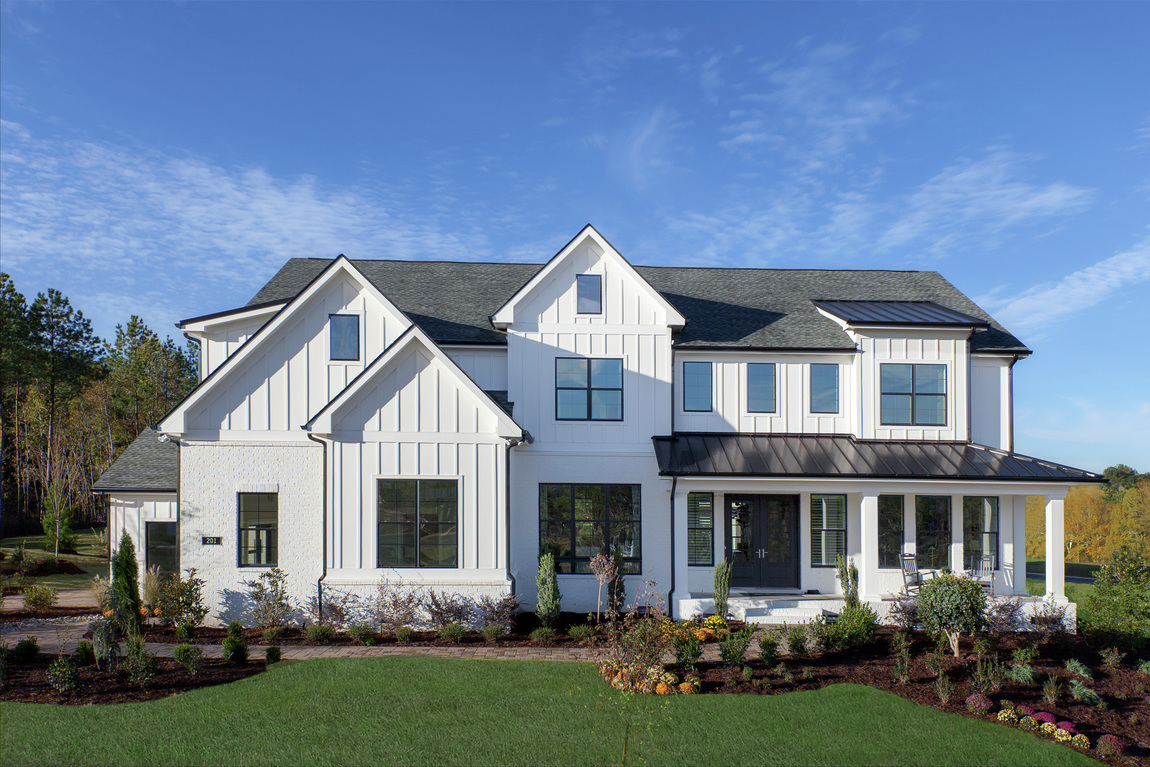 Community: Addison Pond
State: North Carolina
The Hollister's Key Design Features:
White board and batten siding complemented by white-painted brick for an elegant, tonal, modern color scheme
Welcoming metal-roofed porch complemented by grand glass double doors
9. Midwood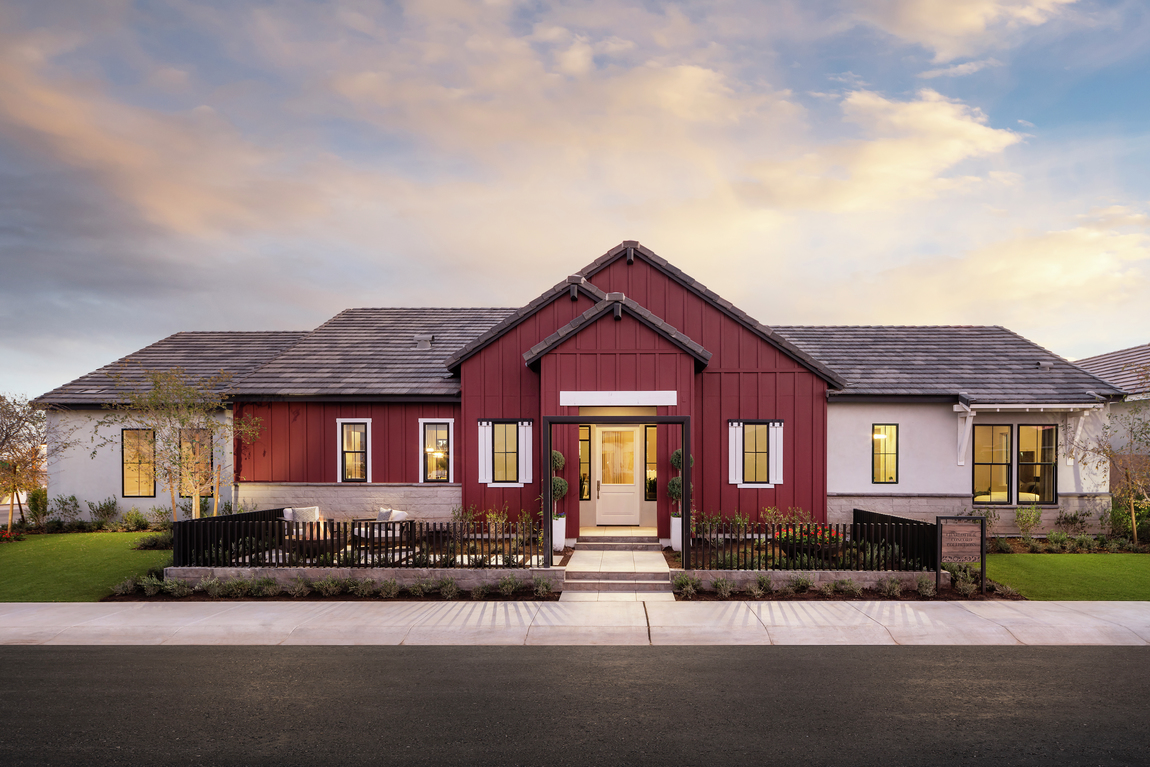 Community: Sterling Grove
State: Arizona
The Midwood's Key Design Features:
An exquisite exterior combination of board and batten siding, stucco, and stone for the perfect modern farmhouse look.
Two-tone contrasting body color with eye-catching dark trim
Barn door-style shutters to give a rustic feel to the home's exterior
10. Yuma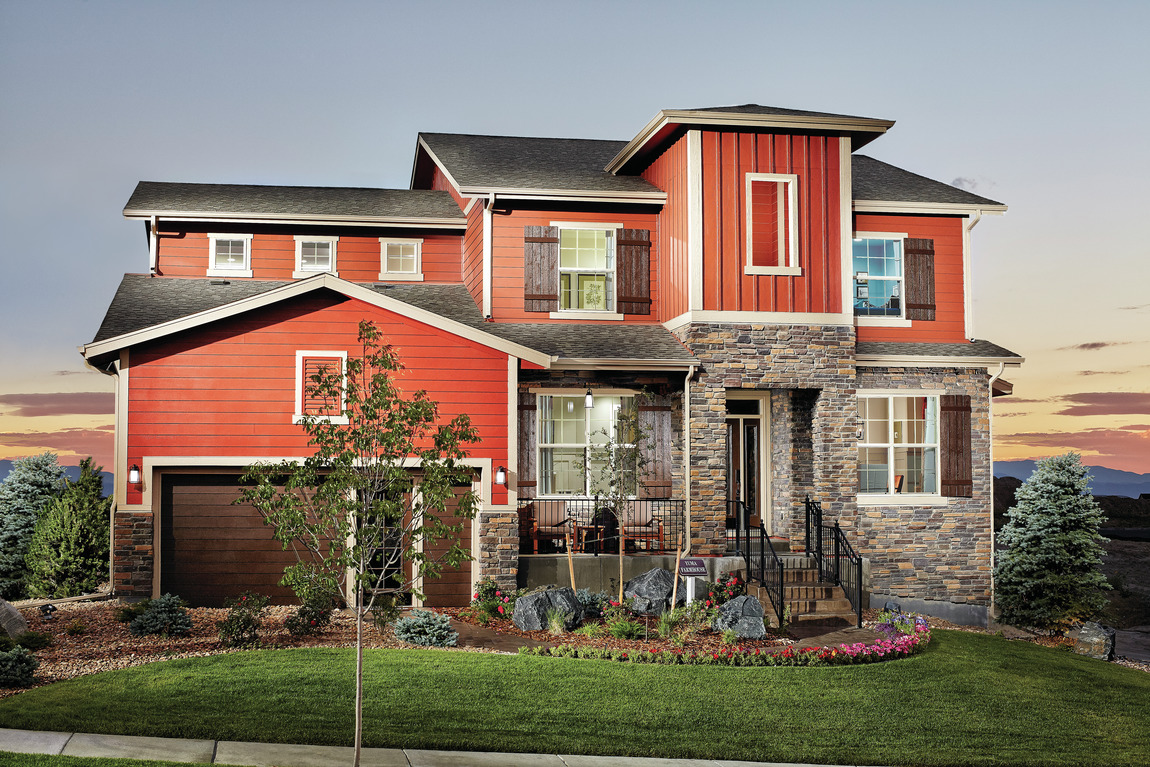 Community: The Hills at Parker
State: Colorado
The Yuma's Key Design Features:
A fresh exterior that combines board and batten, horizontal siding, and stone
Dark body and white trim to create prominent contrast
Window shutters that add to the rustic aesthetic
A mix of hip and gable roofs with asphalt shingles
11. Crestone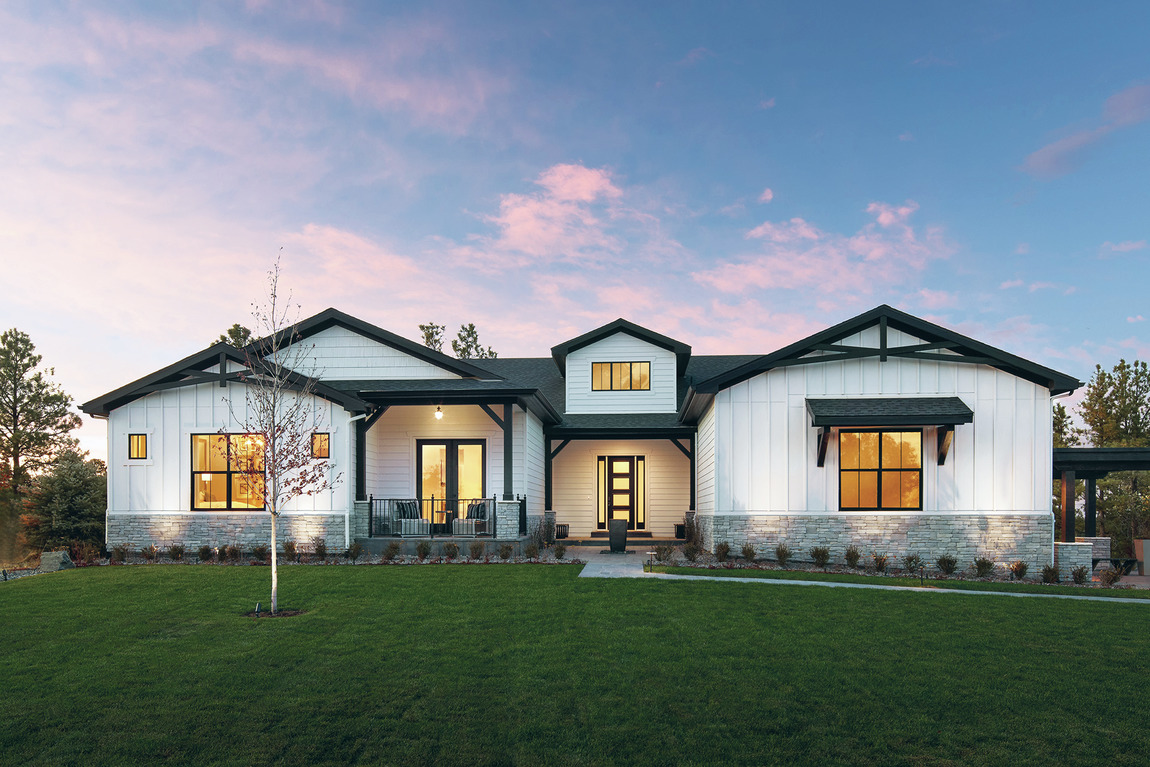 Community: Toll Brothers at The Timbers
State: Colorado
The Crestone's Key Design Features:
A stunning exterior that mixes board and batten, horizontal siding, and striped stone
A low-pitched gable roof
Dark trim beautifully contrasted against a white body 
Shed roofs over a window and a large dormer stacked above the entry
12. Woodberry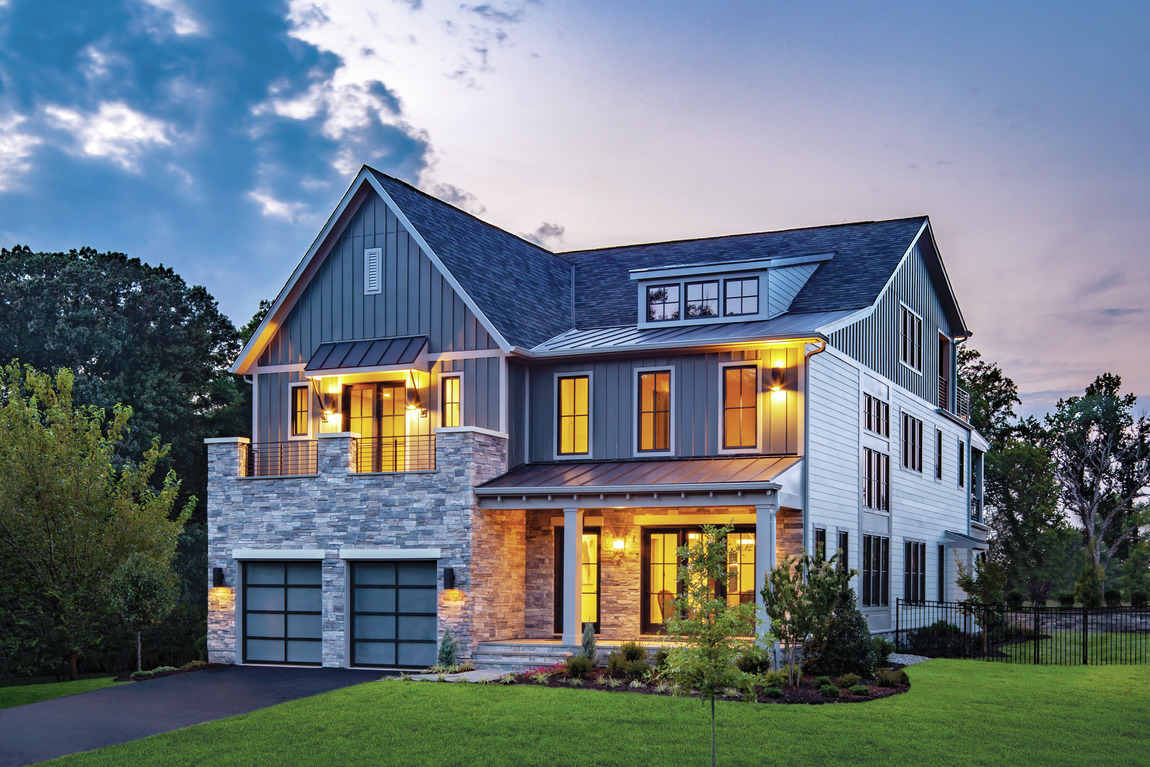 Community: Retreat at McLean & Mehr Farm
State: Virginia
The Woodberry's Key Design Features:
Metal roof accents for a sleek, modern feel
Glass doors across the front porch to fill the first floor with light
Beautiful bedroom balcony for an outside retreat
13. Sunningdale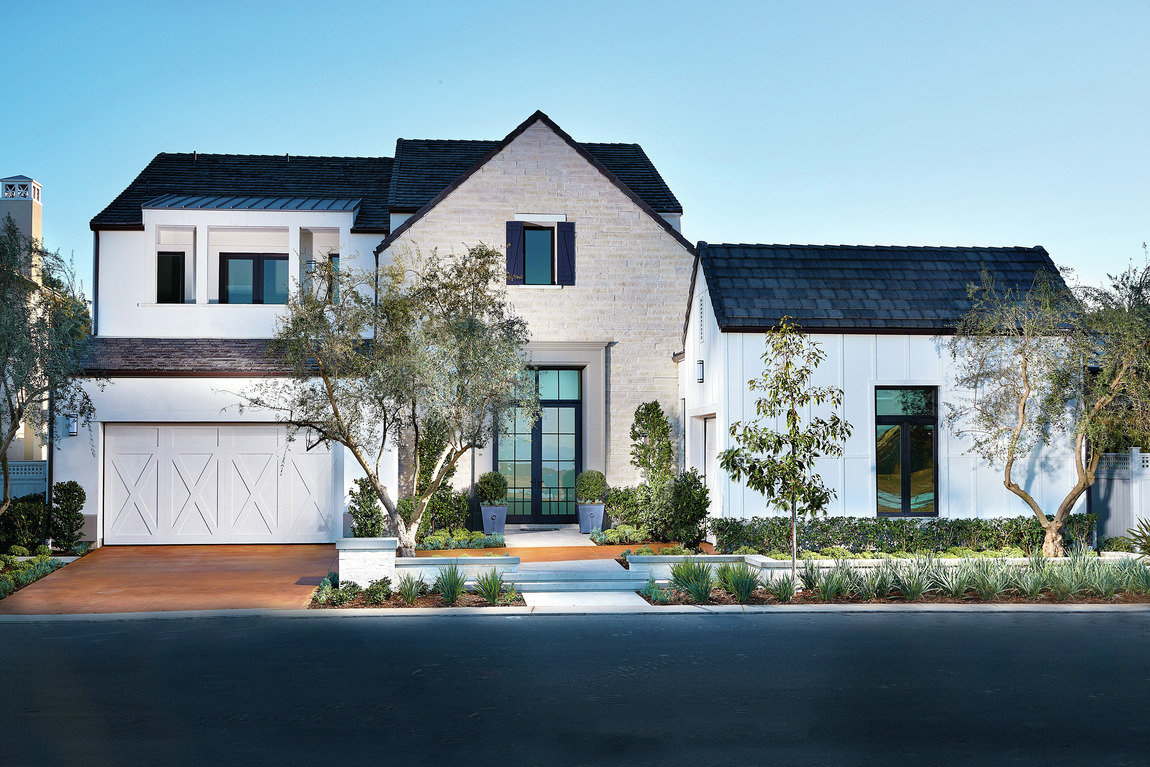 Community: Toll Brothers at Rolling Hills Country Club
State: California
The Sunningdale's Key Design Features:
Board and batten, stucco, and stone exterior for a luxe urban style
Dark trim with a white body to accentuate contrast
Flush gable roofs; flat tile mixed with standing seam accents
Wide front entry with gorgeous cast stone detail
14. Savannah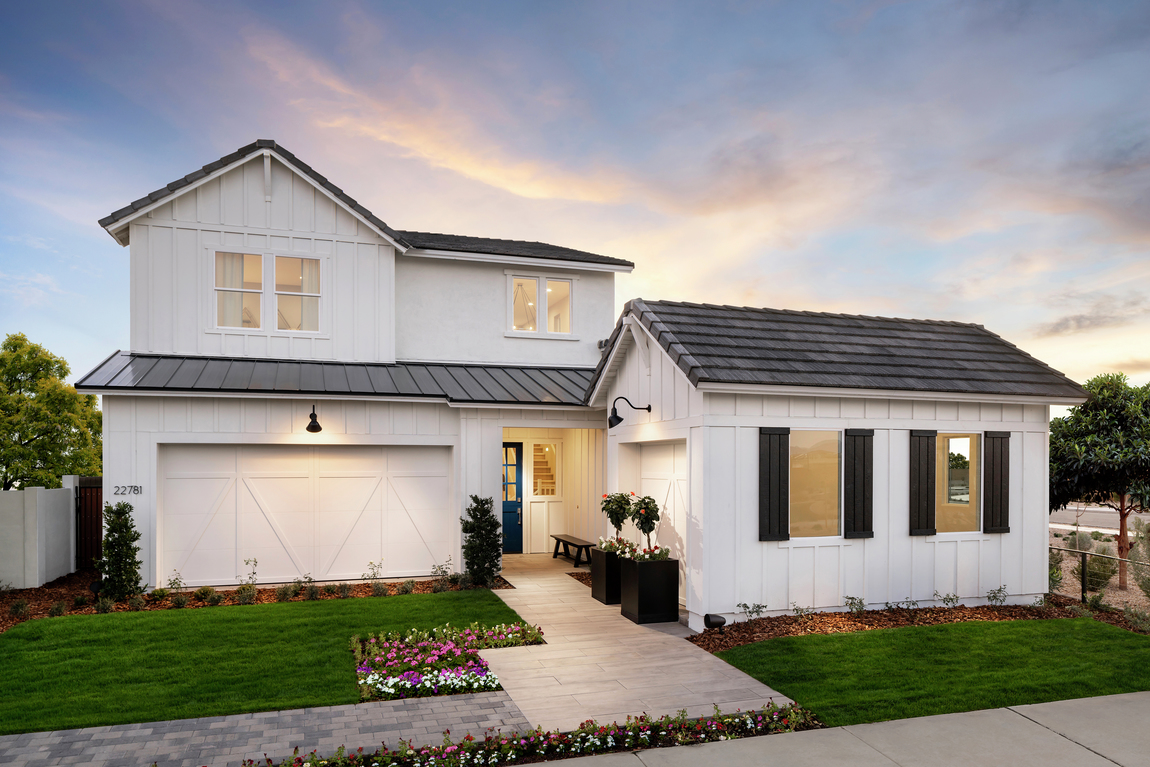 Community: The Crossings at Meridian
State: Arizona
The Savannah's Key Design Features:
Board and batten and stucco exterior with white-on-white monochromatic color scheme
Standing metal seam shed roof accents with flat tile
Bracket gable detail; window shutters; barn lamp-style sconces centered above the garage
Blue front entry door to provide a pop of color
15. Yale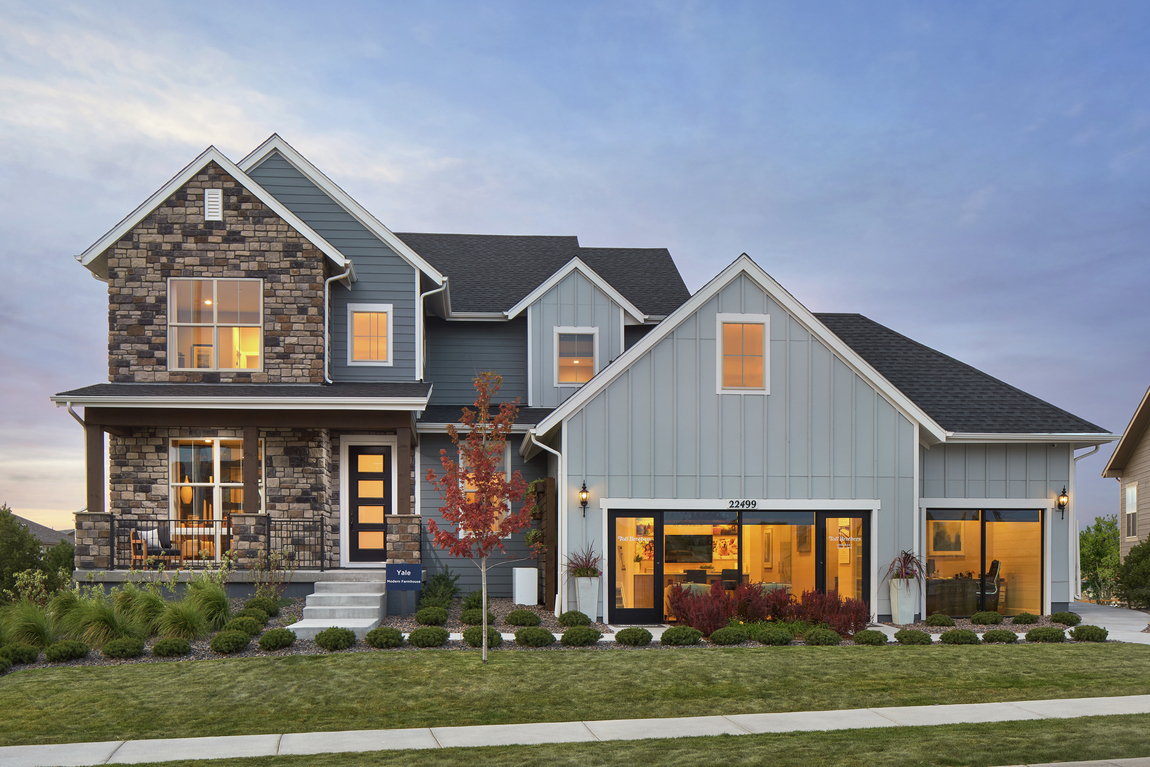 Community: The Hills at Parker
State: Colorado
The Yale's Key Design Features:
Board and batten, horizontal siding, and stone exterior
Two-tone body with white trim to create a layered yet unified look
Steep gable roofs with asphalt shingles
Column wrapped front porch and stone pedestals to complete the luxurious exterior
16. Crestview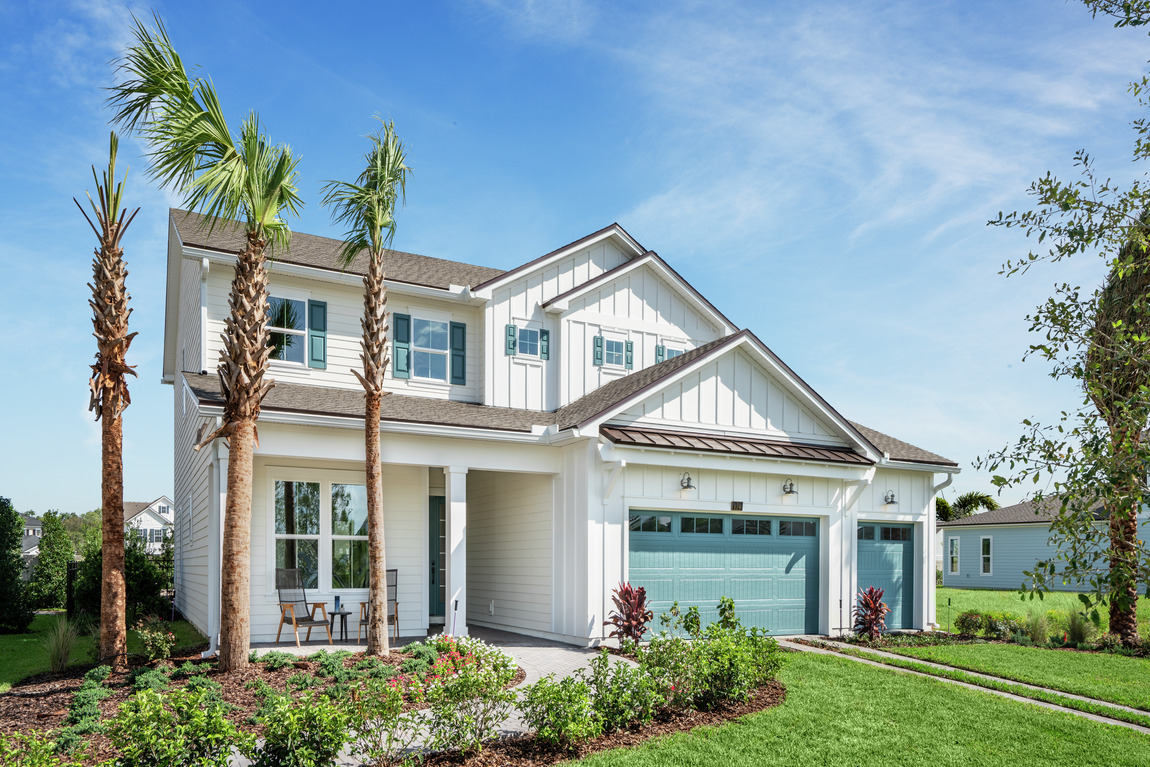 Community: Toll Brothers at Shearwater
State: Florida
The Crestview's Key Design Features:
A welcoming exterior that combines board and batten, horizontal siding, and stucco
White-on-white with contrasting accents to give the home an airy and tropical look 
Turquoise front entry and garage doors with lamp-style sconces centered above the garage
17. Ahrens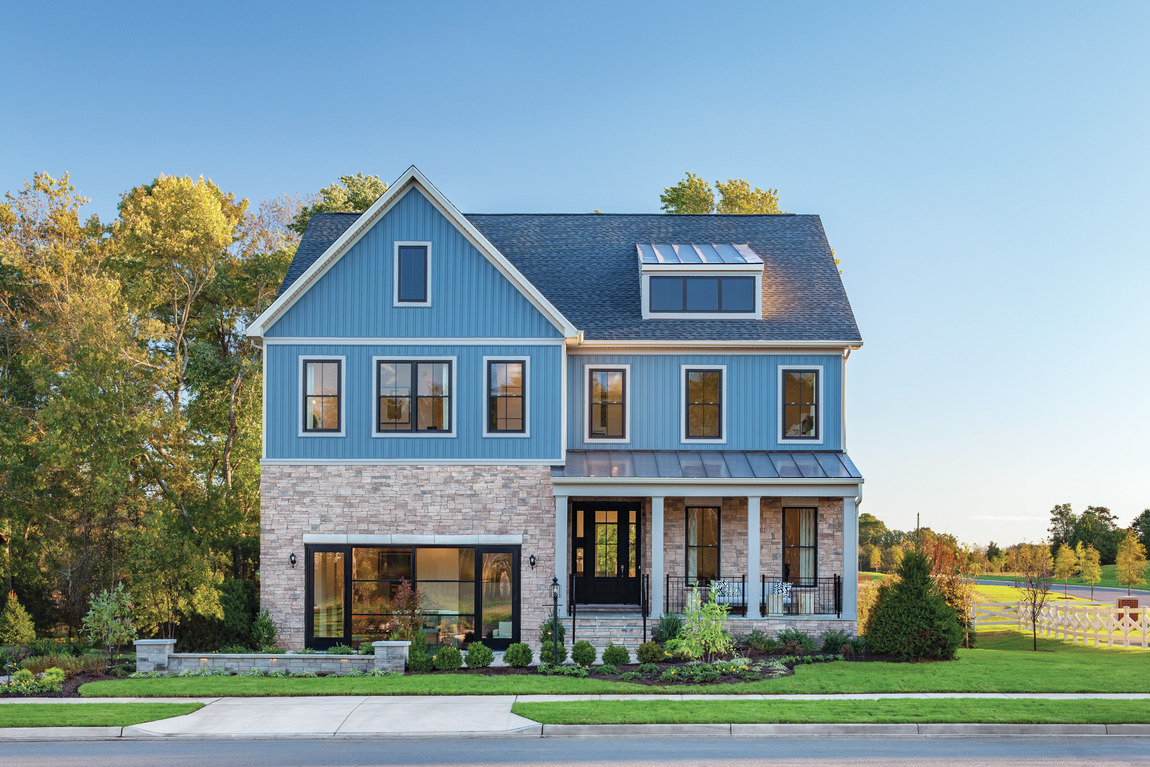 Community: Lenah Mill
State: Virginia
The Ahren's Key Design Features:
Metal roof accents for a touch of modern drama
On-trend blue siding and dark windows for an updated farmhouse look
18. St Helena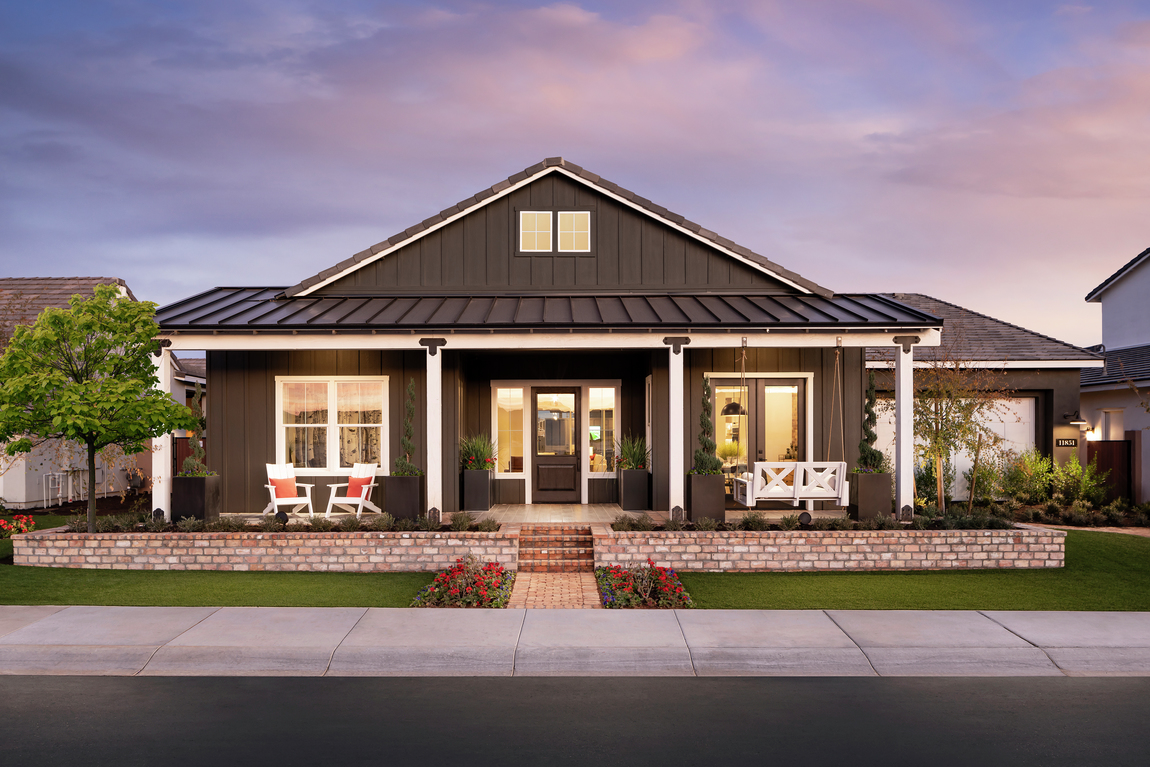 Community: Sterling Grove
State: Arizona
The St Helena's Key Design Features:
Stunning board and batten and stucco exterior
Dark body with white trim that allows for the full width front porch to notably stand out
Flat tile with metal roof accents
Exposed column hardware for a rich finish
19. Hersch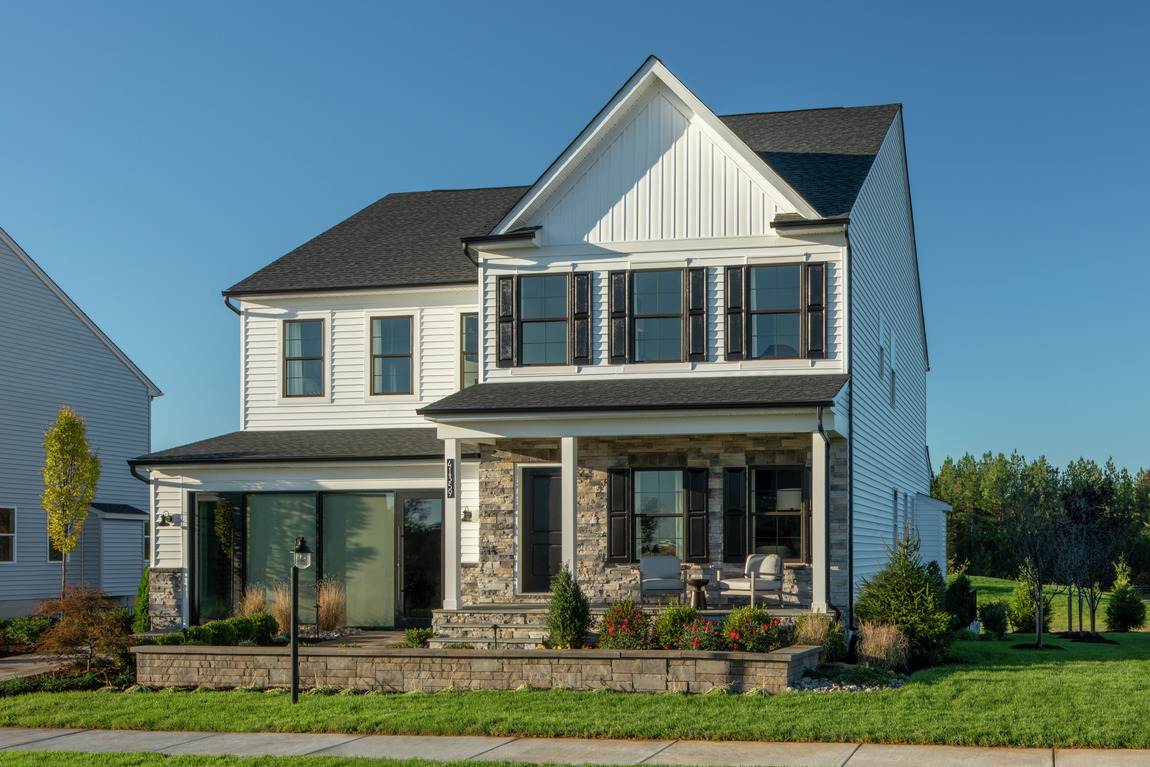 Community: Lenah Mill
State: Virginia
The Hersch's Key Design Features:
Welcoming stone front porch
Dark windows for elegant contrast with white siding and warm stone hues
20. Baldwin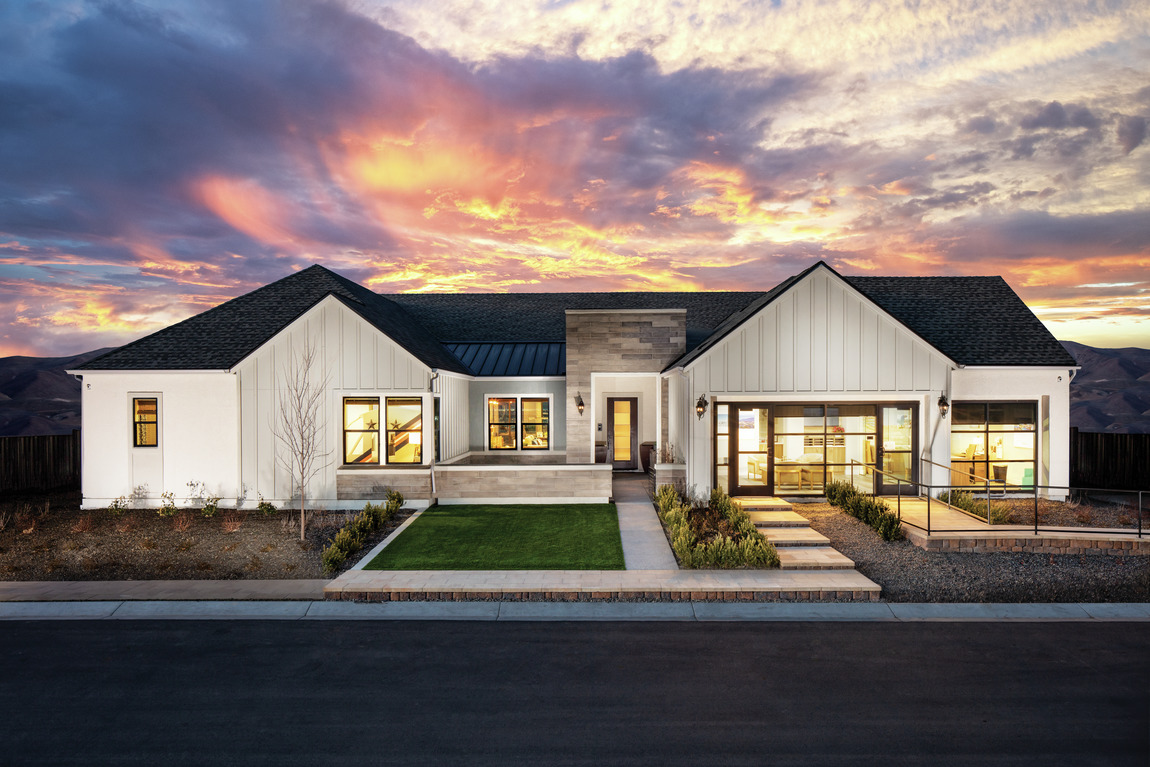 Community: Caramella Ranch
State: Nevada
The Baldwin's Key Design Features:
Eye-catching mixed exterior design with board and batten, stucco, and stone
Beautiful two-tone body with white trim
Contemporary entry elements; metal roof accents
Flat roof with a striking stone entry
21. Fincastle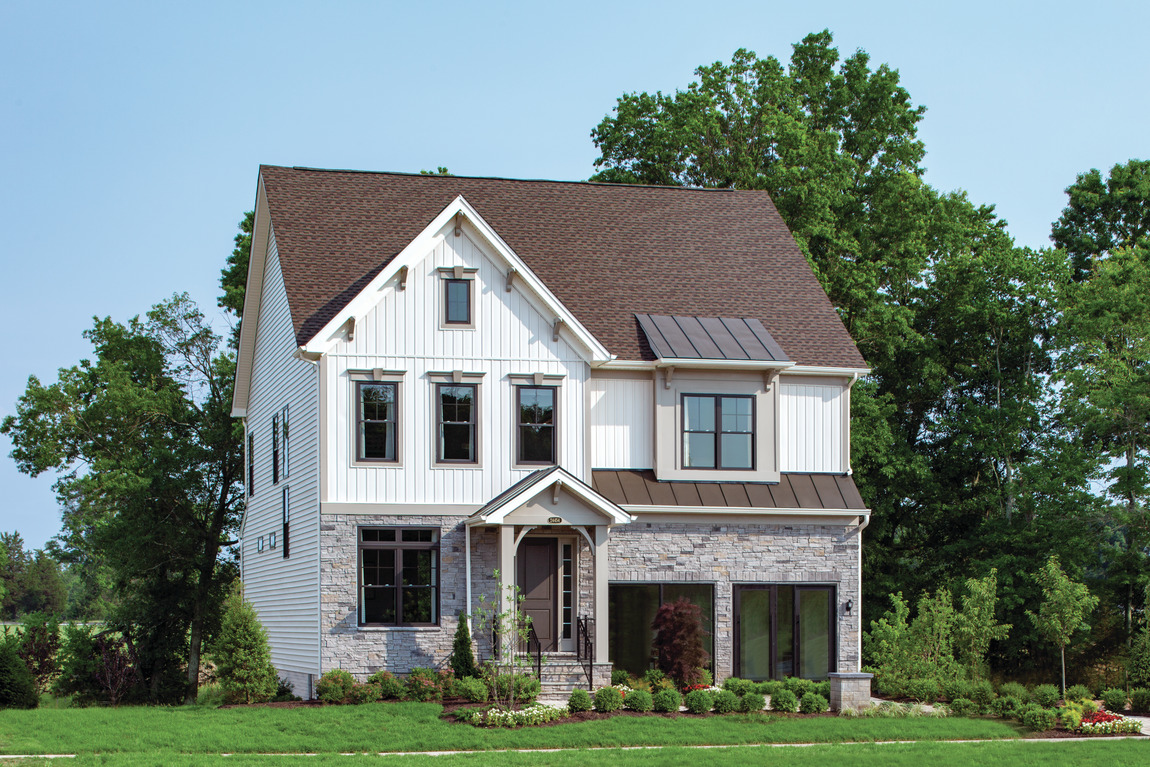 Community: Lenah Mill
State: Virginia
The Fincastle's Key Design Features:
Metal roof accents 
Warm trim accents paired with soft siding and stone color schemes with contrasting dark windows for an elegant exterior
22. Calistoga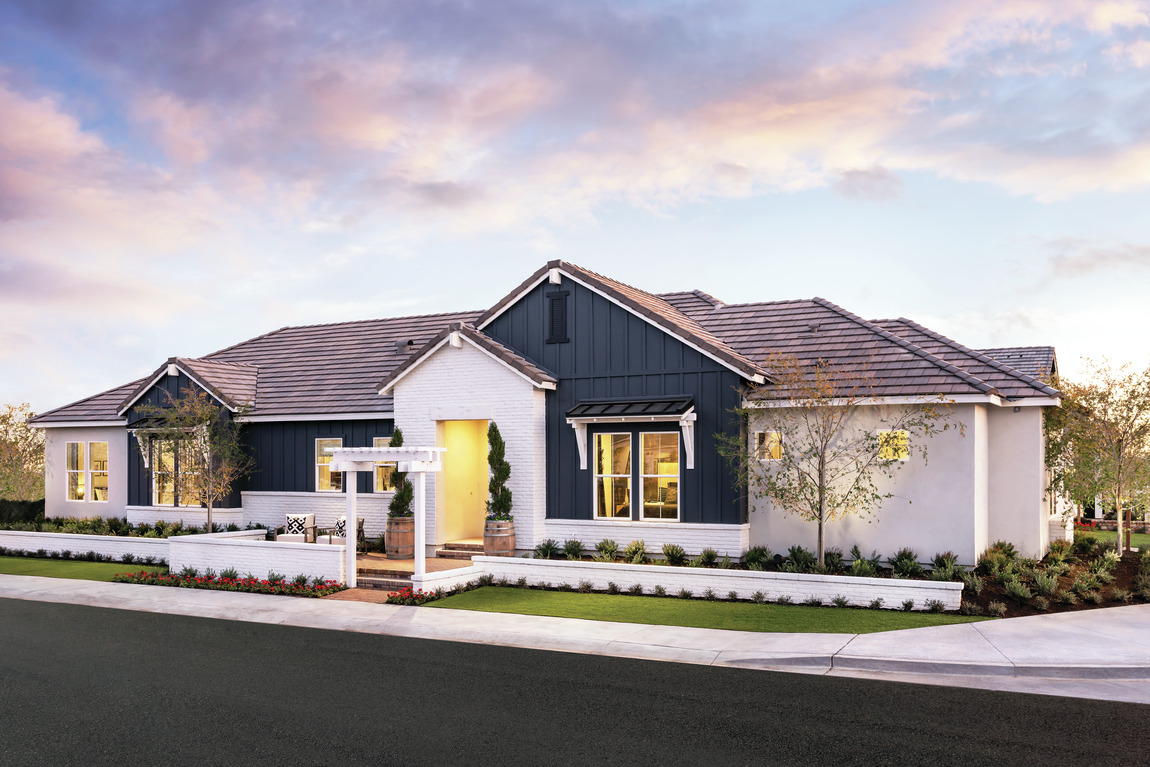 Community: Sterling Grove
State: Arizona
The Calistoga's Key Design Features:
An inviting exterior that mixes board and batten, stucco, and painted brick 
Two-tone body with fresh white trim
Front-facing gable roofs with a hipped main roof
Gable bracket details and shed roof accents
Enclosed entry courtyard that creates curb appeal
23. Rockledge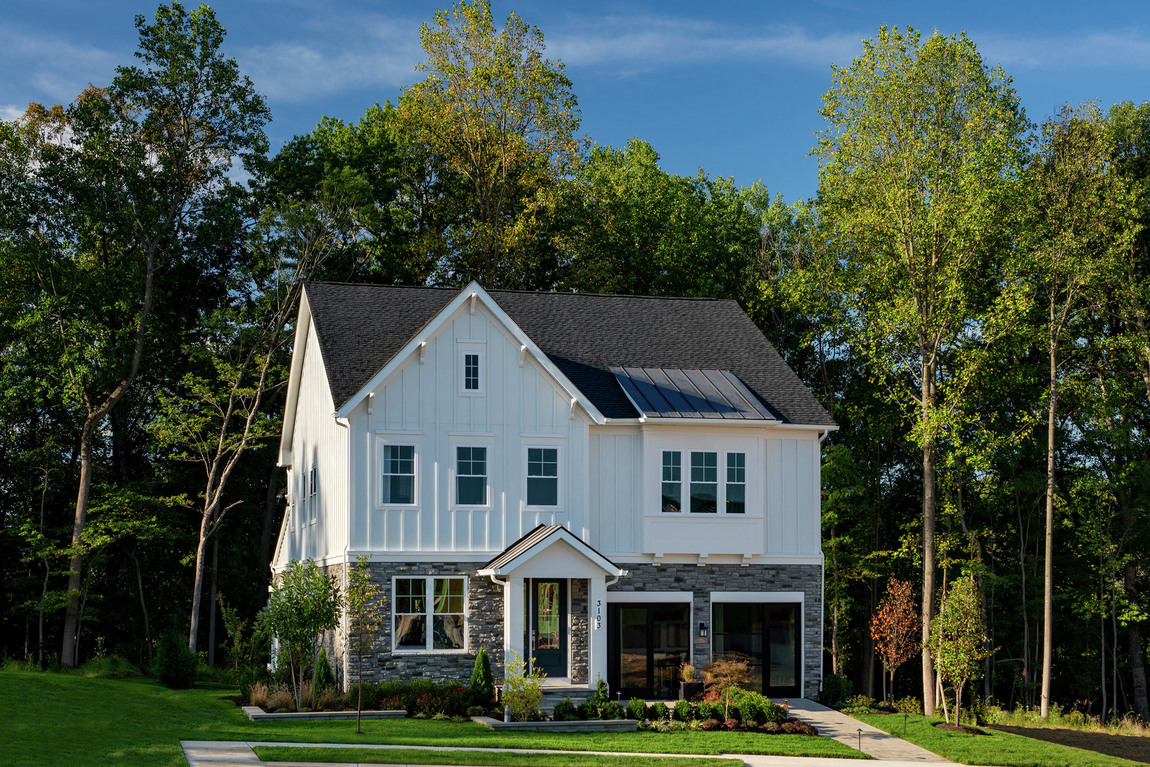 Community: Toll Brothers at Turf Valley
State: Maryland
The Rockledge's Key Design Features:
Bold white board and batten with gable trim brackets
White trimmed and light-filled bay window
Traditional stone porch entry 
24. Austin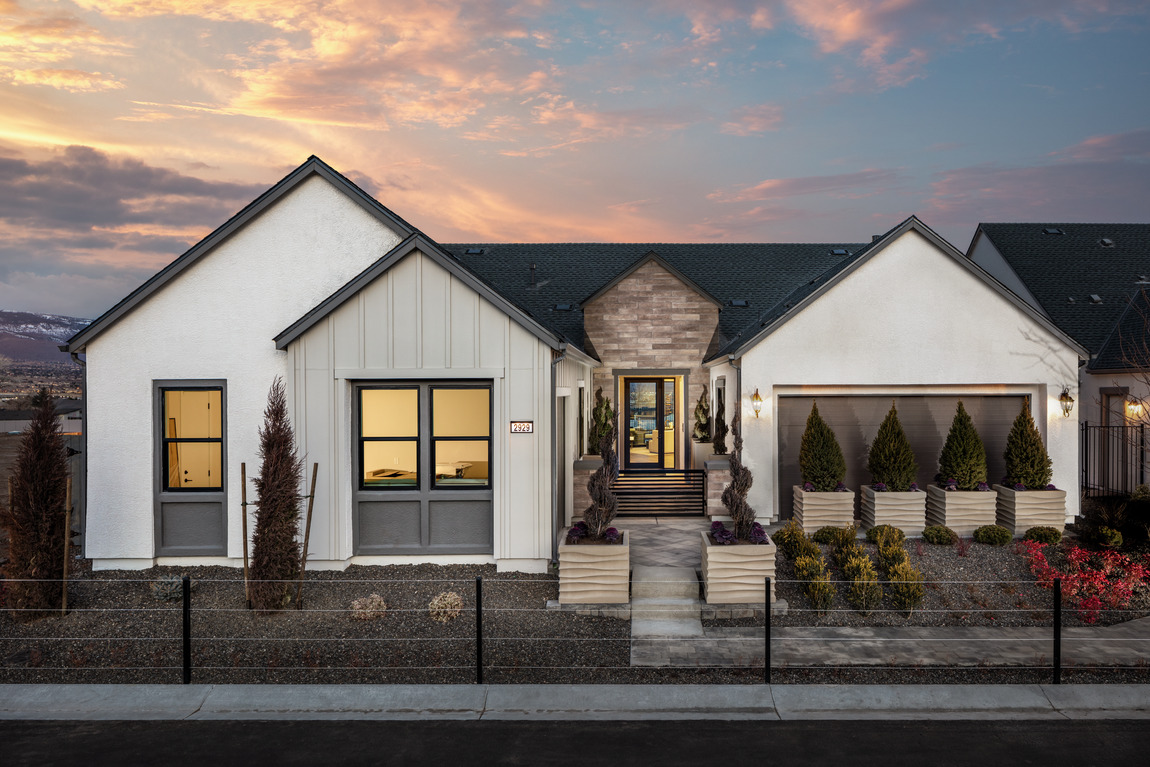 Community: Caramella Ranch
State: Nevada
The Austin's Key Design Features:
A stylish exterior featuring a combination of board and batten, stucco, and stone
A striking two-tone body with dark trim
Asphalt shingle roofs
Recessed windows with sophisticated panel detailing