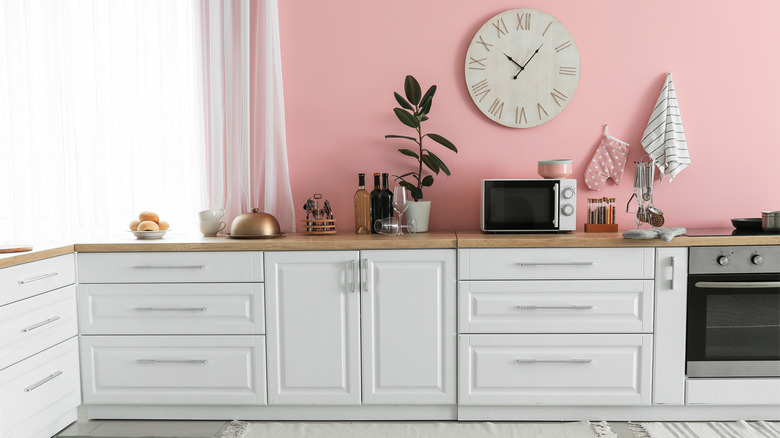 Pixel-Shot/Shutterstock
We've always had a thing for pastel colors and are thrilled that the pastel kitchen trend is making a huge comeback this year. Pale pinks, minty greens, and baby blues are all part of the pastel family that looks great in any modern kitchen.
"This trend suits a huge variety of decor styles from classic, countryside kitchens to minimalist Scandi-inspired kitchens and even more sleek, modern ones," Herringbone Kitchens owner William Durrant told Stylist.
Interior Designer Olga Gomes, from the YouTube channel DesignChickee and OG Design Studio, explains that a minty green shade is making a big comeback in 2022, thanks to paint companies making this prediction. She says it's a lovely subtle hue for an uplifting kitchen. If you're looking for a pastel hue to do that, we suggest going with this tone. As with any retro style, there are new ways to bring it into the modern era, and since there are quite a few colors in the pastel family, there's something for everyone's taste!
There are several ways to incorporate these beautiful colors into your kitchen. If you want to transform your space, whether in a neutral hue or a basic white, check out these 30 charming pastel kitchen ideas — we even have some inspo for those who don't want to make a full-on commitment.
Go for pastel pink walls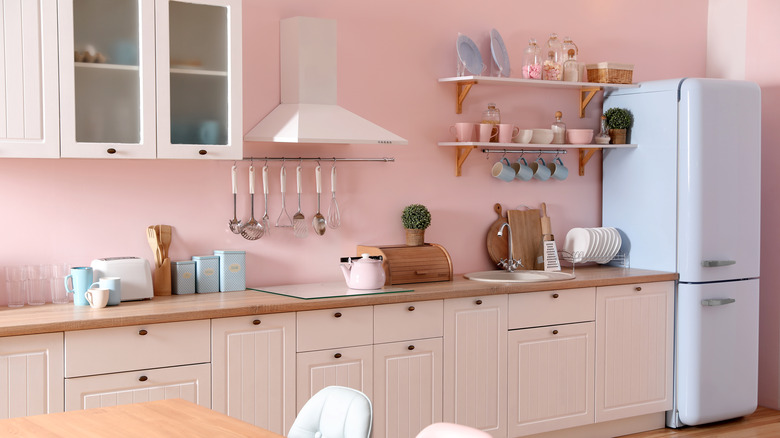 New Africa/Shutterstock
This feminine spot has all of the elements we love for the perfect pastel kitchen. The light pink walls work lovely with the white cabinets and wood countertops. They pull the look together with a retro stove and a mix of pale pink and blue accessories, including cups, bowls, and chairs.
Add a baby blue accent wall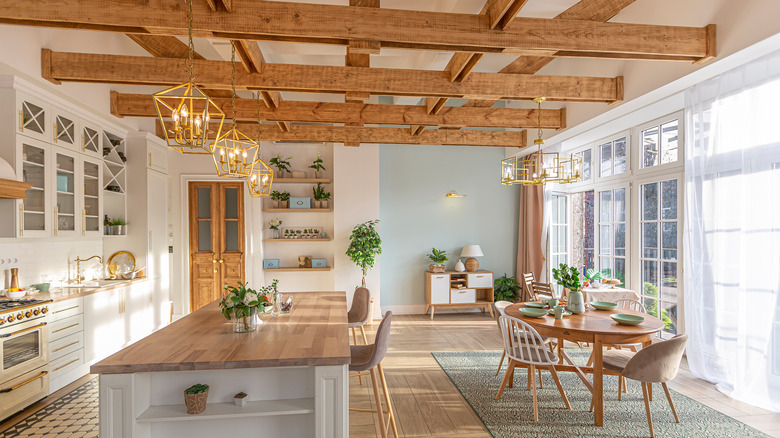 Pinkystock/Shutterstock
This modern kitchen is absolutely dreamy. It has gorgeous wooden beams, white cabinets, and a large island for whipping up the best meals. If you don't want to go overboard with the pastel trend, we suggest adding a pastel wall adjacent to the kitchen, as this homeowner did.
Purple accents and accessories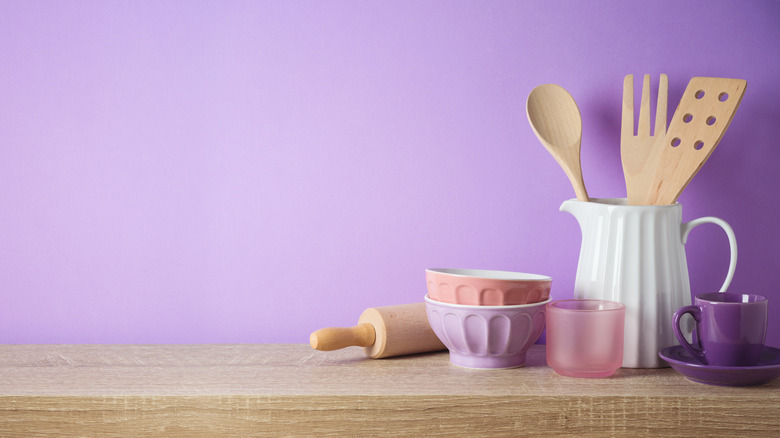 Maglara/Shutterstock
Purple isn't always the first color people think of when they think of pastels, but a violet hue is perfect for those who want to stand out.
Minty green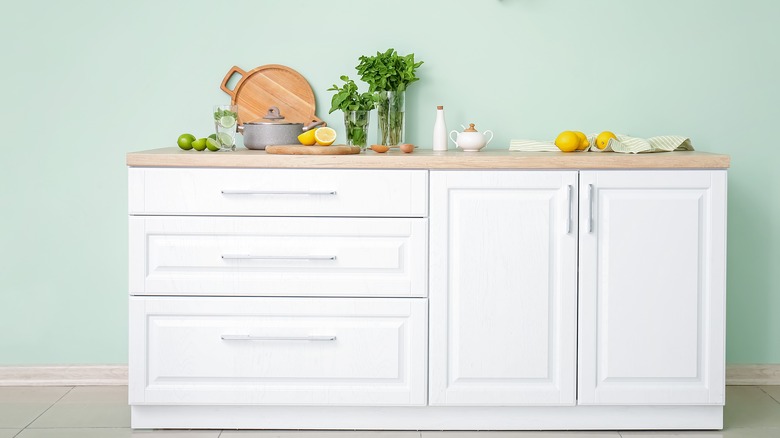 Pixel-Shot/Shutterstock
Many interior designers have forecasted minty green being a hot color for 2022 — and we couldn't agree more. This hue also looks great as a backdrop with white or wood countertops.
Consider a pastel yellow backsplash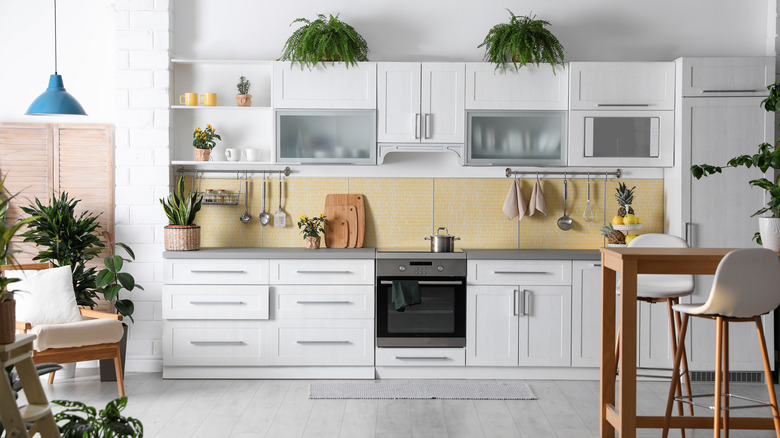 New Africa/Shutterstock
As Forbes Home notes, pastel yellow, which was huge in the 70s, is hot again. The outlet names some trendy colors like Sherwin Williams' Chartreuse and Peace Yellow, Benjamin Moore's Pale Moon, or Valspar Country Charm. If you want more texture, try pastel yellow tiles.
Get a retro fridge in turquoise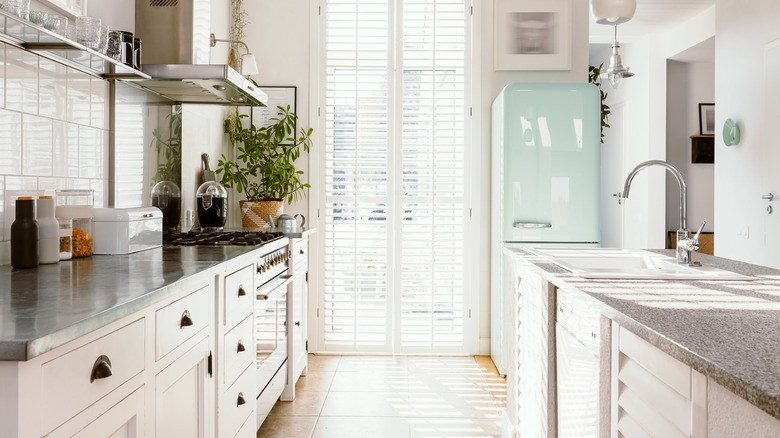 Photographee.eu/Shutterstock
This all-white kitchen looks modern in every way, except for the excellent retro-style fridge in turquoise, of course! The homeowner added a few other touches, like the light pink toaster, to finish the 1950s look.
Turquoise cabinets are quite chic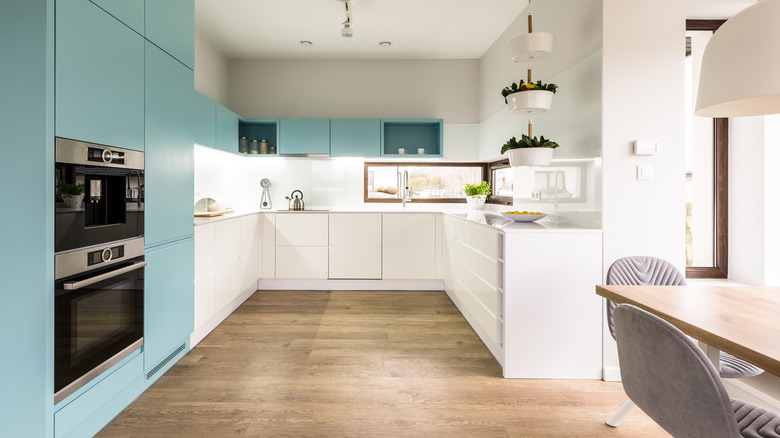 Photographee.eu/Shutterstock
On the contrary, if you don't want to get a retro-style turquoise fridge and would like to keep your regular stainless steel appliances but want to bring turquoise into the space, consider painting your cabinets in the hue.
Pastel pink with black accents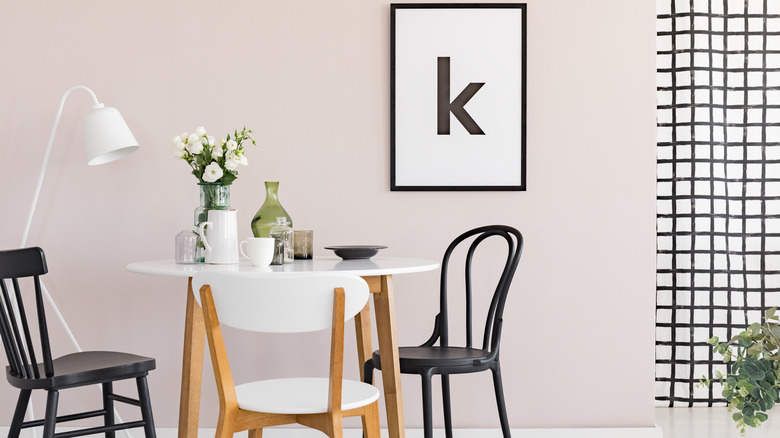 Photographee.eu/Shutterstock
If you have a kitchen with a small dining area, we love the idea of painting the wall in pastel pink. Imagine this kitchen with black and white checkered floors, which are also making a huge comeback this year because classics never go out of style …
Light green cabinets and pastel-hued florals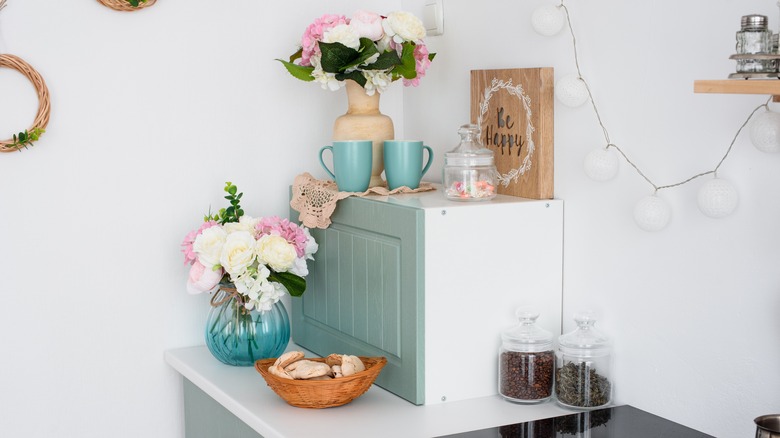 maxfoto.shutter/Shutterstock
These vintage-style cabinets look exquisite in light green, plus we love the turquoise vase filled with pink and white flowers and the coffee mugs to match
Peachy keen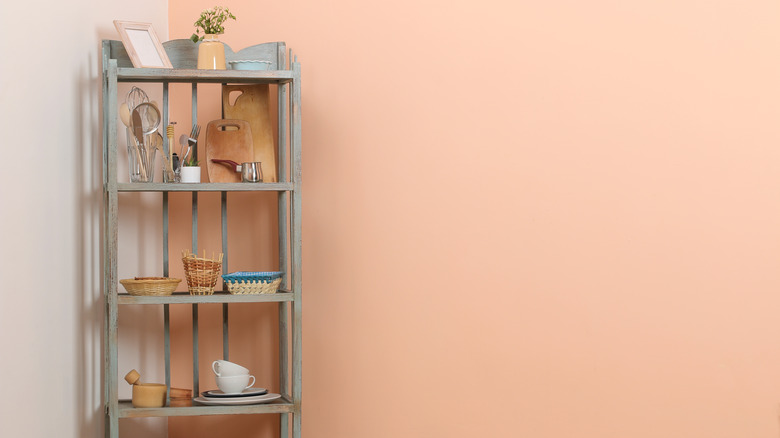 MK studio/Shutterstock
These peach walls are a total inspiration in the kitchen, and we love how this shabby chic open shelf was styled with all of the kitchen necessities, from cutting boards to a cup filled with cooking supplies.
Baby blue for the win!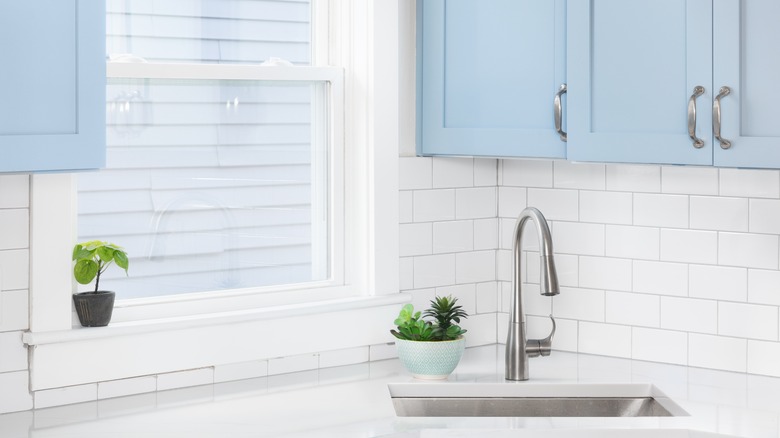 Hendrickson Photography/Shutterstock
We don't need a good excuse to paint our cabinets a baby blue shade, do we? It helps that the color is in style, but still, we can't get enough. The classic subway tiles and modern marble cabinets help bring this look into the 21st century.
Focus on the fridge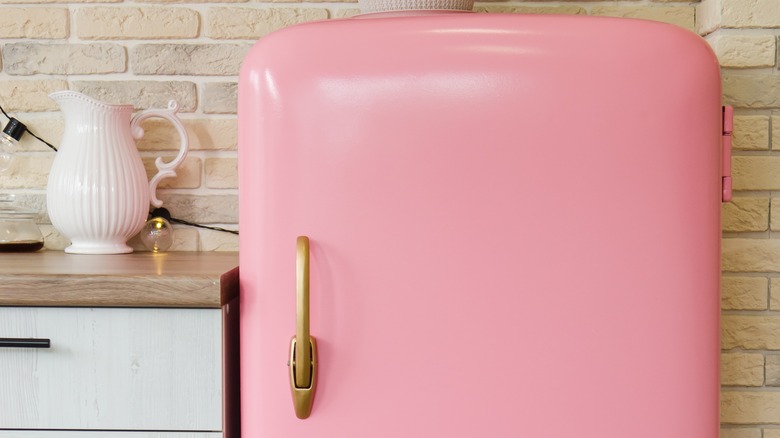 Laur Irina/Shutterstock
This off-white kitchen has white wood cabinets and a pink retro fridge, which we are obsessing over!
Pastel pots and pans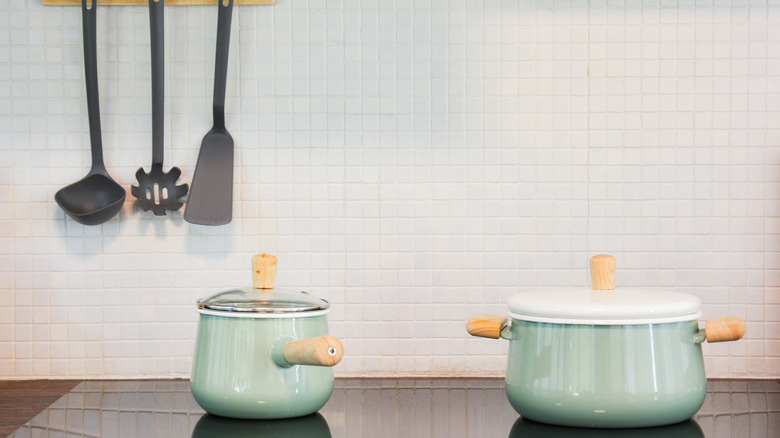 NATTHAWUT KANJANAPA/Shutterstock
If you don't want a total commitment to the wondrous world of pastel colors, opt for pots and pans in beautiful pastel hues. These mint green pots are a great way to dip your toes in. Who knows, they may inspire you to paint your walls next!
Highlight pantry staples with a yellow backdrop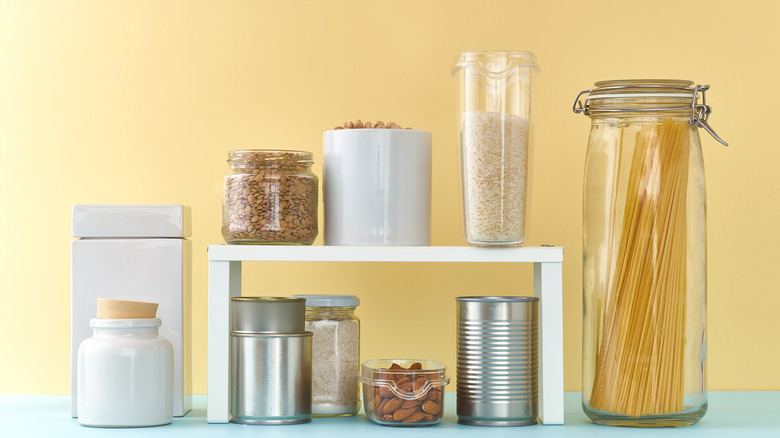 Asya Nurullina/Shutterstock
Don't forget the pantry! Paint it an eye-popping pastel yellow that makes your pantry staples shine.
Switch up cabinet colors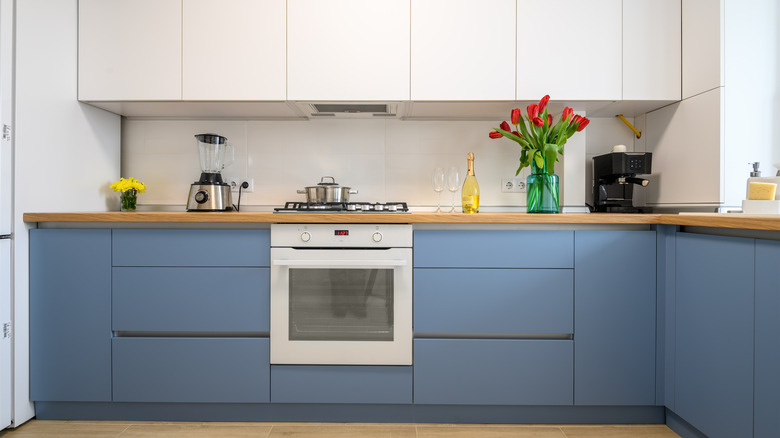 Serghei Starus/Shutterstock
When considering this new trend, there's no need to paint all of your cabinets. We love how these homeowners opted to paint only their lower cabinets in a blue-teal color.
Accent with pastel drapes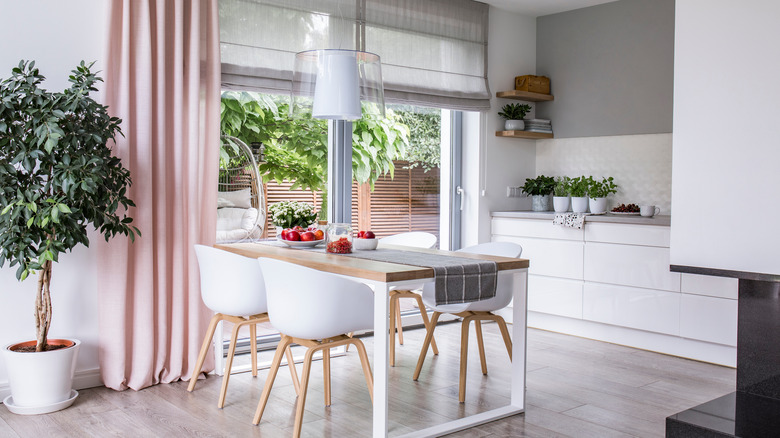 Photographee.eu/Shutterstock
Another excellent idea for bringing this trend to your kitchen without a total commitment is getting ethereal drapes in a pastel hue like these light pink ones. These curtains look gorgeous in this all-white kitchen.
Peach and dark gray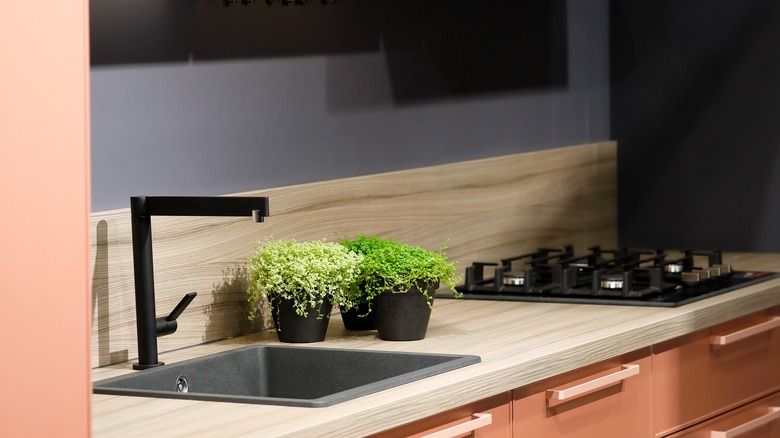 genkur/Shutterstock
We love this design combo of dark, moody gray for the kitchen backsplash and a light peach hue painted on the cabinets. It makes this pastel trend look modern, bringing it into 2022.
An elegant look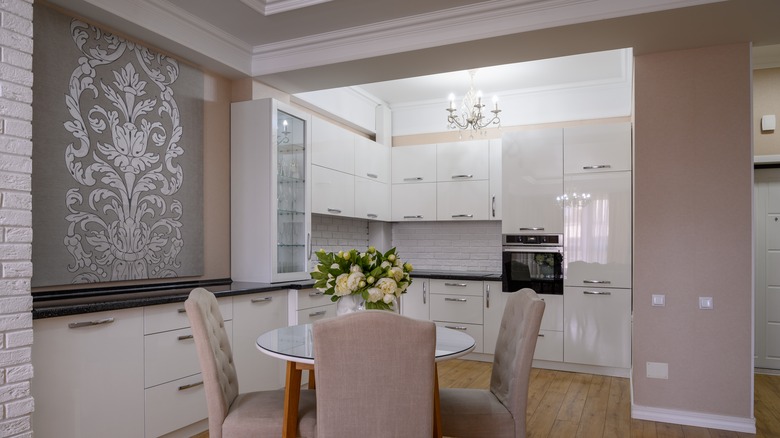 Serghei Starus/Shutterstock
This apartment has unique architectural elements, including beautiful moldings and brick throughout. The kitchen has accent walls painted in the prettiest shade of light pink that matches the dining table's chairs.
Pastel plates and mugs
AMORN PONJAROEN/Shutterstock
Along with adding pastel pots and pans to your kitchen collection, we suggest bringing in light pink and mint green tableware to show off the current trends.
Old-school tiles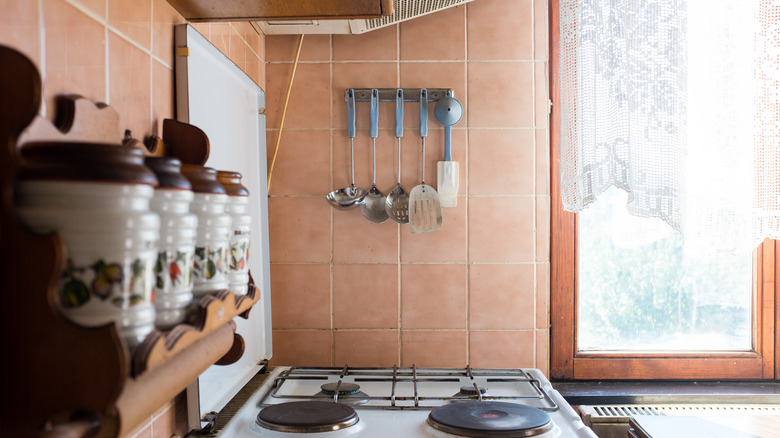 Cryptographer/Shutterstock
If you are an old-house aficionado, celebrate it by keeping those vintage tiles and making them a highlight instead of going with something more modern. These peachy tiles are a beautiful touch in this kitchen.
Retro tiles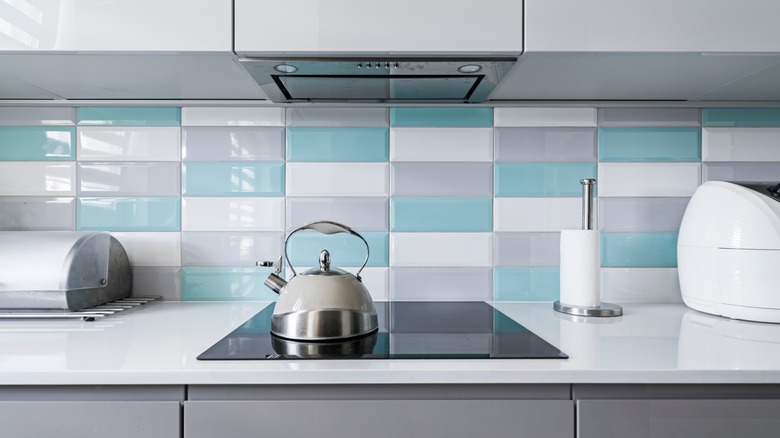 ErFishOn/Shutterstock
This backsplash with classic subway tiles looks incredible in a variety of hues, including turquoise, light gray, and white. While we love this color combo, you could play with different pastel shades for a unique look.
Baby blue tiles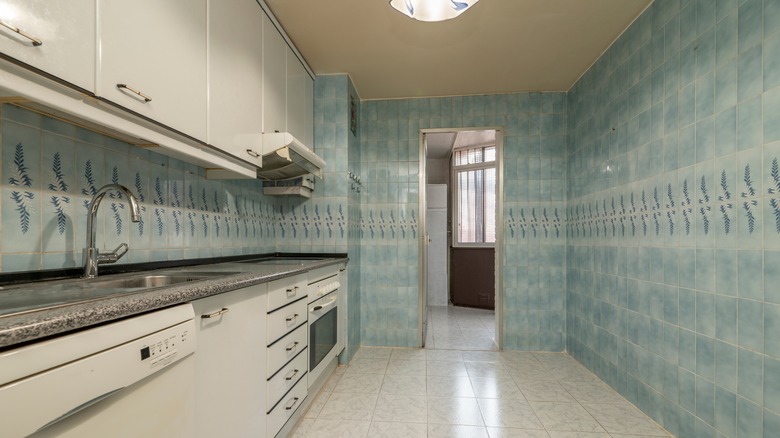 Toyakisphoto/Shutterstock
If there ever was a time to go for retro tiles, it's now. This owner went all out with baby blue tiles on the backsplash and walls for an over-the-top look we love.
Pastel containers to brighten up the kitchen
surasaki/Shutterstock
This otherwise dark kitchen is brought to life with pastel containers in light blue, green, and pink, which just shows that accessories are always a good idea when it comes to trends.
Pastel chairs make a splash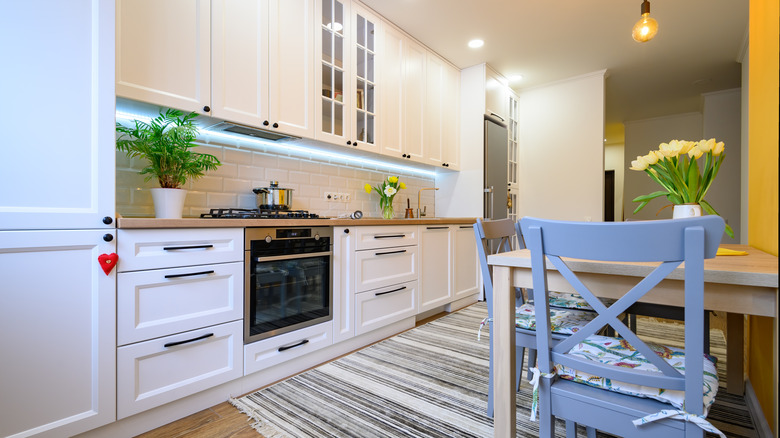 Serghei Starus/Shutterstock
This otherwise neutral kitchen with white cabinets and wood countertops has spotlighted the trend with baby blue chairs. If you don't want to buy chairs in the light tone, you could spend the weekend DIYing your chairs in your favorite pastel color.
A modern kitchen with pastel cabinets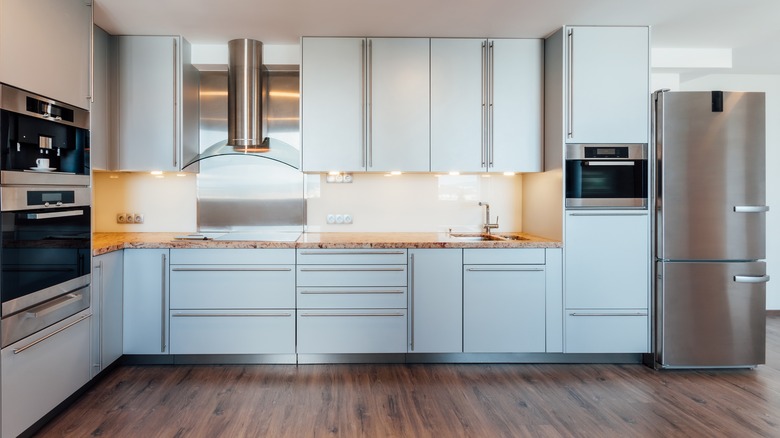 Zdena Venclik/Shutterstock
This modern kitchen with stainless steel appliances and gleaming wood floors features baby blue laminate cabinets, pulling off the trend flawlessly.
Don't forget your oven's hood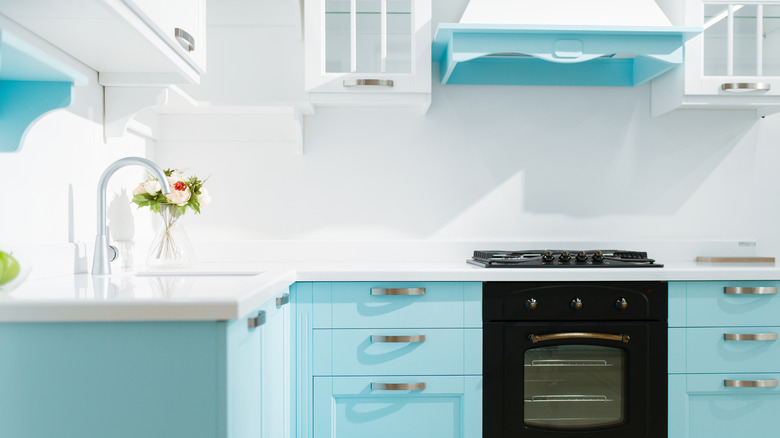 Nomad_Soul/Shutterstock
This kitchen's cabinets are doused in the prettiest shade of turquoise, and we love that this homeowner didn't forget to paint the oven's hood for a detailed look.
Break it up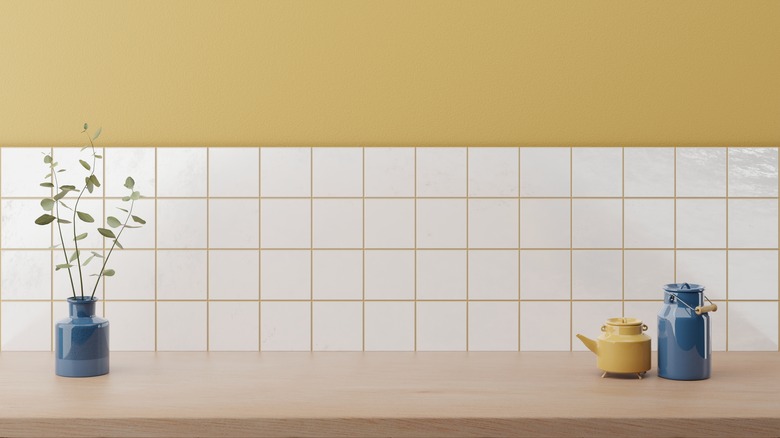 Kueakoon T/Shutterstock
Get creative. This kitchen has a white tile backsplash, and the other half of the wall is painted light yellow for an innovative design style that shows out!
Modernly retro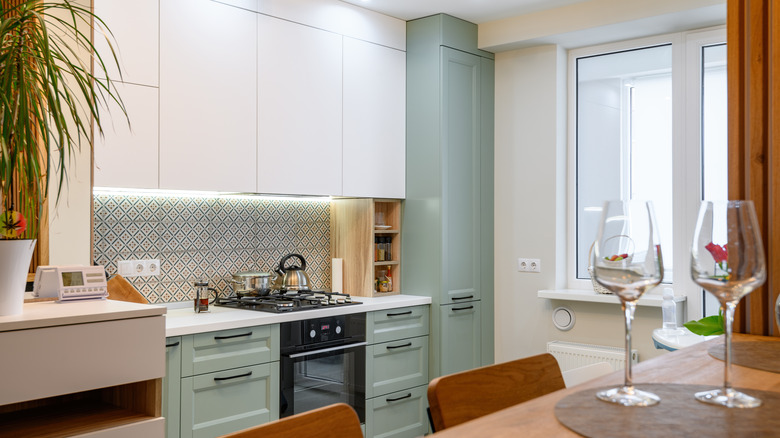 Serghei Starus/Shutterstock
This kitchen combines retro elements with ease. The backsplash pattern mixed with the retro-inspired minty green cabinets is utter perfection! We love the modern cabinets highlighted with the recessed lighting, too.
Baby blue cabinets and vintage tiles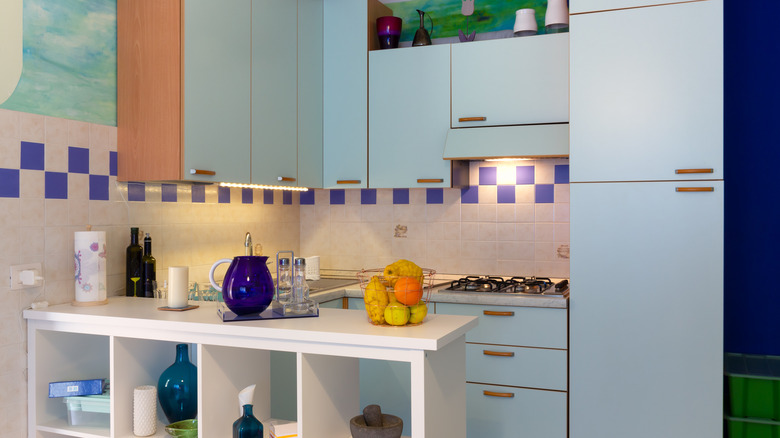 Mauro Carli/Shutterstock
The kitchen celebrates old and new with white and blue tiles and features cabinets painted in a chic baby blue color. We love the shelving that separates the dining room from the kitchen, and while you could put cookbooks there, we love it for displaying your favorite items.
An orange retro fridge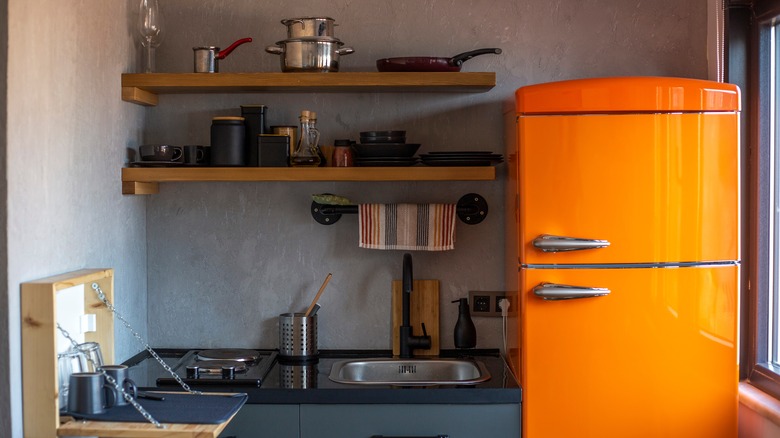 Ksana Durand/Shutterstock
Light orange is also an excellent look for a retro fridge, and we love how it pairs with the rest of the neutral kitchen.