The facade of a building is the first clue that tells us that structure has something special to offer. A cool facade is the representation of the architect's creative vision and desire to desire to impress with something unique and out of the ordinary. With so many things that could stand out, you can always look forward to unexpected surprises.
House 77 is a private home located in Portugal and designed by dIONISO LAB. It's tall and narrow, squeezed in between two existing buildings and it has a facade covered by aluminum venetian blinds.
The white shutters are placed at a fixed angle and allow the upstairs rooms to offer views of the surroundings while also maintaining a sense of privacy.
Designed by x Architekten, this hair salon has a facade meant to act as a store sign, attracting attention with its dynamic design.
For the Checker Box Office Complex in Tehran, Arsh Design Group created a two-dimensional facade with an animated surface that lets it stand out and contrast with the adjacent buildings.
Also in Tehran, Reza Sayadian and Sara Kalantary designed Danial apartment. The building took the place of a series of gardens so, to bring nature back in the neighborhood, they designed the building with a facade consisting of 20 tree-like panels.
Rare architects designed a new wing for the Town Hall Hotel, a luxury building in London wrapped entirely in a laser-cut powder coated aluminum skin with no visible windows and doors.
In Amsterdam, Block A was designed by Dick van Gameren architecten, the first of three new blocks of buildings. It features large prefab concrete facade panels containing brickwork and the design was meant to break the repetitive pattern of traditional facades.
This urban townhouse was built in New York by GLUCK+. It sits on a narrow plot and has a front facade that features a custom water-cut aluminum rain screen with small openings that mimic the brickwork on the neighboring buildings.
In Kufstein, Austria, there's a high school that first opened back in 1907 and recently underwent a very impressive renovation. Its south-east facade consists of a crinkled wall, a three-dimensional concrete structure resembling a sheet of crumpled paper hanging from the roof of the building.
Latvia is home to a very interesting group of buildings initially planned as a holiday retreat. Named 8 BLACKS, the complex consists of 8 black painted buildings with wood planked facades, a modern approach to traditional design.
Parque Humano designed a very interesting house in Morelia, Mexico. The building was conceived as a homogenous stone wall and features gabion wall facades. A huge opening was designed to frame the hillside panorama.
Featuring a slim and chic design, this London house was perfectly integrated in between the two existing buildings. The black facade makes it stand out as an individual structure.
Located in Sao Paulo, this store was completely revamped by SuperLimao Studio. It no has a metal facade with a honeycomb pattern. Some of the hexagons have an opaque coating while other are semi-translucent, thus creating a very interesting visual effect.
This is the colorful facade of a municipal nursery school in Navarra, Spain. The facade is covered with a series of thin slabs, painted in a variety of bold colors.
The see-through stacking of bricks along the main facade makes this office building stand out and also connect with the original design (an opaque brick warehouse). The new design allows light to get inside and views to be admired from indoors.
In Richmond, Australia, two homes form a single building. They are two separate structure within one architecture and the facade perfectly illustrates that. It captures the radical differences but also the connection between the two structures.
Hue is a 5-storey apartment building also located in Richmond. It was a project by Jackson Clements Burrows Architects who designed with a very interesting facade featuring round openings of different sizes and placed at different heights.
The Monolit Office building is located in Bucharest, Romania. Designed by Igloo Architecture, the building has has a facade with clean cut lines and long and wide window openings each with a unique shape.
The architects from Aedas designed a building in Hog Kong which includes housing, offices, retail spaces and a car park. The facade is customized with suspended planters which purify the air and also have a greening effect on the neighborhood.
This Australian building features a very sculptural facade. It's a series of terraces built with sharp angles on each floor and they form a geometric pattern. The wooden railings also emphasize the unique forms.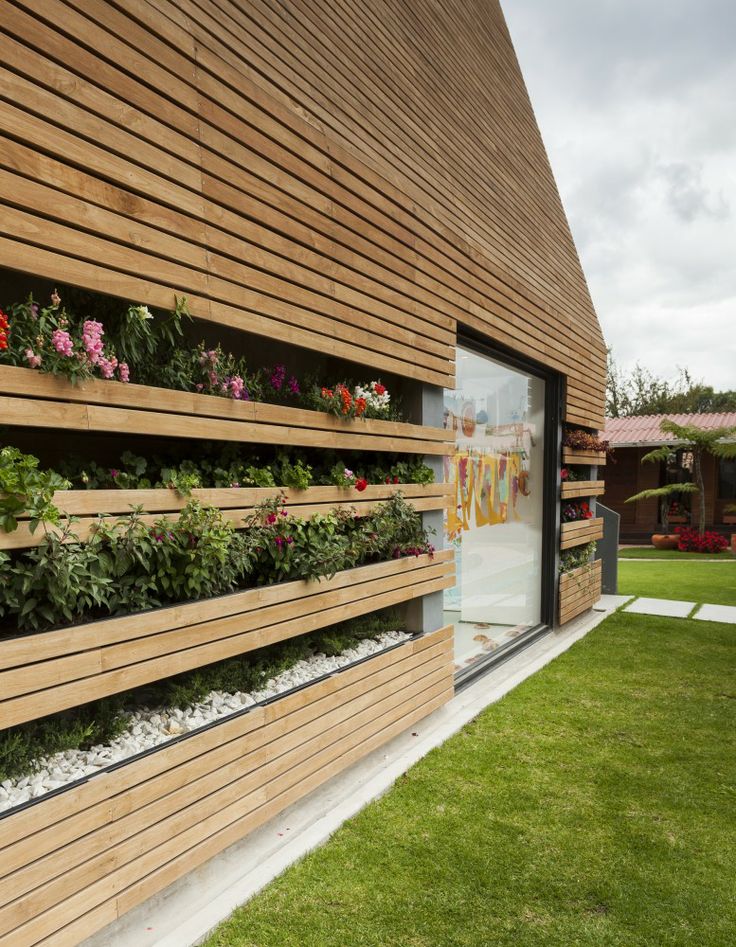 Designed by Lacaja Arquitectos, this kindergarten has a very beautiful wooden facade with built-in planters. It's like a vertical garden that's part of the building.
The Mayfair House by Squire and Partners is a private house in London with a unique contemporary presence. The client wanted the original facade to be preserved and the team sandwiched it between two steel frames. The each and west portions are finished with a stucco render and bronze framed windows.
This Montreal Casino was redesigned and simplified and part of the project was creating an eye-catching facade. It impresses with its shape, pattern and presence. A series of layered round terraces give it its unique shape.
A beautiful and unusual facade can also impress with its simplicity, like this lovely building with stone walls and a clear glass insertion. It's the unusual pairing of materials and the way they were combined that make the facade stand out.By Peter Legge Associates.
Another very interesting use of materials, this time on a facade featuring two metal towers with zig-zag patterns in combination with a semi-transparent background for the rest of the building.
A small restaurant in Madrid found another way to attract visitors: a very bold facade featuring a yellow layer of paint that mimics the light emitted by the sconce above the door.
A renovated commercial block in Tokyo features a facade made of narrow strips of steel that wrap around the building like ribbons. The Architect Yoshihiro Amano undulating shapes give the structure a very edgy look.
The walls of this house appear to be peeling back. The structure was a project by AZL Architects and it's one of the 24 buildings to be erected in this forest. The layered concrete walls that form the facade were designed to resemble the forms of traditional Chinese scrolls.
The stunning wood clad facade of this building in South Holland was created by Rotterdam 24H Architecture. The contemporary art nouveau style features organic and floral motifs incorporated into the walls and stairwell.
An organic motif was also used when designing this metal screen facade. It was carved to resemble trees and branches and to be reminiscent of a forest for Victoria Center/Bucharest.
Lionlight photography
The Blackburn House has a facade that featuring custom designed metal panels and that combines a variety of materials including brick, wood and glass.
This contemporary home in Montreal has an exterior made of local quarry stone and with large glass panels that open it up to the exterior and give it a modern and fresh look, in contrast with the original facade.
The laser cut metal screen gives this home a contemporary allure. At night, when the lights are up, a very interesting image is formed.Designed by Mills Gorman.
The facade of the FR House by Demerly Architects was designed with horizontal metal panels in alternating thick and thin bands, giving the impression of stacked stone.