There are some tasks in life that are just never ending and laundry is most definitely near the top of that list. Traditionally, the noise and utilitarian look of washers and dryers have by necessity relegated them to the farthest away and most utilitarian places in the home. Basements, mud rooms, garages and utility closets have been the pre-eminent locale for washers and dryers for decades. But the utilitarian location of these time-saving machines can often take a drudging task and make it even more dreary. More recently, rooms dedicated specifically to doing laundry and housing the machines have made their way into the mainstream, but even then, they often remained very functional and utilitarian rooms.
50 Great Ways To Customize Your Laundry Room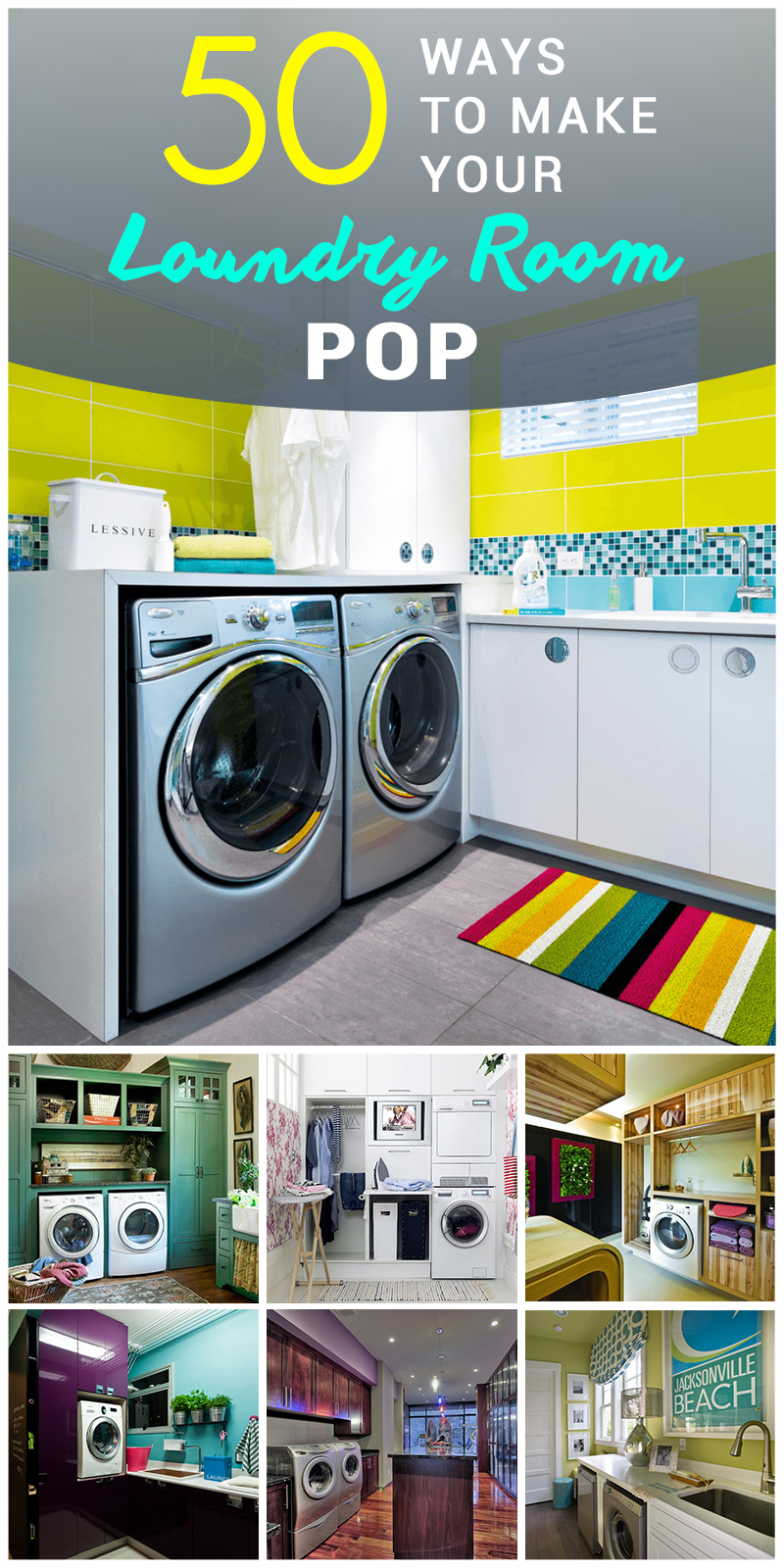 With more modern, quiet and stylish machines making their way into the marketplace, the washer and dryer are also making their way into being featured more prominently in newer home design. Now, these whisper quiet and stylish machines no longer have to be relegated to the dark dinginess of a basement or the oily mess of a garage, which also means you do not need to relegate yourself to those areas either to fulfill this never-ending and often thankless task. Washers and dryers are now making their way into the kitchen, into master bedrooms and even on the upper levels of homes and feature prominently on overall home decor. While some people have the space to devote an entire room to just housing their appliances, others need to combine spaces or incorporate a laundry area into rooms used for other functions.
If you have the space to set aside an entire room in which to do your laundry, however, modern laundry rooms are often bright, light and airy places that contain washers and dryers that come in a rainbow of stylish colors and smart designs. Smaller units are now able to combine both a washer and dryer into one machine, which also makes creating a smart laundry area in a small space a snap. Here are 50 great laundry room ideas that can help you think, plan, dream and envision the kind of space you want that will fit into almost any floorpan, no matter the size of space you live in. We've also provided some great ideas for laundry room storage, laundry room shelving and laundry room organization to help you make the very best use of your space.
1. Zen And The Art of Laundry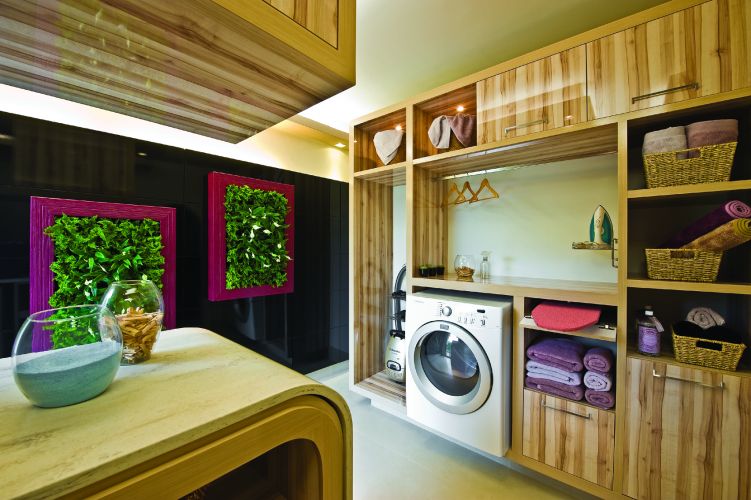 There are few places more calm and serene than a yoga studio. This room features a decidedly Eastern feel with warm bamboo cabinets, rattan baskets, calm, soothing tones of lavender and even introduced live plants as a decorative wall feature. A center island creates a great workspace for folding, sewing or crafting and laundry room cabinets offer a great place to store a vacuum and other bulky appliances.
2. Victoria Does Laundry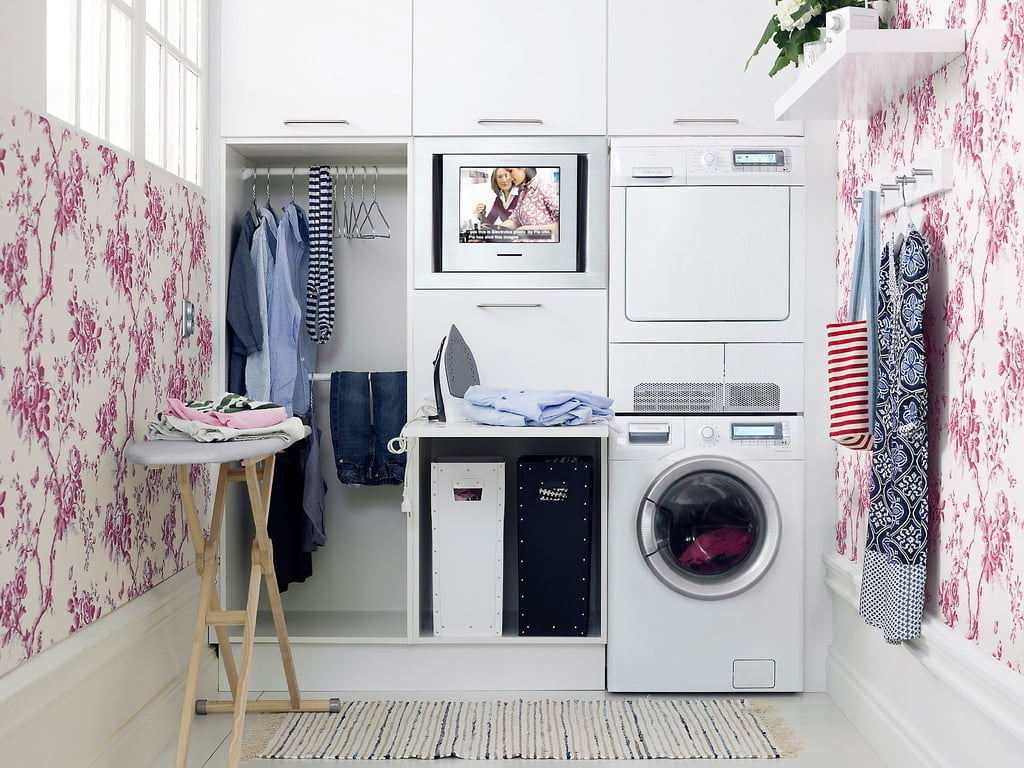 This smaller room provides both great functionality as well as big style and design in a small space. Clean white lines give the appearance of a much larger room, while pretty pink patterned wallpaper with a decidedly Victorian design keeps the space from becoming overly utilitarian. Overhead cabinetry provides storage space for large items that are infrequently used and a small area provides space for folding, ironing or laundry prep. Plenty of hooks offer additional storage of coats or other infrequently used clothing.
3. French Country Meets Modern Appliance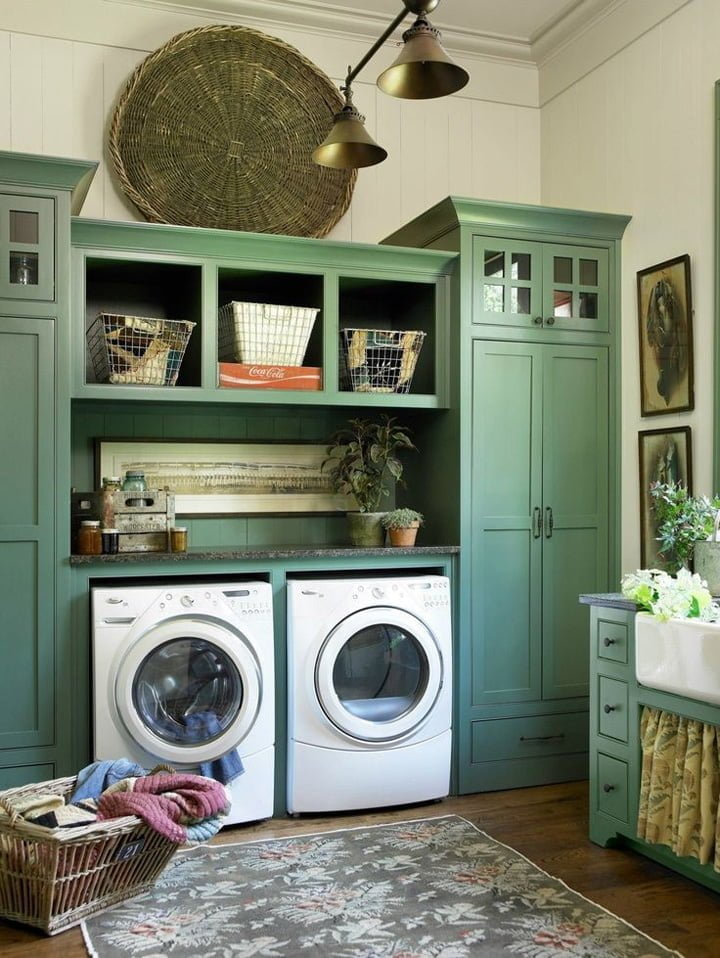 A French country sink in a curtained cabinet, rich green cabinets accentuated by brass fixtures and woven baskets all bring the charm of the French countryside into your home.
Tall cabinets with glass fronted accents provide great laundry room storage while modern appliances lend just the right touch to this charming laundry room decor. Dark hardwood floors with a modern floral rug combine old world charm with a modern flair.
4. Reclaiming Your Home Decor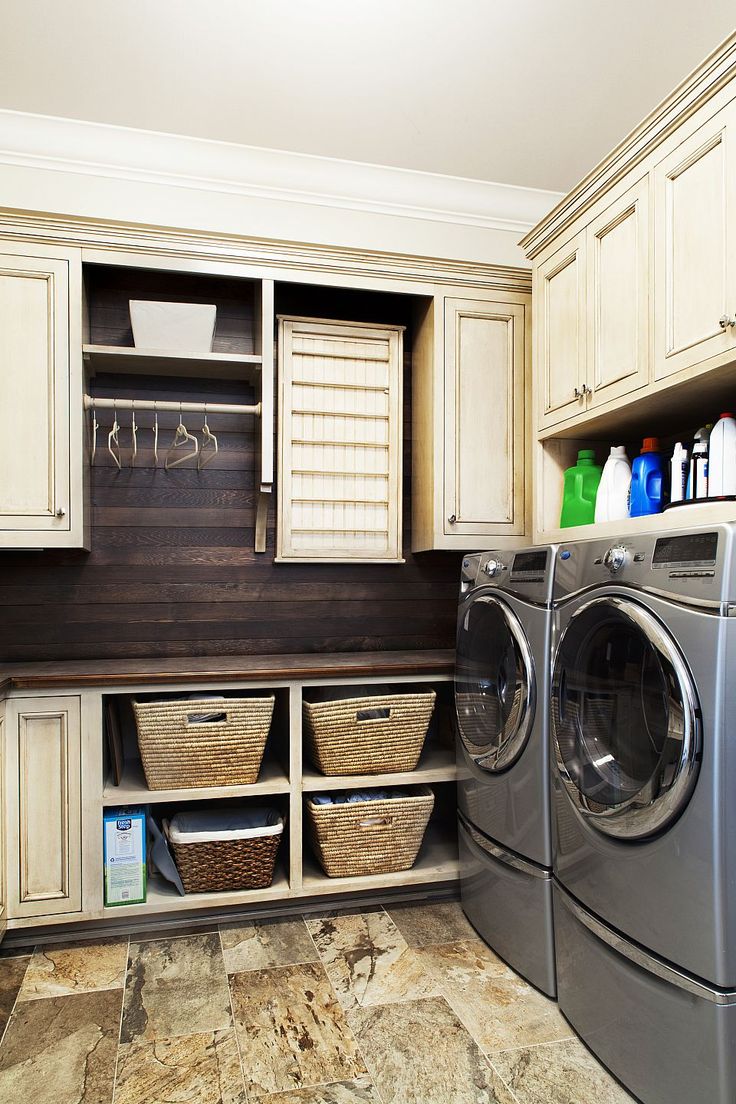 Distressed cabinets and reclaimed wood walls turn a small laundry area into an efficient work area. The stone flooring and natural basketry provides a nice counterpoint to the clean, modern lines of the oversized washer and dryer, while the light cabinetry and dark wood walls blend together in a fantastic mix of elements. This space shows that great laundry room design doesn't need a ton of space to create a warm and elegant area in which to engage in the most mundane of tasks.
5. Beachfront Oasis Laundry Room Decoration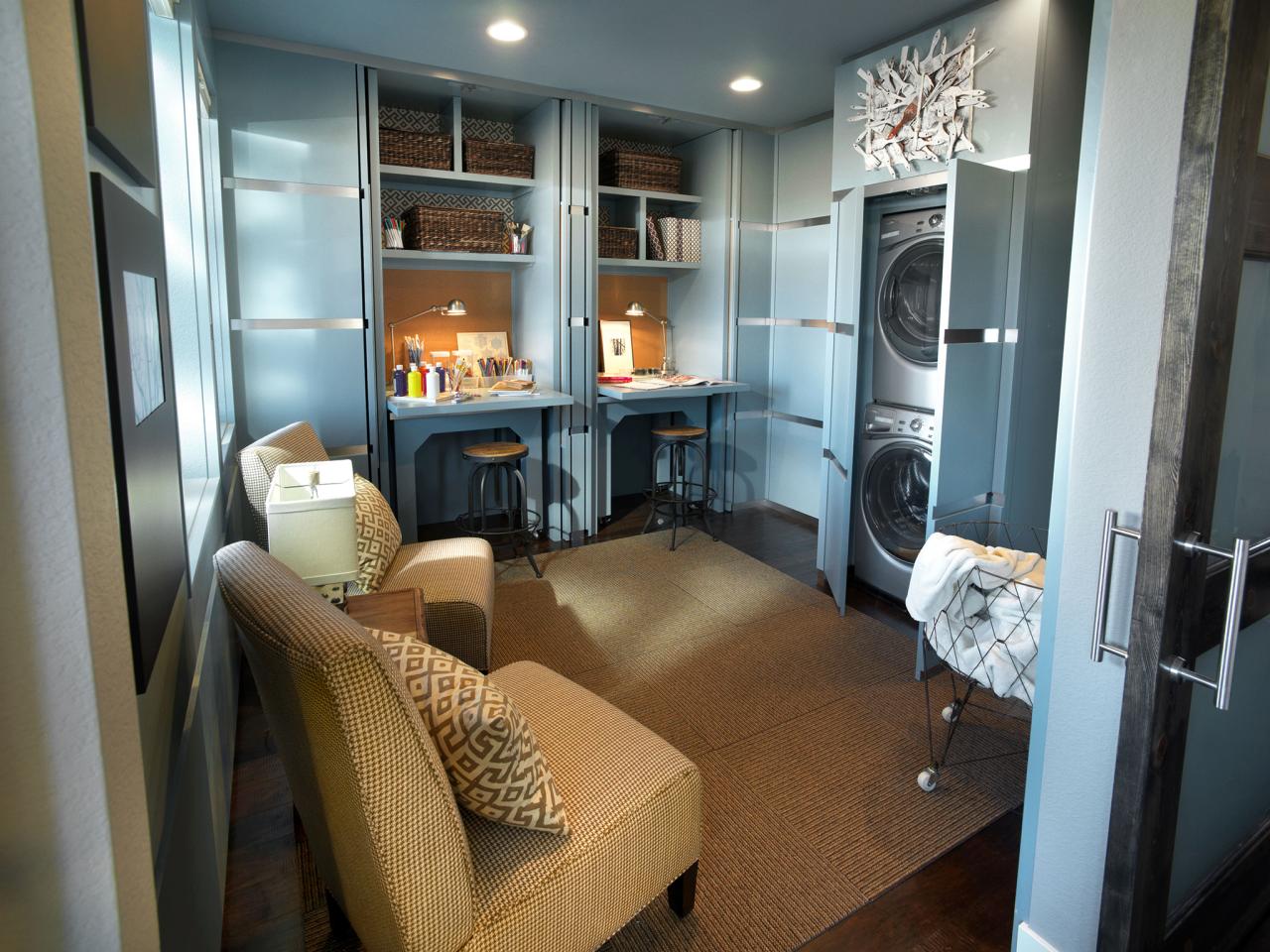 With modern stackable appliances that not only save space but also make little more than a low hum, laundry room designs can now incorporate far more than just a washer and dryer and other implements of the task. This laundry room design incorporates elements of a home office, craft room and sitting room. With a divided desk area that can be used for sewing, scrapbooking or other craft projects on one side and studying or running a home business on the other, this quiet oasis is perfect for a beach house or other property where space is at a premium. With laundry room decor and colors reflective of a beach house retreat, this elegant laundry room provides a calm oasis to sit, read, relax or even get some work done while you are waiting for your clothes to dry.
6. Turn-of-the-Century Modern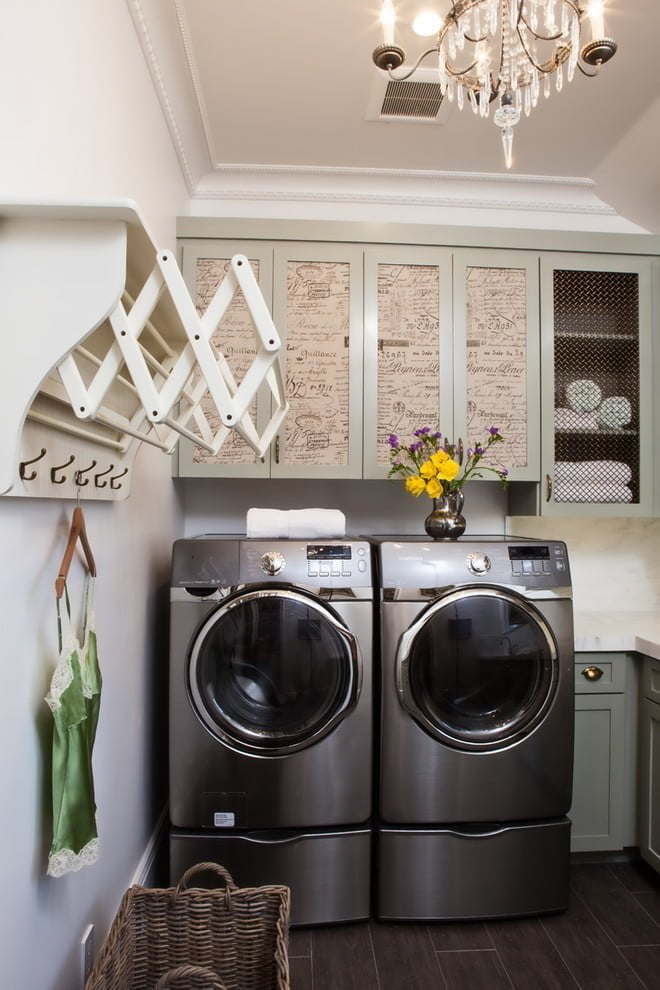 A small but elegant chandelier and cabinets fronted with text give this small laundry area a whimsical throwback feel. Dark hardwood floors contrast beautifully with pale green cabinets to offset the large modern appliances. A folding rack cleverly built into a shelf with hooks provides additional drying space that can be retracted and folded away neatly when not in use. A screen fronted cabinet provides easy access to linens or other laundry materials.
7. Laundry Is Like So Groovy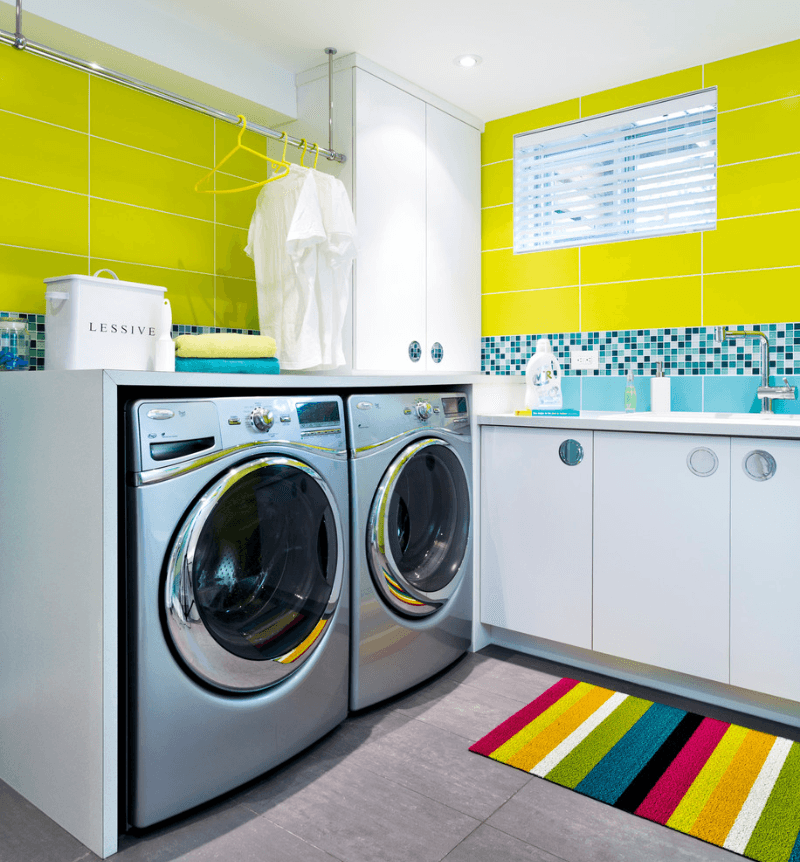 This bright, cheerful laundry room design combines both a classic 70's feel with a hip, modern twist. Bright chartreuse tiles with an aqua glass tile trim provides a bright, cheerful space which allows it to transcend from being merely functional and utilitarian into a fun modern space with a decidedly retro feel. Sleek white laundry room cabinets are paired with oversized handles that blend well with the overall 70's vibe. A sleek modern sink provides a fantastic pairing of the best of retro fun with modern sleek design.
8. Neutral with a Touch of Fun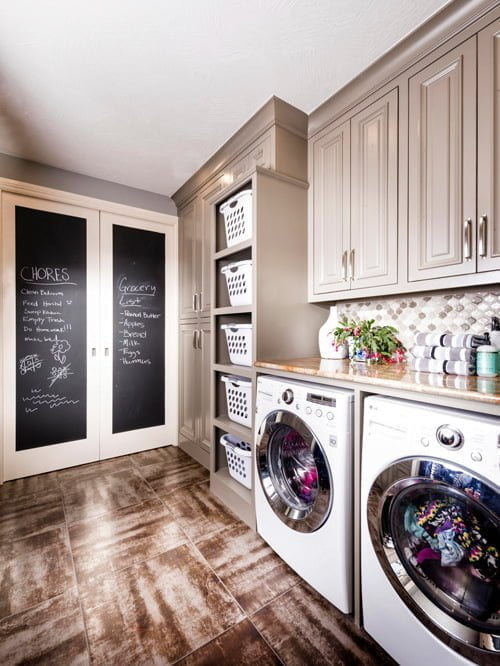 A strong neutral palette brings high end elegance to this modern laundry area. A set of double French doors painted with chalkboard paint, however, provide a whimsical touch that keeps the neutral palette from becoming austere. Shiny, sleek modern handles on the laundry room cabinets provide a nice accent, while a scattered stone backsplash adds warmth and another slight touch of whimsy. Floor to-ceiling cabinets offer storage for large or long items such as vacuum cleaners, brooms, mops and an ironing board, while cabinets over the washer area provide storage for laundry essentials or infrequently used items. A built in cabinet around the washer and dryer units provides counter space for folding, laundry prep or spot ironing.
9. The Future Is Now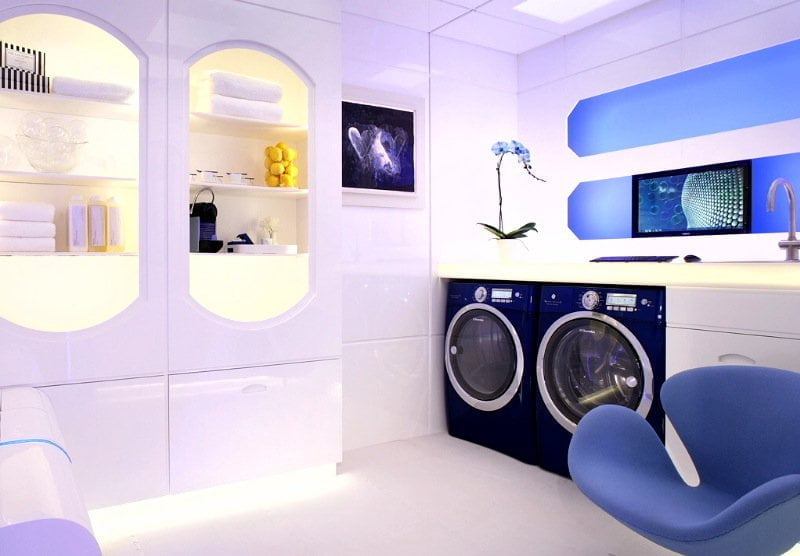 This delightful space uses cool blues and soft lighting to create a highly futuristic look that is still warm and inviting. Laminate glass fronted cabinets provide unique and sophisticated laundry storage ideas, while a modern molded chair provides a quiet nook to read, rest or relax while waiting for the laundry to finish. An integrated flat screen TV also turns this elegant room into a multi-function room that enhances the overall home design. Visitors, guests or just a family member needing a quiet space to retreat for a moment can find rest and respite in this cool, calm luxuriously futuristic space.
10. Laundry Goes Back In The Closet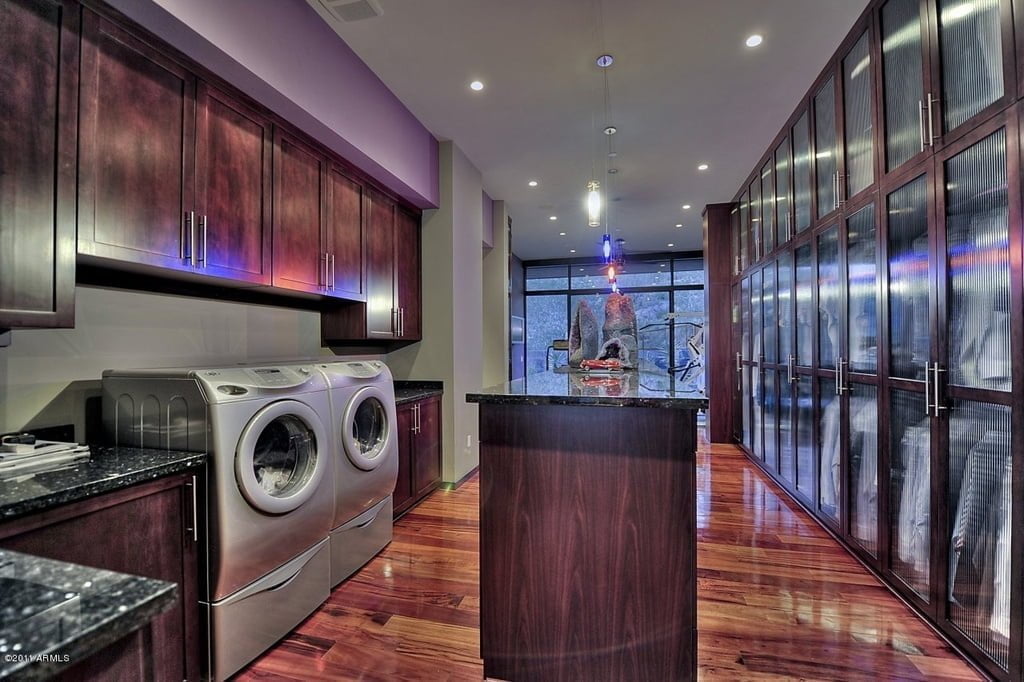 Modern home design has allowed laundry machines to be placed in the space they are most needed – right near the closet. In this luxurious space, dark woods polished to a high shine are paired with rich granite and sleek glass that take laundry room decor to a whole new level. One entire wall of glass fronted laundry room cabinets provides a mass of closet space for hanging an entire wardrobe or storing a vast assortment of items. A center island provides a massive workspace for sorting, staging and prepping. Wood floors polished to a high gloss give a modern feel to this dark, traditionally masculine room. Cabinetry over and around the washer provide additional storage space for laundry items and other seldom used household items, making laundry room organization a breeze.
11. Shabby Chic Meets Victorian Functionality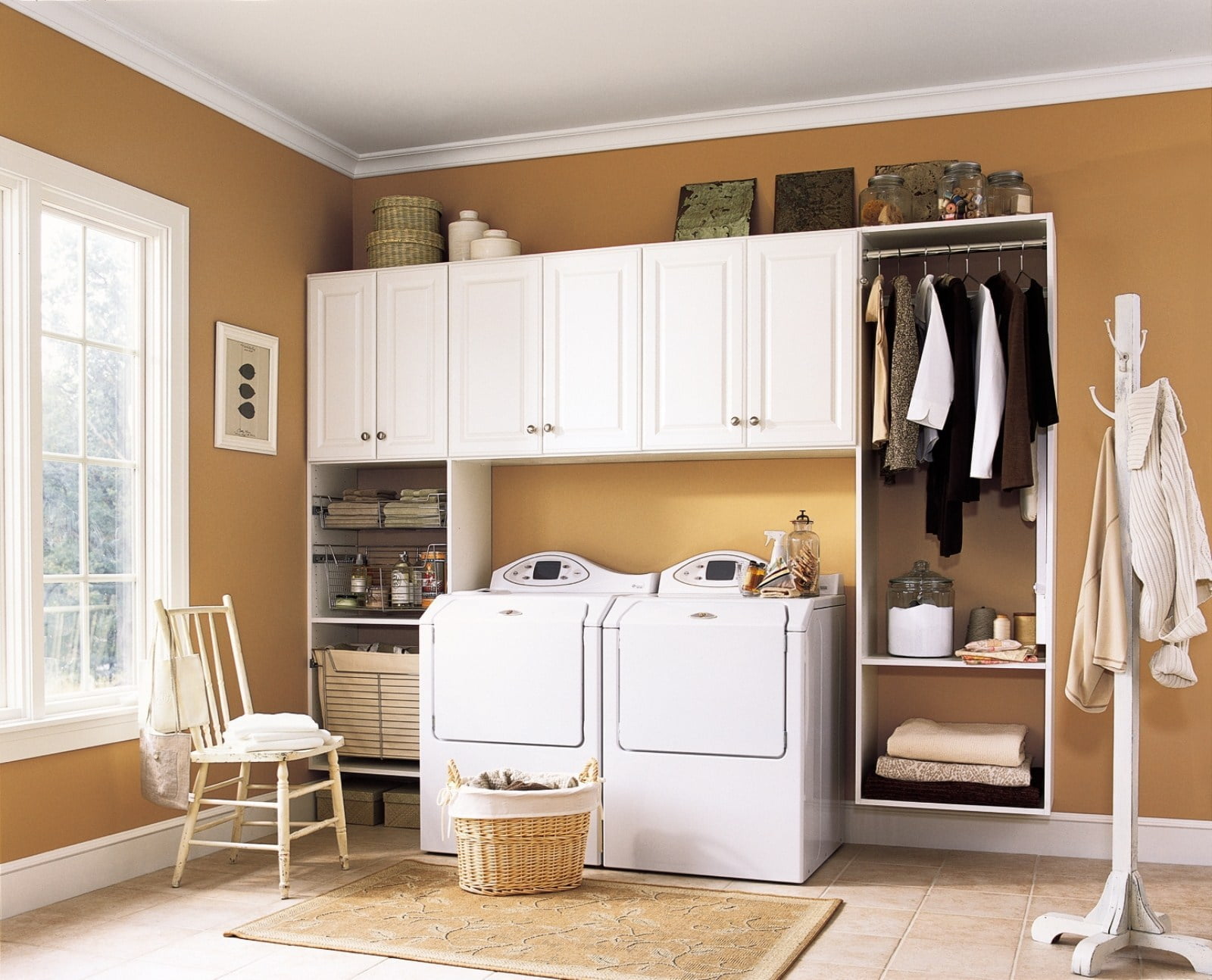 This small but functional space provides a simplistic elegance to what is traditionally a mundane space. Neutral tones on the walls, combined with plain white cabinetry and neutral stone flooring provide an elegant framework for modern touches such as polished chrome knobs and Victorian features such as a distressed hat rack and distressed spindle chair. Wire storage units and a large glass apothecary jars complement the Victorian design aesthetic. A woven basket and rug of natural textures complete the look that is a throwback to a time of washboards, washtubs and lye soap.
12. Futuristic Family Fun Laundry Room Decorating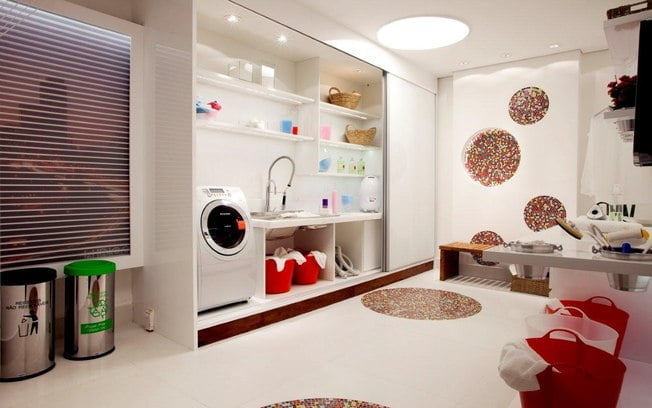 This modern and vaguely futuristic space uses vast stretches of white offset by bright colors and high gloss stainless steel to create a warm, open, modern, slightly futuristic effect. Circular tiles in primary colors offset the vast expanses of stark white, while stainless steel bins and receptacles provide a nice contrast to woven baskets which keep the space from feeling antiseptic or sterile. Open cabinetry in this laundry room design provides easy access to stored items and colorful storage receptacles brighten the space up even further.
13. Fun and Funky Utilitarian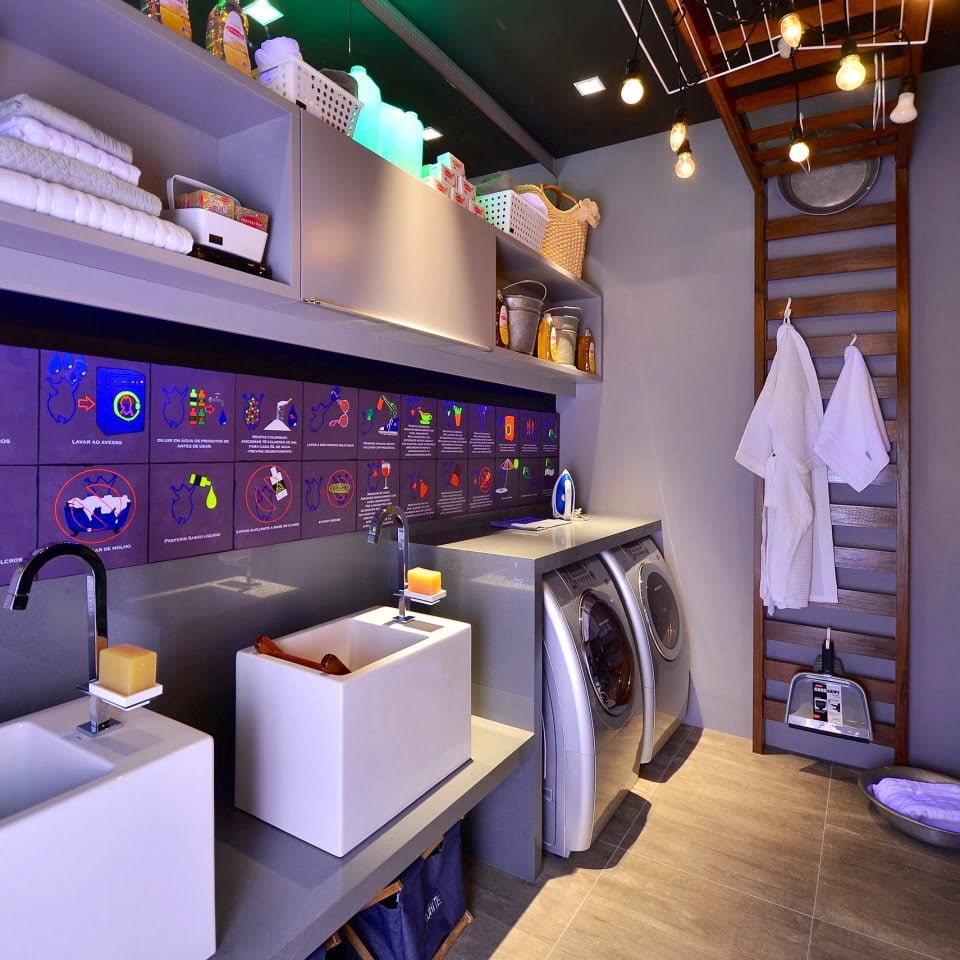 Strong geometric patterns make the most of this small space. Deep rectangular sinks with sharp angles provide a delightful contrast to the smooth lines of the modern washer and dryer. A dark wood ladder that can be used for hanging or drying provides warmth to the utilitarian grey tones of the room, while providing a high degree of functionality at the same time. Fun and whimsical lighting provides even more warmth to an otherwise somewhat stark space and a fun backsplash with bright laundry graphics provide a whimsical counterpoint to the stark colors and sharp angles of this heavily geometric space.
14. Amish Modern Laundry Room Decoration Idea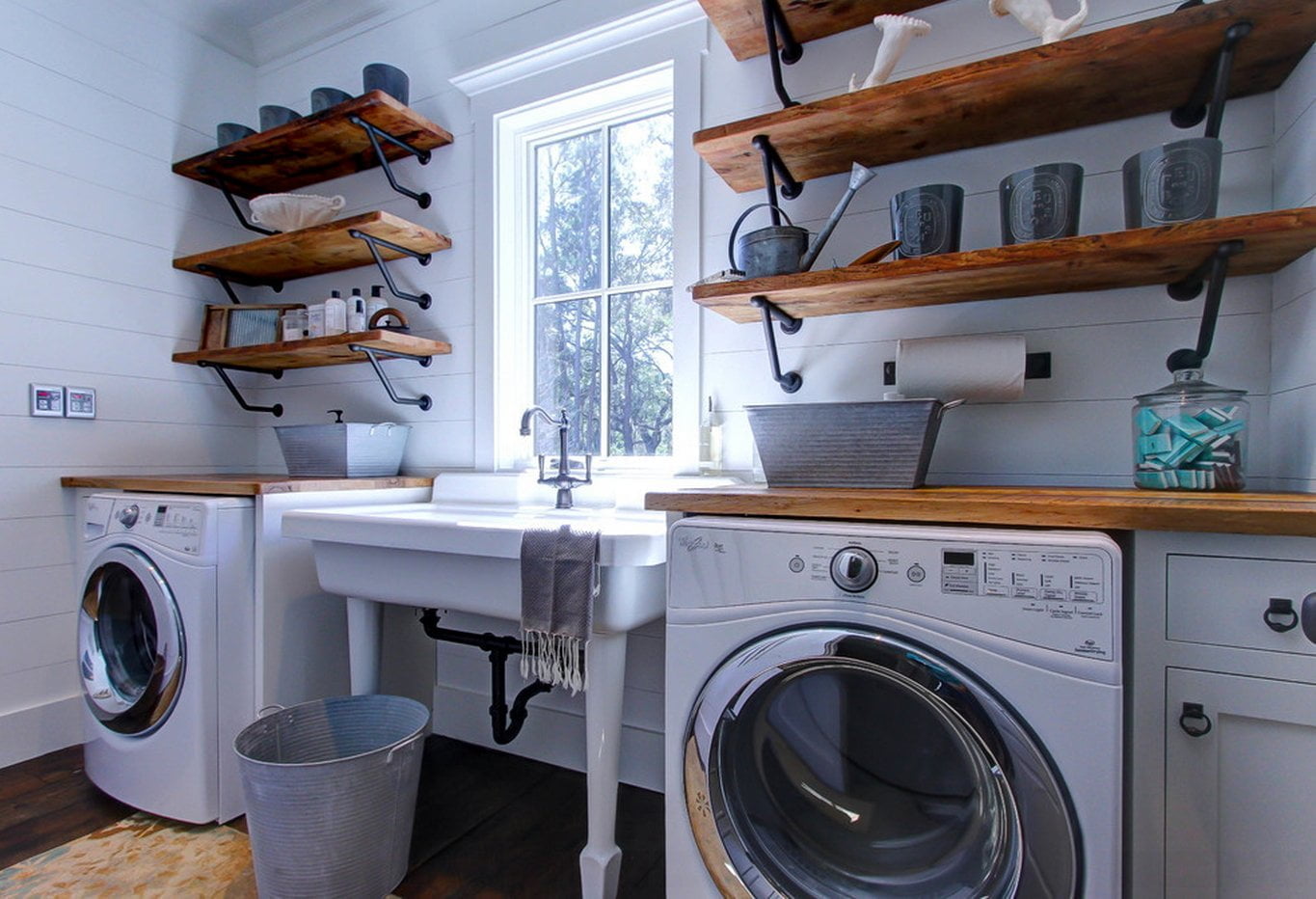 Reclaimed wood shelving with heavy iron supports provide a stunning feature of laundry room decor in this rather small and utilitarian space. Tin buckets, hampers and other receptacles as well as a farm sink complete the Pennsylvania Dutch flavor of this charming space. A large window provides plenty of sunlight to bring life and vibrance to the stark white tiles and give the impression that a look out the window might reveal a horse and buggy standing at the ready.
More laundry room design ideas on the next page…