A sunken living room is a cozy space in a home that is designed with open floor concept. It's an amazing area as it gives you a separate space where you can spend quality time with your loved ones.
Before we proceed further with today's post that showcases 50 sunken room ideas, let's first define and understand the concept of a sunken living room. Like mentioned above, it's a step down design where the other rooms of a house like dining, kitchen and family room are separate, but one can have a view of all the rooms while he or she sits in a sunken living room.
Sunken living room designs are not a new or recent phenomenon to have floored interior designers, but have been on this planet since a very long time, let's say for about five decades. The concept of sunken room designs was pretty much prevalent in the sixties and seventies when nightclub owners started designing their sitting places in this style. It became so popular that many Hollywood stars and producers adopted this sunken living room concept in their homes and made their residences the talk of the town.
However, if reports are to be believed, the sunken living room designs seem to have originated much before Hollywood started taking notice of them. The era of 20's saw many homes and hotels adopting this style that was basically meant for hosting private meetings or were used for private chit chats.
Some noteworthy designers like Alexander Girard brought about a revolution in the sunken room ideas that we see now a days with brilliant combinations of style and elegance. No longer are these living rooms considered too showy like most people assume them to be. In reality, sunken living room designs lend a very classy touch to a home décor, both inside as well as outside.
In today's post, we have showcased some very cool and hip looking sunken living rooms that will clear any doubt that may be arising in your minds, especially if you are someone that considers a sunken living room concept to be snazzy or tacky. All the 50 images below are of stunning sunken living rooms that are classy examples of home designs that are not just gorgeous but also aesthetic in every sense.
While, there are simple sunken room ideas that would quench the thirst of people that love minimalist designs and are not too overtly gorgeous, however, for those that love the opulence, the style and a little bit of 'snazziness', there are plush and luxurious sunken room designs that would bring a cheer on their faces.
If going little bland is your kind of thing, you can try designing your sunken living rooms with barest of accessories that includes furniture and other things like lighting, flooring and cabinets. Most images that follow simple designs have huge windows to let in fresh air and one can spend hours altogether sitting in his or her sunken room, relaxing and enjoying the beauty outside. Such designs can incorporate the use of smart fireplace made of bricks or raw steel.
Plush or luxurious sunken room designs are suited for those that love to include designer or custom made features, like pool side sunken rooms, or those that are opulently designed with expensive furniture and embellishments.
Your sunken living areas can project a retro look with people and colorful accents splashed all across in the furniture and accessories. There is also the option of going in for circular sunken rooms that are quite hip to look and are mostly seen in hotels or in spas.
Whatever design you choose to adopt for your living room, make sure you go through these amazing sunken living room ideas before making a final decision. You will fall in love with this concept!
1. Simple yet stylish sunken living room designs
Image Credit: amazonaws
2. Simple grey sunken living room
Image Credit: amazinginteriordesign
3. Modern white and brown sunken living room design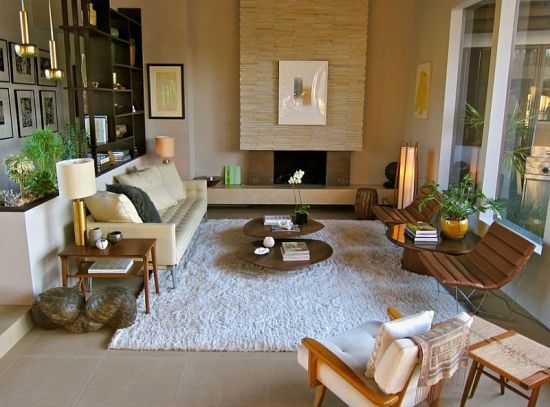 Image Credit: thejubapost
4. Simple sunken corner living room design with floor seating
Image Credit: furniturefashion
5. Traditional sunken living room design with impressive wall paintings
Image Credit: houzz
6. Modern orange and grey sunken living room design
Image Credit: homedit
7. Extraordinary sunken living room design within a pool
Image Credit: thejubapost
8. Minimalistic sunken living room design with glass box windows
Image Credit: furniturefashion
9. Plush sunken living room design with modern seating and fireplace
Image Credit: houzz
10. Sunken living room design with contemporary furniture and varnished wood ceiling plus floor
Image Credit: prisluga
11. Sunken living room with marble floor design
Image Credit: houzz
12. Simple sunken living room design with huge windows and hardwood floor
Image Credit: furniturefashion
13. Chic sunken living room design with railing
Image Credit: decoist
14. Mid century sunken living room design with modern accents
Image Credit: hgtvhome
15. Semi oval shaped sunken living room design in white with solid carpet tiles
Image Credit: zillowstatic
16. Curved sunken living room design
Image Credit: homedit
17. Modern curved sunken living room design
Image Credit: hgtvhome
18. Gorgeous curved sunken living room design with curvy sofa
Image Credit: aegive
19. Trendy sunken living room design with purple sit down sofas
Image Credit: yacineaziz
20. Rustic sunken living room design with exposed wooden beams
Image Credit: zillowstatic
21. Cool sunken living room design with circular fireplace and shag carpet
Image Credit: procureddesign
22. Outdoor wooden sunken living room design
Image Credit: decorreport
23. 70's styled sunken living room design
Image Credit: pinimg
24. Sunken living room design for an open floor house
Image Credit: flashbak
25. Black and white themed sunken living room design
Image Credit: decorreport
26. Vibrant sunken living room design with yellow sofa
Image Credit: tripadvisor
27. Cozy sunken living room design with brown and beige accents
Image Credit: i-bandt
28. Industrial themed sunken living room design with rustic ceiling beams
Image Credit: home-designing
29. Sunken living room design with contemporary sofas in brown and hanging light fixture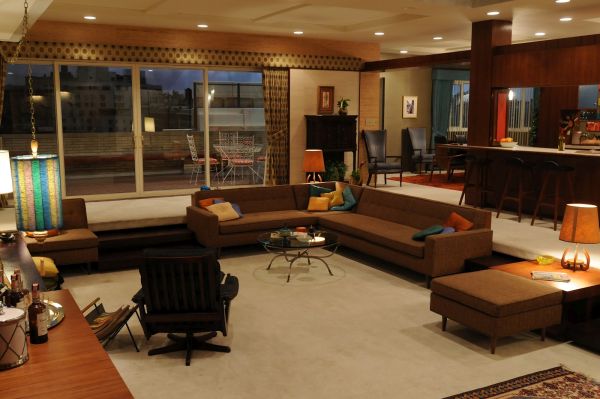 Image Credit: pinimg
30. Modern sunken living room design with big glass windows and green accents
Image Credit: zillowstatic
31. Opulent sunken living room design with traditional accents
Image Credit: yacineaziz
32. Red sunken living room design with black fireplace made of raw steel
Image Credit: homedesignlover
33. Warm sunken living room design with wooden flooring
Image Credit: decorhomeideas
34. Eco friendly sunken living room design with green, blue and white accents
Image Credit: timberlandbar
35. Chic sunken living room design with orange accents and wooden pallet flooring
Image Credit: home-designing
36. Stunning sunken living room design with open kitchen and view
Image Credit: wordpress
37. Tropical themed sunken living room design
Image Credit: brownstoner
38. Unique sunken living room design with sculpture decor
Image Credit: fantasticviewpoint
39. Sunken living room design with logs and leather
Image Credit: homeaway
40. Elegant sunken living room design with airy feel
Image Credit: voomstudio
41. Sunken living room design with wooden roofing
Image Credit: home-designing
42. Electrifying sunken living room design with guilded accents
Image Credit: popsugar-assets
43. Circular sunken living room design with white railing
Image Credit: flickr
44. Stylish sunken living room design with area rug and tufted sofa
Image Credit: h-cdn
45. Modern mid century styled sunken living room design with floor to wall wooden cabinet
Image Credit: whorange
46. Green accented sunken living room with wooden rimmed windows
Image Credit: hubspot
47. Cozy sunken living room design with open bedroom
Image Credit: divasanddorks
48. Spacious sunken living room with brick wall and comfy sofa
Image Credit: 6sqft
49. Sunken living room design with mid century furniture and green handmade rug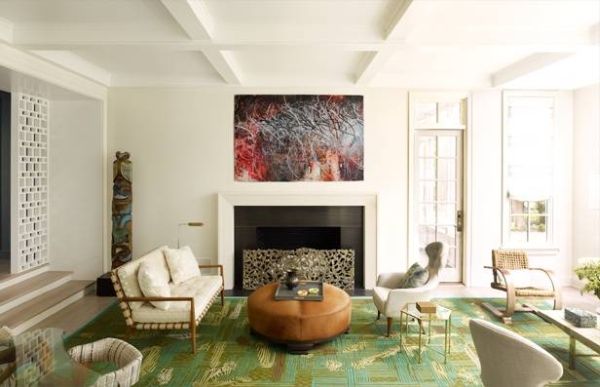 Image Credit: h-cdn
50. Amazing sunken living room design with multiple seating
Image Credit: wordpress