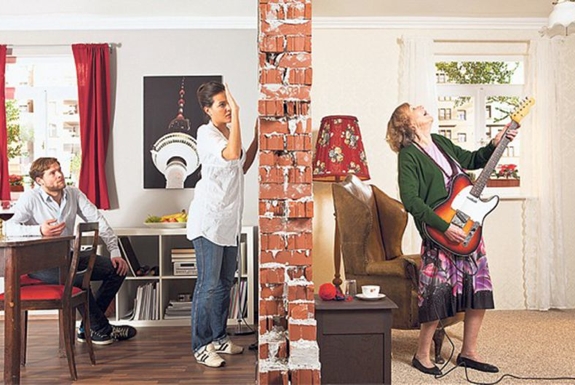 Imagine the typical prospective home buyer or renter. They learn about a property of interest to them, either online or through an agent, and then go in person to check it out. And then they decide against it. What's the most likely reason why?
According to a new survey from mortgage broker Oceanfinance.co.uk, the most commonly cited answer is: noisy neighbors.
Of course, if you aren't looking for a new place then you might already feel stuck in a stentorian living situation. But you needn't resort to moving, undertaking a major soundproofing renovation or adopting passive aggressive tactics to find some peace and quiet. A few simple home decor changes can help promote silence by absorbing sound. Here's a look at five of those:

Sound Absorbing Paint
The most inconspicuous way to quite a room might be sound absorbing paint. It works surprisingly well at mid-range frequencies which, conveniently, is the range most humans talk at. To reduce the volume of, say, a neighbor learning to play the clarinet (a high frequency sound) or the automobile traffic from a nearby road (low frequency) the ideas below will work better for you.

Sound Absorbing Curtains
Any curtain made from a thick textured material (wool or velvet, for instance) will absorb sound. Lighter materials can't. Or, at least they couldn't until a few years ago. That's when Textile designer Annette Douglas, working in collaboration with the Swiss Federal Laboratories for Materials Science and Technology, developed Silent Space curtains. Despite being thin and translucent (see the image below), these stylish curtains can provide roughly as much soundproofing as coating a room with an inch-thick (25 mm) layer of asbestos — without, you know, having cancer as a side effect.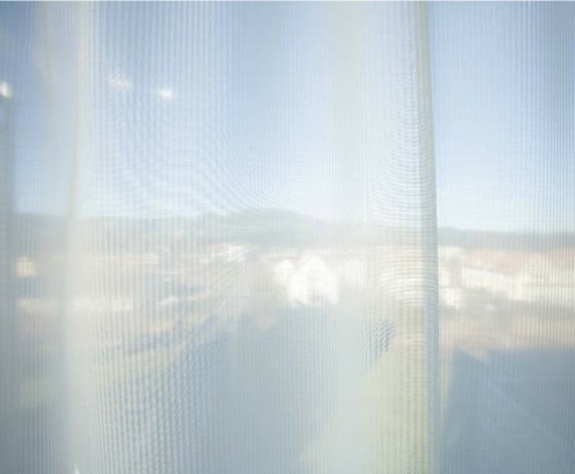 Sound Absorbing Art & Panels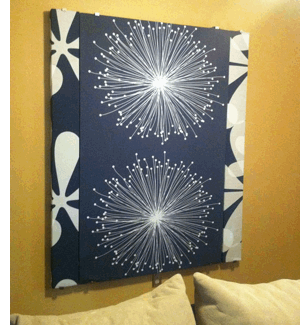 If you frequent trendy bars or restaurants you've almost certainly seen sound absorbing art, probably without even knowing it. A surprising number of companies sell decorative panels, wall hangings and artifacts that help reduce noise. Much of it is rather expensive. Needlessly expensive, in fact. Creating your own sound absorbing art is relatively easy and, it turns out, can make for a fun, family-friendly DIY project.

Pillows
If you've ever slept next to a loudly snoring partner or in a room adjacent to a teenager's stereo, you've probably tried blocking the noise by holding a pillow over your ears. It works pretty well. But it did you know simply having pillows in a room can help absorb some sound too? The bigger and fluffier the better it works. It also helps to have as much of the pillow's surface area exposed as possible. The pic below is a great example of how pillows can be hung to achieve this: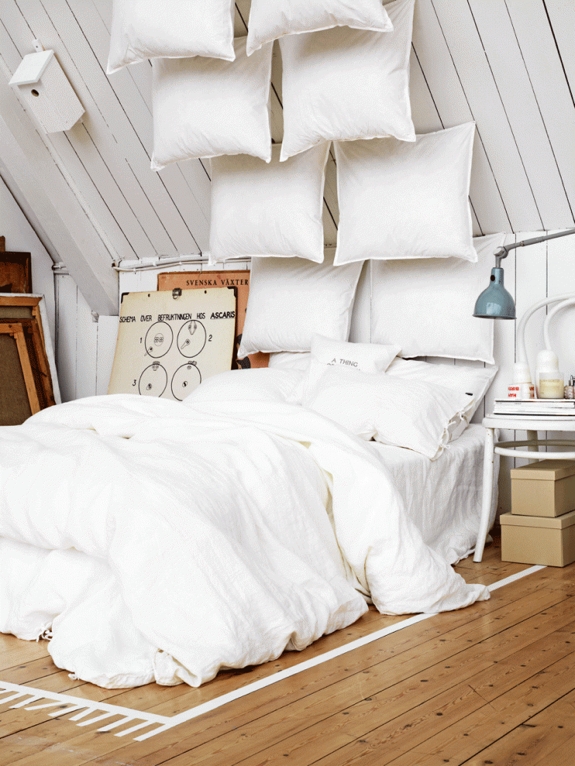 Sound Absorbing Tiles
Träullit is a tiny family-owned company in Sweden with a cool product for both reducing noise and reducing our impact on the environment: Hexagon Tiles. The modular wall pieces are affixed using either glue or magnets and come in eight colors, which allows for all kinds creative design possibilities. They are made entirely from renewable or reclaimed ingredients including wool, wood and concrete. That combination of materials, it turns out, is not only effective at reducing noise but is also outstanding at regulating moisture. Which can help with the second most common turn-offs cited by prospective home buyers and renters in the survey by Oceanfinance.co.uk: moldy rooms.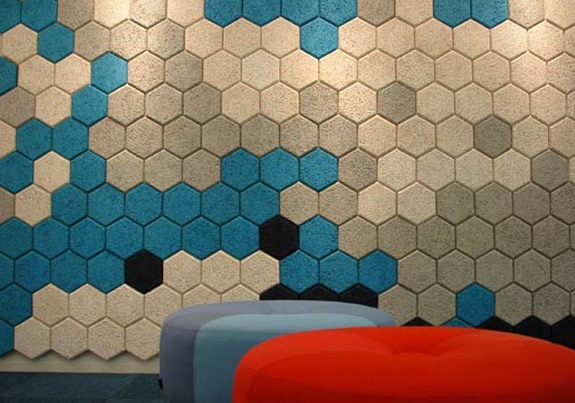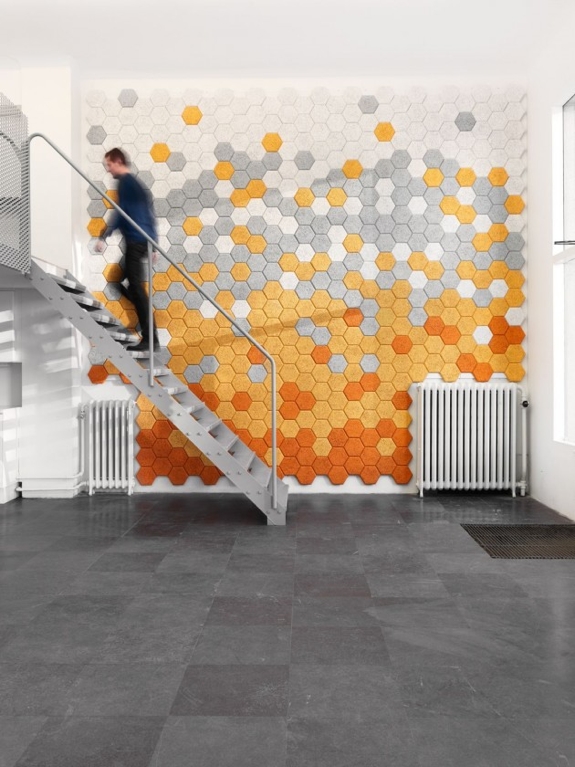 published: TKTK Oct 2013

JOIN US ON TWITTER / FACEBOOK / PINTREST / GOOGLE+

More from Spot Cool Stuff:
Sennheiser: A Review of our Favorite Noise Canceling Headphones
Logitech Z Cinéma Advanced Surround Sound System
Cool Art — Made Entirely From Used Toys
Unusual Fern and Moss Wall Art
Cool Gifts for Architecture Lovers