Neila Deen, Houzz Contributor
A bedroom should be your sanctuary. Ideally, it should have enough room to store personal items and give you space to relax, dream and feel your most comfortable. But when you're faced with limited square footage, creating a bedroom that does all these things can be challenging. Oftentimes the need for storage and functionality overshadows the desire for style. The result can be a bedroom that feels unloved, cluttered, even lackluster.
Browse Thousands of Bedroom Ideas
Designers often advocate for incorporating storage under the bed and using built-in pieces as classic space-saving solutions. But there are many more ways you can make your small bedroom not only functional but also chic. We offer seven small-space problem-solvers that can help you create a functional haven — without sacrificing style.
1. Hang It From the Ceiling
In a small bedroom, you have limited surface areas. So get creative and look up to that oft-overlooked one: the ceiling. Hanging decorative items overhead not only frees up the area below but also draws the eye up. This effect gives an illusion of greater volume inside a small room.
Instead of using bedside table lamps, hang pendant lights from the ceiling. This creates a vertical line upward and opens the space below, making the room feel lighter, uncluttered and even a bit more styled.
Design tip: Pendant lights come in all sizes and styles, from simple glass orbs to delicate crystals, and are a fabulous way to turn an ordinary bedroom into an extraordinary haven. Look for pendant lights with cutwork or jewel-like openings. When illuminated in the dark, the lights will cast a radiant jewel-box glow in your bedroom.
Similarly, window drapery can be hung from the ceiling instead of on the wall just above the window. Hardware for most window treatments is designed to be flexible. So try turning the bracket up and installing it on the ceiling. The length and vertical lines of the drape will make the ceiling feel higher and the room larger.
If you prefer the look of a Roman shade, hang that from the ceiling. Pull the shade down just enough to cover the top of the window. This will elongate the look of your window and draw the eye up.
2. Float It on a Wall
With large furniture taking up floor area in your small bedroom, one great trick for creating space and giving the room an airier look is to float some pieces on a wall. This arrangement makes the furniture seem to merge into the wall, giving your room a more streamlined appearance.
Storage furniture, such as bedside tables with drawers or even small dressers, can also be affixed to the wall, leaving space beneath to store shoes or stylish baskets stashed with necessities. Look for pieces that have separate legs and just leave them off. One DIY note, if you're not using a contractor to mount your pieces, definitely consult with one. You want to be sure that your wall can handle the weight, and that you're using the right support and wall anchors.
Design tip: Look toward living spaces for sleek pieces like media consoles to float on the wall. The streamlined size of such pieces can often work well in a small bedroom. Plus, their cabinets and shelving are fantastic for storing clothes and shoes.
3. Feature Your Bed Wall
Making the bed wall the star of your bedroom can be fun for any size room. However, it's especially helpful in a small bedroom because doing so gives the room personality and draws attention to the design feature, rather than the room's diminutive size.
There are numerous ways to get creative with a bed wall. A mural, a featured paint color and even wallpaper can be cost-effective if you choose economical options. Creating a gallery wall above your bed can also be a way to add a personalized touch. Another idea is to showcase a cool headboard.
Design tip: For an unexpected headboard, use a decorative element that's not typical for a bedroom. Consider painted wooden window shutters, a decorative wall divider that can lie flat and be attached to the wall, or an ornate iron panel painted a fun color. Just make sure to place oversized pillows in front of this kind of installation or hang it where your head can't touch it.
4. Fold It Up
To maximize limited floor space — especially because the bed typically takes up much of this valuable real estate — incorporate flexible furniture that folds up to the wall. You might try a foldout desk that doubles as a makeup table. A wall-mounted pullout shoe organizer in the closet can free up space on the closet floor for a small chest of drawers, adding needed storage.
The most classic bedroom foldout piece of furniture, of course, is the Murphy bed. This is a terrific option for an alcove in a studio apartment or a guest bedroom that pulls double duty as a den or home office. It can even be useful if you simply have a small bedroom without sufficient functional space for storage furniture as well as a bed. Today's Murphy beds are well-designed, comfortable and often incorporate other design features such as shelving or desks.
Design tip: Try adding a decorative component to the exterior surface of the foldout piece. A painted pattern on the back of a closed table or desk would add a visually interesting element to the room.
5. Rethink Your Doors
Whether they lead to your closet or your bedroom, doors need clearance to open and close. The required clearance may limit your options for furniture placement and size. If this is the case in your home, consider replacing traditional doors with a stylish folding, sliding or pocket door. These take up less room because they eliminate the swing action of a more standard option.
Another way to enhance the function of the doors in your bedroom is to replace them with light-filtering or reflective materials. A frosted glass pocket door can make a small room feel less closed in. Similarly, a mirrored closet door could make the room feel larger.
Design tip: Consider replacing ordinary door hardware with more stylish options. Handles and knobs in Lucite, modern brushed brass or polished chrome could give the room an updated feel. For a more cohesive, intentional look, coordinate your door hardware with your drawer pulls.
6. Mirror It
Mirrors are your best friend in a small bedroom. A medium to large mirror can be placed just about anywhere — there are no strict rules. You might try one above the headboard or your floating dresser, on a wall that faces the bed, or as part of a mirrored closet door. The mirror will not only make the room appear larger, but it also will reflect whatever natural light you have.
Design tip: Use multiple mirrors on a wall in the place of art. A gallery of mirrors in different shapes and sizes can serve as a wonderful feature wall while helping the room feel larger. Or try placing an extra-large leaning mirror against a wall. Its dramatic size will make the room feel immensely larger and brighter.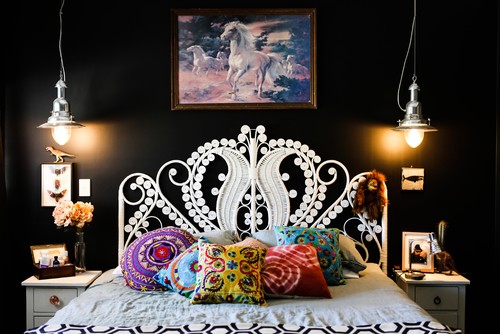 7. Go Bold
Highlighting something eye-catching in a small room will not only radiate personality and style, but also take the focus off the size of the room. So make a bold choice in your bedroom. You could select a distinct paint color for your bed wall or opt for a distinctive wallpaper like grasscloth. Other details to spotlight can be a special furniture item, a large piece of art or a standout light fixture.
Design tip: For a cost-effective bold statement, use your throw pillows as the centerpiece of the room. A curated collection of patterns and textures that are distinct from the rest of the room can really steal the show. For example, in an all-white room, a collection of brightly colored pillows grabs the eye. Similarly, in a room with a dark wall and bedding, try an assortment of either colorful patterned pillows or metallic hues for a dramatic palette.