in 1993, the royal porcelain manufactory (KPM) in berlin reached out to italian designer enzo mari to seek a hands-on collaboration that would include the art direction of the historic institution, founded by frederick the great in 1763. mari asked me, his former design student, to assist him in this activity. we initially agreed on a 3-year-long contract to work side-by-side inside KPM's facilities and to collaborate on the design of new forms and decorations, together with the in-house master workshop.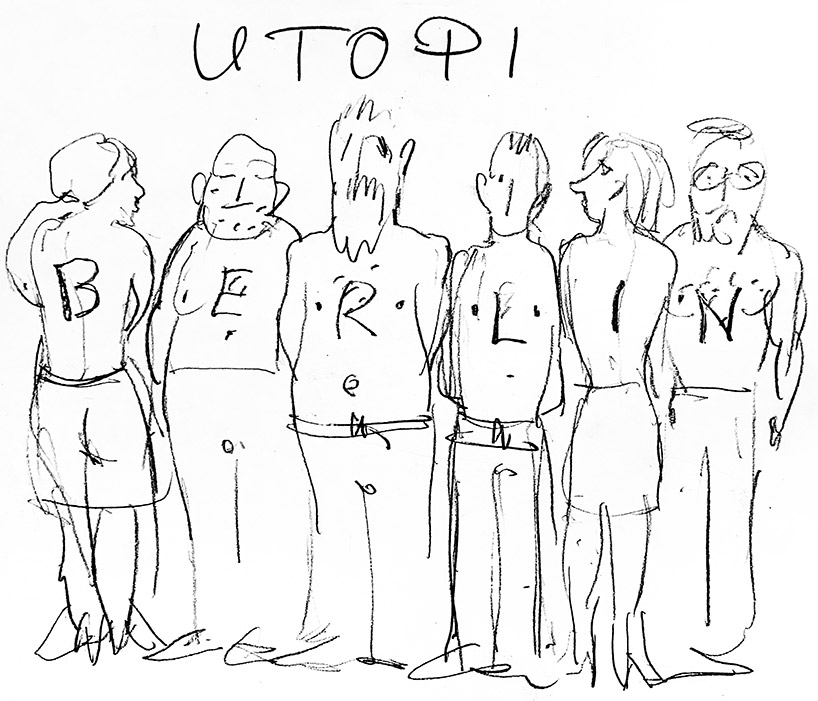 'utopi(a)', 1993
drawing by enzo mari of the KPM team (left to right): cordula gebauer, bernhard nowacki, enzo mari, thomas wenzel, desigboom's birgit lohmann and robert suk. private collection (a gift to birgit lohmann)
in the briefing, the supervisors of the berlin institution requested to recover the 'creative potential' of the craftsmen. this necessity was based on numbers. the market's appreciation of KPM's porcelain goods was diminishing. KPM produced works that were incapable of expressing contemporary formal values. we indeed noticed immediately that the master artisans continued to expose themselves to a formal repertoire that referred to the past, and their practices were based on the non-evolution of work methods — obsolete ideas and techniques.
one of the contradictions of the KPM / königliche porzellan manufaktur was that its historical identity has always been based on the artistic skills of its painters, who were capable of highly complex decorative work. those flower-and-fruit arrangements, human motifs, or vedute, were entirely painted free-hand, and could take up several days to produce.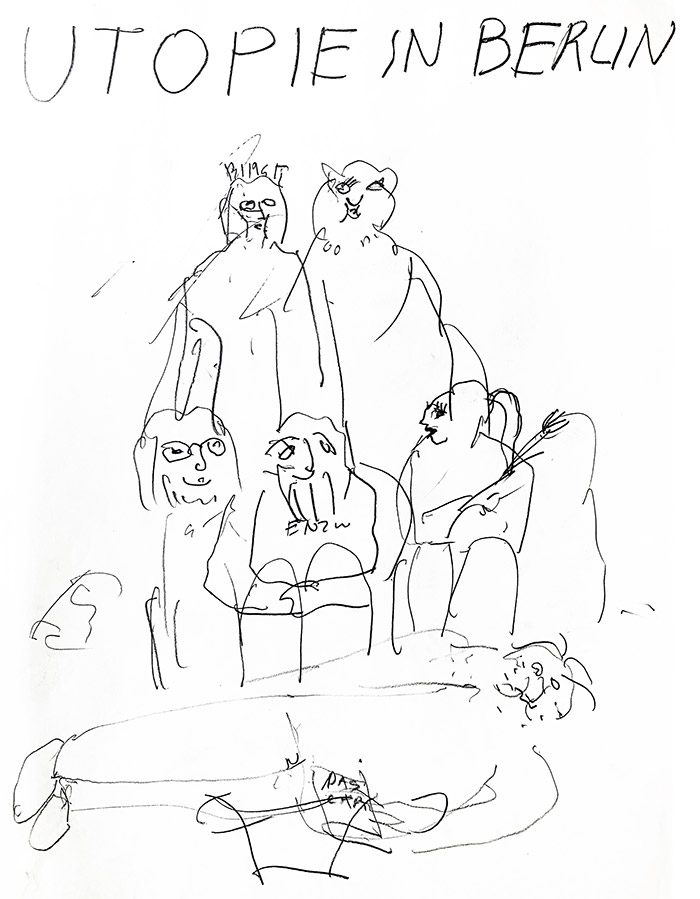 'utopie in berlin', 1993
drawing by enzo mari of the berlin team that shows his KPM art direction partner birgit lohmann (now editor-in-chief designboom) and painter cordula gebauer, enzo mari in between the porcelain form developer robert suk and painter thomas wenzel, and form developer bernhard nowacki, who holds 'das kapital' (by german philosopher karl marx) in his hands.
private collection (a gift to birgit lohmann)
'libellus … de optimo reipublicae statu deque nova insula utopia'
the term was created from greek by thomas more and used as title of his 1516 book 'utopia'- an ideal place, an island that does NOT exist.
work done by hand stands against that done by a machine, and the high cost of execution made KPM's products not competitive. during that time, in 1993-94, the KPM was owned by the city of berlin and viewed as one of its most important cultural institutions, and therefore enjoyed the city's economic support. there was a chance to redefine the value of highest artisanship, but the KPM craft production process was not extraneous to the reproduction of the negative model of the assembly line.
enzo mari attempted to communicate the concept of manufacturing, which for him presupposes the idea of possession of a work culture, built on long apprenticeship, which means thinking with one's hands. this culture of work makes it possible for an individual to work unpolluted by pseudo-cultural conditioning factors.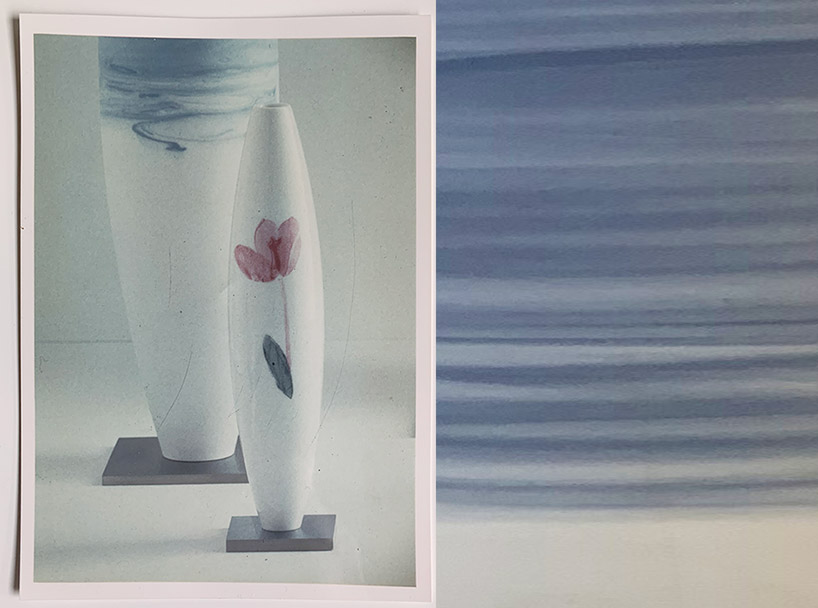 details of flower amphora / spindle vase and bisquit decoration by enzo mari for KPM, 1994
photo by birgit lohmann
mari was enthusiastic to undertake a large-scale project that resembled the experience of working in a renaissance workshop: a place of true learning and symbol of transformation, rather than of alienation. from the initially agreed 3 years, we extended our collaboration to 5, traveling from milan to berlin one week each month. those were years that we have spent with an enthusiastic artisan team, but also fighting bureaucracy, outmoded design concepts and the glorious inertia of the great bauhaus tradition (within KPM).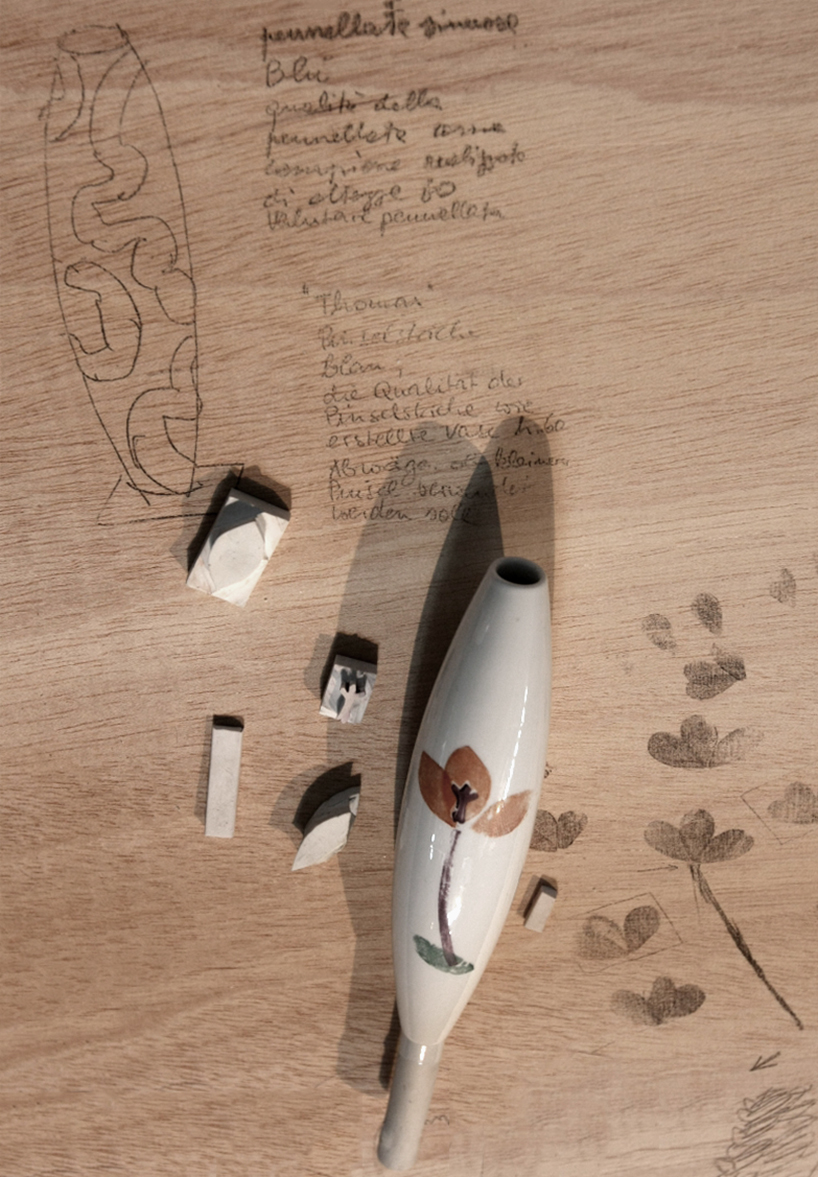 in the workshop: research for handmade stamps to obtain a naturalistic flower decoration
(mari wrote comments in italian, which I translated into german)
the first few months saw the realization of a group of vases as a way of defining and testing the group's potential. then we turned our attention to the new porcelain set BERLIN (article here), in respect of KPM's tradition of quality for a form that would be able to last over centuries.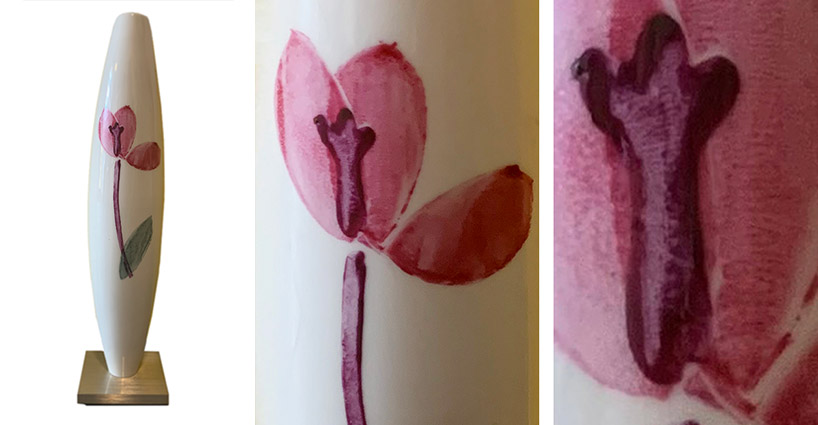 details of flower amphora / spindle vase by enzo mari for KPM, obtained with rubber stamps, 1994
private collection (a gift to birgit lohmann)
enzo mari suggested a research into platonic volumes, and he selected the amphora and its possibilities of interpenetration. the search for classicality has been a reference to constructing an idiom in opposition to the current redundancy of signs. in the context of the königliche porzellan manufaktur, classicality meant going back to 'the original'.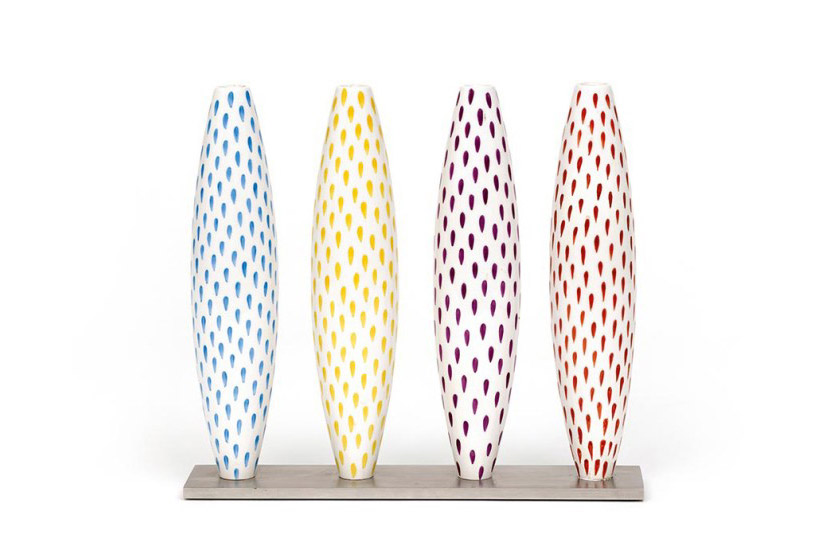 details of drop decoration for a combined amphora / spindle vase by enzo mari for KPM, obtained with special brushes, 1994
the range of vases were conceived as a permanent support for many different decorations. therefore, we also dedicated our time to research the field of pictorial decoration itself, with the goal of superseding a tradition of minutious, laborious, repetitive execution. we decided working instead with essential, gestural, but nonetheless master-craftsmanly signs. the painters likewise experimented with the use of non-conventional manual tools. the illustrations were examples, developed on the basis of our monthly seminars and visits to the city's museums and constructed around various themes, such as 'from naturalism to abstraction', pictorial gesture', 'textures', 'symbolic valences' and the question: 'can printed decoration be handmade?'.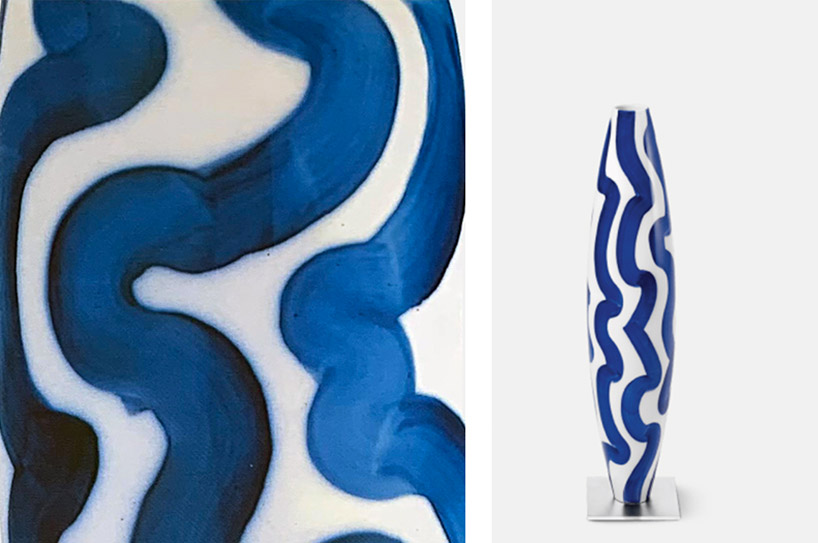 spindle vase with abstract sign decoration, vertical lines obtained with a single gesture of brush painting
photos tobias buddensieg
the confirmation of the naturalistic form within KPM's tradition also included the use of various designed stamps, stencils, sponge — it was essential to develop a suitable grammar for every decorative project based always on maximizing the aesthetic result and the minimum manual execution time. from there, we worked in a different direction, to understand which other linguistic codes could be used to develop a form that is 'other' than the naturalistic form. we proposed techniques using very few gestures, made by the painters, to concentrate on quality of essential movements rather than on quantity.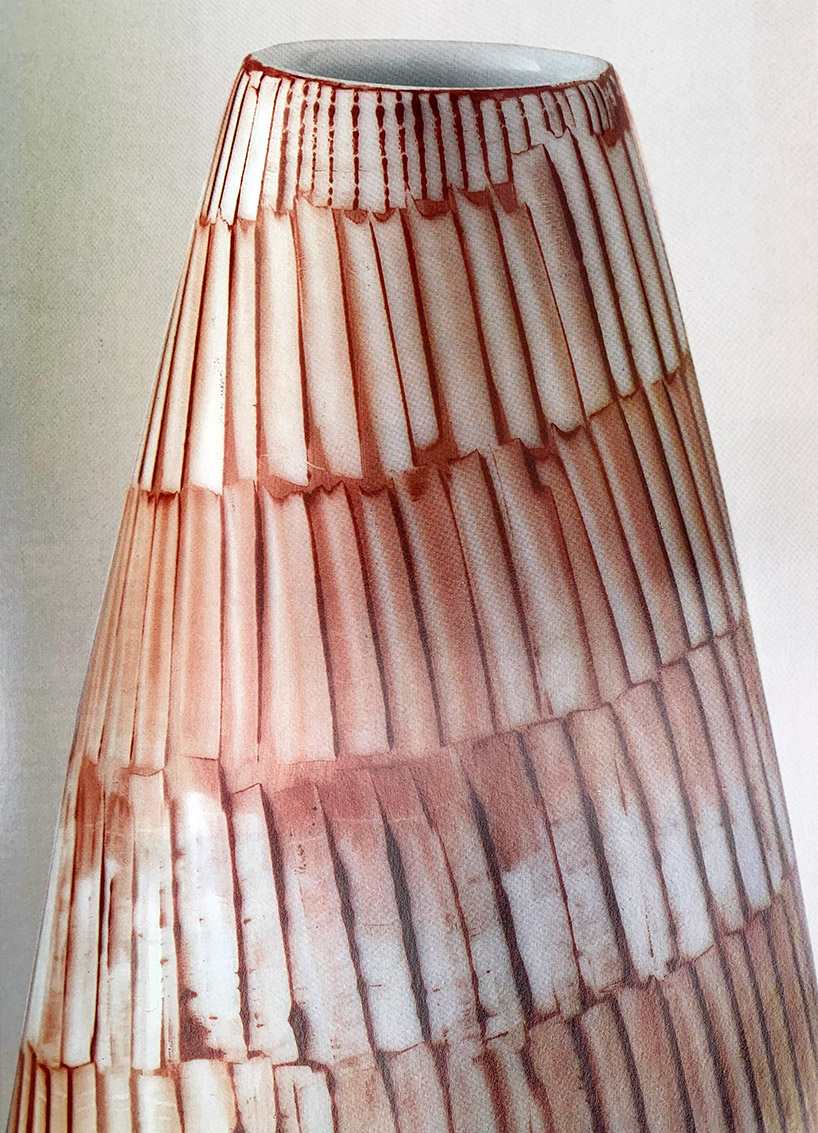 spindle vase with naturalistic decoration, obtained with rubber stamps
photo tobias buddensieg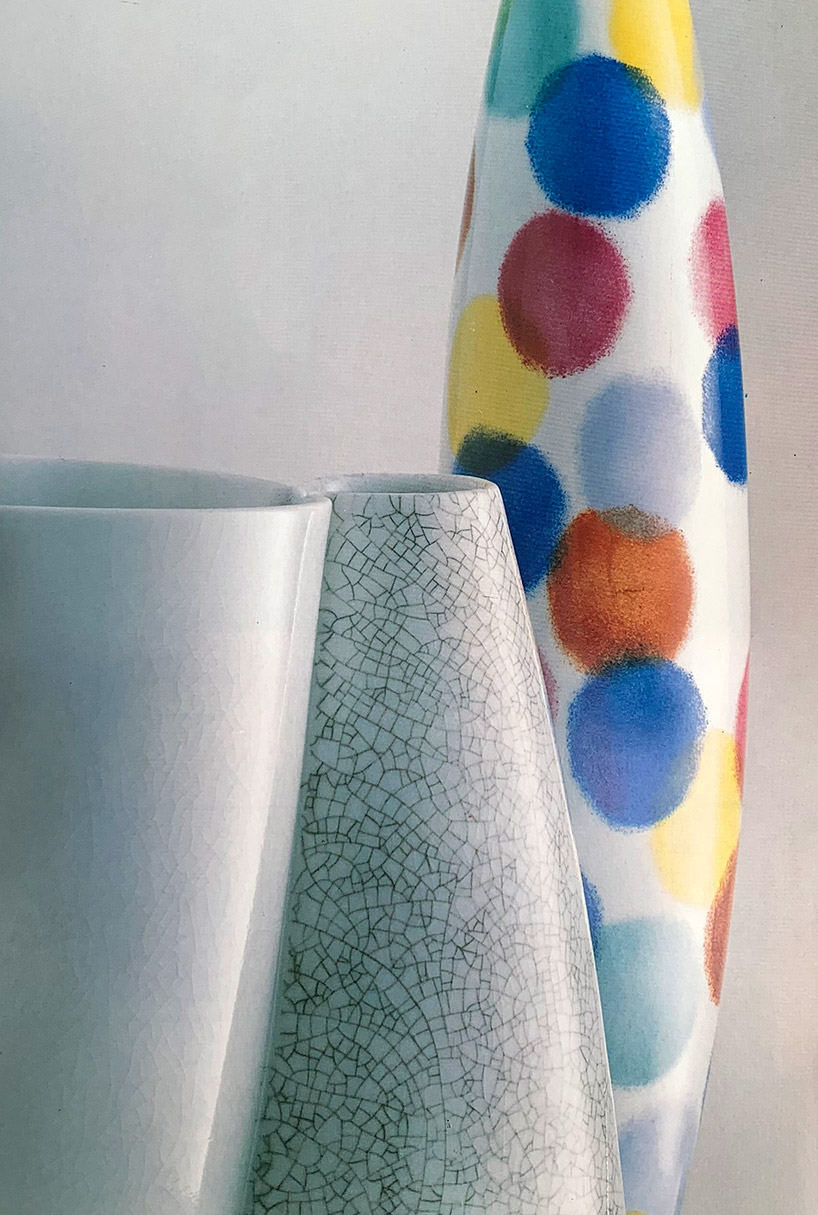 spindle vase with dot sign decoration obtained with special brushes, and crackle porcelain
photo tobias buddensieg 
a utopian sign of the quality of labour, a place for experimentation…
while industry requires the 'solution of the form' in every detail, the control of its intrinsic complexity comes before the start of the production process. work done by hand instead would allow final decisions (of form) to be made until the very end of its completion. the form is defined during the execution, and depends on the operational culture acquired by the craftsman, who contributes to the result with an evolutionary attitude.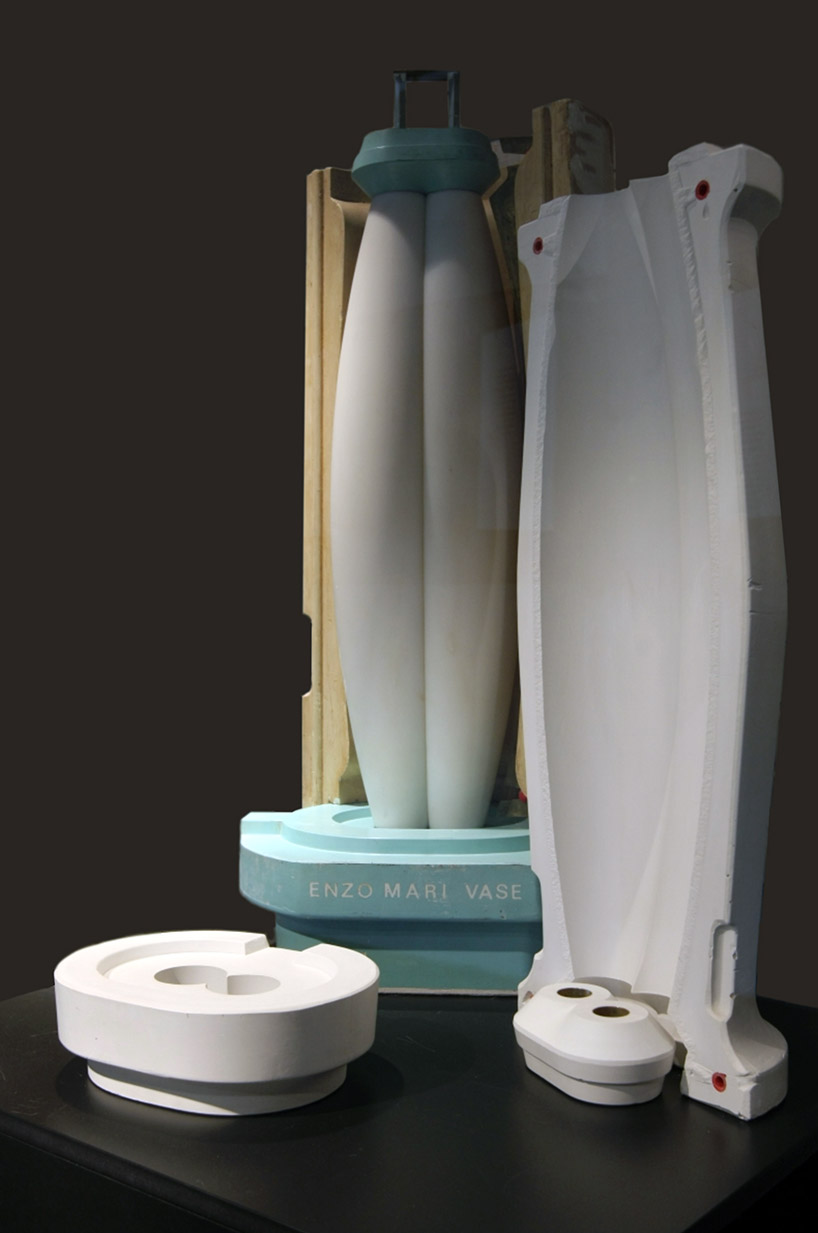 tool to obtain the interpenetration spindle vase
another choice was to work on the single gesture — 'handmade' means first of all created by hand, but a single gesture can be equal to (if not better than) long repetitive work.
'the sculpture is already complete (within the marble block), before I start my work. it is already there, I just have to chisel away the superfluous material.' in this direction went enzo mari's approach for the 'broken vase' — paraphrasing michelangelo, who defined sculpture as the art of 'taking away' not that of 'adding on'.


for enzo mari a single gesture could be equivalent to the blow of the hammer
we did a small series of vases in which every piece is a unique object — here shown mari in action
photos by birgit lohmann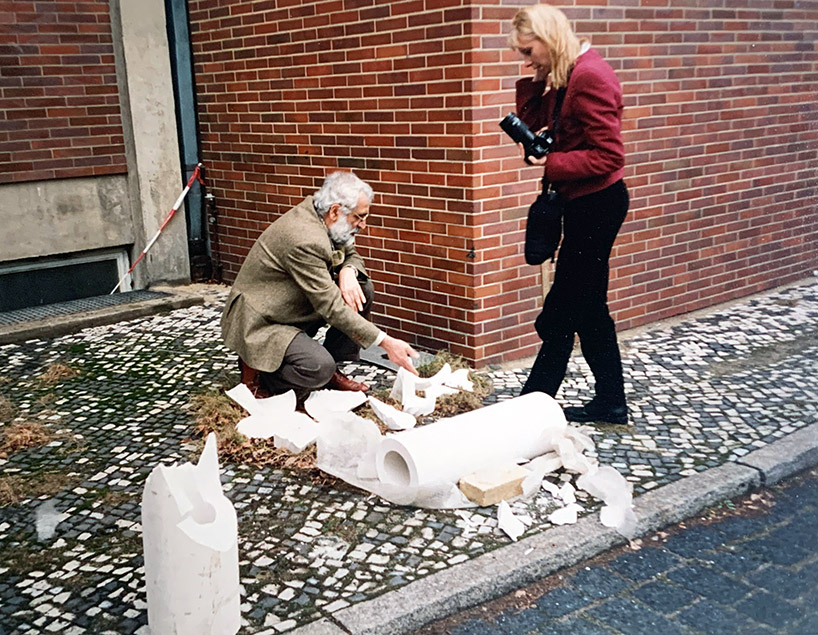 a single blow of the hammer, skillfully applied to a technical ceramics pipe, a perfect cylinder that KPM 'industrially' produced for insulation technology, revealed an ever different form. here shown – enzo mari in the courtyard of KPM, experimenting with the creation of vases 'by taking away' (birgit lohmann documenting the process).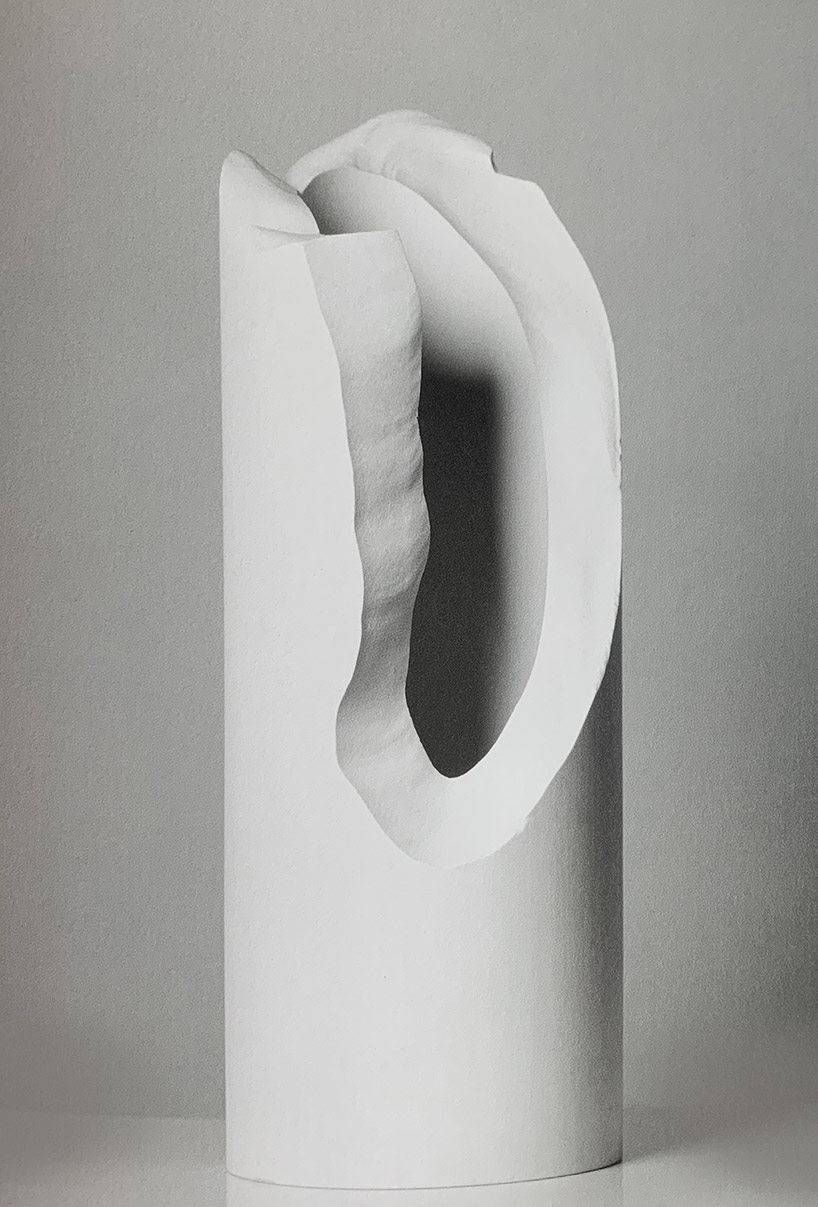 vaso rotto / per forza di levare (broken vase / by taking away), 1994
photo by benvenuto saba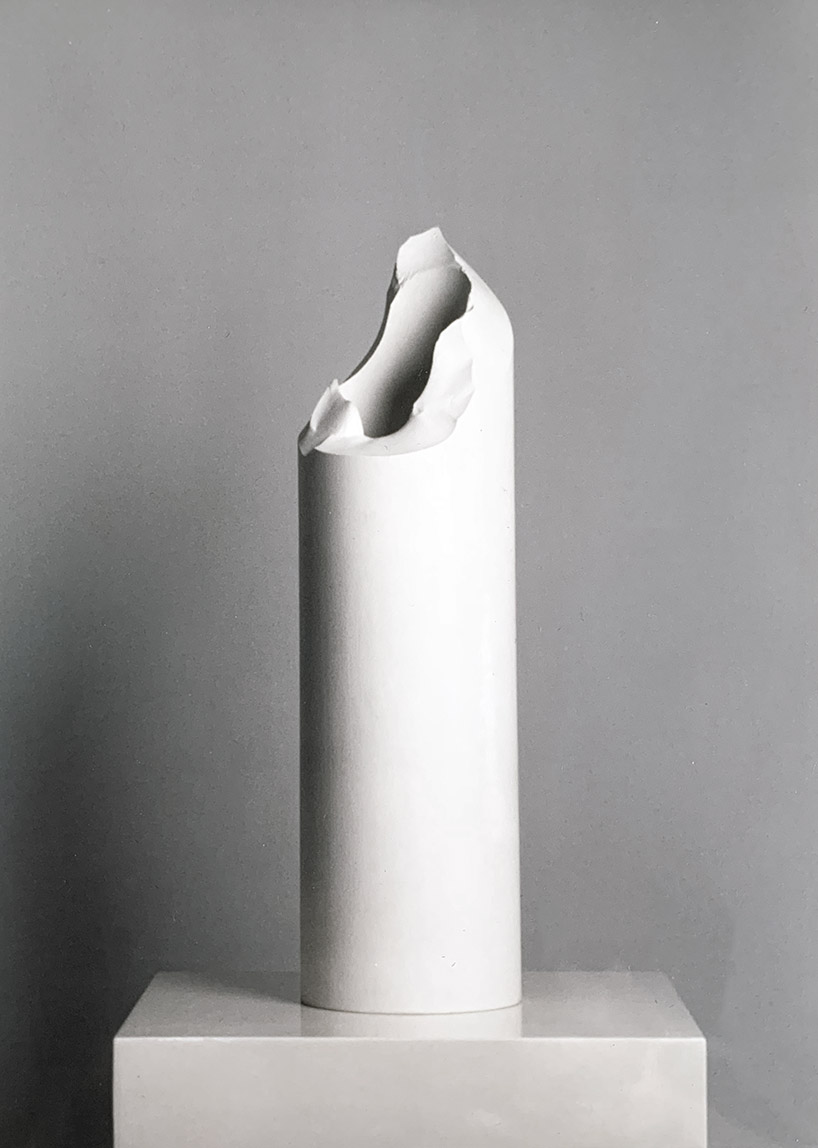 vaso rotto / per forza di levare (broken vase / by taking away), 1994 
photo by benvenuto saba
how can / should a manufactory survive today?
it's absolutely essential that the public agrees to take responsibility…
if on the one hand, a large scale manufacture of handmade goods today is no longer possible, it is a good thing for the city to support at least one as the utopianizing trace of work quality and as a place of experimentation against an increasingly robotized world. an important place of research and from it industrially produced works could derive, which can reach a wider audience at acceptable prices:
– a percentage of the artisans could make copies of the historic heritage for museums, without simplifications or degradations to reduce commercial costs. at the same time these artisans could also make products for an elite market.
– a percentage of them could make objects to be produced industrially (also in the first world).
– and a percentage could create an open-minded school in keeping with the utopianizing significance of quality manufacture. besides giving continuity to this culture, such a school could be used as a non-degraded phase of leisure (a cultivated hobby) time. last but not least, in such an experimental institute, another percentage of craftsmen could develop technological or semeiotical research, saleable to companies in the sector.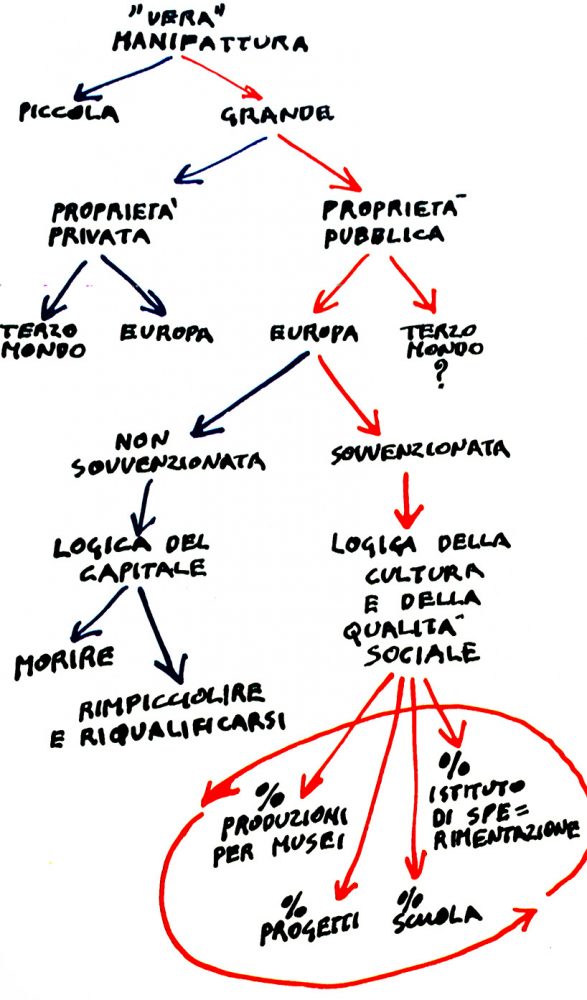 how can / should a manufactory survive today?
diagram by enzo mari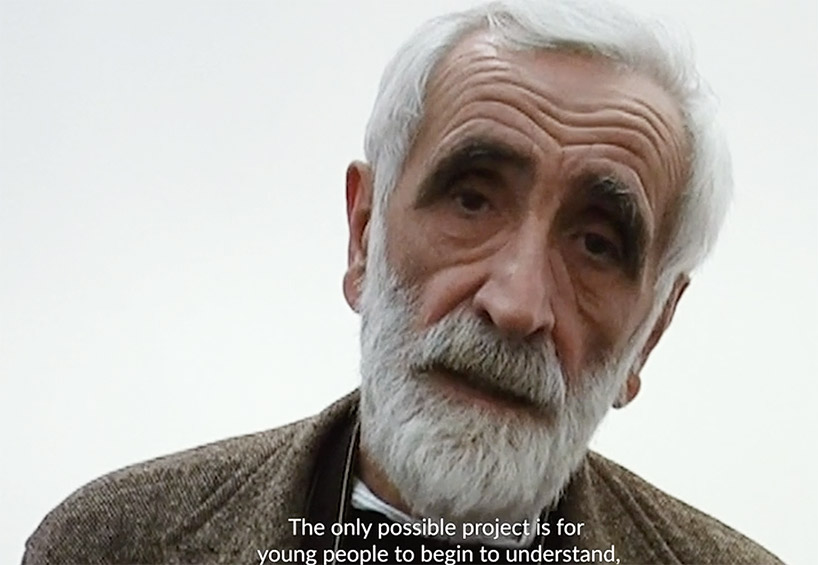 see a 2008 video interview with enzo mari on craftsmanship
filmed on dvd by designboom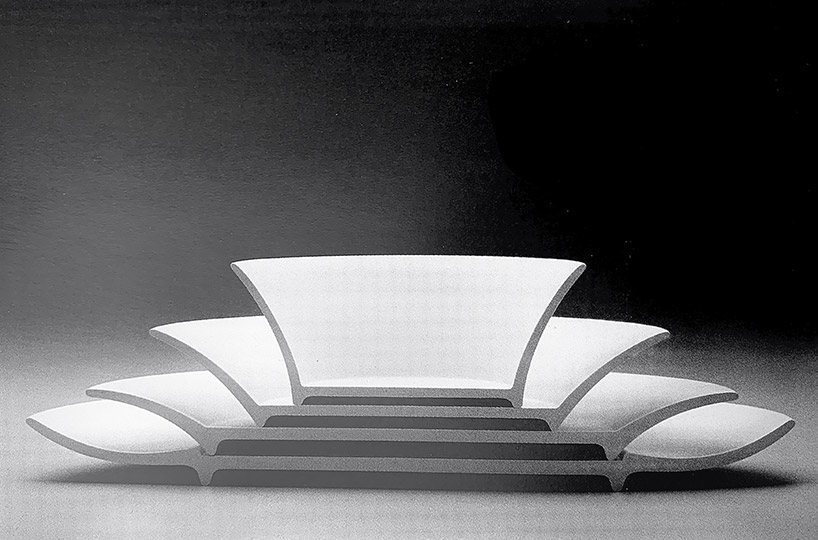 see PART 1 of this article – the development of BERLIN, a porcelain table set for KPM, 1993-96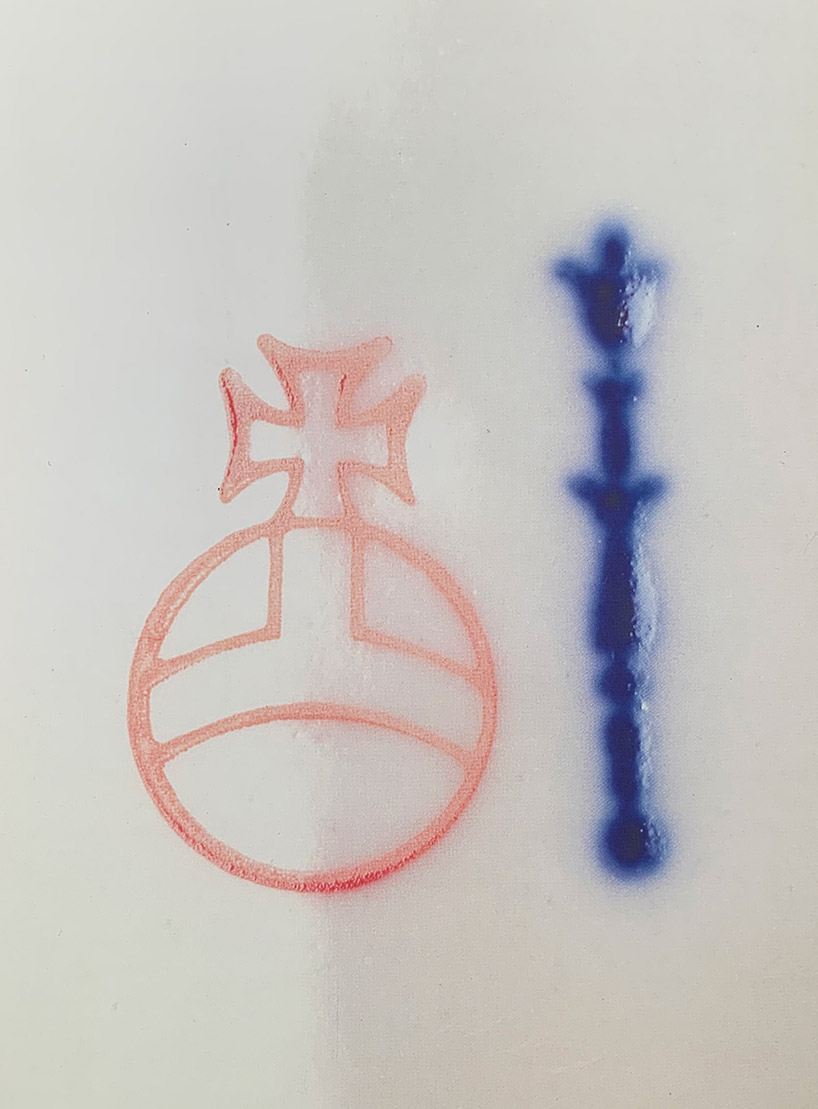 KPM logo on porcelain