Get Inspired by the latest home building trends and design ideas to customize your dream home. Learn about the newest, most innovative home building products preferred by our architects and designers.
Step Inside: Interior Home Design
Giving Your Home a Green Foundation
By Lauren Busser, Direct from the Designers' Editorial Director
So, you've decided to build a green home in order to reduce your impact on the environment. Constructing that homes means giving careful consideration to every aspect of the design, from the roof to the foundation — everything from electrical work, air quality and sustainability, while keeping it affordable. There are lots of green technologies that use less water and electricity, but before you begin to add those to your design you should take a look at these basic concepts that will lay the foundation for your perfect green home.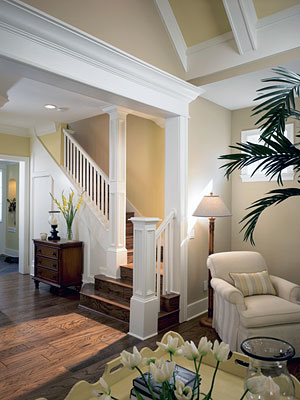 Enhance Your Home with Attention-Grabbing Accents! Decorative Interior Millwork
You'd like to set your home's interior apart from the ordinary. You're looking for an easy, stylish, affordable way to add some striking decorative elements that will draw the attention of your guests.
You're in luck! Companies like Fypon® offer beautiful features like crown moulding, louvers, brackets and window surrounds that won't break the budget!
Fabulous Flooring Products
Since your floor is a key design element to any room in your new home, you'll to need select a floor based on design, location, lifestyle and budget.
The first step in choosing a floor is deciding what look and feel you want for each room and throughout your home. Remember your floor is a key interior design element so you'll want to spend some time selecting the right materials, colors, patterns, textures and even shapes for each room. Some of the more popular flooring options are wood, laminate, vinyl, carpet, cork, bamboo, ceramic and linoleum. We've selected some of the most eco-friendly options to help you build a dream green home.
View all Interior Design Articles
Step Outside: Exterior Home Design
Create a Kitchen a Professional Chef Would Dream Of
A lot of activity happens in the kitchen. Between cooking, eating, and entertaining, we spend a great deal of time in our kitchens. So it is essential that this room be well designed and efficient. While the exact layout of your kitchen is a matter of personal preference, but seasoned chefs have a few things that they find essential in their kitchens.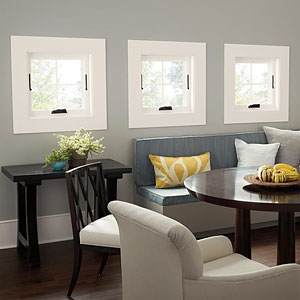 Finding Your Window Style with Integrity®
Windows are important to a new home design. Not only can they effectively light your home during the day but they open up your home to the scenic views around your property.
When thinking about the "style" of your window you want to take into consideration the way the window operates. Some popular styles are double hung, casement, bay, bow, and slider windows.
Stronger, Stylish Green Home Products
Protecting and dressing up your home's exterior has gotten a lot easier and more affordable thanks to new technology in home building products. Years ago you were limited to mostly wooden exterior products, which had relatively short life spans and required plenty of maintenance. Today, you can choose innovative, stylish, and affordable exterior products made of synthetic materials that come with great warranties and are constructed to withstand the elements.
View all Exterior Design Articles