HTA Design has been given the green light for a set of reworked proposals for a 400-home scheme in Camberwell, South London.
Southwark council's planning committee approved the plans in its most recent meeting, four years after rejecting a first set of proposals drawn up by the practice over concerns about their density and design quality.
The new plans will see a total of 375 homes and 5,000sq m of retail space built on an industrial site bordering the southern side of Burgess Park, cutting the number of homes by 25% from the previous applications' 499 homes.
If given the final sign off by the Greater London Authority, the scheme will see several buildings on the site demolished and replaced by 12 blocks ranging in height from two to 13 storeys.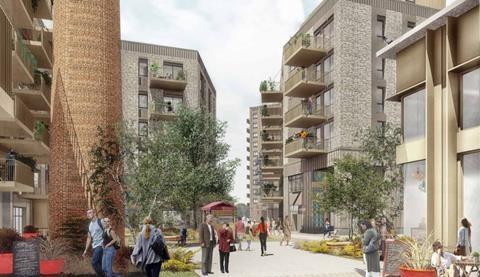 Two new streets will also run through the site, connecting to a central garden square featuring a large brick chimney which will be retained from the existing industrial buildings.
The tallest block, containing 75 homes, will rise above the central square and have a large outdoor amenity area on a rear podium level which will link to another block by a footbridge spanning one of the new streets.
HTA's previous proposals, first drawn up in 2017, had been recommended for approval but were turned down because the scheme's density breached housing quality guidelines in the Southwark Plan and London Plan.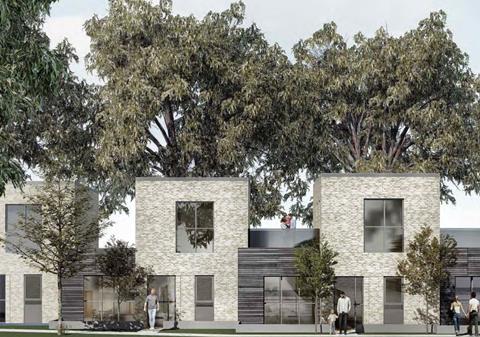 An appeal was subsequently dismissed by the secretary of state following a public inquiry, with the inspector finding that "too many compromises had been made" regarding the quality of the accommodation in terms of unit sizes and lack of amenity space.
The inspector also said the proposals were not of an "exemplary design" which could justify their density, and could harm the character of the area.
The planning officer's report for the new scheme said these concerns had been addressed, including the quality of the design.
The green light is HTA's second in less than a month, following Tower Hamlets council's approval of a 200-home scheme on the Isle of Dogs in late July for housing association One Housing.