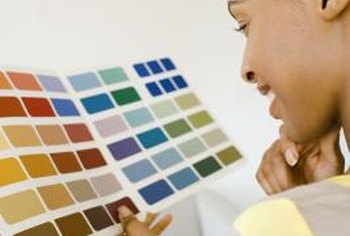 A family room is a place for family members to spend time together and with friends, so the choice of paint colors should reflect the personality of the family. It's meant to be a comfortable, active living space where people eat, read, play games or entertain. Paint colors establish the mood of the room, and contribute to its overall livability. It is especially important to research how the family will use the room before selecting a color scheme for paint and furnishings.
Neutral Flexibility
Neutral paint colors allow the most flexibility in furnishings and accessories. If new interests or activities develop, the family room can reflect these changes with a few adjustments to color accents in accessories such as throws or pillows. Tones of white, from icy blue to warm vanilla cream, enhance the open feeling of a room, and provide an effective backdrop for natural wood tones, a brick or stone hearth, and plain or patterned fabrics in any color. Beige, taupe or chocolate walls add richness to the color effect in a room. Silvery grays, pewter and graphite tones add sophistication while remaining neutral.
Warm Colors
The glow of warm color tones in a family room creates a lively feeling of friendliness and conviviality. Reds can range from the red-violet of cranberry to the red-orange of bittersweet. Yellow ochre is an earthy gold that can be dulled down to a color close to tan or brightened up to a deep yellow.The main thing to avoid when working with warm colors on the walls is excessive brightness.Yellow is a wonderful, mood-elevating color, but it can be overpowering when it is too vivid. Orange is stimulating if it is not so strong that it distracts the eye.
Cool Colors
Cool colors such as blue and green evoke feelings of serenity, stability and freshness — desirable qualities for a family living space. Picked as a favorite color more often than any other, and equally favored by men and women, blue is clearly a viable choice for a family room. Blue hues range from the blue-violets of spring flowers to the blue-greens of tropical seas, with cobalt and indigo in between. Green is a lovely natural neutral that is warm and sunshiny at the yellow end of its range, and cool and shadowy at the blue end. Green works well as a backdrop for other colors in the room, much like green leaves complement the flowers in a bouquet.
Woodwork
Painting the woodwork white calls attention to the architectural structure of the space, including the windows, doors, fireplace mantel, built-in cabinets and exposed beams or rafters. Finishing these woodwork elements in a natural wood tone creates a similar effect. Using a deeper or lighter tone of the wall color on the woodwork makes it appear to blend in with the walls.
Perfect Personal Colors
The selection of a perfect color for your room depends on natural and artificial light sources, the floor and ceiling colors, and your personal preferences. Although trendy color lists are published each year, the rooms in your home should express your own family's personality. Lighter tones keep a room airy and soothing; deeper jewel-like tones will close in the space for a cozy, intimate feeling. Medium tones balance and complement the other colors in the space. If you're still not sure, Internet resources allow you to upload a photo of your space and experiment with different color effects.
Photo Credits
Jupiterimages/Creatas/Getty Images