Thank you to Hayneedle for partnering with me on my family room makeover!
Y'all, the room shuffling in our house is ALMOST COMPLETE! In case you haven't heard, a few months ago we decided that we needed to separate our twin girls' into separate bedrooms because one of our sweet girls wakes up earlier in the morning than the other one and it was causing issues. Since my home office was in the spare bedroom, I had to relocate it to what was the girls' playroom. That meant we had to move their playroom to a section of our family room, which meant we had to rearrange things to accommodate the playroom content and that wasn't really possible with our old furniture layout. So, the room shuffling sparked a brand new family room design and full room makeover! We partnered with Hayneedle for our family room design and makeover, and I'm so excited to show you how it turned out!
But before I show you the new family room design, I'm SO EXCITED to tell you that Hayneedle is generously giving one of my readers a $200 gift card! YAY! Just enter using the Rafflecopter below 🙂
a Rafflecopter giveaway
Now for fun, let's take a look back at what this room looked like 4 years ago when we bought this house. Prepare yourselves…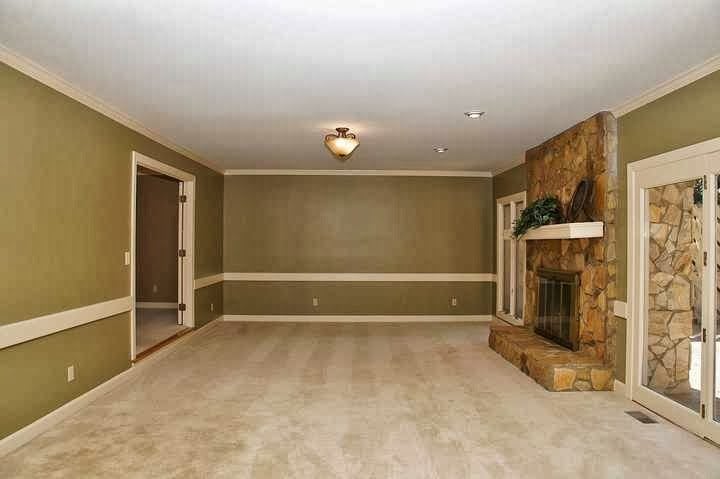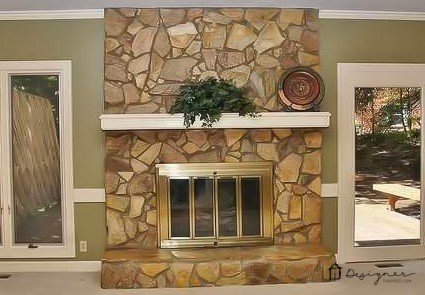 And here's how it has looked the past 3 years or so, after we pretty much overhauled everything in the room, including that DIY concrete fireplace and DIY light fixture you see!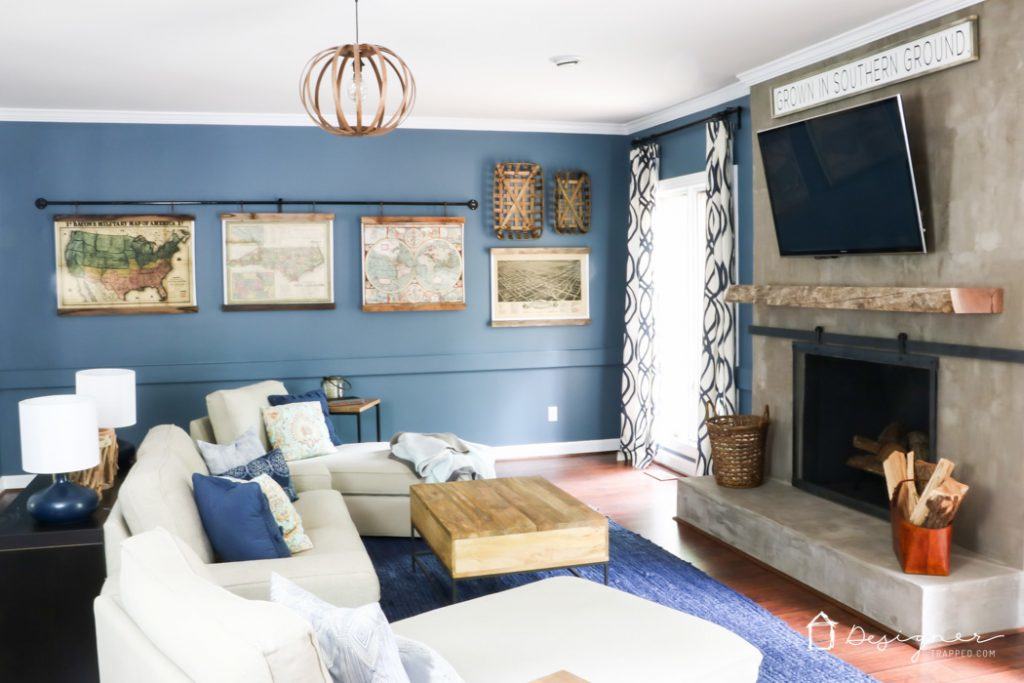 For the new family room design, we started by repainting the walls with Falling Snow by Valspar. As much as we loved the dark blue color that you can see here, it was just too dark for our family room, which doesn't get much natural light. Then we reconfigured the seating area by placing 2 full-sized couches facing each other. We chose the Belham Living Milo Sofas and I am blown away by the quality for the price! It's a perfect conversation area when we have guests over, and when we are just lounging and watching TV, we lay back on the couches and it's perfect! (Before you ask, there's a source list at the bottom of this post, don't worry!)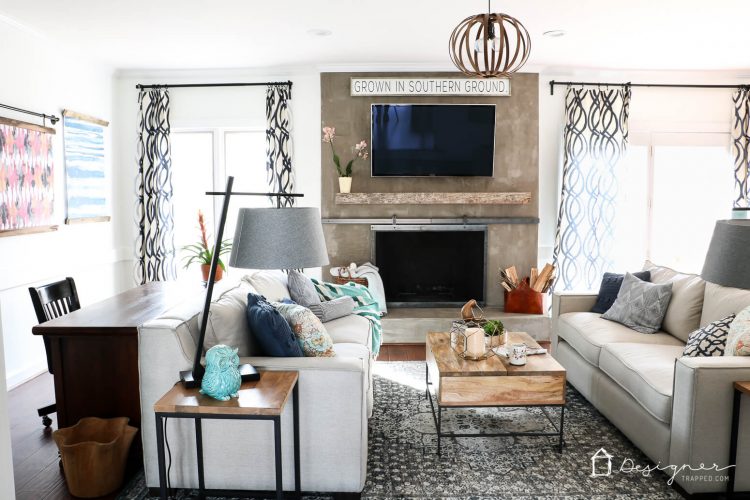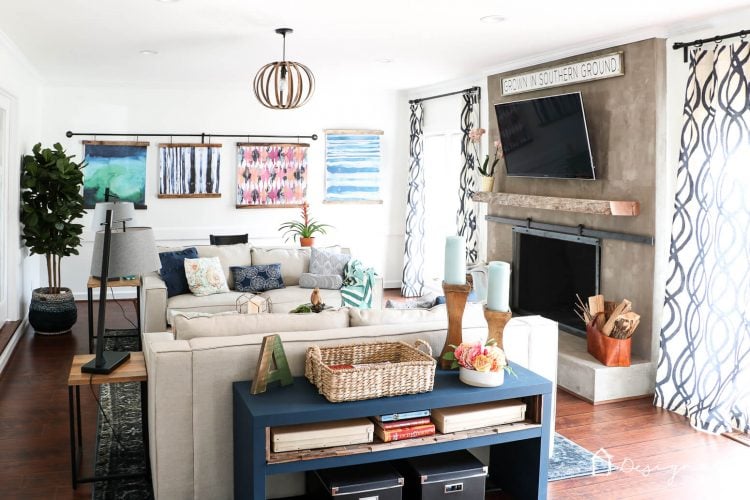 I'm in love with the nuLOOM Kellum Vintage Indoor Rug that we chose to really ground the seating area. It's the perfect vintage look without the vintage price tag!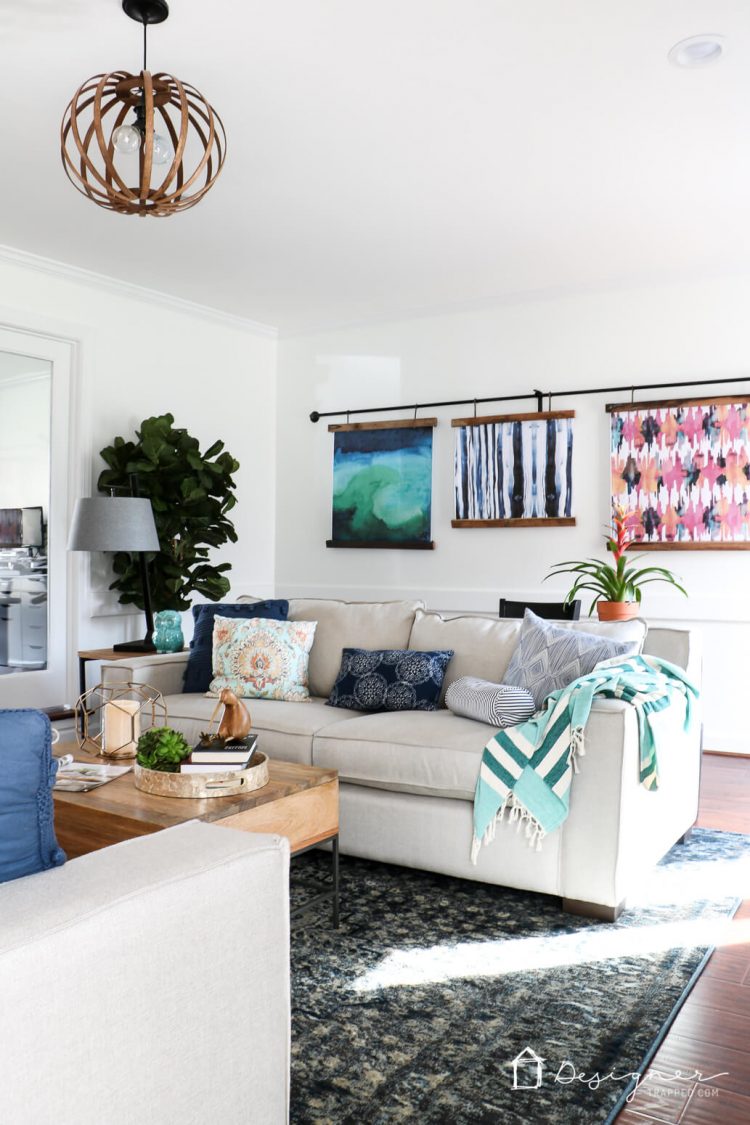 And the Pacific Coast Lighting Axis Table Lamps are so awesome! We love how the metal of the lamps plays so well off of our DIY sliding metal fireplace screen.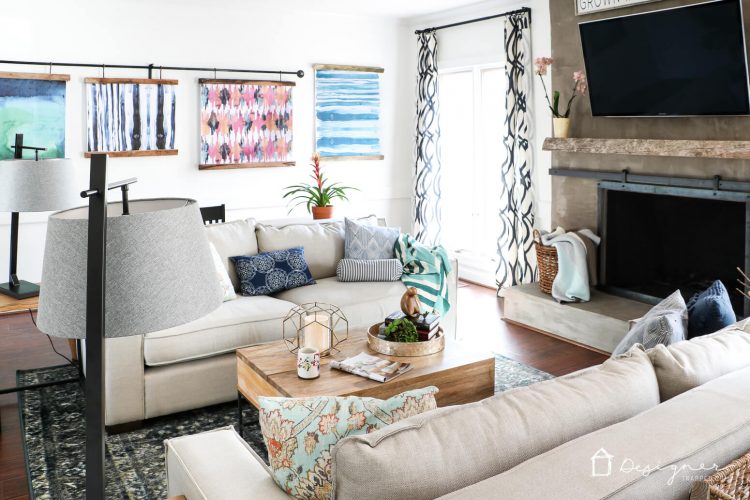 Mixing color and patterns was a huge part of our new family room design. I swapped out the art in our DIY frames that are hanging from pipe on the back wall with some new DIY prints I made and had printed at Office Depot. More on that soon! I also added some pops of turquoise with the sweet Turquoise Owl and the gorgeous Surya Troy Smooth Stripe Throw. And I FINALLY added some plant life into this room, though I have a black thumb so that fiddle leaf fig tree you see is just a really amazing silk version (PS- how gorgeous is that Hyacinth Basket I put it in?! Obsessed with it!)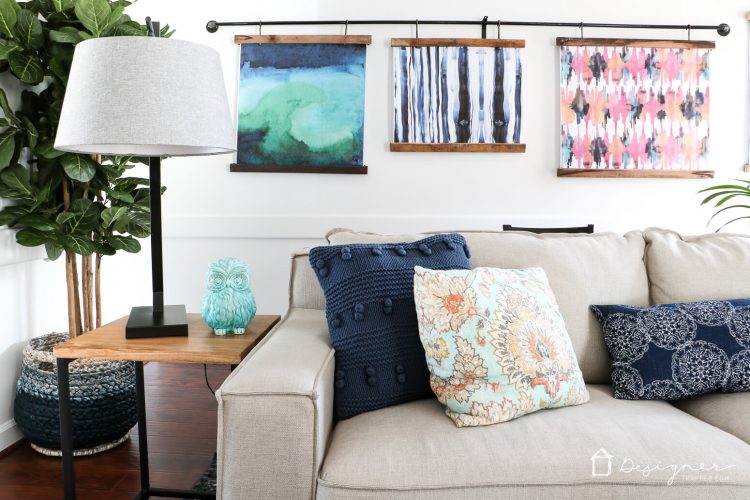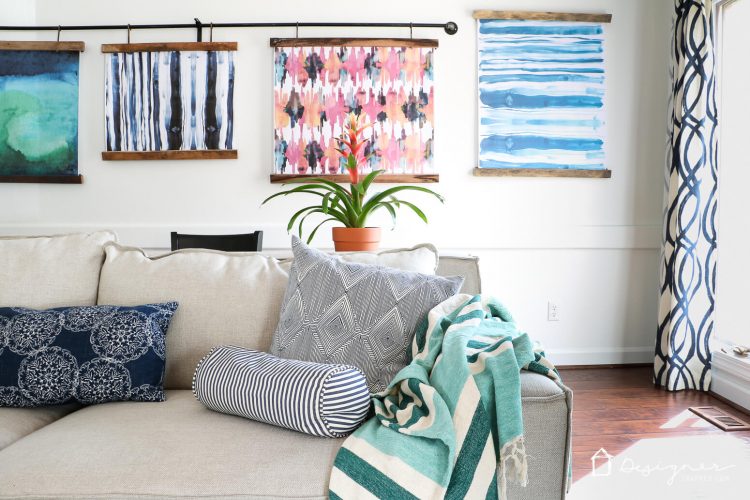 Now, let's take a look at the playroom area portion of our family room design. We made a DIY pipe table for the girls, which is where they spend a TON of time coloring and doing their homework most nights. The splatter art you see was painted by our twin girls last summer–we LOVE those pieces and it makes them so proud to see them hanging up.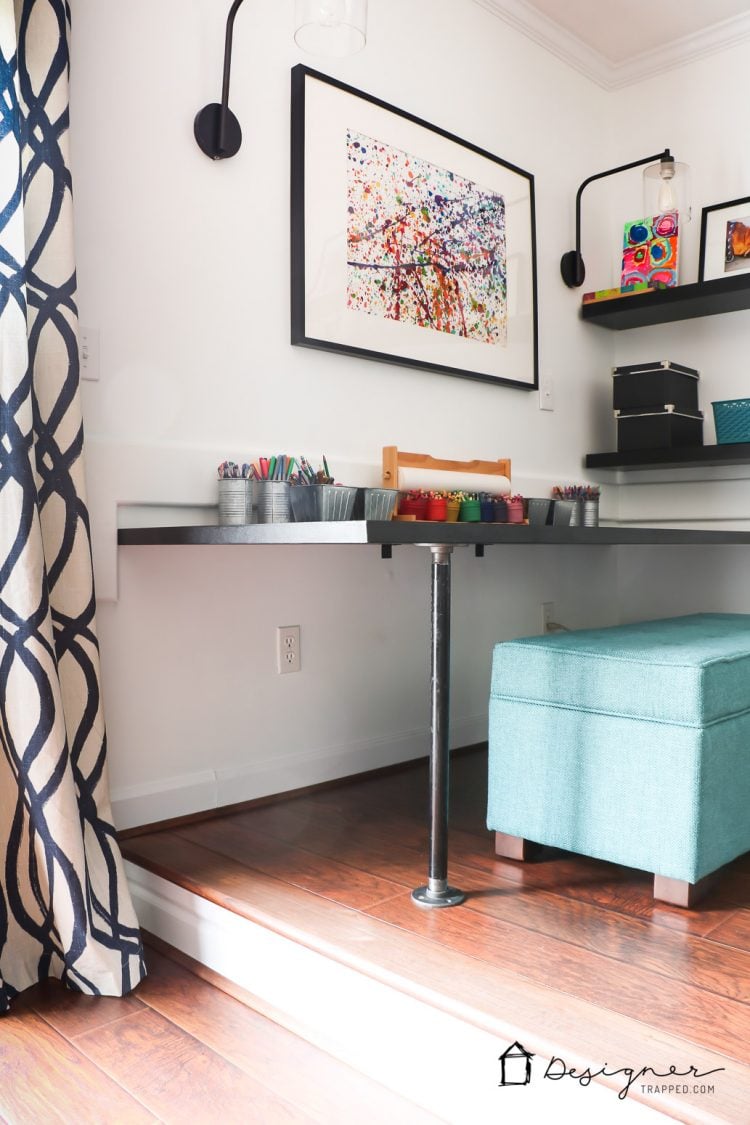 We also moved in their toy storage and DIY lego table into the family room (you can see how I stained them that dark color here). I painted the plastic bins with spray paint so that they blended in more with the color palette of the room, which worked out great.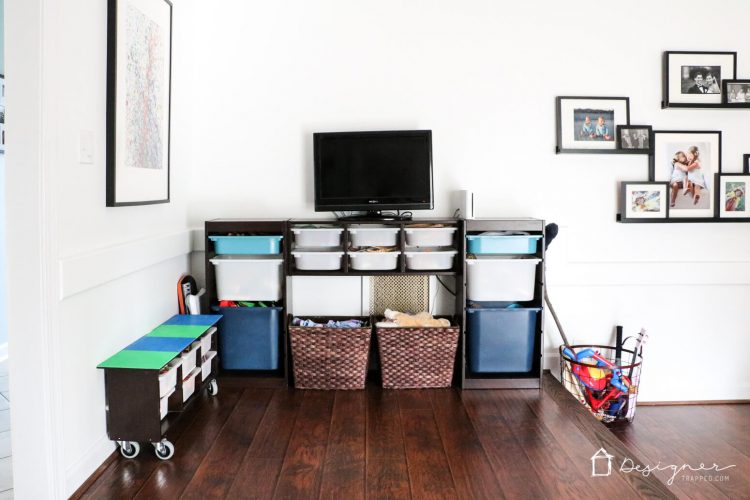 In an ideal world, we could have kept the separate playroom, but we're pretty happy with how this arrangement has turned out. Here's a view of the "playroom" from the seating area.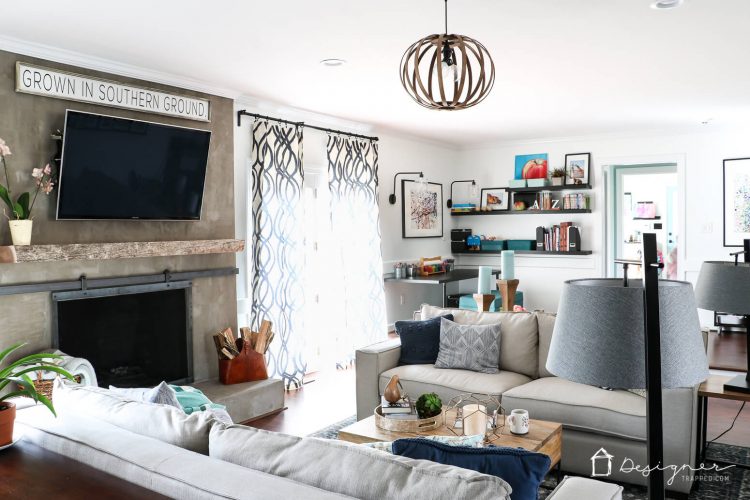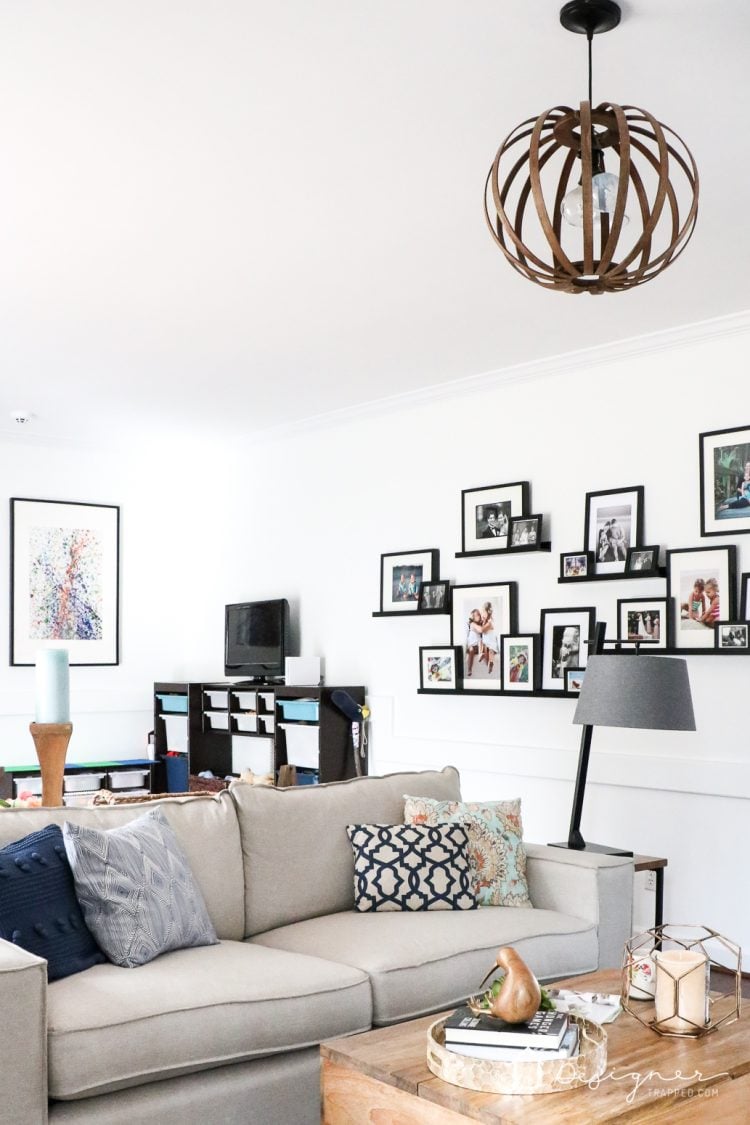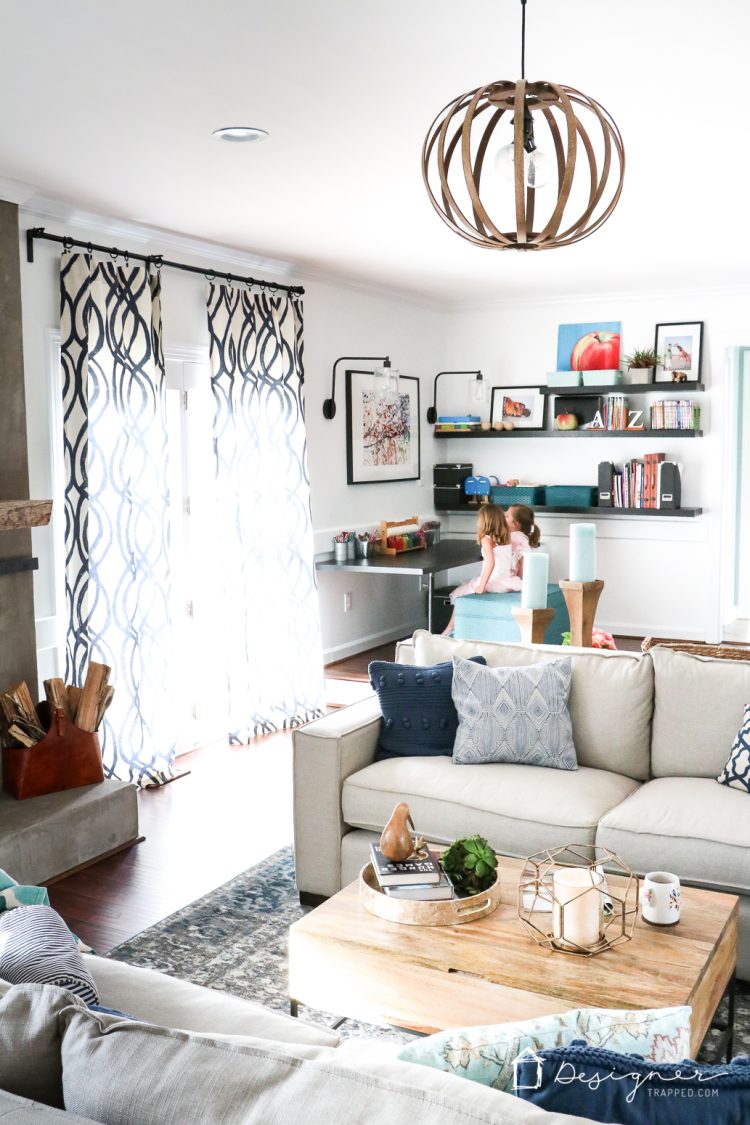 And here's Avery photo bombing me while I was trying to shoot the space 🙂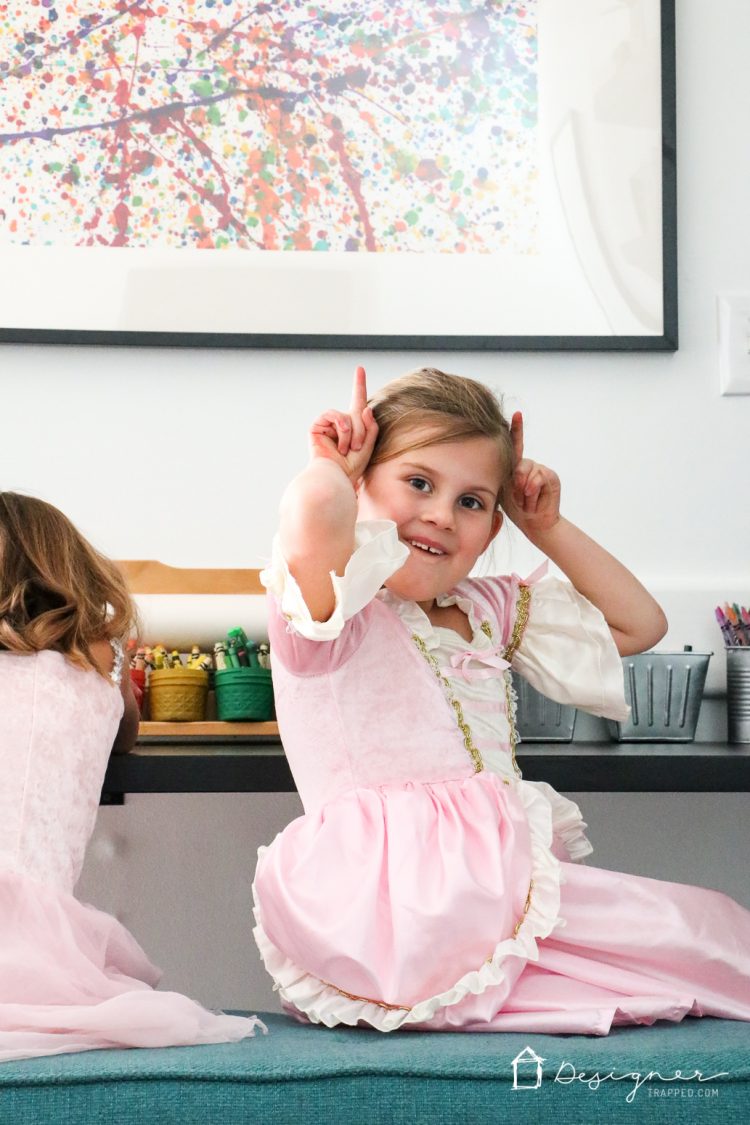 We are absolutely loving our new space! For more details on the choices we made for our family room design and to see even more great options for a high-style family friendly room design, click here to head over to see my idea board on Hayneedle!
Source List:
​
​