In recent years, the growing use of technology and social media, allows us to quickly and easily know the style and trends in interior decoration design ideas. Therefore, below, we will show you the main design trends and decoration in 2019, a series of concepts that we have compiled to facilitate the task of keeping you updated.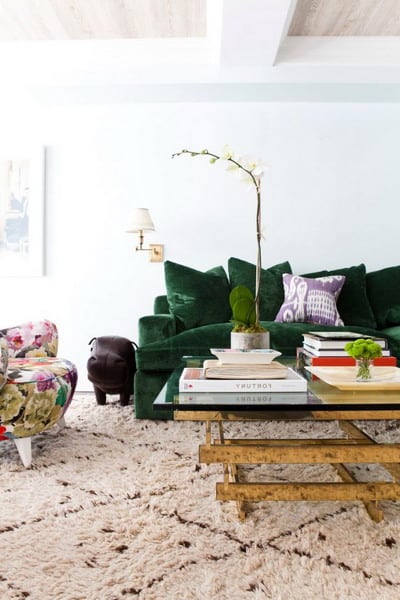 Forget the obsession with the Nordic style, next year, a modern style of the mid-20th century will be trends.
Modern interior decoration trends for 2019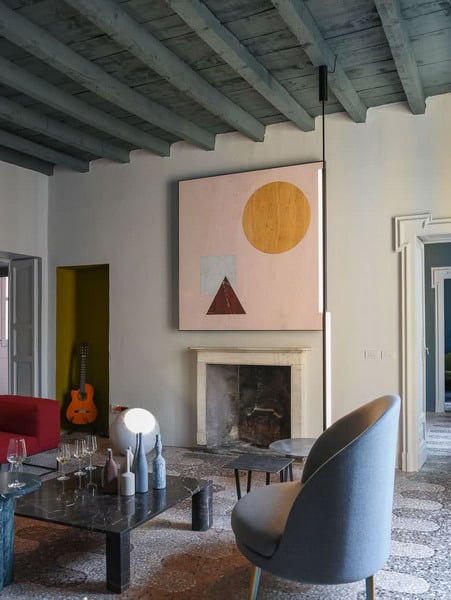 A good way to know the trends in interior decor design is through the proposals of the Furniture Fair of Milan. We will show you below, the most notorious that has been seen for 2018 in this event, one of the largest of its kind worldwide.
Paint Color Trends
An abundance of warm and earthy colors was on display at this year's fair, replacing the more minimalist palette of previous seasons. The tones of sienna, bronze, terracotta, mold green and reddish were used in all the rooms, as well as in furniture and decorative objects.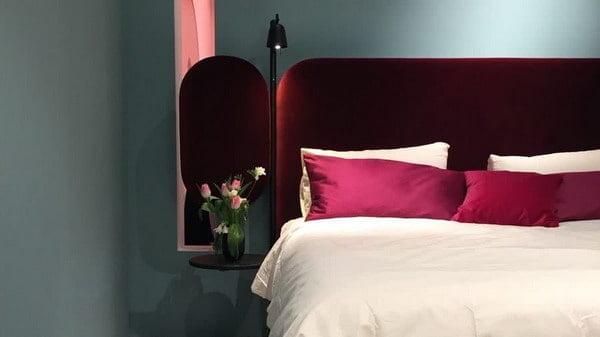 The most used colors as accents of decoration, were the dark forest green, emerald green, and watermelon red. Each room exhibited showed how to mix terracotta, peach and rose with green in the right amount.
Kitchen decor trends
Marble is still the preferred material for kitchens, however, the appearance is now decidedly more discreet. Instead of Carrara, green and brown marble has been seen. The marble benches are thinner, even some proposals hide the edges, and is placed behind the cabinets.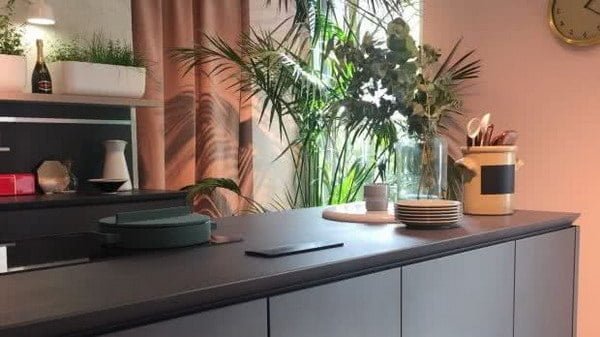 Another proposal is the all-black kitchen, which offers a contemporary and sophisticated look, especially when mixed with indoor plants. The black was used in metal, painted wood and stone, even in the sink.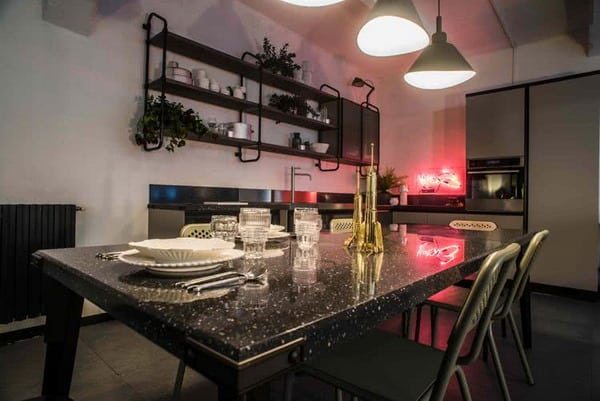 The tendency to hide storage and crockery was reversed this season, as there were plenty of cupboards with glass doors and open shelves to display the crockery.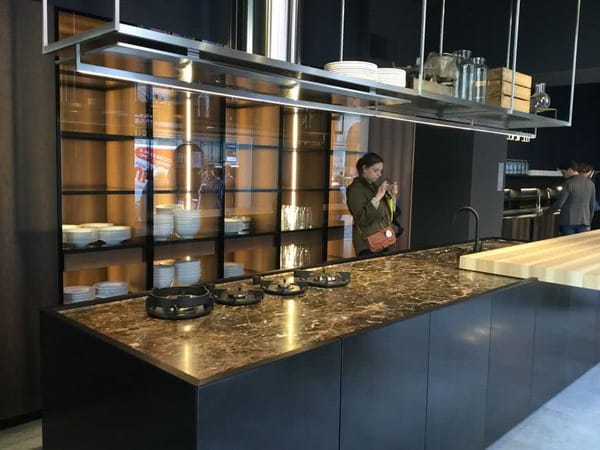 Appliances such as refrigerators, dishwashers, and kitchen burners are elements that are increasingly hidden in kitchens.
Room Decor Trends
The shapes are both geometric and organic. Within the geometric designs are the stripes, for example, and inside the organic forms, many curved armchairs and wallpapers painted by hand with watercolor.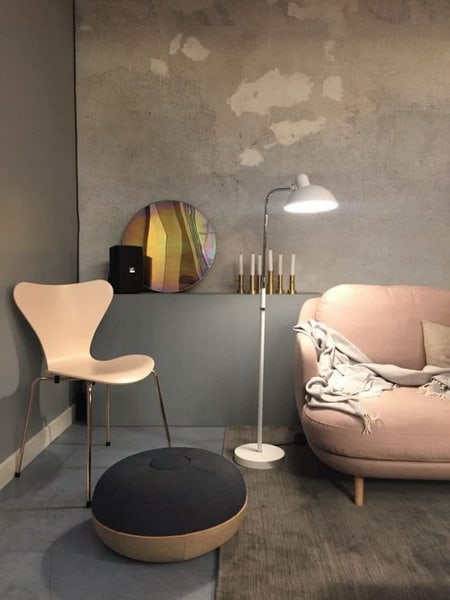 The fair showed a movement towards comfort in the sofas, with many curved shapes and very soft fillings.
The styles and materials exhibited in Milan include terrazzo, velvet, ottomans and side tables, lamps, copper objects, handmade glazed ceramics, colored vases, wooden vases. Fabric upholstery remains a strong trend.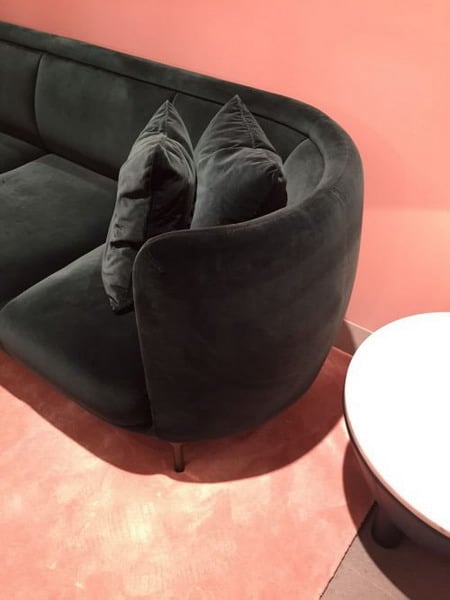 If you can not commit to keeping a plant alive, then a single tree branch in a vase or some branches of large trees in a basket add a dose of life and vegetation to space.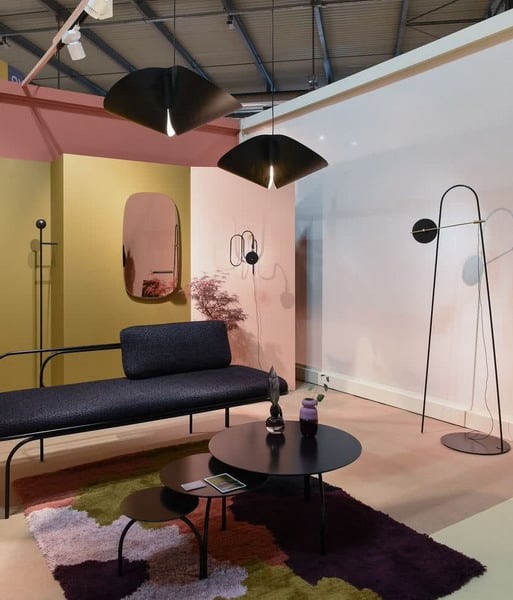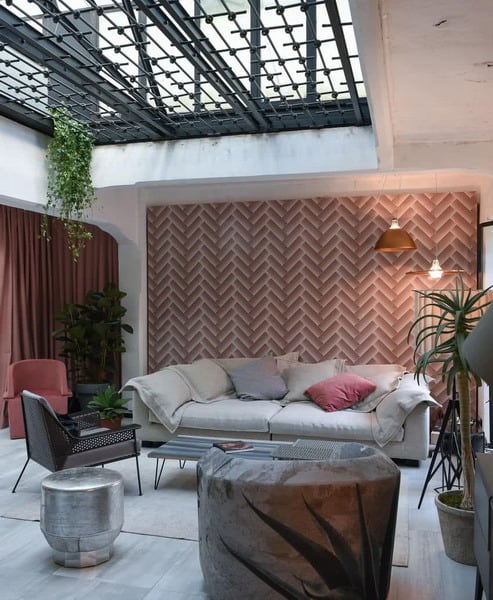 Bathroom Decorating Ideas
The movement towards color continues in the bathroom, not only through tiles, but also sinks and bathtubs. Colors were seen as soft plum, grayish blue, dark green, beige, brown and coal.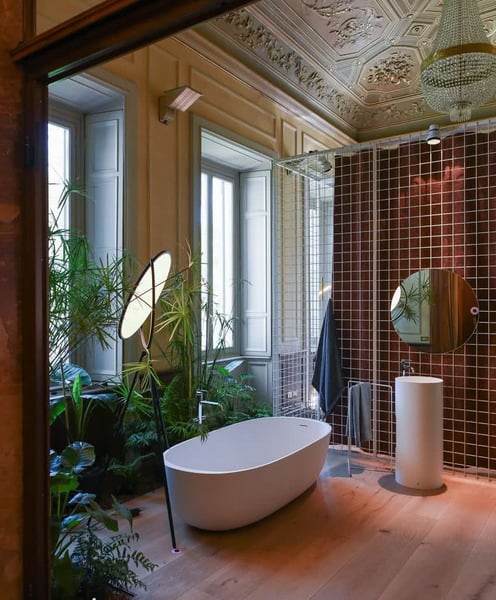 Terracotta Tiles
Warm materials on floors and walls such as terracotta tiles will replace cold materials in white or neutral tones of today. Unlike the 80s, they will have a natural matte finish and will be used in floors and wall cladding, as well as in chimneys.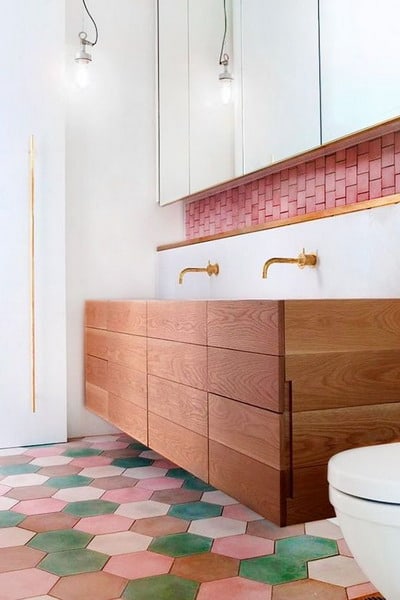 Decorating with Cork
Cork is a material that brings warmth and texture to spaces and is also ideal to isolate from noise in our homes. It can be used in the manufacture of furniture, but also in the wall covering.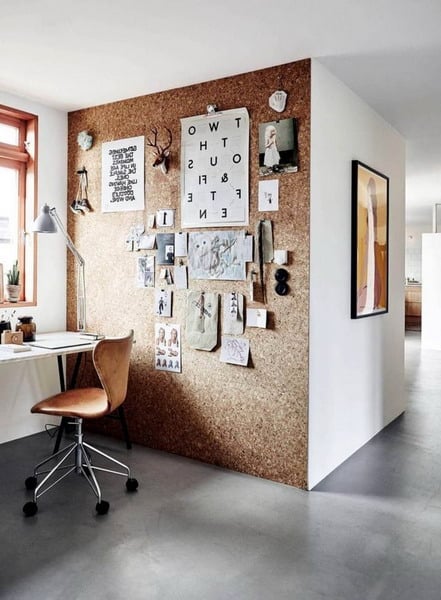 Upholstered headboards
Currently, the market is dominated by wooden headboards, but in 2019, upholstered headboards will be imposed. They have been a classic element to decorate luxurious rooms, but their use has become popular in recent years and will have a boom in the years to come.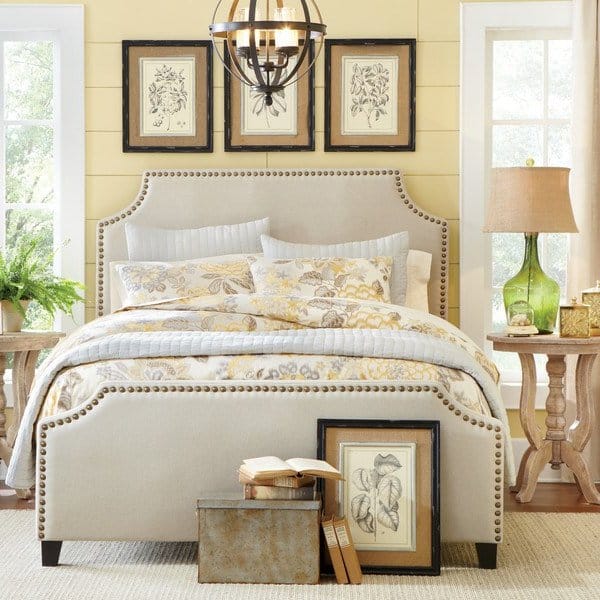 Whether you opt for a classic model in neutral tones with buttons, or in velvet, this type of element adds a lot of glamor to a room. Also, those that are decorated with nail heads will be used.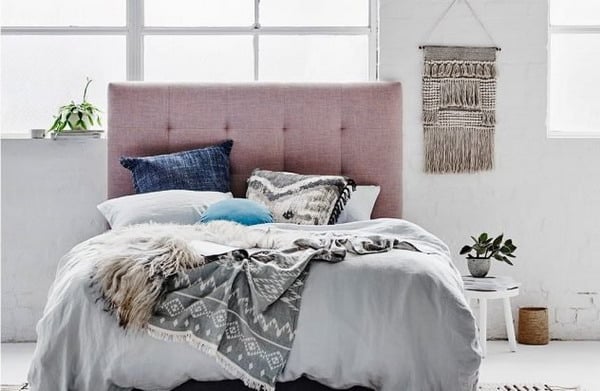 Relaxation corner style designs
It tends to create small corners to be disconnected from televisions, computers, mobile phones and all the technology that invades us. A small indoor garden can be perfect for this. A soft sofa facing the interior garden can provide great comfort for a relaxing moment in contact with the plants.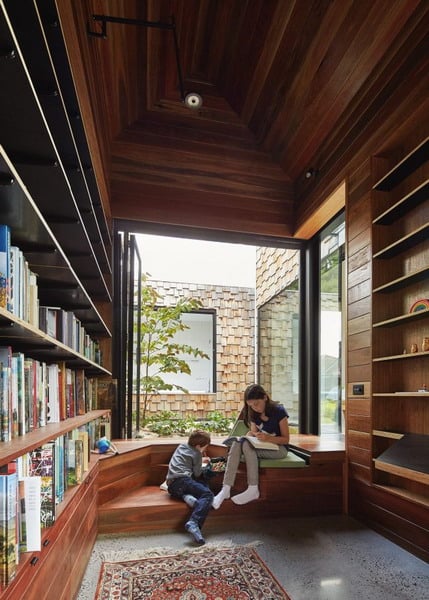 Industrial style metals
Although the metallic tones of copper, bronze, and gold are still being used a lot, little by little, they will give way to more industrial-looking metals, such as black steel or burnished metals. The brass, polished nickel and silver are coming back.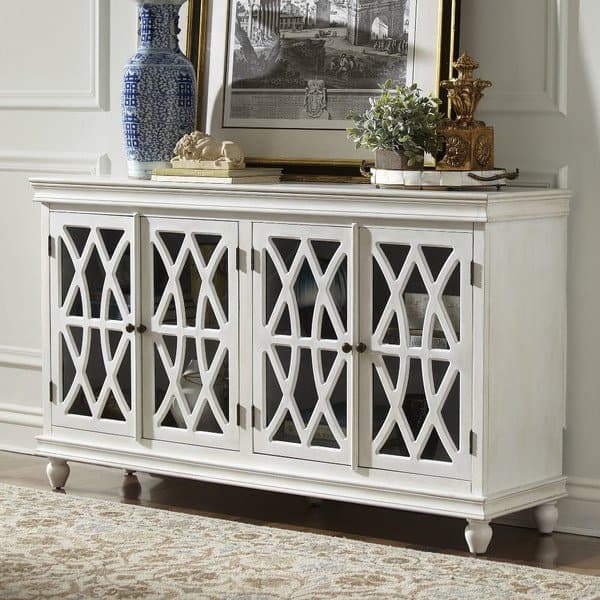 The mixture of hot and cold metals, such as iron and bronze, will also continue to be used.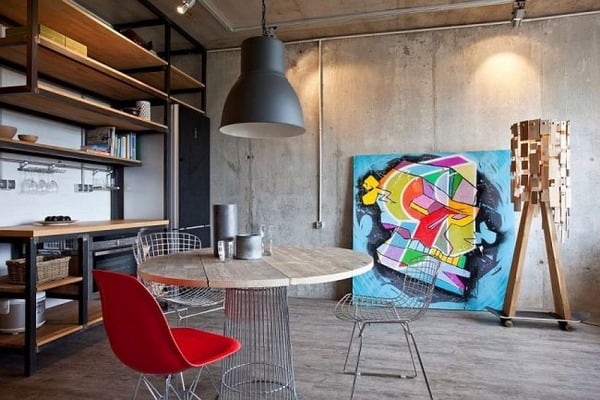 The black stainless steel is gaining ground little by little and will dominate in the appliances this year and in the years to come. No doubt it looks very elegant and sophisticated and combines with all kinds of decoration and design.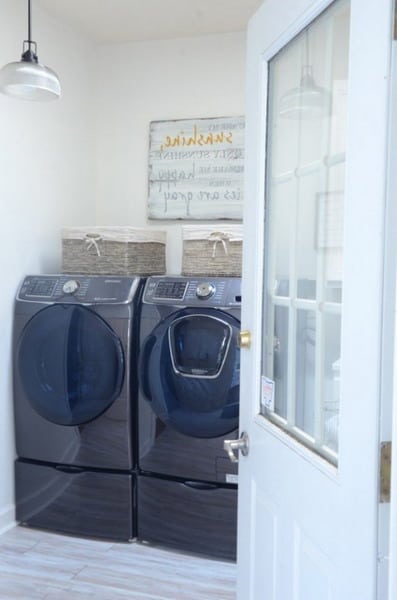 Natural materials and textures
Natural materials such as wood, mud or wicker, will replace the cold marble, which was very booming in recent years. The natural texture of the cane or rattan will also be used to add interest to the rooms.
Dark wood furniture
In 2019 the use of furniture in dark woods is re-emerging.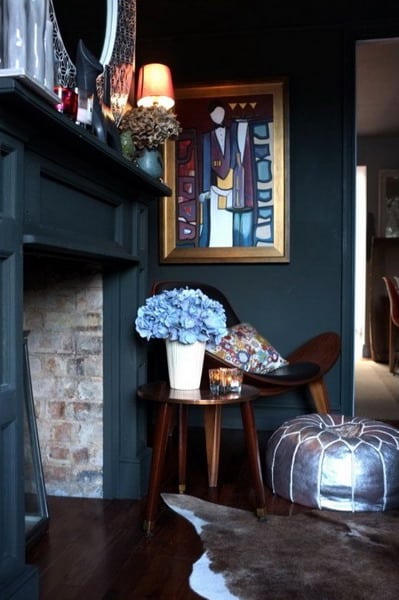 Private environments
Large and multifunctional environments are no longer used. People prefer more private designs. Those who live in houses where the kitchen, living room and dining room are joined, have had problems with the acoustics or the smells of the kitchen that spread throughout the space. It will try to separate the environments for greater comfort and practicality.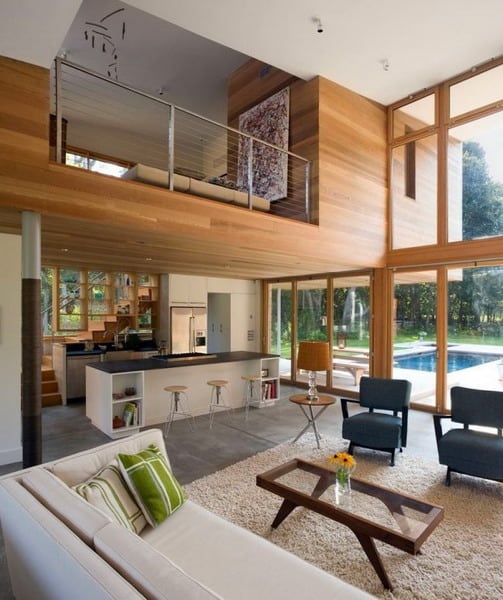 Smaller tiles decorating design
For years, we have seen the proliferation of large tiles for the coating of bathrooms and kitchens, but we will see that the trends currently, will tend to decrease the size of its surface.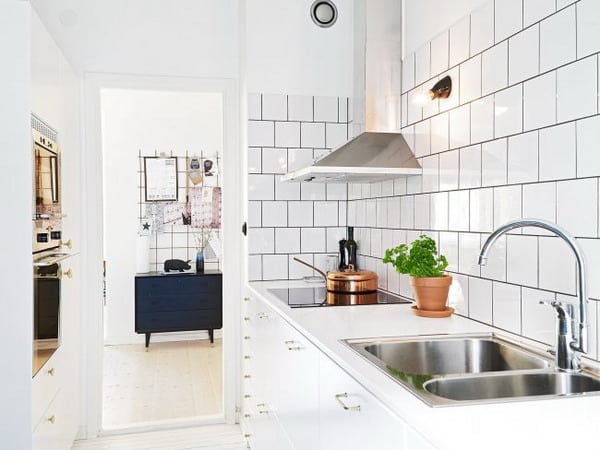 Artistic wallpaper
The wallpaper that looks like works of art, such as watercolor brushstrokes or large painted flowers, as well as creating a striking appearance in the rooms, will also be one of the trends. It is about reproducing a work of art on a large scale.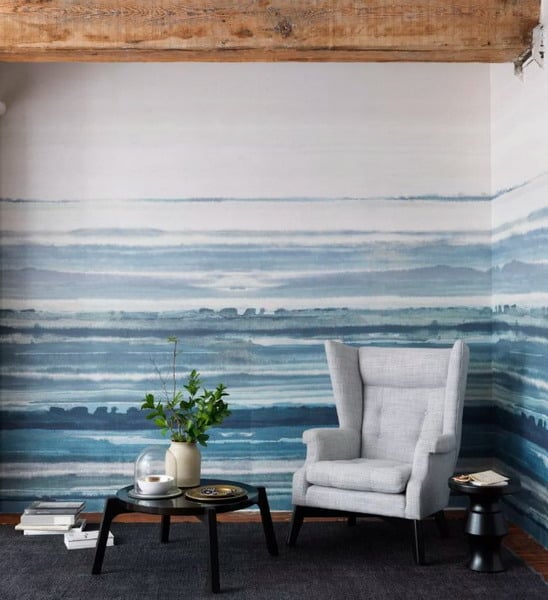 Decorate with worn parts
This is one of the trends in decoration that will continue to rise. The worn-looking pieces add a lot of texture and personality to a room.
Vintage style decoration
Although it is a style that has been used for many years, it will continue to be valid this year. Art Deco or classic style furniture, updated with contemporary materials and textures, will be very present in the interior design.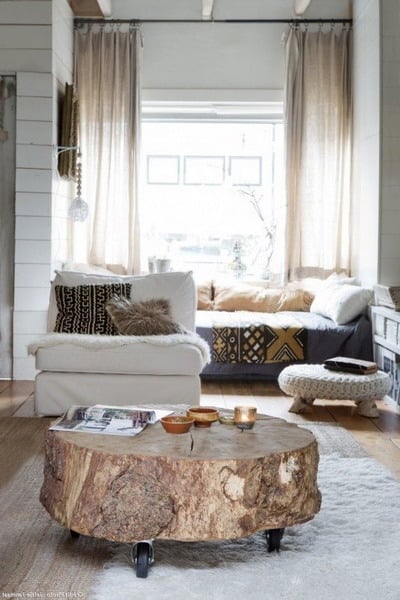 Large geometric prints
They will be used for both curtains, bedding, cushions.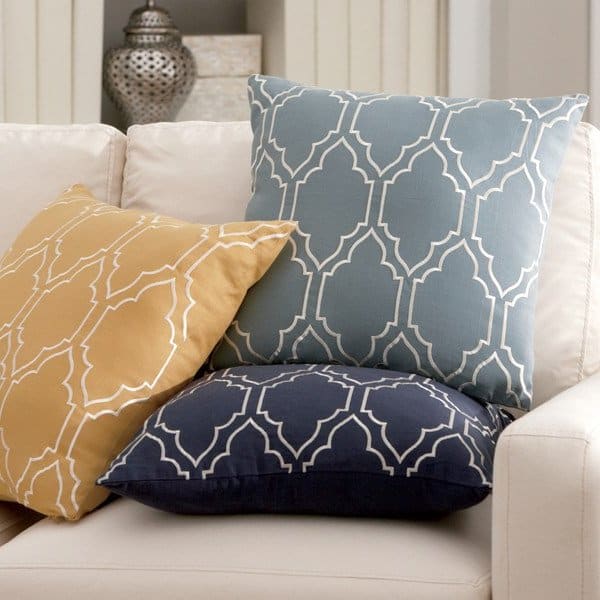 Other trends
Burlap
Natural colors
Industrial style furniture
Open shelves
painted furniture
Natural fiber carpets
Modern details of the mid-20th century
Maps as murals
Large watches
Boho details
Dark furniture with pure white walls
Rustic details
2019 trends for interior decoration paint and colors
Dark green paint colors
The dark shades of green color will become one of the most used color notes in interior decoration this year. It is a perfect color to create an accent in rooms where white and neutral colors predominate, as well as beige and brown. It is a color that also adds a lot of depth to interior spaces.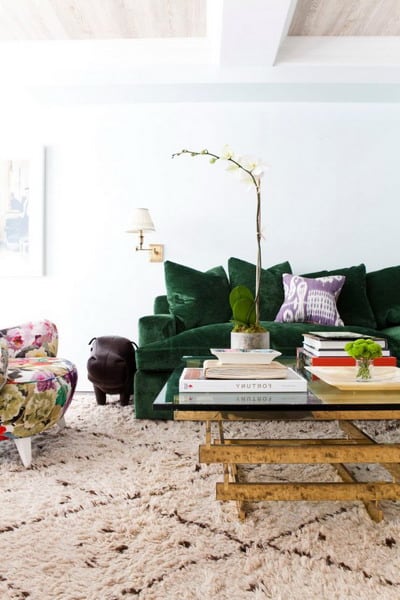 Colors inspired by the cosmos
Metallic, quartz, blue, will come alive through transparent fabrics, silk, and net curtains, to create an environment full of lightness and romance. It is a vaporous style full of optimism.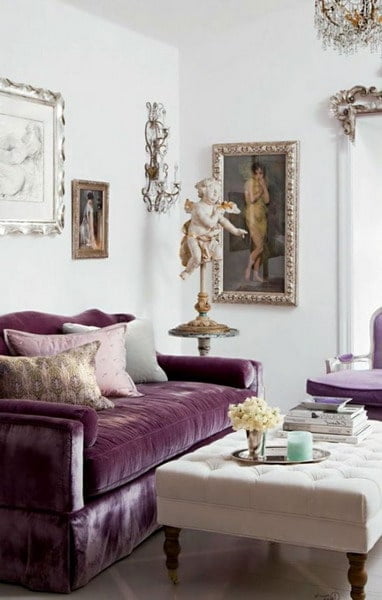 The cobalt blue color has always been a classic in interior decoration, and this year will see a special boom.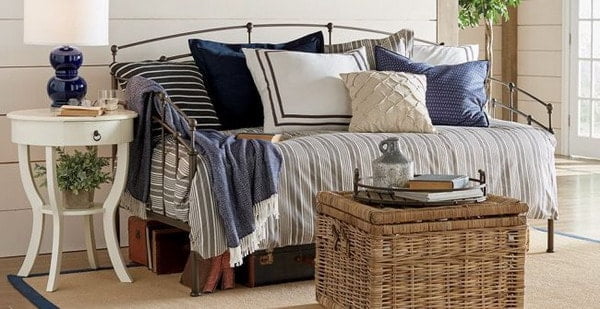 Earthy hues in pastel colors
It will also use a very organic and silenced palette, with very feminine lines, many soft curves, giving an image of serenity.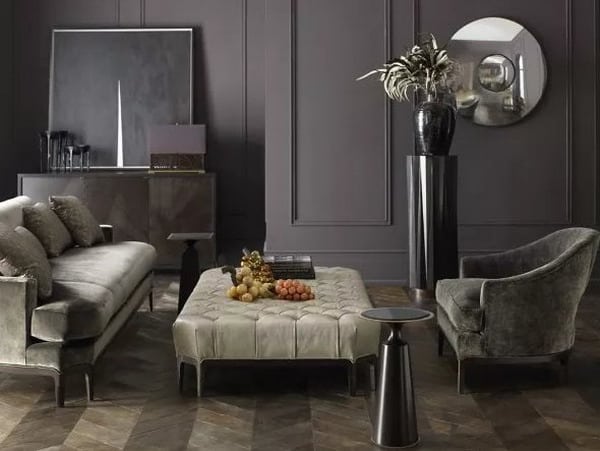 Rustic interior decor trends for 2019
The rustic interior design creates an eclectic look that emphasizes nature: recycled, handmade items, handicrafts, constructed with natural materials or finished in natural tones.
With respect to rustic furniture, it is usually composed of wood, iron, and stone. However, other materials such as bamboo, rattan, sisal, cotton, wool, paper, glass, clay and various types of metal can also be incorporated to embellish interior decoration. Items inherited from previous generations finds in second-hand markets, DIY projects, folk art, and vintage pieces coexist very well in rustic decor, providing contrasting textures and many patterns and colors. The worked metal furniture is another great option to use with this style.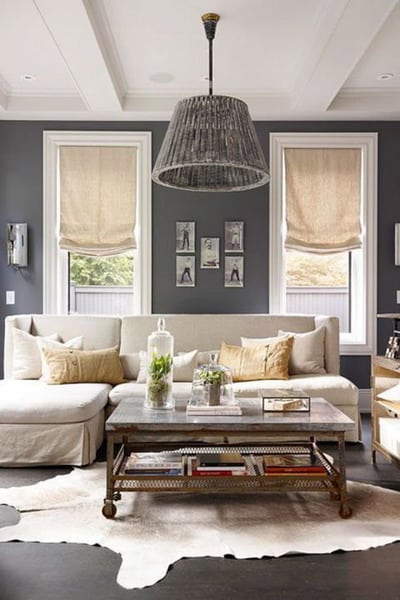 Regarding the construction, the rustic aspect has beams, columns or wooden floors, or stone floors. If you do not have these elements in your home, it is possible to put false beams or columns to achieve this aspect. You can also cover the floor with the wooden floating floor.
Living room interior decoration trends 2019
The modern living rooms are full of natural light and unusual decorations. Neutral and fresh colors are the main trend of the season for 2019. They not only contribute to expanding the visual space of the room but also affect the mental attitude of people.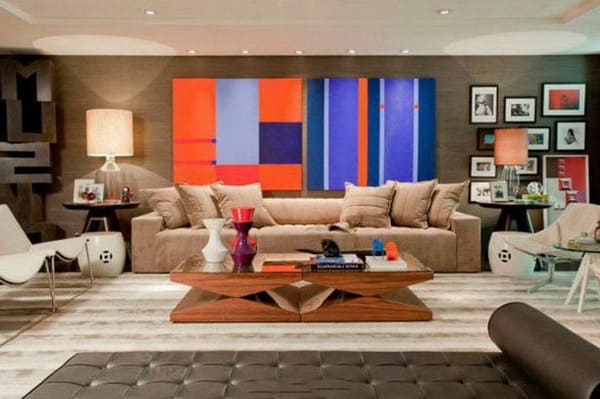 According to current trends, two or three colors can be mixed. For example, a room with the predominantly white color can be embellished by touches of brighter colors, such as pink or fuchsia.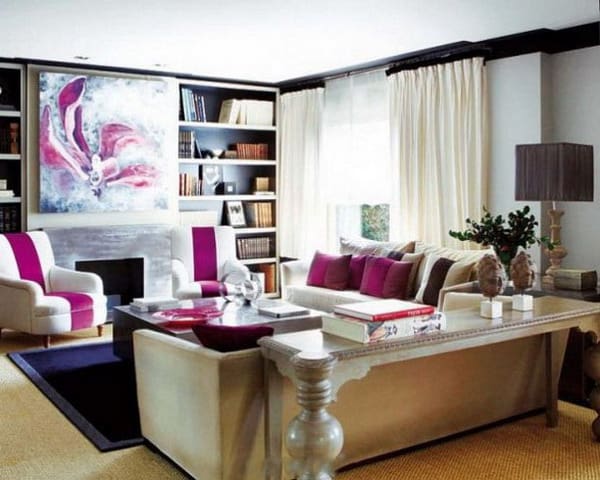 Minimalism in salon designs is increasingly popular. The minimalist style helps the room to be more elegant, without filling it with furniture and accessories. Using the basic criteria of this style, you can create a very nice and beautiful environment. It is very similar to the Scandinavian style but more rigorous and concise.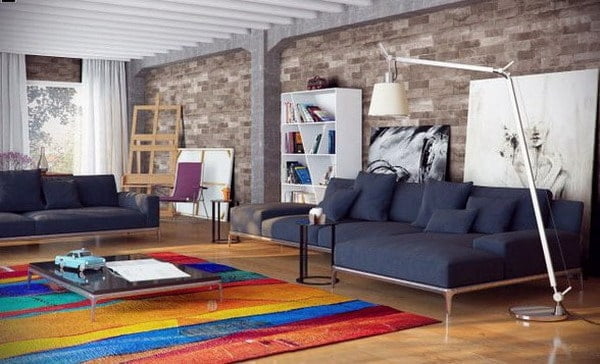 For those who are wondering how to decorate a modern living room, the first advice is to choose the right furniture. You will need a sofa, cupboard or dresser and perhaps paintings. All furniture should preferably be of square shapes and simple lines. The walls, according to the new trends, must have very few decorations or none.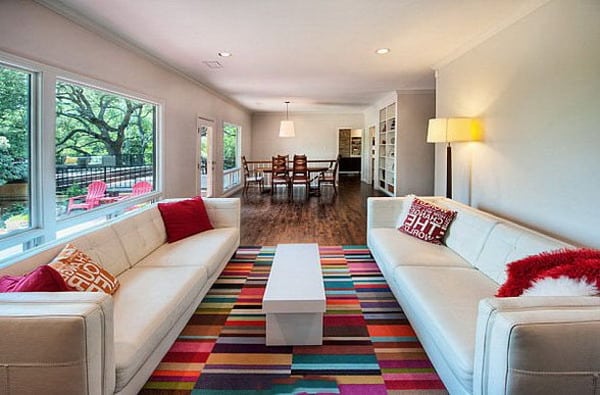 There are many options for decorating this room. Various styles can be combined, for example bringing art deco design elements to the contemporary lifestyle. Another option is to use the minimalist style as a basic interior, and as a supplement to choose high-tech finishing materials, with their metallic tones and shiny surfaces. Another of the most popular styles is rustic, which combines simplicity and functionality. It can be mixed with modern or vintage details.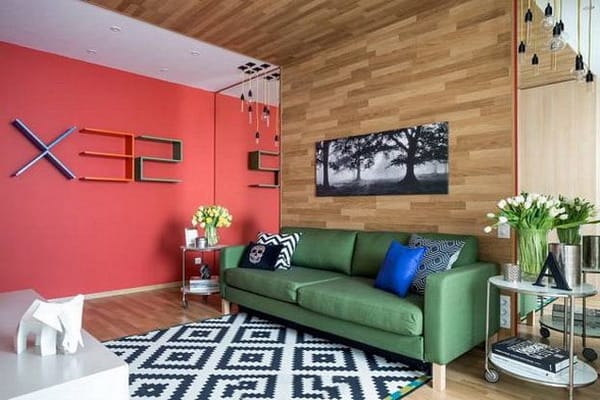 Kitchen interior decoration trends for 2019
The bright colors are making a comeback. We are seeing oranges, yellows, and blues, combined with whites, neutrals or grays to balance.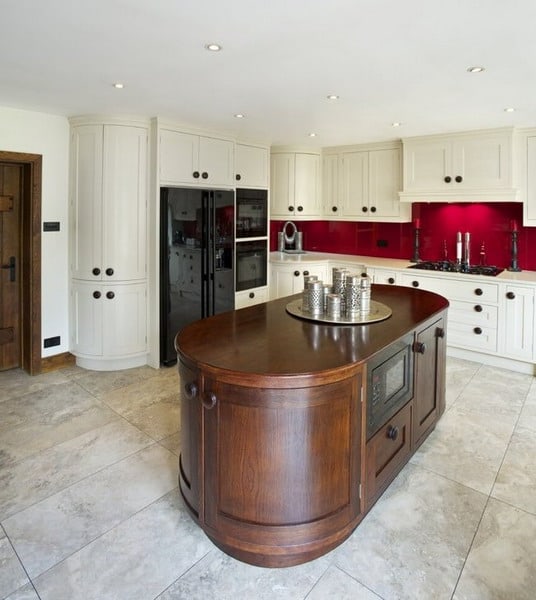 The color black is also re-surging, and not in small details, but throughout the kitchen. The cabinets in matte black, as well as in appliances, walls, and ceilings will be used a lot. The black and gray kitchens can be balanced with some stainless steel and metal surfaces inspired by a commercial and industrial kitchen style.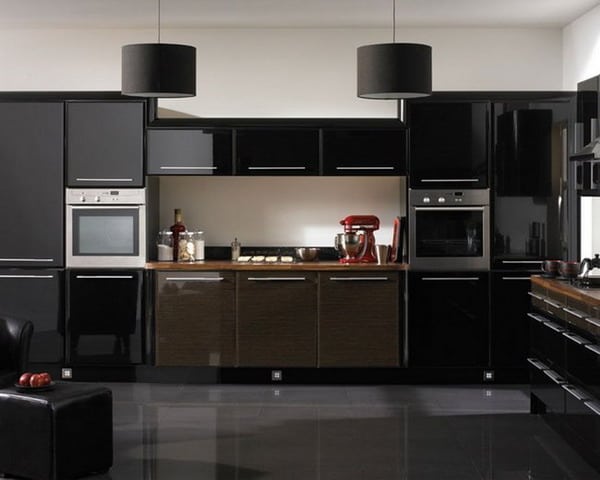 Oval shapes are a new trend. You can leave straight and sharp edges behind, and instead, use smooth curves and rounded shapes.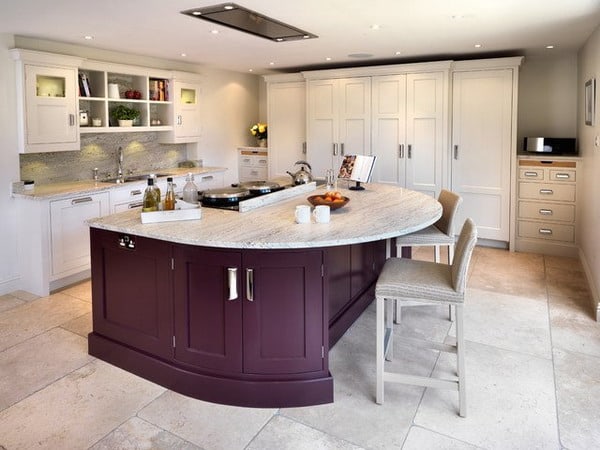 The islands of the kitchen have always been popular, for their practicality and efficient use of space. Instead of a breakfast bar with stools, they are beginning to use complete islands, which offer drawers, a sink, and many amenities.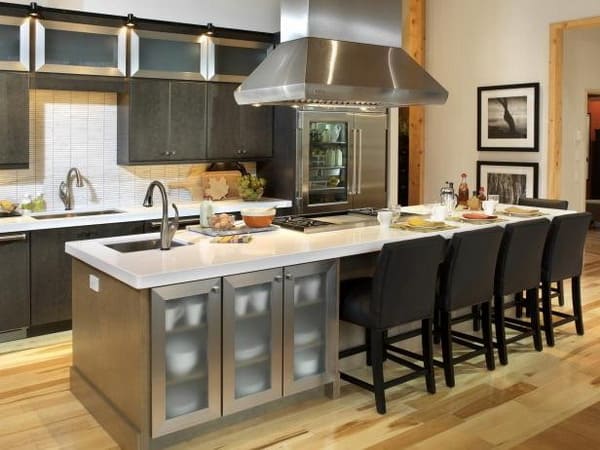 Ceramic and concrete are natural materials that have been used in countertops due to their resistance to heat, bumps, and scratches, however now they are also used in cabinet doors and coatings. They create a very interesting futuristic and minimalist aspect.
Using decorative tiles in small areas of the kitchen can create interest in a monotonous room. This is a great way to renew the look of the kitchen without changing much more.