Depending on the square footage of living space in your home, you may or may not have the luxury of a separate family room. The family room plays a different role in the home than the living room (although some homes effectively and seamlessly combine the two, due to space constraints). Where the living room tends to be more formal and geared toward entertaining and visits, the family room in general has more of a lounge feel.
It's a space designed for relaxing and comfort, a come-as-you-are vibe. Ultimately, to be successful in creating an inviting family room, you'll need comfortable and relaxing furniture. Here are some ideas that combine form with function in the family room design.
Family rooms are generally more informal than living rooms. They tend to be a bit further from the front door, even in the basement at times, set away from the first-impressions façade potential of the house. This means that you can more easily incorporate a casual décor style into the family room. Often, this concept is manifest via comfy stuffed sofas with plenty of pillow options.
Incorporating an easily moveable side table or ottoman into the family room design makes the room feel flexible and more relaxed, not to mention distinctly functional. A small-scale piece like this also can double as an impromptu card table when a cutthroat game of card War breaks out.
Sectionals are one of the most efficient family room comfortable seating options, because they maximize every square inch of seating potential from one wall, around the corner, and onto the next wall. A sectional sofa works great in the family room that never knows how many people will be showing up, whether two or ten.
Leather is a beautiful choice for furniture anywhere in the house, but it's particularly beneficial to the furniture of a family room. When you think about the potential messes of popcorn, soda, and other snacks that will inevitably be consumed during family and/or party times, an easy-to-clean surface like leather is ideal. Plus, it only gets better-looking with age, right?
Sometimes a lot of throw pillows on the furniture can be, well, just a lot of inconvenient throw pillows on the furniture. But for some reason, in the family room, lots of throw pillows equals a comfortable setting. The pillows can double as floor pillows, head rests, even lap table surfaces for a bowl of popcorn.
The family room seems to be an ideal setting for an extra-long sofa. Its plus-sized length encourages full-length lounging for napping, reading, or vegging in front of the TV. This particular curvy sofa leans toward the formal, which isn't necessarily important in the family room, but it's so unique in design that it borders on the funky. Family rooms love funky furniture, as long as the pieces are comfortable.
The more flexible your family room seating can be, the fewer pieces you'll need to achieve your goals of comfort and relaxation. This oversized crocheted pouf in rich ombre colors exemplifies this to a T. It can be used for feet, for food, or for friends…and no matter how it's being used, the pouf looks amazing. That's a triple design win, folks.
The comfort and style of the family room helps to set the tone for the time that people spend there. This is perhaps the most important room in the house to incorporate as comfortable a seating arrangement as you can fit and afford, at least if you want a place where all can enter and want to stay awhile.
A two-toned upholstered sofa in a cheery lemon yellow (or any other seating, for that matter) will do wonders in either the family room that is ensconced in natural light or the one that hangs out in the window-less basement. Either way, this couch looks comfy enough, although it could use a throw pillow or three for maximum family room-style relaxation.
A great option for family room seating is a large sofa that, for all intents and purposes, can seat up to 25 teenagers. Okay, so that might be a bit of an exaggeration. But the point it, family rooms should be able to expand and contract to comfortably accommodate all – that's how a family room ultimately feels like a relaxing space for gathering. Some family rooms look edgy and modern, while others seem coordinated and traditional. Whatever your design style, the family room is a place to gather.
If you have the space, one nice design option for a relaxing space like the family room is to provide seating that accommodates a single person along with seating that works for multiple people. Imagine the introvert or the new friend visiting your home; while everyone else may be comfortable jostling for a comfortable spot on the sectional, the more reserved guest will definitely feel more at ease if that possibility is eliminated as s/he secures the single seat…at least for a while.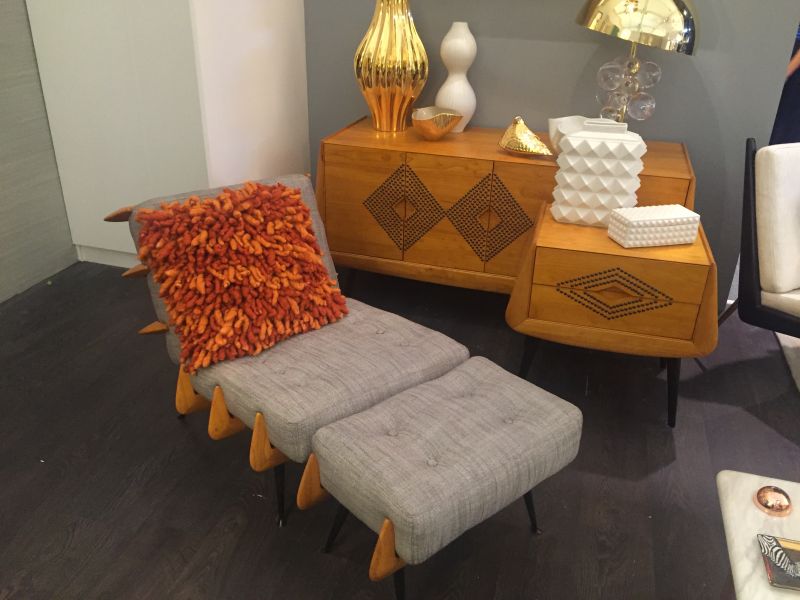 As has already been alluded to, the ability to prop one's feet up while sitting is one of the choicest of luxurious comfort options. Ottomans provide excellent foot-propping options, but when the ottoman is specifically built for a given piece of furniture, that seat is immediately rocketed into "Best Seat in the House" domain. A unique seating design adds flavor and personality without taking away from the comfort of this chair, making the family room around it a lucky space indeed.
I don't mean to imply that more elegant or formal furniture has not place in the family room. Family rooms can embrace any and all types of style. The important thing is that the family room décor is functional. If you have pets, make sure it's pet-friendly. If you have kids, they should feel welcome and unafraid of "hurting" things in the family room. One beautiful thing about home design is that it's customizable to all of us and our own preferences and lifestyles.
If a chair (for three?) like this doesn't just make you want to sink down and forget your day's cares, I don't know what would. This is perfect family room seating fodder – soft velvety upholstery in a dark, forgiving color, interesting and lounge-able round shape, plenty of pillows to arrange for a perfect relaxation period; this chair really has it all. One drawback is its size, and not every family room is going to be able to fit such a large lounger.