Small bedroom layout ideas are important to consider if you're looking to create a stylish, functional bedroom with limited space to play with.
Narrow floor space, low ceilings and awkward angles can all present a challenge when designing a bedroom, but with some clever planning and out-of-the-box thinking, what small bedrooms lack in size they can make up for in ingenuity and personality.
Luckily there are plenty of ingenious ways to make spaces look and feel bigger than they are, from furniture placement to clever storage ideas. To help get you inspired we've rounded up a selection of bedroom layout ideas perfect for planning a small sanctuary. 
Small bedroom layout ideas – everything you need to know
When it comes to small bedroom layout ideas it can be hard to know where to start. Whether you're designing a small bedroom idea for a child, or narrow guest bedroom, it's a good idea to begin with a floor plan which outlines the dimensions of the room and includes the key architectural features of the space such as windows, doors and fireplace if there is one. 
'Using a piece of paper to sketch out a general floor plan of the space is a simple and easy way to visually plan a bedroom. Alternatively, if you have access to an online tool, this can help with accuracy of size and leftover space while playing around with the design,' says Anna Franklin, interior designer and founder of Stone House Collective (opens in new tab).
Once you have a clear plan of the space you can then think about where best to position furniture. 
1. Consider the position of your bed
When it comes to small bedroom layout ideas the biggest decision to make is where the bed will be positioned – being the largest piece of bedroom furniture this will have a huge impact on the look and feel of the space as well as how it's used. Often with small spaces the size often dictates the orientation of the bed, but where there is a decision to be made Anna Franklin of Stone House Collective has this advice.
'For bed ideas in small bedrooms, I like to keep the idea of symmetry in mind. I recommend putting the bed in the center of a main wall, and whenever possible, ensuring that it does not block any windows.' 
'When placed in the center of a wall, you are able to easily access both sides of the bed for tasks like making the bed and changing the sheets, making it the most functional option.' 
2. Make the bed the star of the show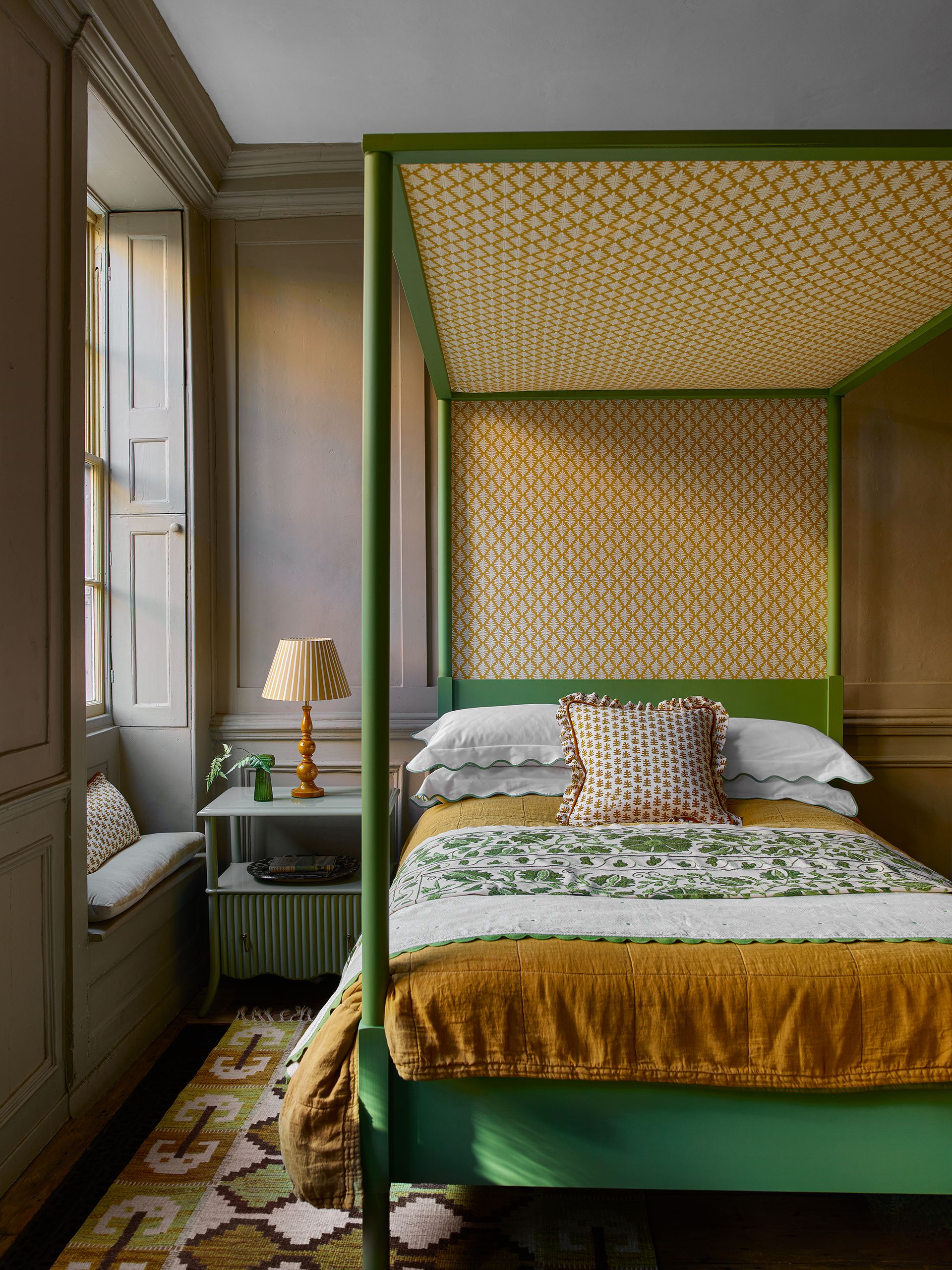 Small bedrooms needn't lack in personality as demonstrated in this beautiful scheme. In fact, positioning a statement bed in the middle of the main wall in a small bedroom layout is a brilliant way to distract from the limited space as it will instantly draw your eye.
'Unless you have a really large bedroom, you tend to only have room for a few select pieces. If you want the space to have impact, I'd suggest making a statement with the most important thing in every bedroom: the bed. Look for something classic that can be easily updated,' adds Sue Jone, co-founder and creative director at Oka (opens in new tab).
An eye-catching feature, this colorful four-poster bed and beautiful headboard idea makes the most of the height of the room and has been customised with a beautiful fabric canopy to make a real focal point. Not only does it make the most of the height of the room the fabric canopy of the bed can be easily changed for a different design should tastes change.
3. Keep it simple
When designing a bedroom with limited space it is a good idea to keep furniture to a minimum and to carefully consider the size of the pieces alongside other simple bedroom ideas.
'Think realistically about the capabilities of your specific bedroom,' advises Brad Hall, co-founder and CEO of SONU Sleep (opens in new tab). It's a goldilocks effect with bedroom furniture – avoid overfilling or underfilling within your four walls. Then, choose the right size bed that will compliment your bedroom, as you don't want the focal point of the room to look out of place.' 
4. Use curtains to enclose a cozy sleep space
If you have a small bedroom which is narrow and has low ceilings consider making the most of the intimate space by fitting a bed snuggly into the corner of the room and hanging floor to ceiling curtains to create an adorable hideaway. 
While in most bedrooms it is common practice to position a bed in the middle of the largest wall, in a small bedroom this is not always the most efficient use of space. Instead, enclosing a bed into a corner can open up a larger area floor space throughout the rest of the room as demonstrated in this small bedroom layout idea by Vanrenen GW Designs (opens in new tab). Occupying the full width of the space, the double bed fits perfectly at the bed of the room which allows enough space on the adjacent wall to fit a large chest of drawers.
'The bedroom is on the ground floor and was a very dark and damp room so the challenge was to create a really warm, cozy and comfortable place for guests to sleep, says Sarah Vanrenen of the project. 'We built paneling and bookshelves around the stone walls and chose vibrant warm colors for paint and fabrics to transform this space and it has become the favorite bedroom in the house.'
5. Add mirrors within your layout
Decorating with mirrors is a fabulous way to make small bedrooms feel instantly bigger and brighter, so where possible it is worth factoring them into a small bedroom layout. Positioning them opposite or adjacent to a window will allow optimum light to be reflected throughout the room. In this scheme mirrors have been cleverly added inside alcoves and combined with bedroom lighting ideas to maximize light and create a warm glow after dark. 
6. Create a bed nook
If you are looking to make the most of space in a child's bedroom then consider creating a bed nook – not only is this an efficient use of space, it also injects an element of fun which little ones will love. In this room by Studio Peake the inside of the nook has been papered to zone the space from the rest of the room. A versatile abstract design in a unisex color palette will not only appeal to children but also makes a playful guest bedroom idea. 
'In this tiniest of bedrooms, to make the most of the space, I created a bed nook on the side of the room where the sloped ceiling became very low,' says Sarah Peake, founder and creative director, Studio Peake. 'I then filled it with a lively pattern to set it apart from the rest of the room, although the colors used in the fabric, cushions, wallpaper and furniture subtly echo each other to give a sense of structure to the space,' she adds.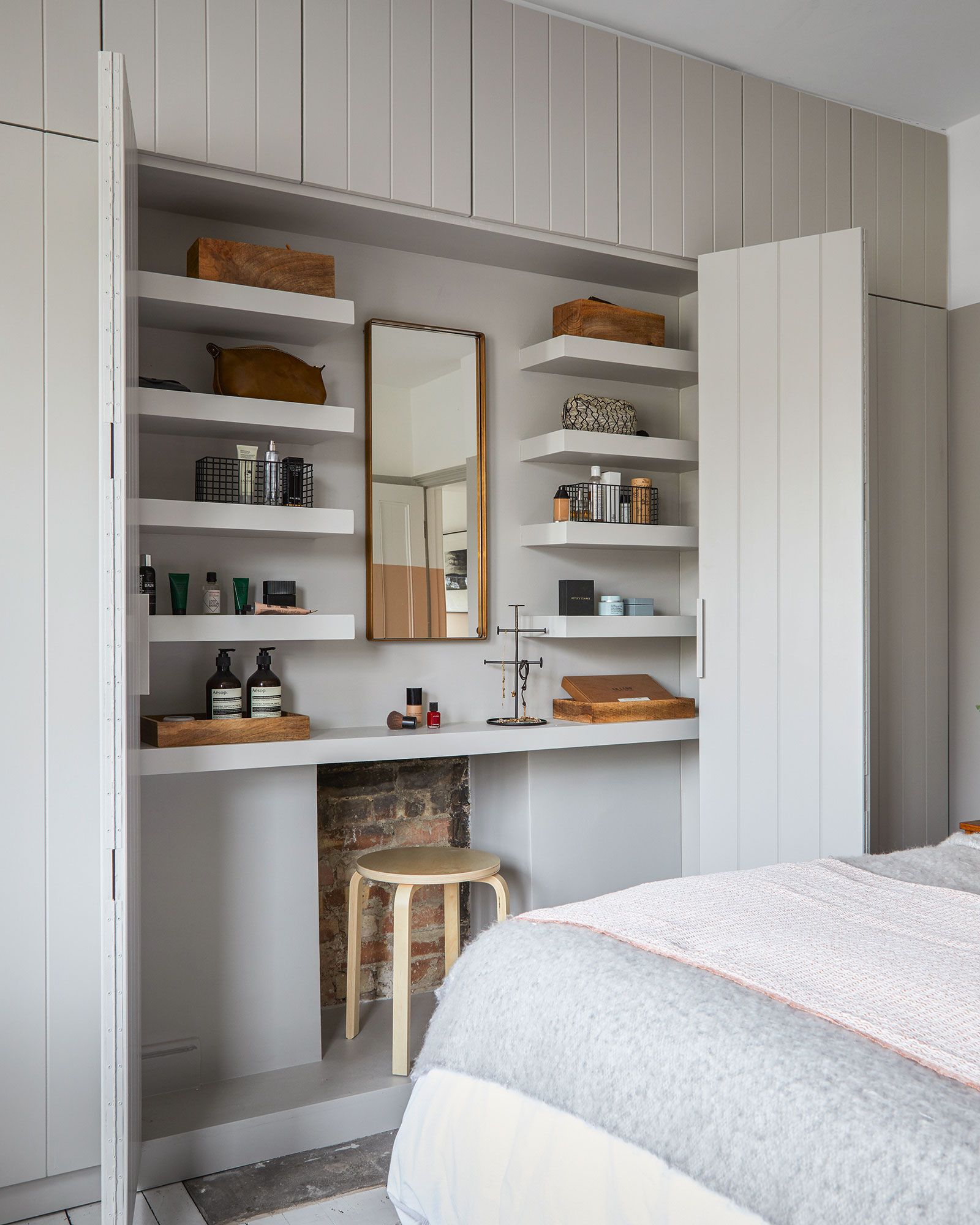 Dressing table ideas are often a luxury afforded only in larger bedrooms, but with a little out of the box thinking you can squeeze one seamlessly into a smaller bedroom as this space proves. Cleverly set into a niche behind floor to ceiling panelled, bi-folding doors, this dressing table area includes ample shelf space yet can easily be shut away out of site sight after use leaving the space feeling bright, open and clutter-free. 
8. Make the most of alcoves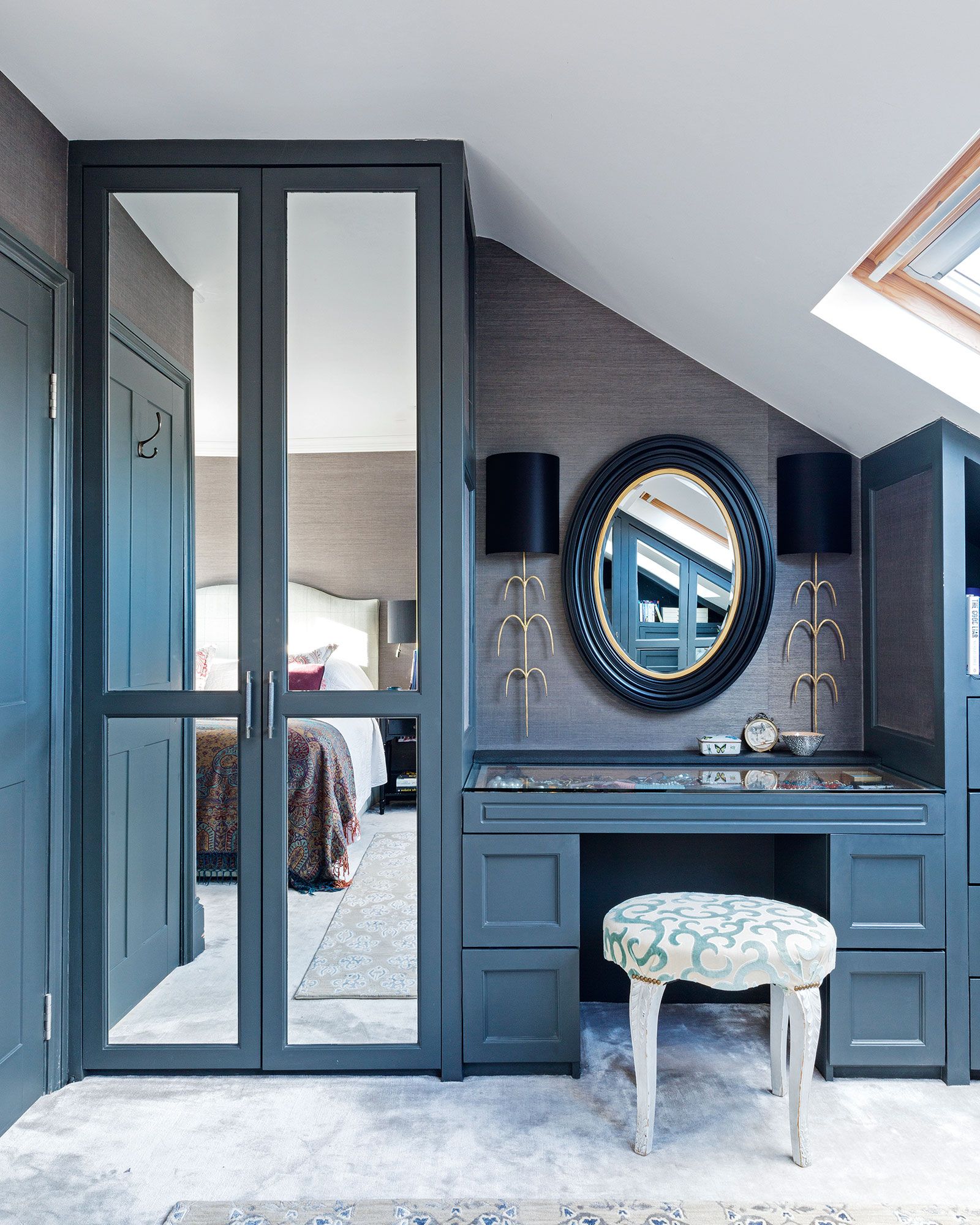 Factoring in plenty of small bedroom storage ideas into your bedroom layout is essential where floor space is limited in order to make the best possible use of the space. One great way to maximize space in a small bedroom is to make use of awkwardly-shaped alcoves by adding bespoke fitted wardrobes, and you could even factor in a dressing table area. 
In the corner of this small bedroom, inset mirrors have been added to the paneled wardrobe doors and a statement bedroom mirror idea hung above the table to maximize light – and create the illusion of a larger space.
9. Choose a loft bed for a child's room
When it comes to saving space in small children's bedrooms loft bed ideas are the perfect solution says Bria Hammel, the CEO and creative director of Bria Hammel Interiors (opens in new tab).
'Typically the smaller bedrooms in a home are reserved for little ones. Because of that, we're are able to get creative with layout and storage. We love a built-in bunk bed with added storage or drawers, sconces for lighting, etc. This allows us to design vertically and not take up precious floor space which in turn makes the room feel larger.'
10. Save space with wall lights
Table lamps mounted on bedside tables either side of the bed are a popular arrangement in bedrooms but these can take up alot of space – for small bedrooms you may want to consider alternative bedroom wall lighting ideas, say the experts.
'In small bedrooms I really like using wall lights as opposed to table lamps for bedside lighting. Smaller rooms inevitably call for smaller bedside tables and when the full surface is taken up by a table lamp it just seems to defeat the object,' says Irene Gunter, founder and creative director, Gunter & Co (opens in new tab). 
'There's such a wealth of amazing wall light options available, whether wired or plug in – they really allow us to add a statement to the space as well as maximize the surface available for the bits and bobs we like to store beside the bed.'
11. Make the most of wall height with fitted closets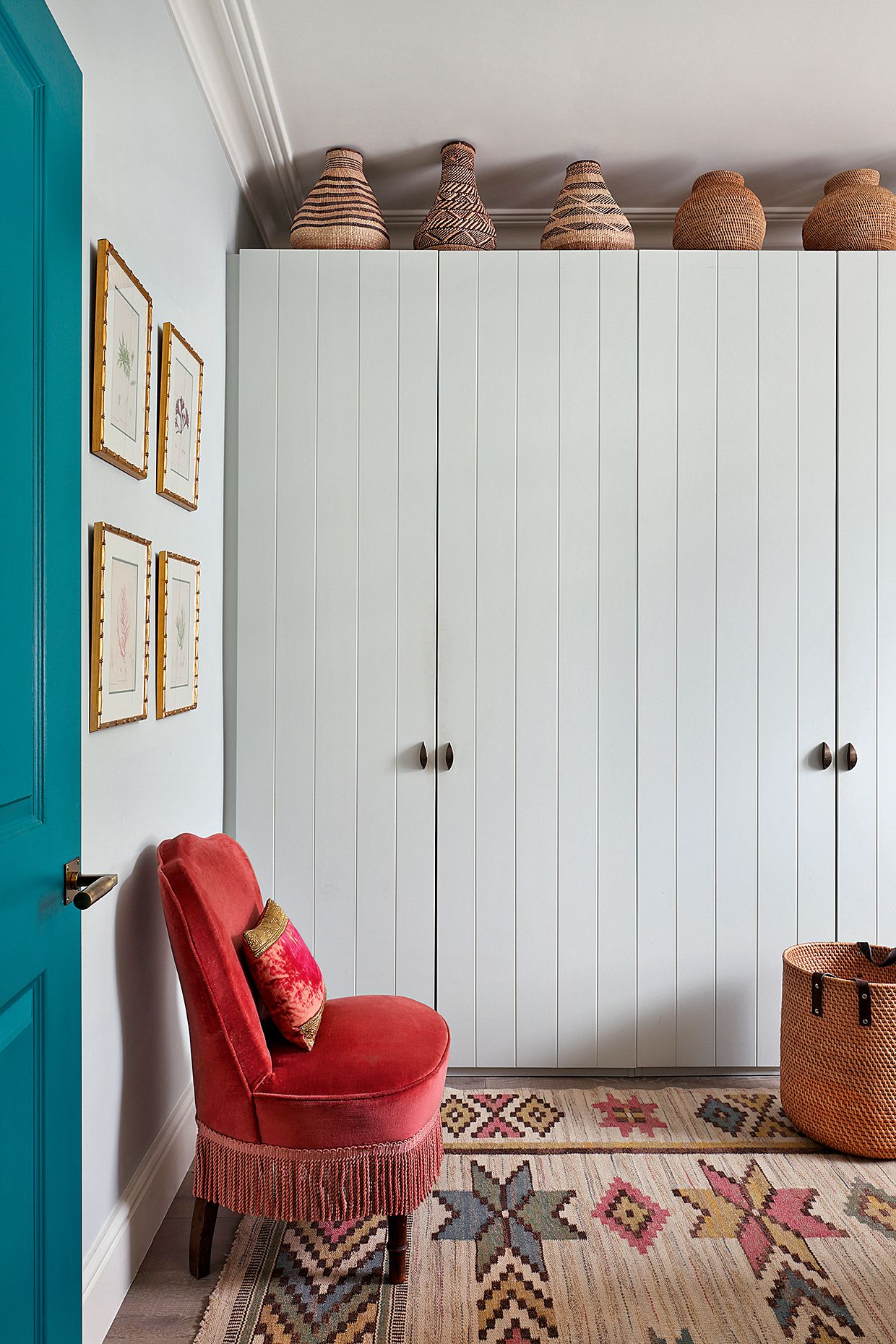 Where space is at a premium it's important to factor in plenty of small bedroom storage ideas to ensure the space remains clutter-free. Dedicating an area of the bedroom to storage by fitting a bank of floor-to-ceiling closets is a brilliant way to make-the-most-of storage ideas, but will also make the space feel neat and spacious. 
To further enhance the illusion of space choose simple wardrobe door design, such as a tongue and grove, and paint them in the same color as the walls, as done here in this room by Studio Peake.
12. Choose recessed shelving
Bulky freestanding furniture is often difficult to accommodate in small bedroom layouts, instead, try fitted cabinetry suggests says Louise Wicksteed, design director for Sims Hilditch (opens in new tab). 'For bedrooms where space is at a minimum, you might like to consider installing bespoke in-built joinery instead of freestanding furniture,' Installing shelving underneath bunk beds and recessed into walls works particularly well.' 
While they do require a faux wall to accommodate them, which will take up part of the overall floorspace, the benefit of installing recessed shelves is that the floor is not taken up with freestanding furniture, allowing the room to appear streamlined and clutter-free.
How do you maximize space in a small bedroom?
The best way to maximize space in a bedroom is to plan plenty of bedroom storage ideas into your layout. 
Factoring in bespoke built-in cabinetry is a brilliant way to create personalized storage that makes the most of your room layout as it can be built around the architecture of your space. Built-in storage allows clothes, shoes and clutter to be hidden away behind doors leaving the space feeling bright, clutter-free and uplifting.
Where floor space is at a premium it's important to think vertically, too, suggests Anna Franklin, interior designer and founder of Stone House Collective. 'Whenever possible, use your walls and available vertical storage instead of floor space. For example, you can wall-mount a bedroom TV instead of placing it on a console, or you can hang a full length mirror on the wall or a closet door instead of placing it on the floor.'
How do you design a bedroom?
If you're wondering how to design a bedroom then the best place to start is with a floor plan say the experts.
'We typically start by collecting the dimensions of the bedroom to help us determine what we can fit into a space without it feeling crowded. Next, we'll section off the space dividing it into bed/nightstand area, dresser/closet area, and lounge/sitting area,' says Bria Hammel creative director of Bria Hammel Interiors.
'When designing a bedroom, we first take into consideration where the windows, door frame, and/or fireplace are located. This will help us determine the natural flow of the space.'