The starting point for any design is the design brief. The brief outlines what problem a design will solve. It should be referred to throughout the project to make sure what you are working on will solve this problem.
Design area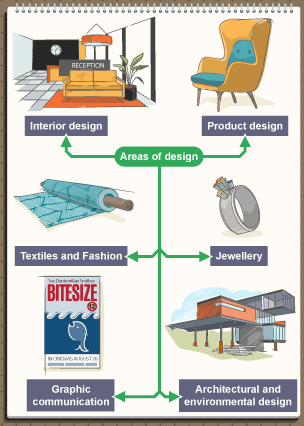 All designs fall into specific design areas. These include product design, graphic communication, textile and fashion, architecture, environmental design, interior design and jewellery.
Each area has different demands and will raise different questions around:
When deciding on a design area you should consider the following:
your skill level and experience

the materials and equipment available to you

whether this is an area that interests you
A successful brief
Whatever your design area, for the design brief to be successful you need to make sure that it:
describes a problem that will hold your interest

is something you are confident you can produce a response to

will challenge your skills rather than being too basic or too complicated

is something you can achieve in the time available

is open-ended enough to allow a creative response

includes key information such as function, aesthetic issues and who might buy or use the design
There are a number of common problems you should avoid:
Don't write your brief with a final outcome in mind – if you do this, your brief will not be effective.

Don't create an overambitious brief, such as 'design an airport' – this would take a team of designers years.

Don't select a source of inspiration that is too open (eg sea creatures) – try to be specific (eg shells, fish or anemones).
Keep your work on track by referring to your design brief regularly