talents so french at maison&objet 2022
During Maison&Objet fall 2022, four young French design makers get carte blanche for the 'Talents So French' exhibition. The designers and interior architects – Charlotte Juillard, Samuel Accoceberry, Bina Baitel and Pierre Gonalons – were invited to demonstrate their own individual voice, style and, most importantly, work. The products, ranging from lighting to furniture all with varying degrees of sculpture and materiality, revealed collaborations with different brands as well as crafters.
designboom exclusively spoke with all four designers at the 'Talents So French' exhibition during Maison&Objet fall 2022 – watch above.

Four young designers get carte blanche for the 'Talents So French' exhibition
All images courtesy of Maison&Objet
designer: Charlotte Juillard
With materiality as the starting point for all her designs, designer and interior architect Charlotte Juillard's work is rich in substance and stories. Her Parisian studio, founded in 2014, works closely with regional crafters and locally-sourced materials. The research and exploration of these materials generates the form, function and, even, the typology of the products. This explains why her portfolio showcases a diverse array of objects, from furniture to lighting and accessories.
'The beginning of my designs is always the material and the gesture of the crafter. I visit workshops and study craftsmen to see how they work, try to understand the material and create items,' tells Charlotte Juillard to designboom. 'I don't set out to design a specific typology of object. Instead, I am interested in learning a craft technique. The material is the very center of my approach as a designer. I work with ceramics, metals and wood – I am very curious to discover new possibilities.'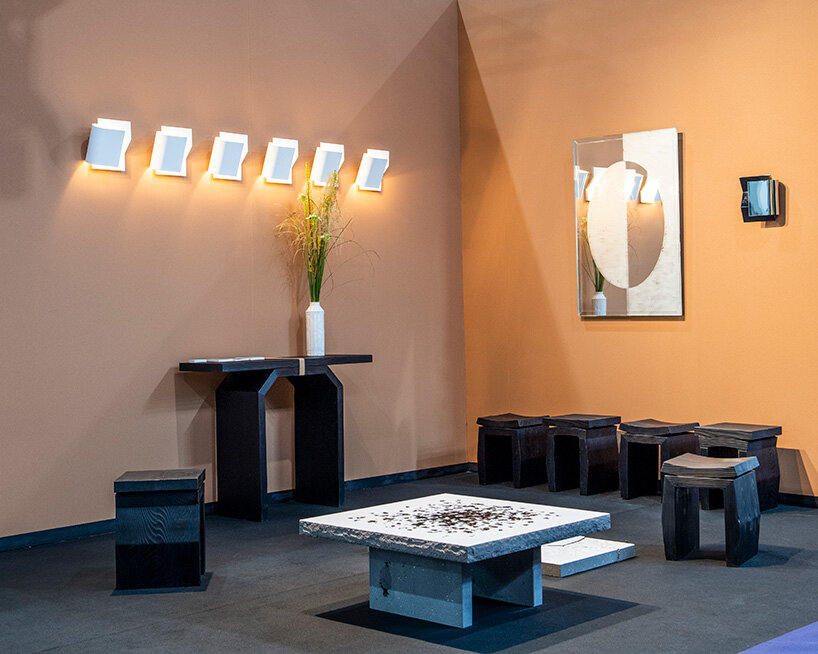 The research and exploration of the materials is the starting point for Charlotte Juillard's design process
On show at Maison&Objet fall 2022, the HESTIA stool and table, designed for Hava Paris, is made from burned wood. The shou sugi ban technique sees the timber charred, cooled, cleaned by brushing, washed, and then finally finished with oil. The material enabled lightweight furniture that are easy to move around, to be created. Experiments with lava minerals also realized surfaces of highly unique, deep and vivid textures to act as decorative coffee tables. The bended ISO wall lamp illuminated the display.
'I am presenting self-edited, limited editions pieces that were made with French craftsmen. For example, with my burned wood collection, it began with the aim of revealing the texture of the timber, especially when placed flat. I realized the furniture design needed to be easily movable and so the stool followed the function. The lava stone tables, which are very simple in its square shape, have a very interesting element on its top. I worked in hand with the craftsmen to develop the graphic that gives it a special touch,' adds the designer.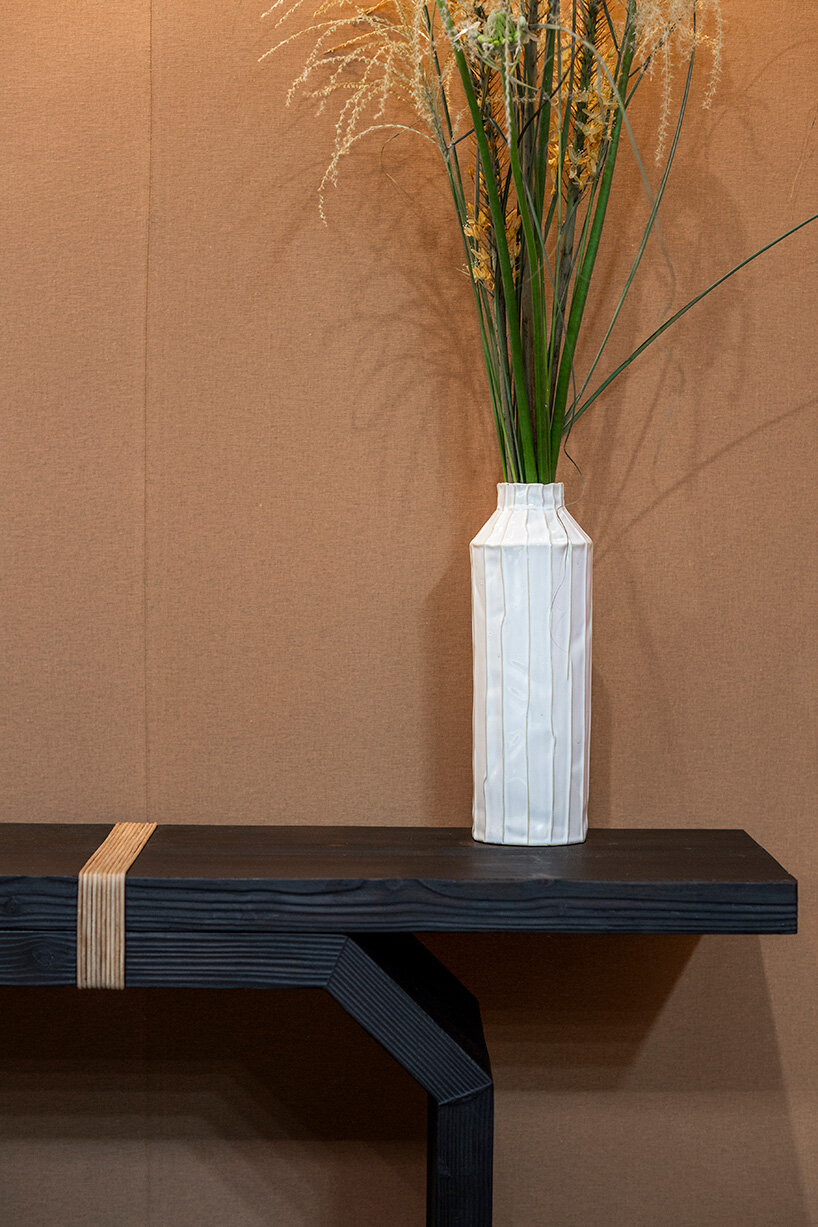 The HESTIA stool and table is made from burned wood using the shou sugi ban technique
Designer: Samuel Accoceberry
Designer Samuel Accoceberry, who founded his studio in Paris and Biarritz in 2010, exhibited a series of sculptural accessories for SB26 and SAS Edition. Whether vases, candleholders or lighting, the forms of the pieces merge architectural elements with art deco styling. The results, most often shining with reflective metal, express a highly visual and fine future for furnishings.
'I am exhibiting collaborations that showcase the value of fine furniture in different typologies: vases, candleholders, lighting and coffee tables. The art deco pieces are precise in the use of metals like brass and copper. After the introduction of these limited editions, I normally receive commissions to design more but with changes of materials, finishes and sizes. These are still small series, though, because the process is very focused on craft,' explains Samuel Accoceberry.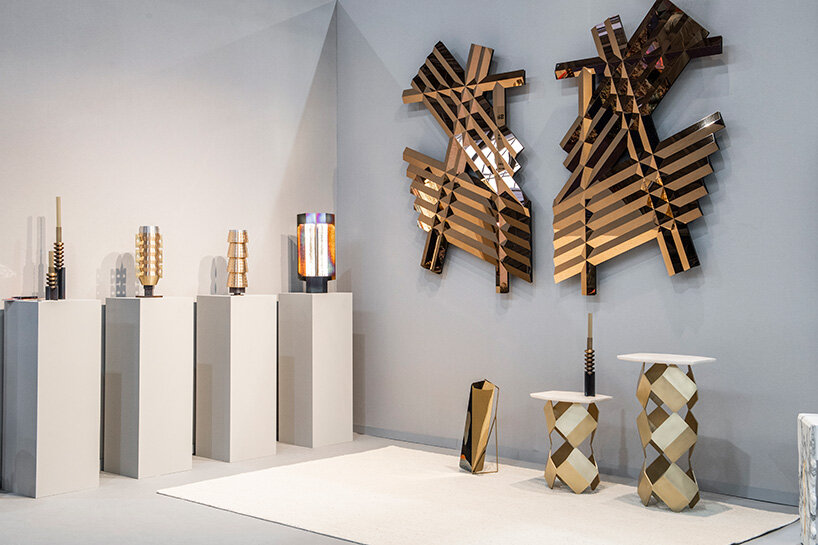 Samuel Accoceberry exhibited a series of sculptural accessories for SB26 and SAS Edition
The reflective Galactica wall mirrors for SAS Edition appear as signature sculptures. Limited to 12 pieces, the stainless steel then copper-finished 3D kaleidoscopes dazzle and mesmerize in geometric abstraction. The Bell and Wings vases for SB26 also plays with rhythms. With architectural forms, the two vases are made using a fine combination of bronze, aluminum and hot blued steel. The results are highly sculptural but functional as waterproof and removable central cylinders can hold flowers. Also for SB26, the Torre table's elegant hexagonal travertine top is supported by a faceted structure that reflects light.
'The limited nature of these collections enables me to explore more graphic, free and expressive objects. I like to create with less constraints. I try to keep a level of intensity, sometimes less for certain brands, but always with a touch of neo-futurism and art deco,' concludes the designer.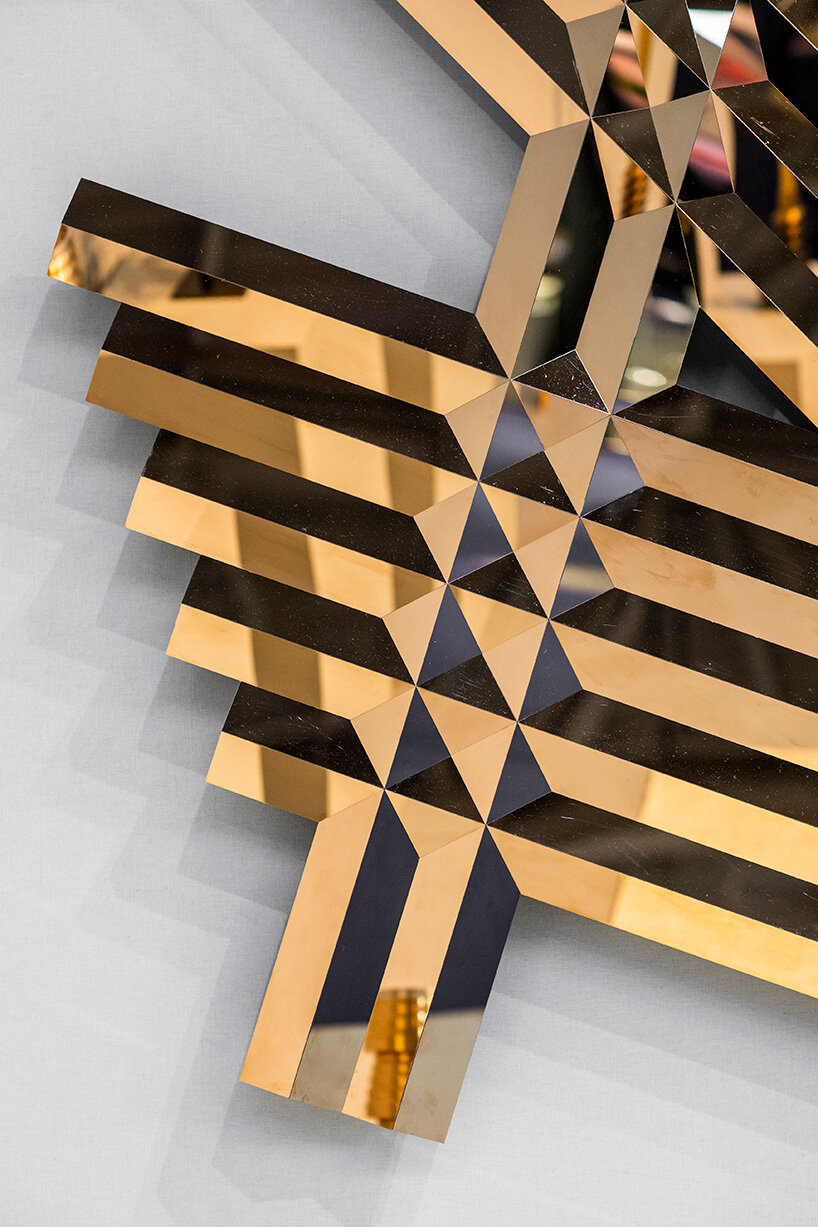 The Galactica wall mirrors appear as if 3D kaleidoscopes mesmerizing onlookers in geometric abstraction
Designer: bina baitel
After studying and working in the field of architecture, Bina Baitel scaled her designs down in dimensions. Her studio, based in Paris, creates intricate pieces that balance playfulness and formality, originally starting with lighting and now designing furnishings from accessories through to furniture.
'The typology of lighting was the most relatable entrance into design for me. Lighting can be played with. I can change the position, direction and material.' Bina Baitel continues to add, 'I create products that appear between art and design, like the monumental fountain. My work is on the formal aspect but always considering the material.'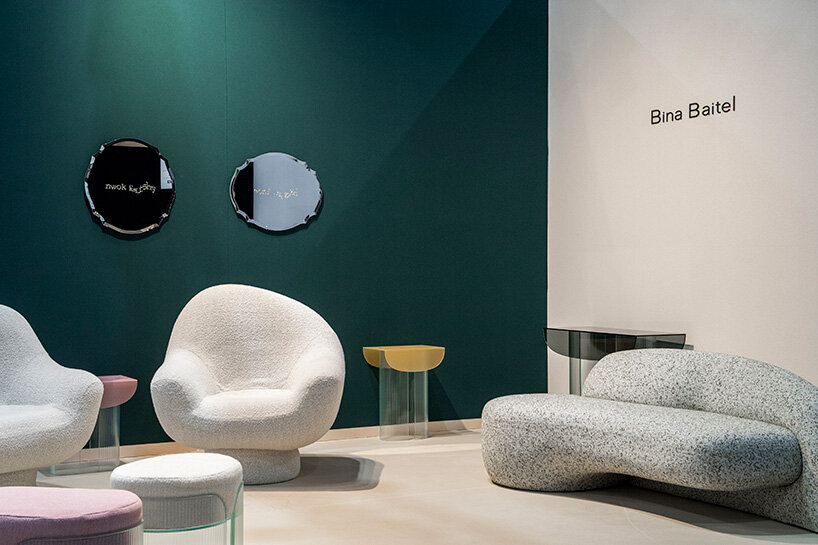 Bina Baitel pairs playfulness and formality in designs spanning from lighting to accessories and furniture
Shown at the 'Talents So French' exhibition at Maison&Objet fall 2022, the designer presents a new collection composed of a sofa and armchairs for Galerie Christophe Gaillard, accompanied by glass ottomans and tables. The armchairs, deliberately spectacular in dimensions, evoke a welcoming sense of comfort. The forms border organic and monolithic as if two minerals. The sofa also appears with natural influences. Like a pebble, its curved shape seems sculpted by the movement of water. The speckled upholstery reinforces the mineral-like image.
'These new designs were created for Galerie Christophe Gaillard, which specializes in contemporary art. They have a second exhibition space in Normandy at the Château du Tremblay. I was asked to furnish the main living room of the castle, which is surrounded by a very big, natural landscape. I wanted to bring the outside within the residence. The idea for the sofa was for it to appear as if designed by nature. It was the same philosophy for the armchairs too. They look as if made from mineral materials,' finalizes the architectural designer.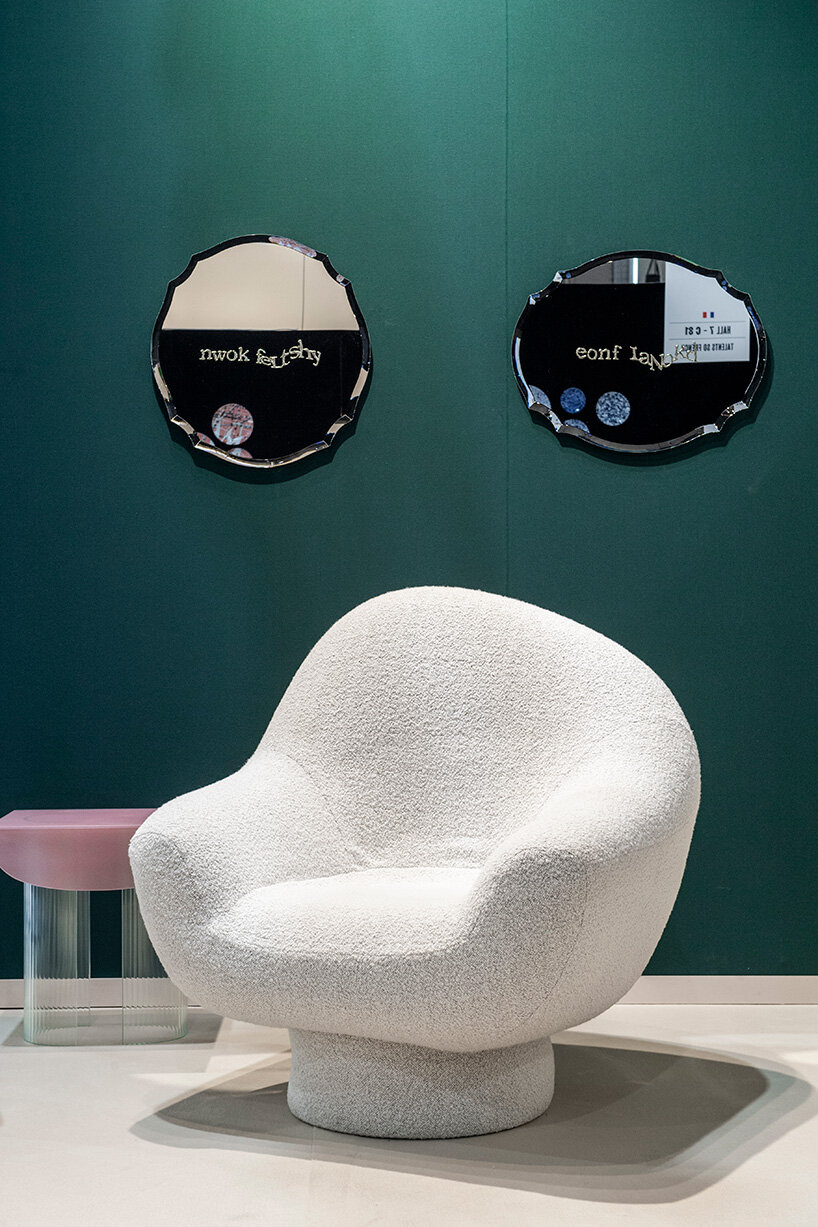 The organic armchairs reflect the environment surrounding Galerie Christophe Gaillard in Normandy
designer: pierre gonalons
Working and exhibiting in Paris, the creations by designer and interior architect Pierre Gonalons range from industrial pieces to special one-off designs made with galleries. His global vision of the field is to enhance design to create unique environments for people. To do so, an understanding of art history, knowledge of production and relationship to workshops are key to his design process and, thus, creations.
'Pierre's approach to design is firstly historical. He starts from the tradition of French art and architecture. Secondly, his creations are only realized through the relationships with the workshops he discovers. It is their material expertise that brings his ideas to life,' states Stéve Riff, Director at Studio Pierre Gonalons.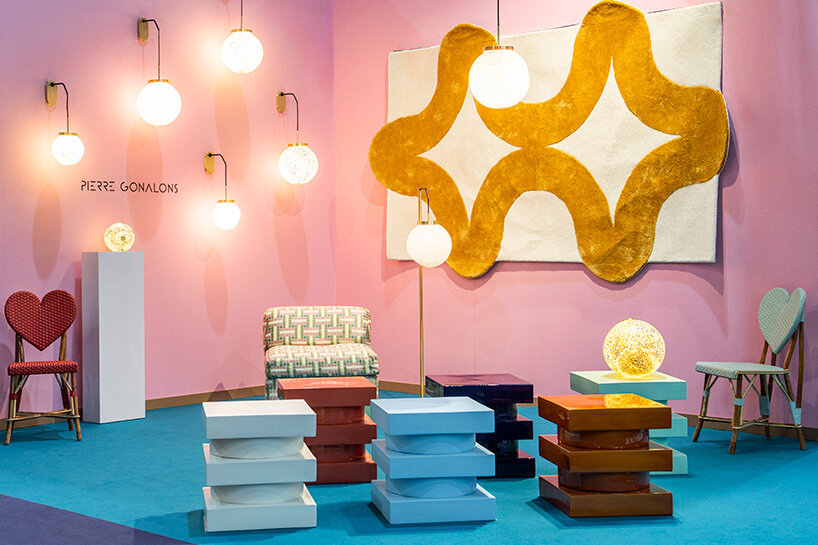 Pierre Gonalons' design work fuses differently styled forms, textured materials and pops of color
In a fusion of differently styled forms, textured materials and pops of color, the designer showcases a series of furniture and lighting collections made from brand collaborations. His studio's art deco-inspired Maze fabric adds shape to the otherwise monolithic Rosebud armchair. The classic Parisian café chair has been reinterpreted in a fun, light-hearted way with the Sacré-Coeur seat. The King Sun Murano lighting collection for Stories of Italy warmly illuminated the designer's work on show.
'At Maison&Objet, we have selected some pieces with a fun spirit that exhibits Pierre's special pops of color. We have decided to show our main collection of lamps produced in Murano, Venice and a table made in ceramics with a French workshop. The light collection, named King Sun, reflects the relationship between France and Italy,' concludes the director. 'Called Rosebud, the new sofa and armchair display a fabric specially designed and edited by our studio. It highlights how Pierre really likes to go deep into every aspect of his designs.'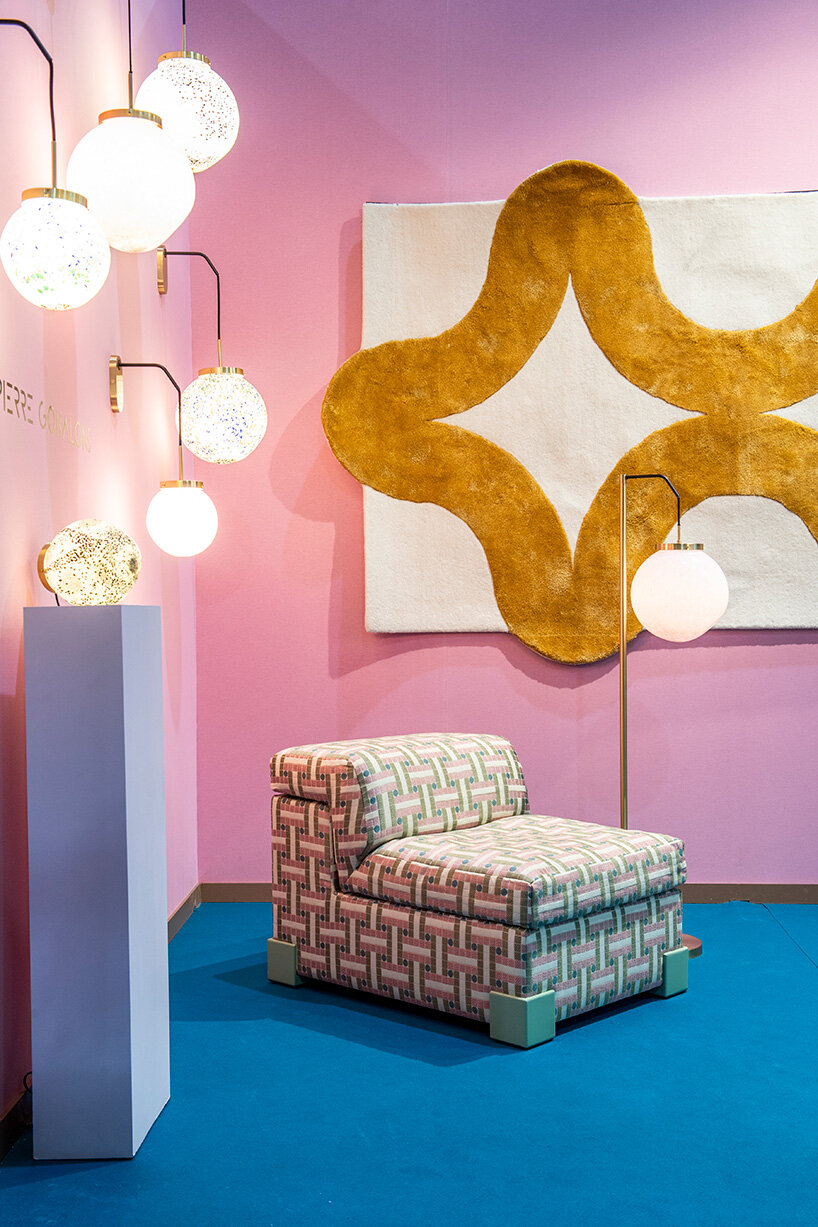 The King Sun lighting collection glowingly bathes the distinctively textured Rosebud armchair