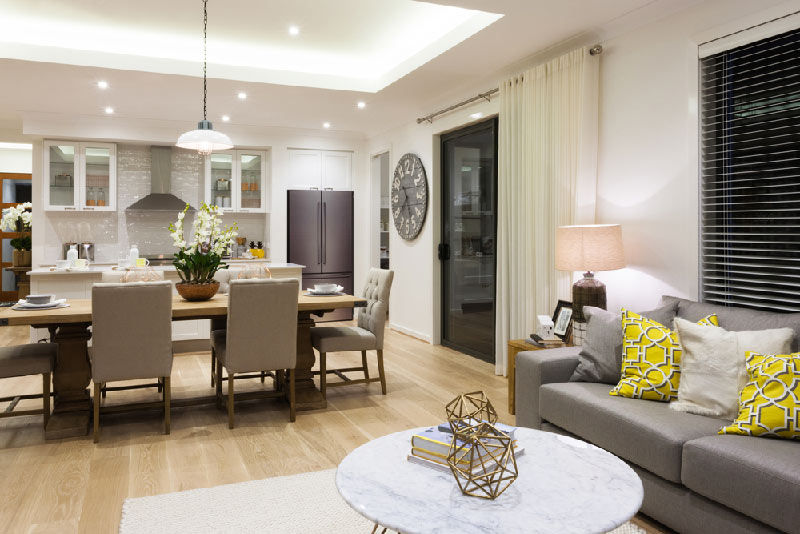 A century ago, kitchens were relegated to the back of the house. A kitchen far removed from the social areas of the home was a sign of affluence. Yet today, many Americans recognize the kitchen as the true heart of family gatherings and design the room accordingly.
A recent study by the Electrolux group found that kitchens are being used for much more than food preparation. Nearly nine in 10 Americans (86%) are involved in some sort of activity in their kitchen besides cooking or eating, and more than two-thirds of adults (67%) say they use their kitchen to socialize and entertain guests.
Kitchens are used to pay bills, work on hobbies or crafts, play games, read, watch TV, or simply sit and talk. The multipurpose kitchen—or as Electrolux calls it, the "live-in room"—is designed around the way a family truly functions. For retirees, a combined kitchen and family room is a perfect fit in a home that embraces comfort and ease of living.
Multipurpose Kitchen
The multipurpose kitchen works well in any size home and allows for greater comfort when entertaining guests or visiting family members. There are many ways to design a multi-purpose kitchen. The basic concept breaks the traditional rules and lets you combine the living spaces that make the most sense for your own lifestyle.
Begin by thinking about how you spend your day and how much of your time is already spent in the kitchen. What non-food related tasks occur in your kitchen? Paying bills? Playing board games? Reading? Building a new home allows the greatest flexibility in designing a kitchen/family room combo.
How to Adapt Your Kitchen
However, it is not difficult to bring the same concepts into an existing home. You may need to mentally modify your approach. Skip the straight-backed kitchen chairs and simple tiered curtains. Go for comfortable, cushioned seating and bring in the luxe fabrics you would use in other rooms of your home. Club chairs, loveseats, and couches are all at home in a multi-purpose kitchen.
Many homes are built with eat-in kitchens as well as formal dining rooms. Try converting the kitchen's breakfast nook into a cozy seating area and use the dining room table for eating. You may find that both areas are put to more practical use. Kitchen islands with counter seating or small pub tables are easily added to a kitchen/family room combination to allow convenient dining or workspace areas.
Think Outside of the Box
When remodeling a kitchen, or building a new home, stick with the idea of creating smaller task workspaces instead of designing a traditional triangle work area. These small areas may include a station with a second prep sink, dishwasher, and wine refrigerator, or perhaps an entertainment center with a stereo, flat panel TV, and shelves for cookbooks and small appliances. A kitchen/family room combination brings the elements of a cozy family room into the practicality of a well-designed kitchen.
When planning a new dream home, remodeling a kitchen, or redecorating with new furnishings, think outside of the box and find ways to convert your kitchen into a stylish, yet practical live-in room.