Outdoor Lighting Design of your home is a major part of a good outdoor design. Though it may not seem important to some homeowners, you could achieve a greater looking home with proper management of exterior lights. If you need more inspiration for your landscape lighting design, catch Genevieve Gorder on her TV show "Dear Genevieve" for a lot of inspiring and classy ideas!
Why Should You Plan Your Outdoor Lighting Design
You might have mastered the art of illuminating your home's interior but when the house is not lighted externally, due to a poor outdoor lighting design, a mirror effect is produced in the interior by the reflection of the light on the glass from the inside. In some cases, this could be a good idea but by cutting the relation between the interior and the exterior, the interior space would seem to shrink.
On the contrary, when the outside is illuminated, another effect is produced: a perfect balance between the amounts of light inside and outside. The glass from the inside no longer looks as a black element that divides the interior and exterior of your home. A good balance in outdoor and interior lighting can become the key element for an interesting spatial integration.
How You Should Illuminate Your Home's Exterior
To achieve interesting effects, you might want to incorporate various points of visual interest, while keeping a light balance between the different parts of your yard to get the effect of a whole.
Examine the outer space of your home. Everything you see is already part of your home, all you need to do is find the right spots to illuminate. Pay special attention to discover plants, trees, sculptures, and interesting architectural forms to emphasize — that is the key.
Below are some tips on how you can illuminate your home's exterior and create a perfect balance between indoor and outdoor lighting design:
Illuminating trees
If you want to highlight trees in interesting ways, think of a dramatic or even a theatrical style of lighting. Some examples would be playing around with embedded reflectors or metal halide lamps and place them at the base of the trunk, directed towards the top of the cups.
Read more: Ultimate Outdoor Lighting Ideas To Brighten Up Your Space
Illuminating very defined areas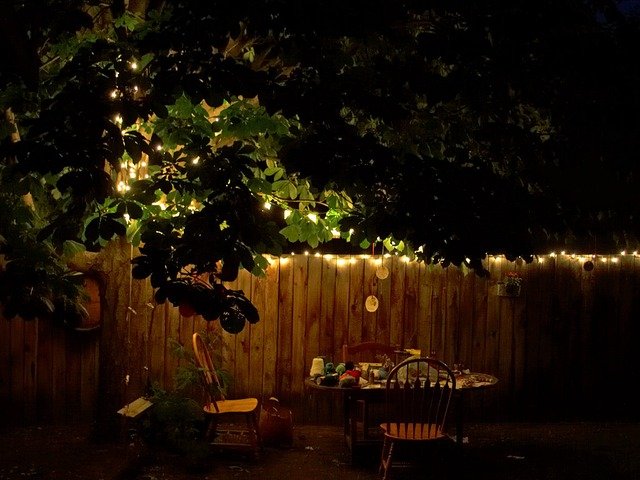 Pixabay
To illuminate very defined areas, such as a pergola or terrace, you should use a soft light. In a way, this lighting seems to imitate the moonlight — a very sweet effect if you ask us. Ideally, you should use sconces or lanterns that would be consistent with the architecture already present in your outdoor space.
Illuminating facades
To illuminate façades, accent lighting can be accomplished by carefully focusing the beams of light of a lamp towards plants, sculptures, or architectural details. This would make any passer-by immediately notice the what you're highlighting. This technique is also perfect if you have a beautiful scenery only visible during daytime!
Illuminating access areas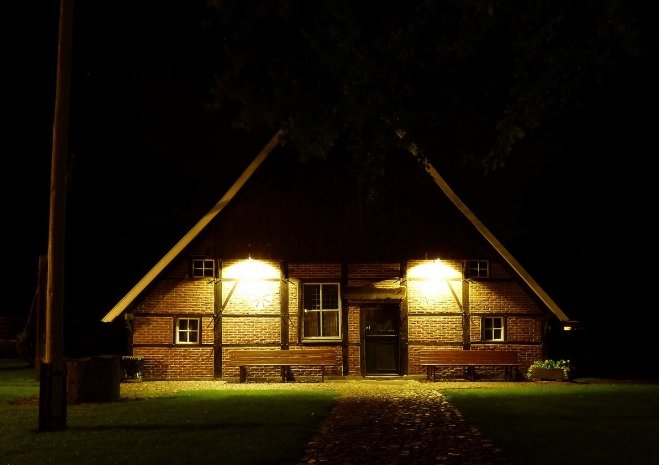 Pixabay
Illuminating access areas is a great idea since your home's entrance creates a long-lasting first impression to every visitor. Lighting should create a welcoming impression as visitors approach the house. You wouldn't want to seem unapproachable, right?
Another benefit of illuminating the access areas — both the front and the back of your home — is the added security that gives you the peace of mind knowing that you can see anyone approaching your home. It's advisable to install lights with motion sensors at the parking and along the fence. Also, consider installing surveillance cameras since they provide additional security.
Read more: Top Tips For A Good Home Lighting Design
Types of Exterior Lighting Fixtures
There are different exterior lighting fixtures to choose from to fit your landscape lighting design. Each has its pros and cons and how it's supposed to be used to illuminate or highlight your exterior.
Below are some types of exterior lighting fixtures to consider:
Entry lanterns or sconces

Recessed lights

Floodlights

Path lights

Spotlight

Hanging or pendant lighting
Look for the Right Contractor to Help You Illuminate Your Exterior!
Hiring the right contractors to help you turn your landscape lighting design into reality is crucial. Setting everything up and making major mistakes could put your home at risk. Also, professional advice when it comes to lighting is something that you need to perfectly implement your plan.
Sadly, not everyone knows a good contractor personally. Sure, we can get recommendations from friends and family anytime but a big project like this requires the best professional you can find — there's no way of knowing a contractor's skill unless you hire him or her.
With our directory of professionals, you can find the best contractors in your area. All of the contractors on our list are verified plus you get to see their qualifications and reviews. Now that's something every homeowner should have access to!
Illuminate your home's exterior today and bring out its true beauty even at night!
MORE: Illumination – Types Of Lighting for Your Home