JYA-rchitects completes 'wave' commercial building in Seoul
JYA-rchitects has completed 'Wave', a commercial building with an undulating red brick façade in Seongsu-dong, Seoul, South Korea. The project seeks to highlight the identity of the up-and-coming neighborhood by transforming an old multi-family house into a structure with an eye-catching exterior. The brick skin pops through the area's narrow streets, becoming a visual staple that provides the locals with a sense of familiarity, comfort, and excitement. By incorporating new ideas, concepts, and activities into the dense urban fabric, the project enriches the region's classic look while harmoniously coexisting with its commercialization.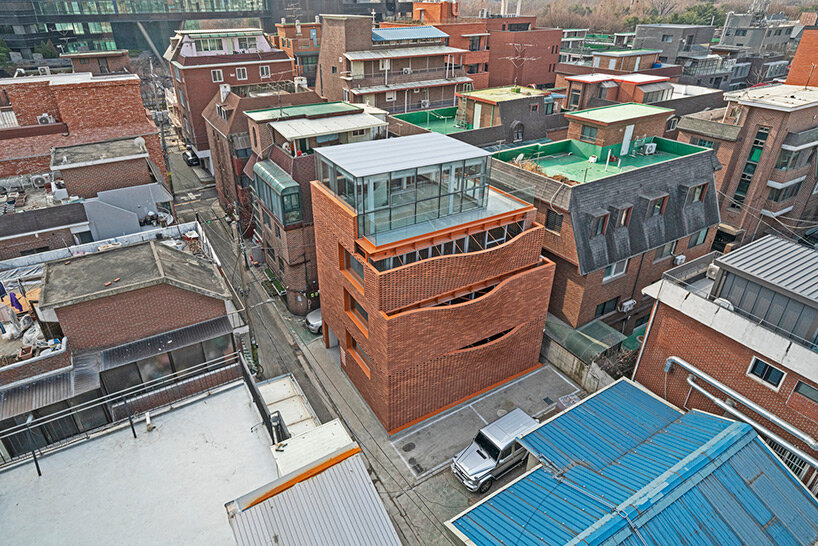 all images by Hwang Hyochel
curved brick facade provides openness and privacy
As previously stated, the project started with the conversion of an existing family home into a commercial space. The goal of JYA-rchitects was to retain the character of the region by constructing a structure that could cohabit harmoniously with neighboring residential structures.
To generate a sensation of openness within the interior of the structure, large windows and openings were required. However, such a design would most likely cause dissatisfaction among the residents and their neighbors. Thus, the architects installed a double-skin with a multi-exterior layer to provide a translucent, open interior, and maintain privacy at the same time. Curved shapes were used to meet two distinct functional needs: concealing the view of neighbors while enabling openness to the sky. Such shapes become distinguishing features of the building's overall look while still meeting its practical requirements.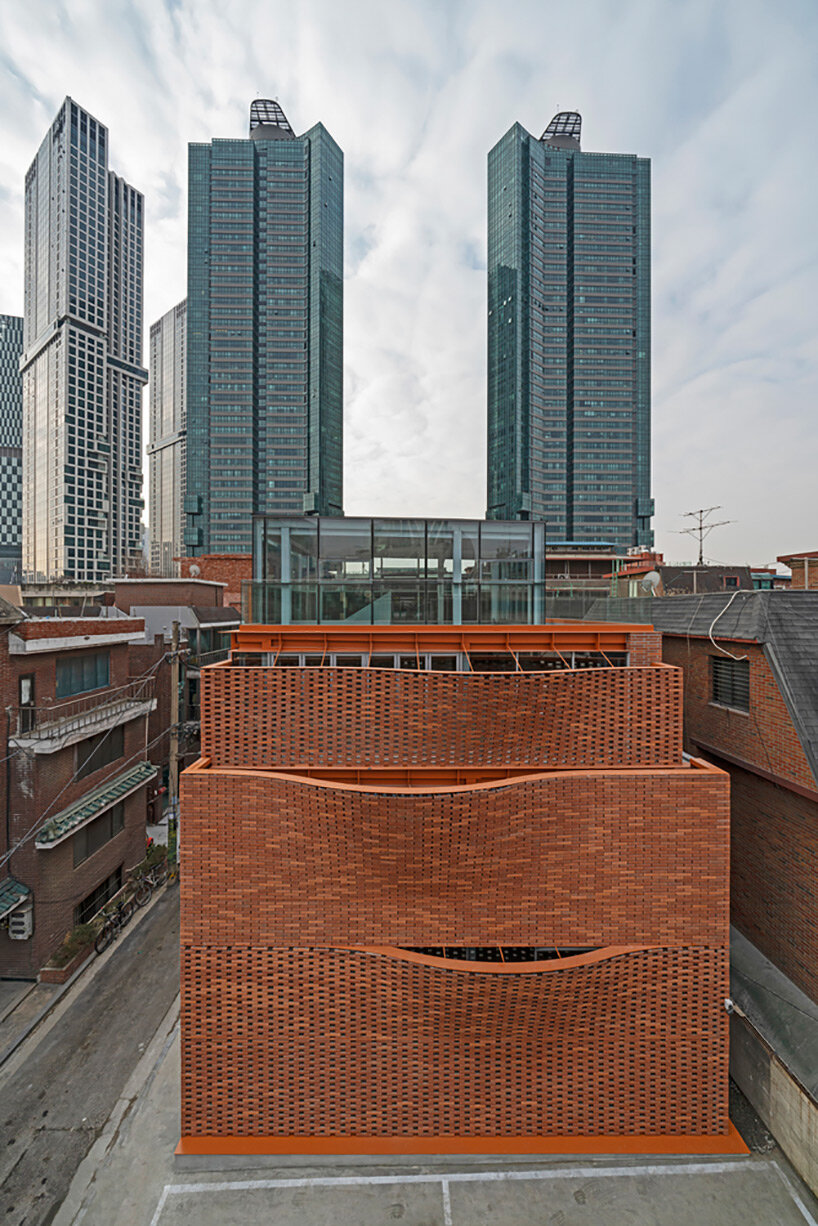 overcoming structural obstacles and limitations 
Red brick was naturally chosen for the façade since it is a material that distinguishes Seongsu-dong today and its usage is enforced by law. Nevertheless, constructing curved surfaces with bricks presented multiple physical obstacles and limitations. The assignment was structurally challenging because the walls were divided in the center, necessitating the load of the bricks to be suspended in the air via a separate structure rather than being immediately transmitted to the foundation. Curved forms were created utilizing a dry construction process employing bricks, and round bars were validated according to the angle using 3D simulation for curvature treatment before construction began. Despite such safeguards, mistakes occurred in the field, necessitating hard labor from the field workers to complete the building.
For effective planar usage as a commercial building, the staircase was relocated, and the main space was modified to be utilized in contact with the curved walls. For a sense of openness and activity inside that is not evident from the outside, an all-glass design, terrace, or landscape were created close to the curving walls. After the building was completed, all the floors were inhabited, giving the red building a more vibrant appearance. The building was filled with programs that bring new vitality to the neighborhood where people come and go.